Jump to recipe
This is the first time that I have made zucchini lasagna, but it certainly will not be the last. I am still trying out my new cook book Everyday Detox by Megan Gilmore. I am loving this cookbook more and more! Review coming soon!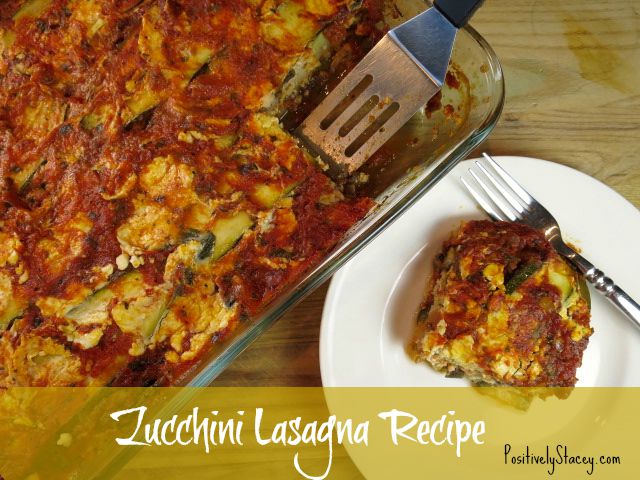 I have heard about Zucniini Lasagna before, but to be honest we love pasta in our house and replacing the pasta with veggies just did not make sense to me. That is until I decided that more veggies and less carbs is a good thing! For all of us! I loved the Cauliflower Fried "Rice" that I made from this same cookbook.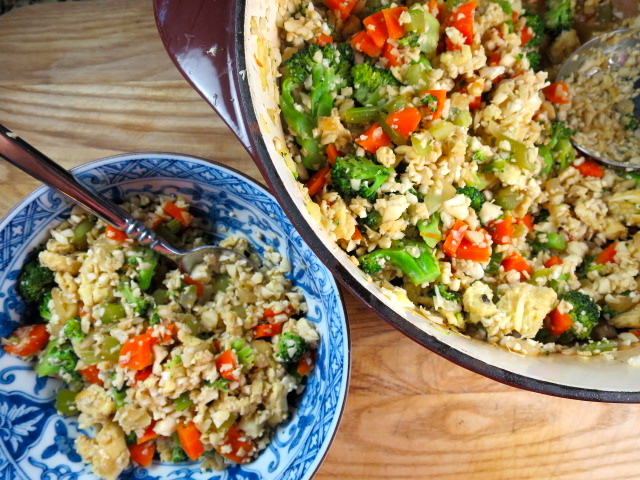 So I decided that I needed to try another entree recipe and Zuchinni Lasagna was the one that I chose.
What a delight it was! The whole family loved this dinner. No one – not even my, "Can we have pasta for dinner (or lunch or breakfast) child grumbled about the missing pasta noodles. Without the pasta this dish was much lighter than you would think of when you think lasagna. That did mean that everyone went back for seconds and the portions served were huge! We had one small piece left over and there was a bidding war of sorts for that piece the following day. I think that says it all. This recipe is a keeper!
Zucchini Lasagna Recipe
From Everyday Detox by Megan Gilmore
INGREDIENTS
4 zucchini (about 1/2 pound)
Sea Salt
1 1/2 cups Marinara Sauce
Shredded goat's milk cheddar, for topping (Optional – my kids did not like this and took it off)
Cauliflower "Ricotta"
1 pound frozen cauliflower, thawed
2 eggs, lightly beaten
1/2 cup chèvre (soft goat cheese)
1 teaspoon dried oregano
1/2 teaspoon sea salt
Mushroom "Meat"
4 zucchini (about 1/2 pound)
Sea Salt
1 1/2 cups Marinara Sauce
Shredded goat's milk cheddar, for topping (Optional – my kids did not like this and took it off)
DIRECTIONS
Preheat oven to 350 degrees.
Thinly slice the zucchini lengthwise, about 1/8 inch thick. I used a mandolin slicer. Gently rub the zucchini with sea salt and the set aside in a large bowl to sweat while you continue with the filling.
Prepare the cauliflower "ricotta". Process the thawed cauliflower in a food processor fitted with an "S" blade to create a rice like texture. Transfer the cauliflower to a thin dishtowel, then twist it up and use your hands to firmly squeeze out the moisture. A lot of liquid should be released, leaving a very dry cauliflower pulp. Place the pulp in a large bowl and mix in the eggs, chèvre, oregano, and salt, set aside.
Prepare the mushroom "meat". In a skillet over medium heat, melt the butter. Add the onion and sauté for 5 minutes. Add the garlic, mushrooms, and salt and sauté until the mushrooms are tender, 6 to 8 minutes.
Rinse and drain the zucchini "noodles," then pat them dry with a towel.
To assemble the lasagna, spread a thin layer of marinara sauce across the bottom of a 9-inch square dish to prevent sticking, then arrange several zucchini "noodles" to cover the sauce, overlapping slightly. Spoon half of the cauliflower mixture over the top of the zucchini layer, distributing it evenly. Use a slotted spoon to sprinkle half of the mushroom mixture over the cauliflower layer, and then spoon a bit more marinara sauce over the top. Add another layer of zucchini, then repeat the process with the remaining cauliflower and mushroom layers. Add a final layer of zucchini and top them off with a layer of marinara sauce.
Bake for 60 minutes. Sprinkle a layer of shredded cheese one the top of the lasagna during the final 10 minutes of baking, giving it just enough time to melt. Remove from the oven and allow the dish to sit for 20 minutes before cutting and serving. 

Zucchini Lasagna Recipe From Everyday Detox by Megan Gilmore

Ingredients

4 zucchini (about 1/2 pound)
Sea Salt
1 1/2 cups Marinara Sauce
Shredded goat's milk cheddar, for topping (Optional - my kids did not like this and took it off)
Cauliflower "Ricotta":
1 pound frozen cauliflower, thawed
2 eggs, lightly beaten
1/2 cup chèvre (soft goat cheese)
1 teaspoon dried oregano
1/2 teaspoon sea salt
Mushroom "Meat":
1 teaspoon butter
1/2 yellow onion, chopped
2 cloves garlic, minced
8 ounces mushrooms, roughly chopped
1/2 teaspoon sea salt

Instructions

Preheat oven to 350 degrees.
Thinly slice the zucchini lengthwise, about 1/8 inch thick. I used a mandolin slicer. Gently rub the zucchini with sea salt and then set aside in a large bowl to sweat while you continue with the filling.
Prepare the cauliflower "ricotta". Process the thawed cauliflower in a food processor fitted with an "S" blade to create a rice like texture. Transfer the cauliflower to a thin dish towel, then twist it up and use your hands to firmly squeeze out the moisture. A lot of liquid should be released, leaving a very dry cauliflower pulp.
Place the pulp in a large bowl and mix in the eggs, chèvre, oregano, and salt, set aside.
Prepare the mushroom "meat". In a skillet over medium heat, melt the butter. Add the onion and sauté for 5 minutes.
Add the garlic, mushrooms, and salt and sauté until the mushrooms are tender, 6 to 8 minutes.
To assemble the lasagna, spread a thin layer of marinara sauce across the bottom of a 9-inch square dish to prevent sticking, then arrange several zucchini "noodles" to cover the sauce, overlapping slightly.
Spoon half of the cauliflower mixture over the top of the zucchini layer, distributing it evenly. Use a slotted spoon to sprinkle half of the mushroom mixture over the cauliflower layer, and then spoon a bit more marinara sauce over the top.
Add another layer of zucchini, then repeat the process with the remaining cauliflower and mushroom layers.
Add a final layer of zucchini and top them off with a layer of marinara sauce.
Bake for 60 minutes. Sprinkle a layer of shredded cheese one the top of the lasagna during the final 10 minutes of baking, giving it just enough time to melt.
Remove from the oven and allow the dish to sit for 20 minutes before cutting and serving

© 2023 Positively Stacey
Transparency of Medication Prices