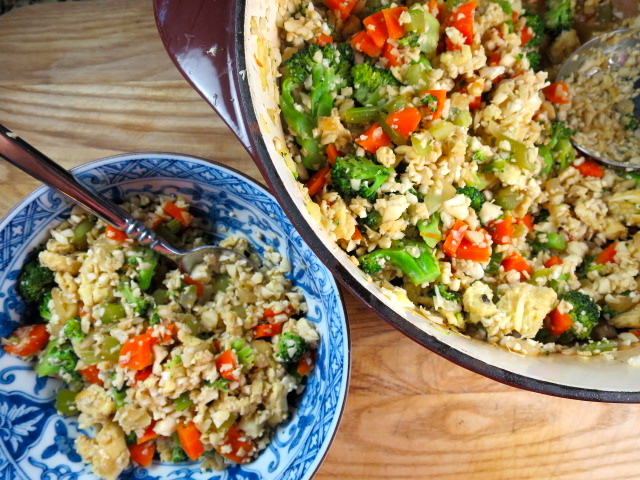 Cauliflower Fried "Rice" is amazing! This is a whole new way (for me) to enjoy cauliflower. And let me tell you, it was delicious! I am already craving this dish – and need to make it again really soon.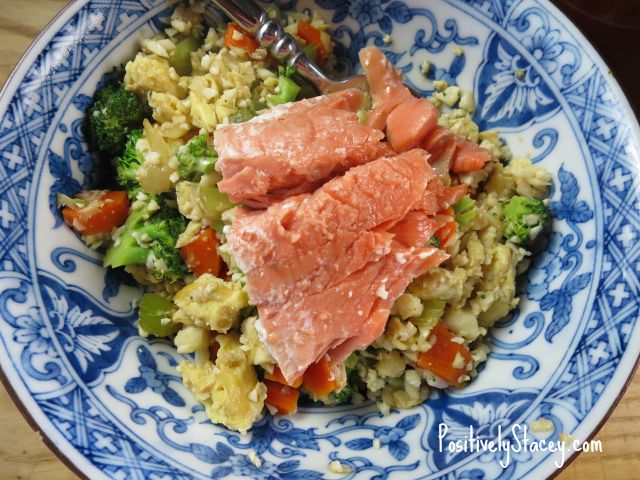 I just received a new cook book called Everyday Detox by Megan Gilmore and before I write an official review – I like to try a handful of the recipes. So tonight I made the Cauliflower Fried "Rice" for dinner. I have come to love just how versatile cauliflower is. I love roasting it and serving roasted cauliflower alongside seasoned lentils – yum! I have made mock mashed potatoes out of cauliflower – and while it wasn't bad, I couldn't get my family on board with them. I would say the biggest issue with mock mashed potatoes is they are not potatoes. When you expect one thing and get another it just doesn't work. I should just call them fluffed cauliflower and try to them again.
But in the meantime – I tried this recipe and we all LOVED it!
Cauliflower Fried "Rice"
Takes all these delicious ingredients and turns it into a healthy and yummy dinner!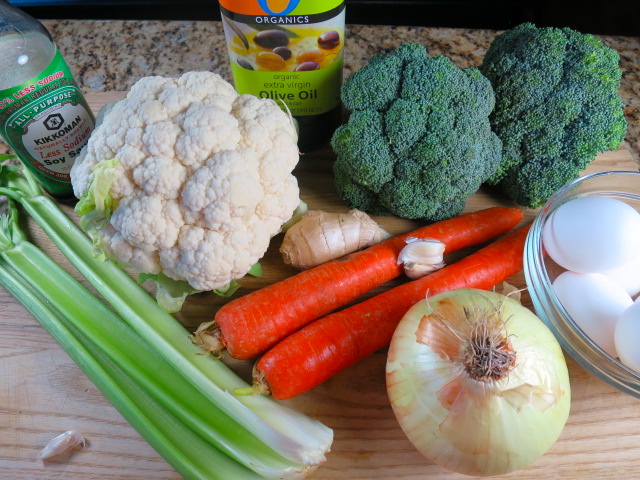 Pulsing the cauliflower in the food processor transforms into a rice like substance – and when tossed with the sautéed vegetables, flavored with onion, garlic, ginger, and soy sauce it really does end up tasting a lot like your typical Chinese vegetable fried rice. The addition of scramble eggs just adds even more to the heartiness of the meal.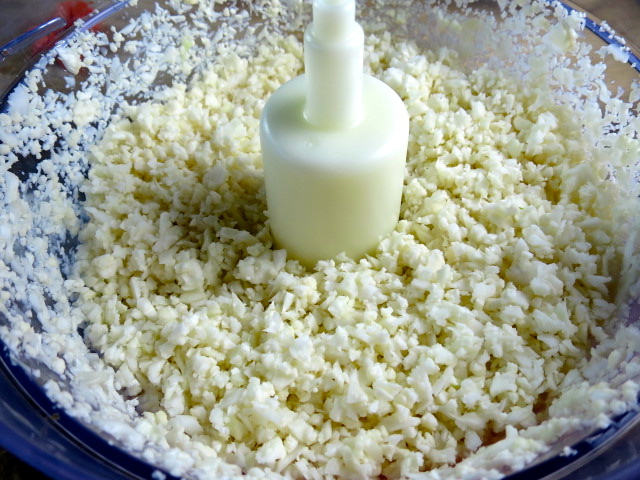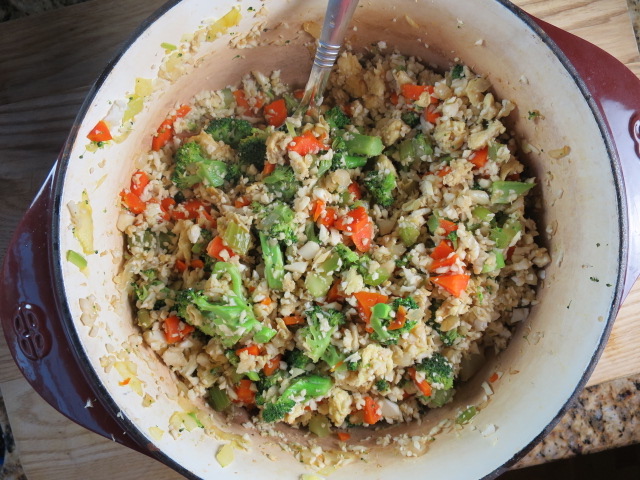 Because I had some salmon in the freezer, my husband grilled the salmon while I made the cauliflower fried "rice". When it all came together I simply topped the "rice" and vegetable dish with a piece of salmon. The whole meal was quick and easy – chopping took time, but once it's all in the pot – I just takes a few stirs.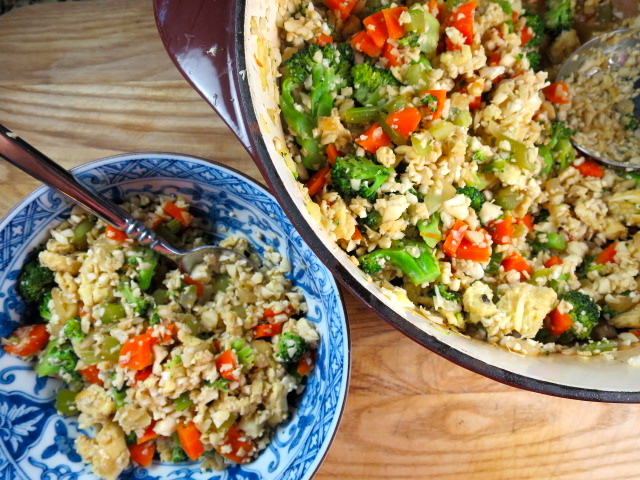 So good! So filling and so healthy! I am learning more everyday about the versatility of cauliflower.
How have you used cauliflower? 
Cauliflower Fried "Rice"
Recipe from Everyday Detox by Megan Gilmore.
INGREDIENTS
1 head cauliflower, chopped into florets
2 tablespoons coconut oil (I used Extra Virgin Olive Oil)
1/2 yellow onion, chopped
3 celery stalks, chopped
2 carrots, chopped
2 cups chopped broccoli florets
2 cloves garlic, minced
1 teaspoon minced ginger
6 eggs, beaten
1/3 cup tamari (I used low-sodium soy sauce)
Sea salt
DIRECTIONS
Using a food processor and the "s" blade – pulse the cauliflower until it is a rice-like consistency. You don't want to pulse to much. Keep it a little chunky.
Melt 1 tablespoon of the coconut oil (I used EVOO) in a Dutch oven over medium heat. Add the onion, celery, and carrots and sauté until slightly tender, about 5 minutes.
Add the broccoli, garlic, and ginger and cover. Cook another 5 minutes or until the broccoli is bright green.
Meanwhile, melt the remaining 1 tablespoon of coconut oil in a separate skillet over medium heat. Add the eggs and scramble until they are cooked and fluffy.
Add the scrambled eggs, cauliflower, and tamari (soy sauce) to the Dutch oven and stir well, cooking until he cauliflower is hot and tender.
Season with sea salt and then serve immediately.
Interested in ordering prescription remedies over the internet