Oh my, this Triple Greens Frittata from the Healthy Mind Cookbook by Rebecca Katz with Matt Edelson is absolutely delicious! I have made this dish three times already; once to take to work for a birthday breakfast, once for a family dinner, and once to serve when I hosted book club. It is pretty quick to put together. Just dice and chop the ingredients as you go. Meaning while the kale is sautéing, then chop the chard and spinach. Don't spend time pre-chopping everything – that just adds to the overall time. This is a prep as you cook recipe 🙂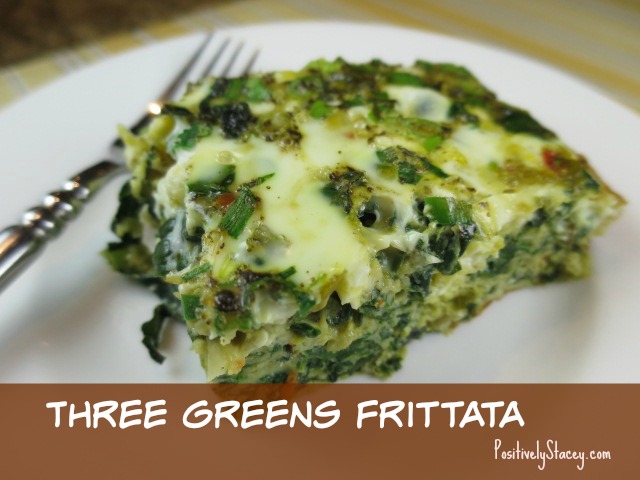 Delicious and healthy with all the greens – kale, spinach, chard, and seasoned with garlic, scallions, and red bell peppers- you cannot go wrong! So yummy!
Triple Greens Frittata Recipe
from the Healthy Mind Cookbook by Rebecca Katz with Matt Edelson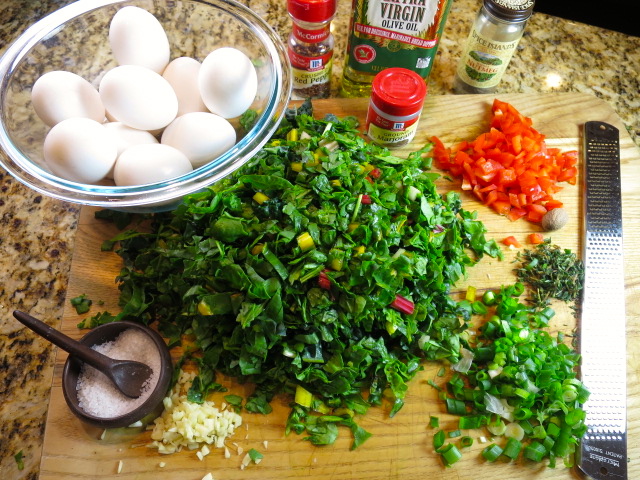 INGREDIENTS
2 Tablespoons extra-virgin olive oil
1/2 cup diced red bell pepper
sea salt
2 cloves garlic, minced
Pinch of red pepper flakes
1 cup tightly packed, finely chopped kale
2 cups tightly packed, finely chopped chard
2 cups tightly packed, finely chopped spinach
freshly grated nutmeg
10 organic eggs
2 scallions, minced
2 tablespoons chopped fresh marjoram (I did not have fresh, so I used
1 tablespoon chopped fresh thyme
1/4 teaspoon freshly ground black pepper
2 ounces crumbled feta
DIRECTIONS
Preheat oven to 375 degreed. Lightly oil a 6 x 8 baking dish (I used 8×8)
Heat the oil in a large skillet over medium heat. Add chopped red bell pepper and pinch of salt and sauté for 3 minutes.
Add the garlic and red pepper flakes and sauté another 30 seconds.
Stir in the kale and another pinch of salt and continue to sauté for 5 minutes.
Add the chard and spinach, and one more pinch of salt, sautéing until the greens are wilted and tender, about 5 minutes more.
Remove from heat and add a few gratings of nutmeg. Stir to combine. Lay the cooked greens in the bottom of the prepared dish. Set aside.
In a separate bowl whisk eggs, scallion, marjoram, thyme, 1/2 teaspoon of salt, and pepper together.
Sprinkle and evenly spread feta cheese on top of greens.
Pour egg mixture over all and bake until the eggs are just set, 25 – 30 minutes.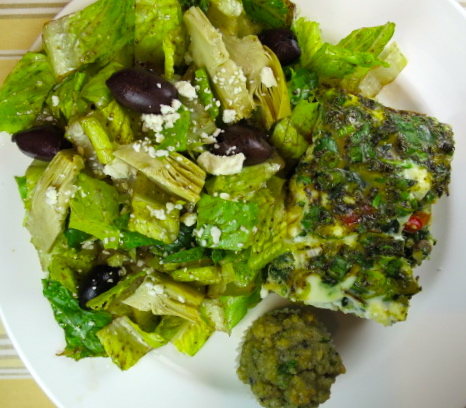 Yes, I served this frittata with a greek salad and savory mini muffins. A whole plate of green and a plethora of scrumptious.
Yes, I love this recipe so much that even after making it three times in a two week span, I am looking forward to making it again soon. This is a perfect recipe for so many meals – breakfast, brunch, lunch, or dinner. You can serve it warm, room temperature, or cold. Really – straight from the fridge.  For sure, if you like delicious that is also healthy – be sure to try out this recipe!
Click here for a printable version of Three Greens Frittata