As you know, I am feeding my family of four on a budget. My goal is to feed nutritious and tasty meals and keep the cost down. To that end, I have been hunting for inspiration. My DVR is set to record Melissa D'Arabian's cooking show, Ten Dollar Meals. But I must admit, I hardly ever watch. The other day though, while folding laundry I flipped through the recordings and her episode titled, Less Money, More Moroccan, peaked my interest. I am really glad that I watched! This delicious dinner was the result…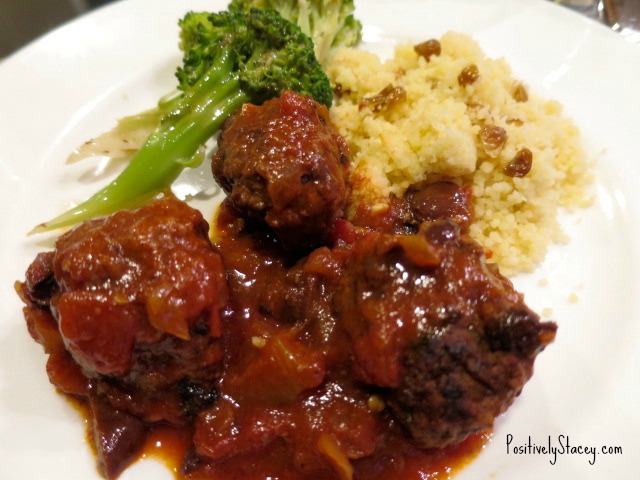 I had most all of the ingredients in the house so when I went to the grocery store on Saturday, I only needed to pick up a few extra items. I am still staying well within my budget 🙂  I made the meatballs for dinner on Sunday. I had the extra time available to play around with this recipe and take my time putting it all together. I will say that this is not a weeknight recipe for me. Granted I was taking my time on Sunday, but it still is not a quick, throw this together meal after work when you have a hungry family staring at you.
Oh, but the simmering sauce filled the house with a wonderful and exotic aroma! Everyone was asking what's for dinner? Smells divine! What I loved about this recipe, is that it had me cooking with ingredients – that while are often in my pantry – I do not use together.  Kalmata olives and cinnamon? Cilantro and ginger? Never before in my world. Cooking Moroccan was definitely a new experience for me!
I watched the show, and pretty much followed Melissa's directions to a T for the meatballs. I made up my own couscous with raisins. I didn't have dates in the house, and I was not going to spend the extra money. I did have carrots, but I needed to use up some broccoli. Part of stretching the food budget, is simply not letting any of the produce in my fridge go to waste! I would say though, the glazed carrots that Melissa prepared as part of the episode would be a perfect complement to the spicy sauce. Next time.
The only adaptation I made was to the sauce. I simply added more of the tomato paste (about an additional 2 tablespoons) and more chicken broth (about and additional 1/2 cup). I made these additions one, because the sauce was a bit spicy for my taste, and two, because the cans were just sitting there needing to be used up. Waste not, want not.  It all blended in fine and maybe even stretched the sauce a bit. Oh, and I used bread crumbs (not oats) and omitted the parsley.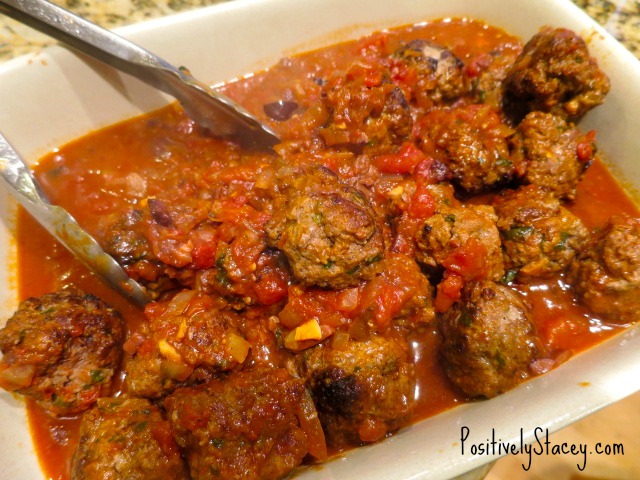 Video from Less Money, More Moroccan can be found by clicking here.
Ingredients:
For the North African Sauce:
2 tablespoons olive oil
1/2 small onion, diced
2 cloves garlic, chopped
1 lemon, zested
1/2 cup pitted and chopped briny olives
1/2 cup white wine
1/4 cup chicken stock or broth
1 (14-ounce) can crushed or diced tomatoes
1 teaspoon light brown sugar
1/2 teaspoon dried red pepper flakes
Pinch ground cinnamon
Salt and freshly ground black pepper
For the Meatballs:
1 egg
2 tablespoons tomato paste
3 tablespoons finely chopped fresh cilantro leaves
1 tablespoon minced fresh ginger
1 teaspoon ground cumin
Pinch ground cinnamon
3/4 pound ground beef
1/3 cup finely ground rolled oats or fine bread crumbs
Salt and freshly ground black pepper
3 to 4 tablespoons vegetable oil, for cooking
4 tablespoons chopped fresh parsley leaves
Directions:
To make the North African Sauce:
In a large saucepan heat the olive oil over medium heat and saute the onion and garlic until soft but not brown, about 3 minutes. Add the lemon zest and olives and cook for 1 more minute. Add the white wine, deglaze the pan, and let it reduce for a 1 to 2 minutes. Stir in the stock, canned tomatoes, sugar, red pepper flakes, and cinnamon, and simmer to blend flavors, about 7 minutes. Season with salt and pepper, to taste.
To make the Meatballs:
In a medium bowl, add the egg and tomato paste and stir until smooth. Add the cilantro, ginger, cumin, and cinnamon and mix until well blended. Stir in the ground beef and oats, season with salt and pepper, to taste, and combine gently after each addition. Do not overmix. Rolling with your hands, make about 32 meatballs, about 1-inch in diameter.In a large saute pan, heat 3 tablespoons vegetable oil over medium heat, and brown the meatballs in batches until golden on all sides. Add more oil, as needed. Transfer the meatballs to the pan with the sauce and let simmer for 20 minutes.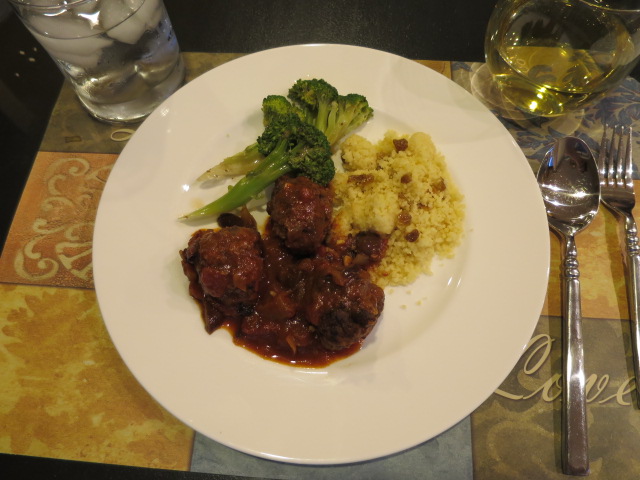 This dinner was delicious, everyone loved it, even the kids! Everyone voted that we need to have this meal again. And like I said, next time I would make the glazed carrots Melissa made in the episode.