One of my daughters' friends just messaged me asking me for this recipe. She said she searched my blog but couldn't find it ~ so here it is!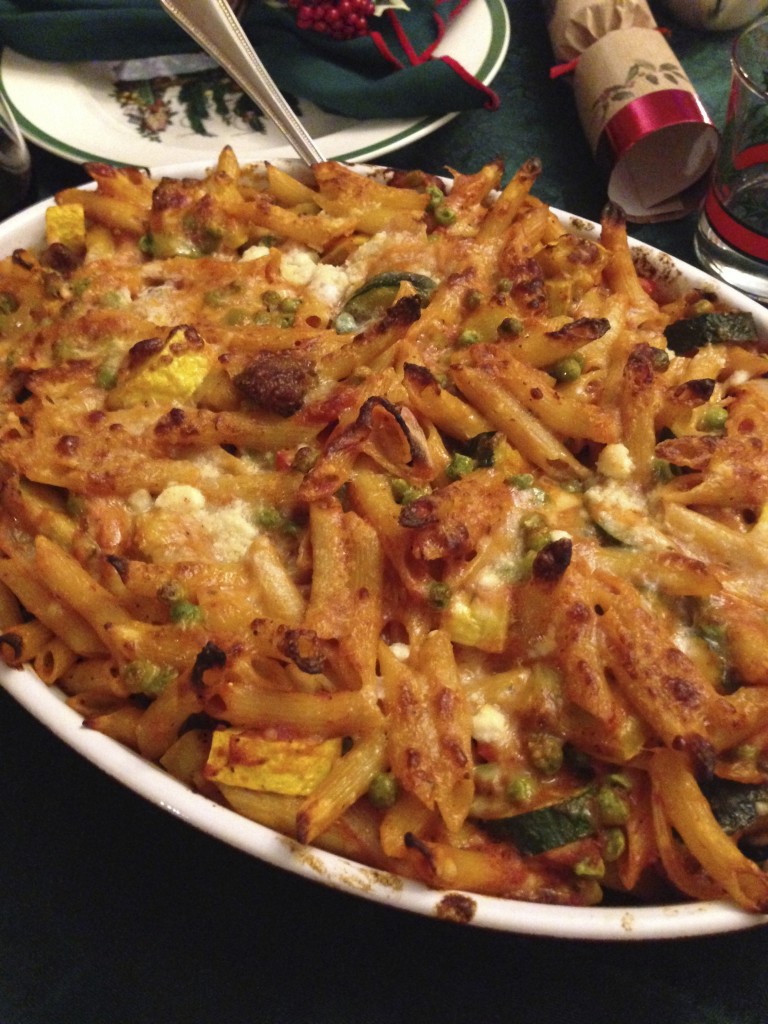 This pasta bake has been in my repertoire of easy, yummy, and fancy enough to serve to diner guest for a few years now. I first made this recipe for a New Year's Eve party. A handfull of years back, I was going through a divorce, and I had just survived my first Christmas with the children splitting their time between their father and me. That was also the year I put up the tree and the house lights by myself. Oh, what a year it was! But for all that I was going through, I had a good friend dealing with cancer. She was recovering from surgery and was set to start radiation after the first of the year. So when she said, "We need to have a New Year's Eve party!" I said, "OK, I can do that!"
With just a few days to plan a party – my first party completely solo in 20+ years – I was busy planning and prepping. When I realized that a number of the quests were vegetarian, I called my foodie friend and said, "Help! I need a do-ahead – keep it warm – delicious vegetarian dish to serve." This was her suggestion, and it was a hit.
While all the food, the drink, and the sparkling decorations made for a festive night – the best part, the "centerpiece" of the party, was the friendship! Together we said good-bye to the past year and toasted to a new and wonderful year ahead of us!
A note in preparation. The recipe below calls for smoked mozzarella. Sometimes I use the smoked version, sometimes I just use regular mozzarella. If you are not fond of the smoke flavoring, just go for the regular. When I made it for my daughter and her friends in Boston, I did not use the smoked variety. Also this dish works great as a do-ahead dish ~ just reheat in a warm oven.
Baked Penne with Roasted Vegetables
Recipe courtesy Giada De Laurentiis
Prep Time:25 min Inactive Prep Time:–Cook Time:40 min
6 servings
Ingredients
2 red peppers, cored and cut into 1-inch wide strips
2 zucchini, quartered lengthwise and cut into 1-inch cubes
2 summer squash, quartered lengthwise and cut into 1-inch cubes
4 cremini mushrooms, halved
1 yellow onion, peeled and sliced into 1-inch strips
1/4 cup extra-virgin olive oil
1 teaspoon salt, divided
1 teaspoon freshly ground black pepper, divided
1 tablespoon dried Italian herb mix or herbs de Provence
1 pound penne pasta
3 cups marinara sauce (store bought or homemade)
1 cup grated fontina cheese
1/2 cup grated smoked mozzarella
1 1/2 cups frozen peas, thawed
1/4 cup grated Parmesan, plus 1/3 cup for topping
2 tablespoons butter, cut into small pieces
Directions
Preheat the oven to 450 degrees F.
On a baking sheet, toss the peppers, zucchini, squash, mushrooms, and onions with olive oil, 1/2 teaspoon salt, 1/2 teaspoon pepper, and dried herbs. Roast until tender, about 15 minutes.
Meanwhile, bring a large pot of salted water to a boil over high heat. Add the pasta and cook for about 6 minutes. Since you will be cooking the pasta a second time in the oven, you want to make sure the inside is still hard. Drain in a colander.
In a large bowl, toss the drained pasta with the roasted vegetables, marinara sauce, cheeses, peas, 1/2 teaspoon salt, and 1/2 teaspoon pepper. Using a wooden spoon, gently mix, until all the pasta is coated with the sauce and the ingredients are combined.
Pour the pasta into a greased 9 by 13-inch pan. Top with the remaining 1/3 cup Parmesan and butter pieces. Bake until top is golden and cheese melts, about 25 minutes.