With the arrival of springtime, my husband was craving lamb. Now, there are cuts of lamb that I love and others that I avoid. I love using a mix of ground beef in my Greek burgers, I love rack of lamb (although its been years since I have roasted a rack!), and I love these loin lamb chops! These are simply delicious! This recipe for Garlic Lamb Chops with Mashed White Beans satiated my husband's craving for lamb big time!
I'm always counting my WW Freestyle points and this meal is no exception. Swapping out traditional mashed potatoes with mashed white beans is a huge point saver! Of course the mashed white beans do not taste or have the same texture was mashed potatoes, but the flavor is a great compliment to the garlic lamb chops.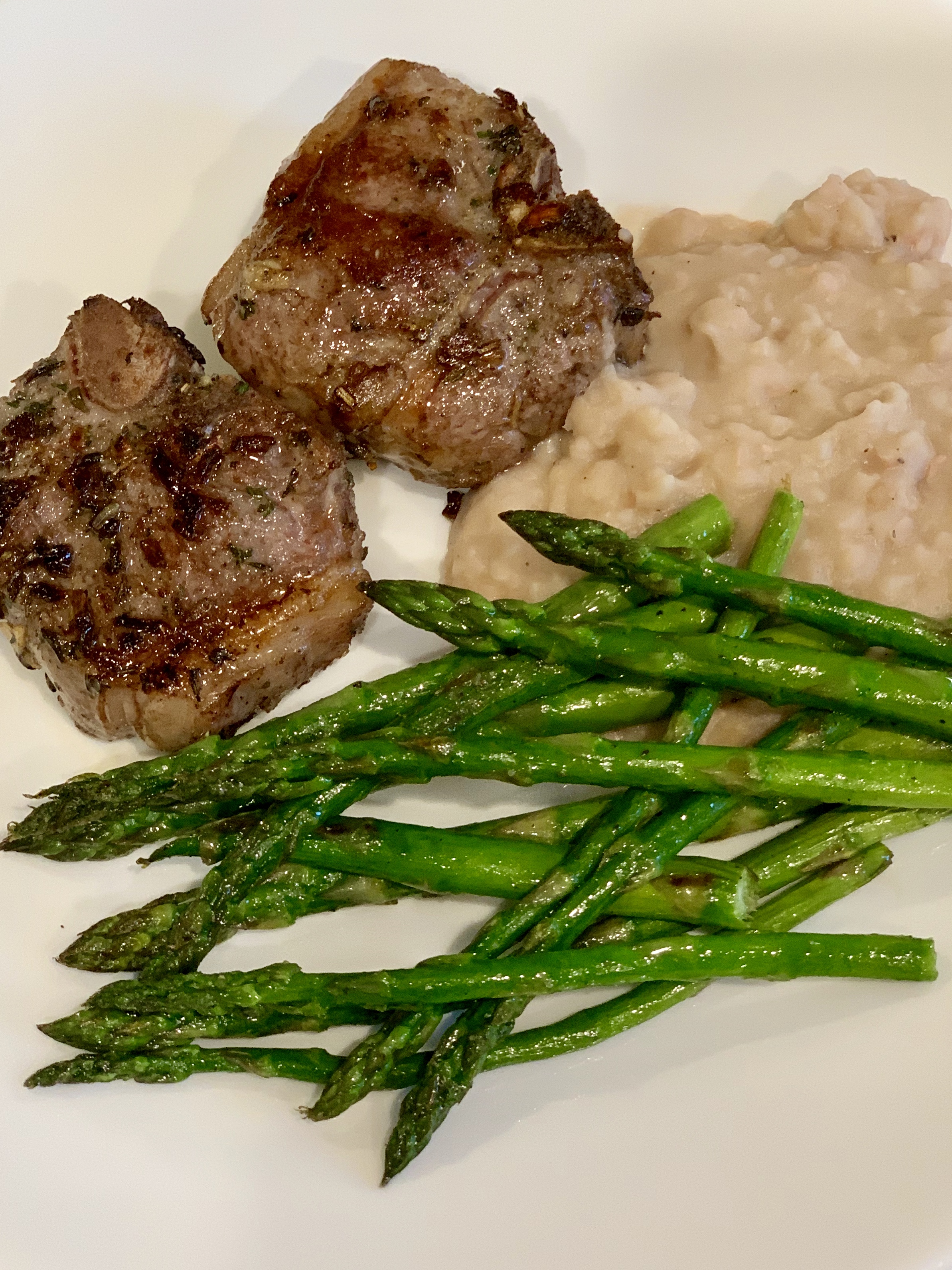 Give yourself some time to get the lamb marinated, but other than the time sitting in the fridge to marinate, this is a quick recipe!
Garlic Lamb Chops with Mashed White Beans
Ingredients
4 garlic cloves, minced
2 teaspoon olive oil, divided
1/2 teaspoon herbs de Provence
1/2 teaspoon salt, divided
1/4 teaspoon black pepper, divided
4 Lamb loin chops (I doubled my recipe for leftovers, but the ingredients listed are to make 4 – 5 chops.)
1 15 oz. can cannellini (white kidney) beans, drained and rinsed
2 tablespoons vegetable broth
1 tablespoon lemon juice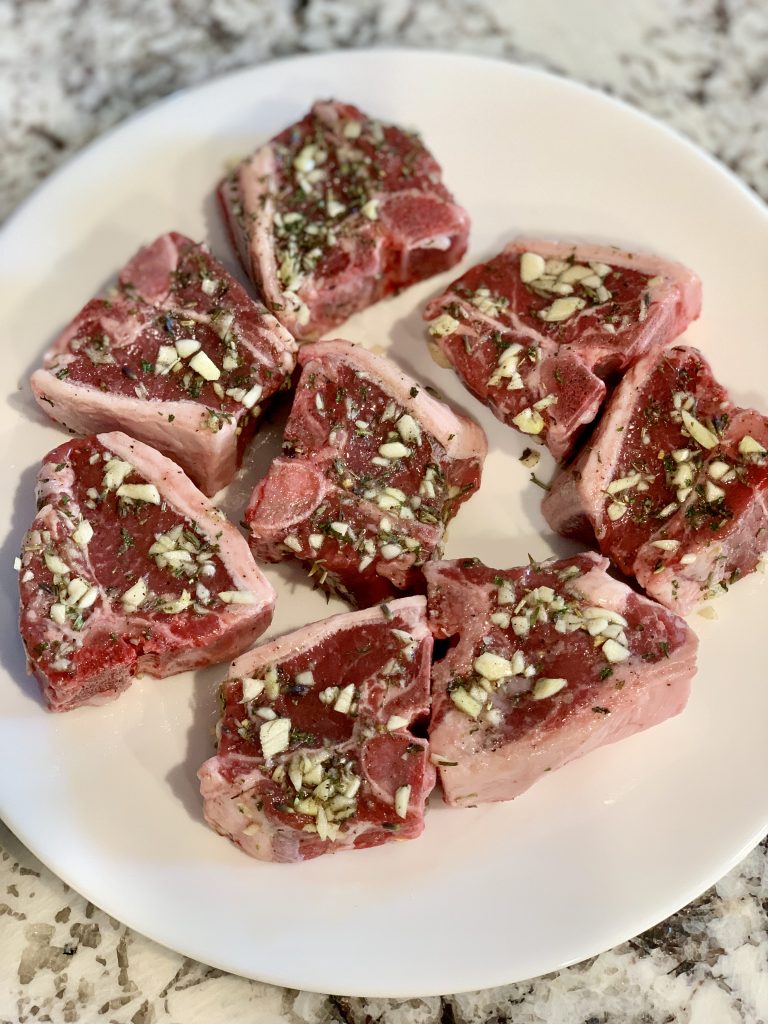 Directions
In a small bowl mix the minced garlic, 1/2 teaspoon olive oil, herbs de Provence, 1/4 teaspoon salt, 1/8 teaspoon black pepper until well combined.
Rub mixture onto lamb chops, place on plate, and refrigerate for two hours or up to overnight to marinate.
Heat a nonstick skillet ver medium heat. Add lamb chops to heated pan and cook about 3/4 minutes per side. Meat thermometer inserted into the middle of the meat should read 145 degrees. Transfer chops to a clean plate and let set. Keep warm.
On Medium heat, heat 1 1/2 teaspoons of olive oil in same skillet. Add 2 cloves mined garlic and cook until fragrant, about 1 minute. Do not burn. Add beans and heat through. Using a masher or wooden spoon, white beans to your chosen consistency. This can range anywhere from fully mashed, to mostly whole with some smashed beans. Once heated through add vegetable broth, lemon juice, 1/4 teaspoon salt, and1/8 teaspoon black pepper.
Serve mashed white beans alongside lamb and add green vegetable of your choice.Spring always says asparagus to me.
Enjoy!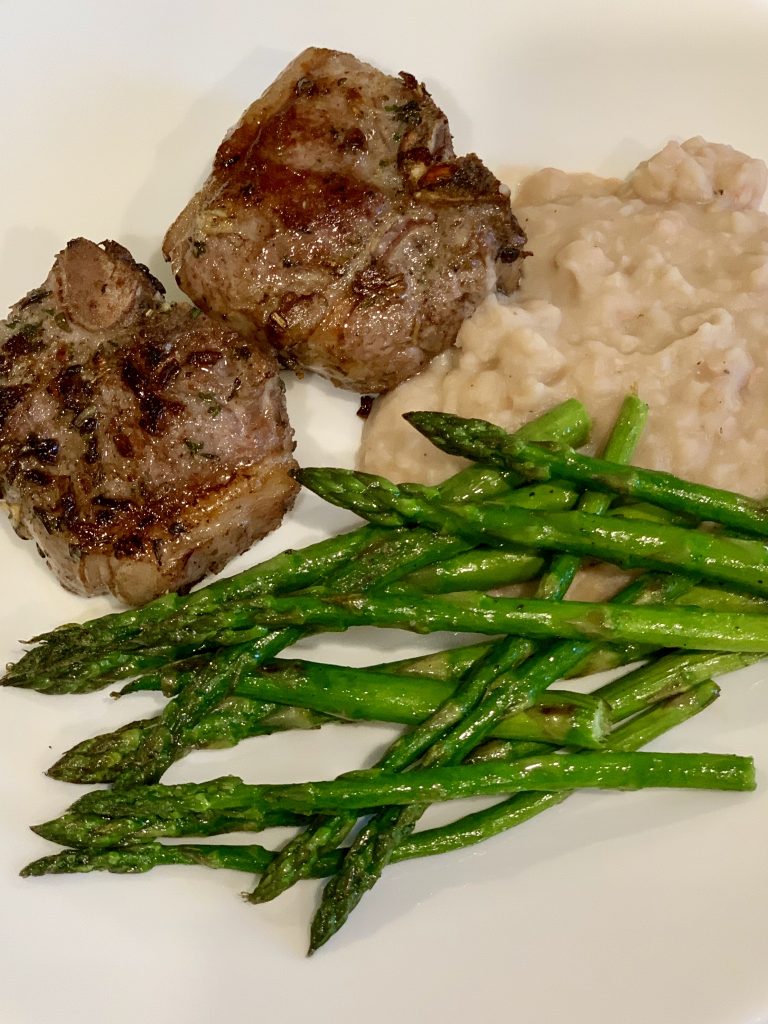 If you are counting WW Freestyle points, this is what you need to know:
3 oz. of trimmed cooked lamb loin is 4 points
1 teaspoon of olive oil is 1 point
Everything else on the ingredient list is zero points!
I counted my dinner that included two loin chops as a eight point dinner. I based this on my best guestimate of lamb weight – I did not actually weigh them.
This is a crazy amount of flavor for only eight points! Plus is was an easy to make and very fancy looking dinner. My husband loved it!