Thank you to Evite for sponsoring this post. #BeThere #ad #PaidPost #PartyOnTheFly #LifesBetterTogether #Evite  As always, all opinions are 100% honest & completely my own.
We have hosted an annual Christmas party for years. Last year we went with a Danish Themed Party as we had recently visited Denmark. This year however we decided not to have our large festive gathering. Yep, we decided to take a year off. If you follow me on Instagram, you know that we just spent a week in Mexico with all six kids for Thanksgiving. We had a wonderful time and the trip ate into our Christmas budget. So to help balance it all out, one thing we cut back on this year was the big party. 'Cause if you entertain – you know it can get expensive.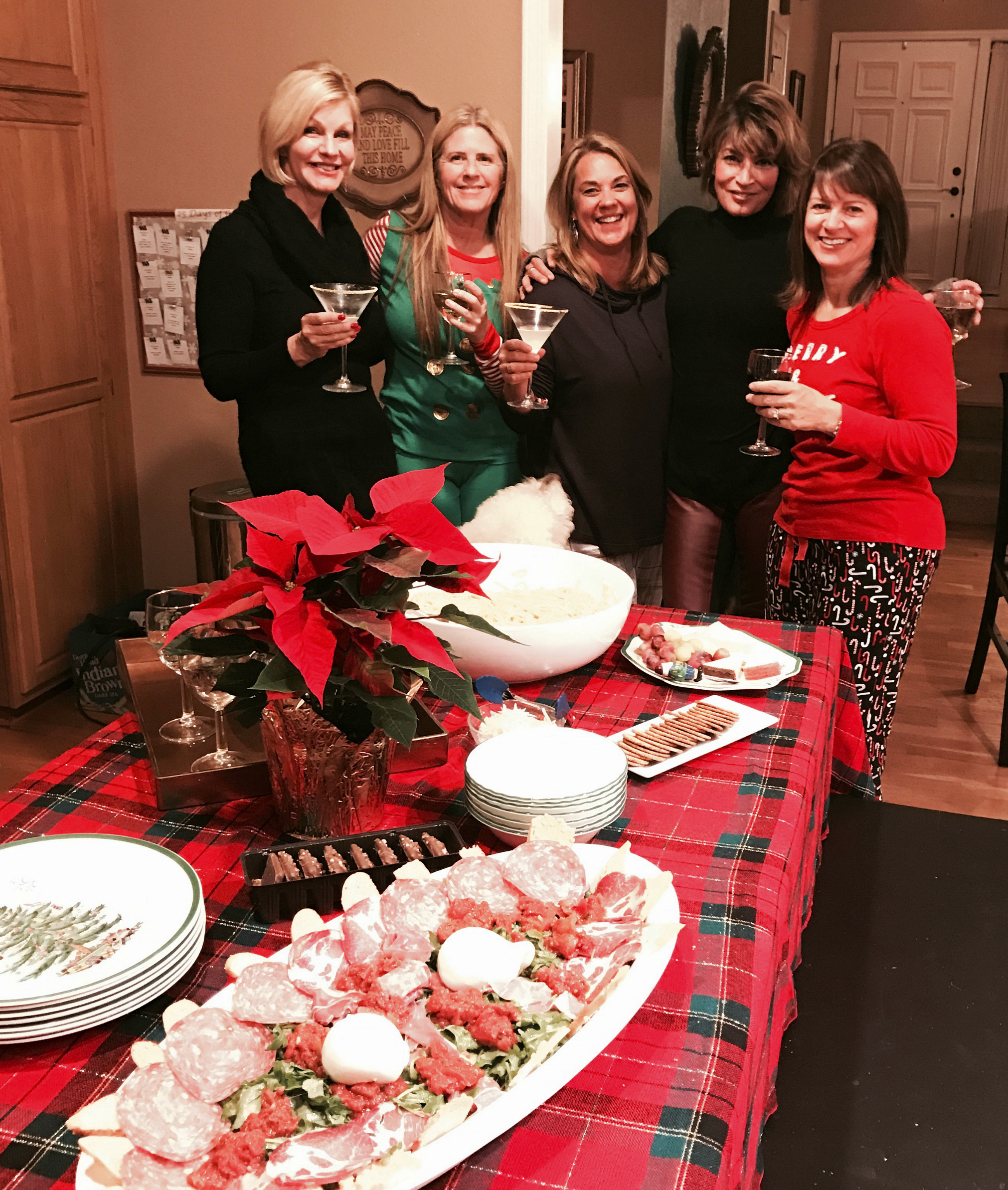 Then Evite® called and offered me a challenge. Could I put together a quick on the fly holiday party for under $100. Of course I can do that! Seeing that we decided not to have the masses over for Christmas cheer – I thought this would be the perfect way to still do something. Of course this was going to be a considerably smaller gathering – a party on the fly. Seeing that I got home Sunday night from Mexico, was back to work Monday morning in the classroom, and guests were coming over Friday night meant that this most definitely would be a party on the fly. Something fun, quick, easy, and yummy. Those were my requirements. Oh yes – and cheap. I had the $100 budget to work with.
So what did I come up with? A Holiday Hullabaloo! A Divide and Double The Fun Movie Night! An All is Awesome Alliteration Party! We split the genders and had two parties instead of one. I hosted the Ladies with Lemon Drop Martinis, Linguine and the movie, Love Actually. The Boys headed over to a friends for Beer, Barbecue, and the movie, Bad Santa.

Who doesn't love an easy Friday night with friends? And who doesn't love curling up and enjoying the warm-fuzzy feelings of a good holiday rom-com? This was the plan. My husband has a tradition of watching Bad Santa every year. The movie Bad Santa does absolutely nothing for me – it really is boy humor. So for this night we decided to split the genders so that we could enjoy two very different movie titles. This fun-filled night started with a quick Evite sent out to my friends. I also let my friends know that jammies were perfectly acceptable party attire.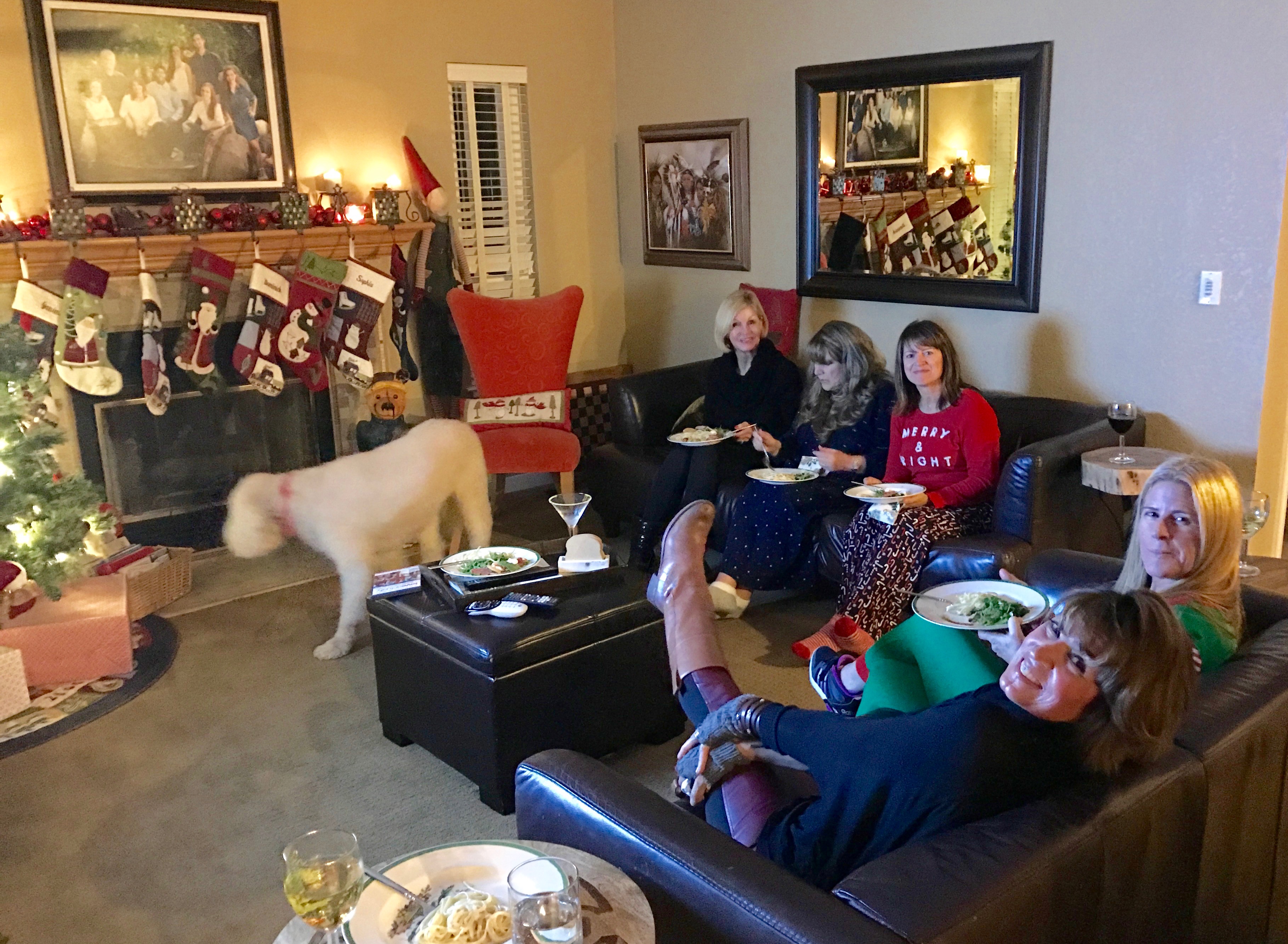 The menu was rather simple. Remember….Friday night. I am always rather tired by the time Friday evening rolls on in. Plus last week I was dealing with some serious jet-lag for half of the week. I did blow the whole budget plus a little more. I could have done it a bit cheaper by making the pulled pork myself. But I simply did not have the time. This was a party on the fly!
Holiday Party with a Twist – Divide and Double the Fun Movie Night
The Menu for the Ladies
Cheese, Crackers, Grapes
Lemon Drop Martinis
Lemon Linguine
Chocolate Cookies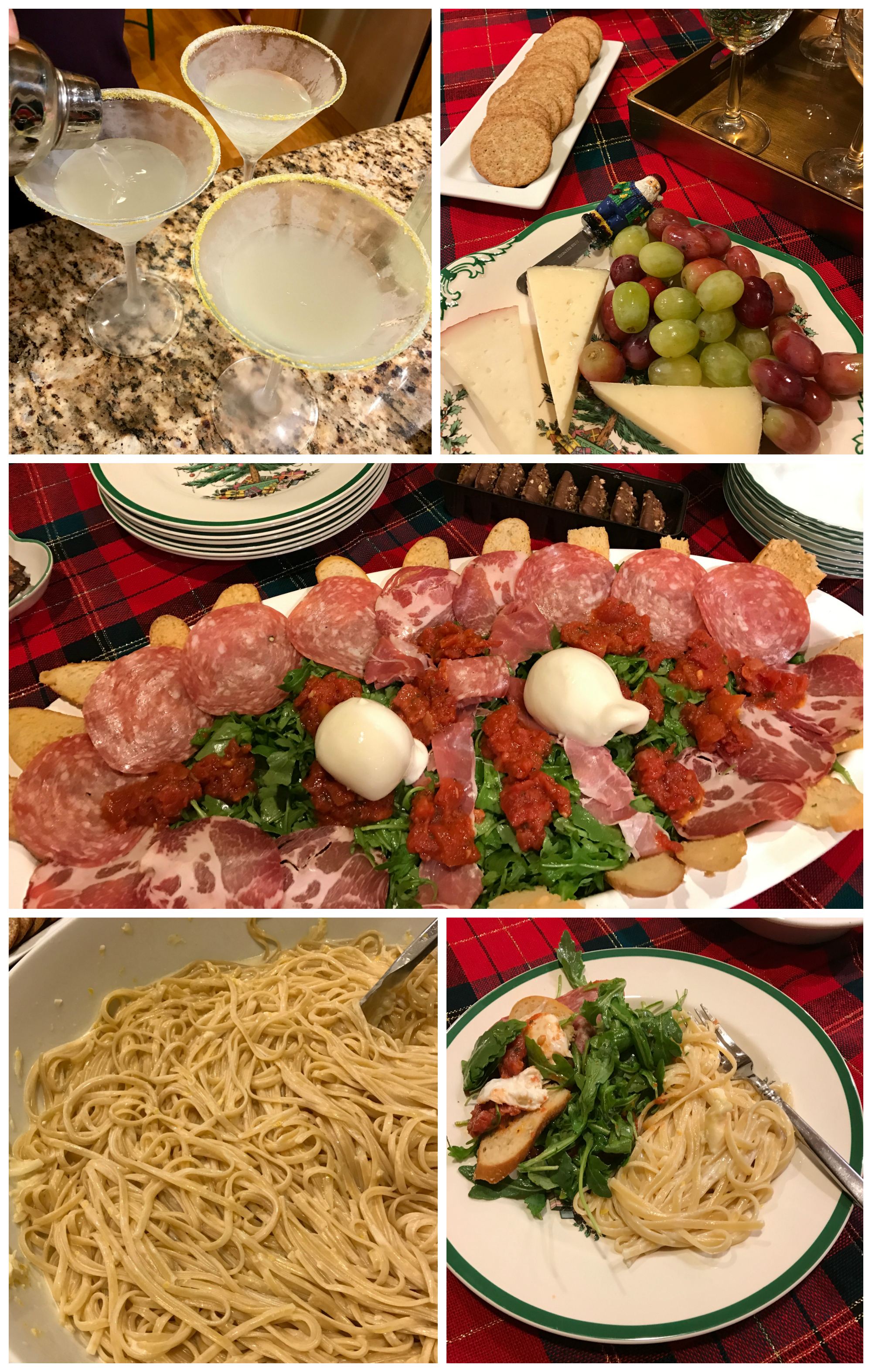 The Menu for the Men
Cheese, Crackers, Grapes
Mixed Nuts
Beer
Pulled Pork Sandwiches
Coleslaw
Chocolate Cookies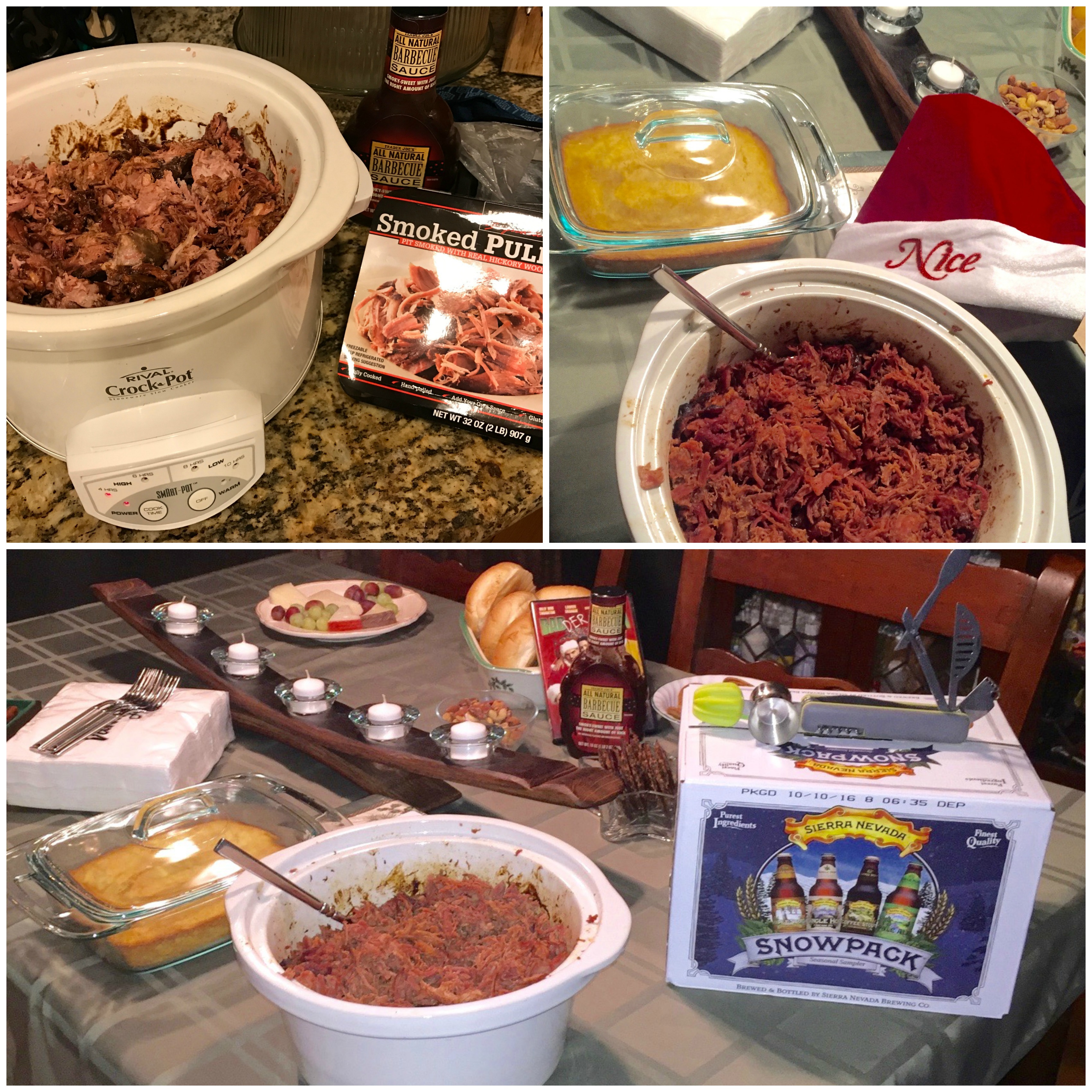 The budget and how it broke down:
Pulled Pork: $20.00
Rolls: $2.00
Coleslaw: $1.50
Nuts: $3.00
Beer:  $14.00
Crackers, Cheese, and Grape Plates: $12:00 (split for both parties)
Lemon Linguine: $8.00
Lemon Drop Martinis: $16.00
Bruschetta Salad: $21.00
Cookies: $4.00
Total party budget (technically two parties) for 11 guests = $102.50.
The party was loads of fun and surprisingly went really late for a Friday night. While I provided most of the food and drinks for both houses a few guests showed up with treats to share. Even though I told everyone "No" they insisted. So in addition to what I provided at our Ladies' Movie night, we also had some yummy chocolate drizzled popcorn and a couple of bottles of wine. For the men the was an addition of corn bread and maybe a bit of bourbon 🙂
The night was filled with photo opportunities and many of these photos are viewable to the party guests in our Evite Private Sharing feed. It is our very own little photo collection of the party where party guests can enjoy and comment. Letting the party continue a little bit more. I actually started sharing photos before the party. I added photos of lemon drop martinis and movie DVDs. The conversation started before the party. What a fun way to get everyone looking forward to our evening together.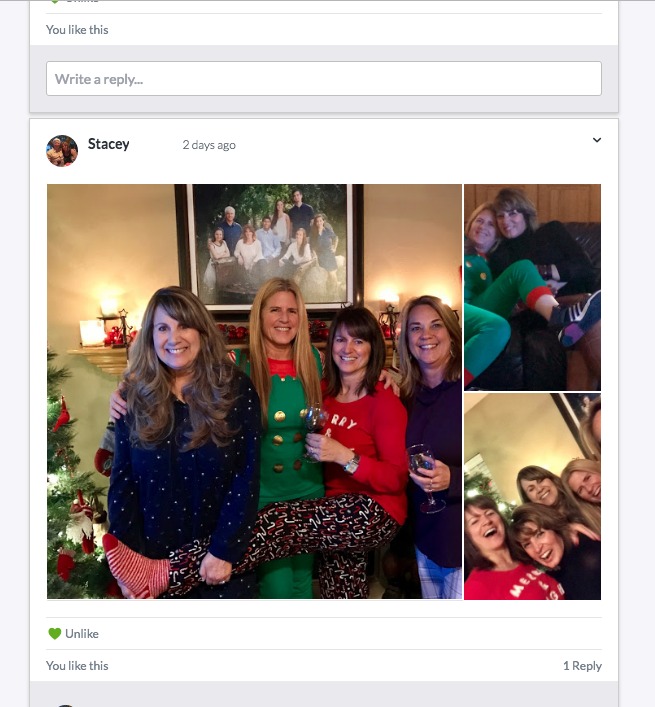 Spending time with friends should be easy, with this party menu it is also inexpensive. 11 of us enjoyed a great evening of food, friends, and fun – All is Awesome!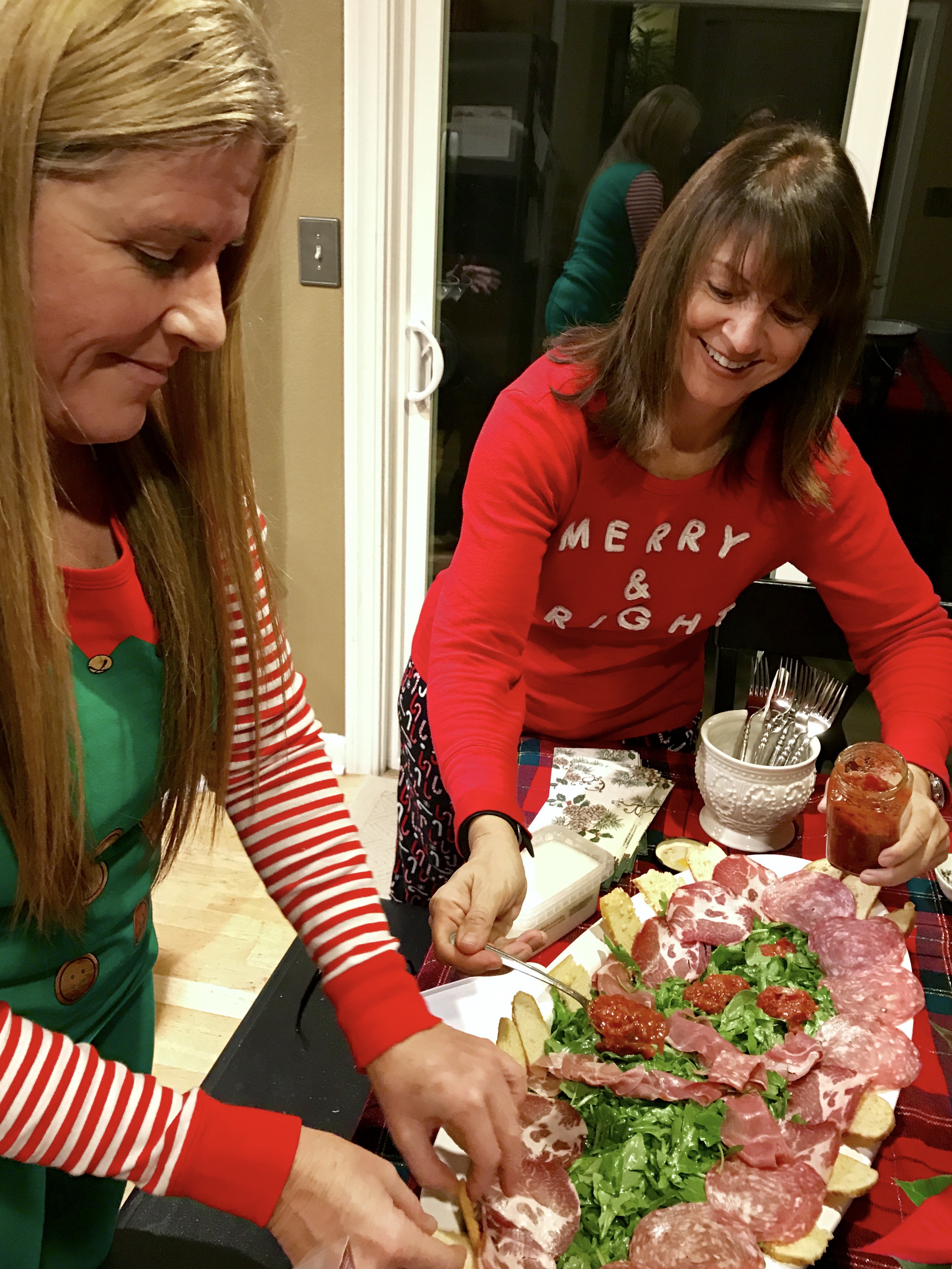 After the party I was able to send out some quick thank you notes along with photos of the night. This is most definitely the easiest way ever to send thank yous! All the email addresses are already there – and Evite already knew who was able to attend. I was able to personalize each note to say exactly what I wanted to say to each guest.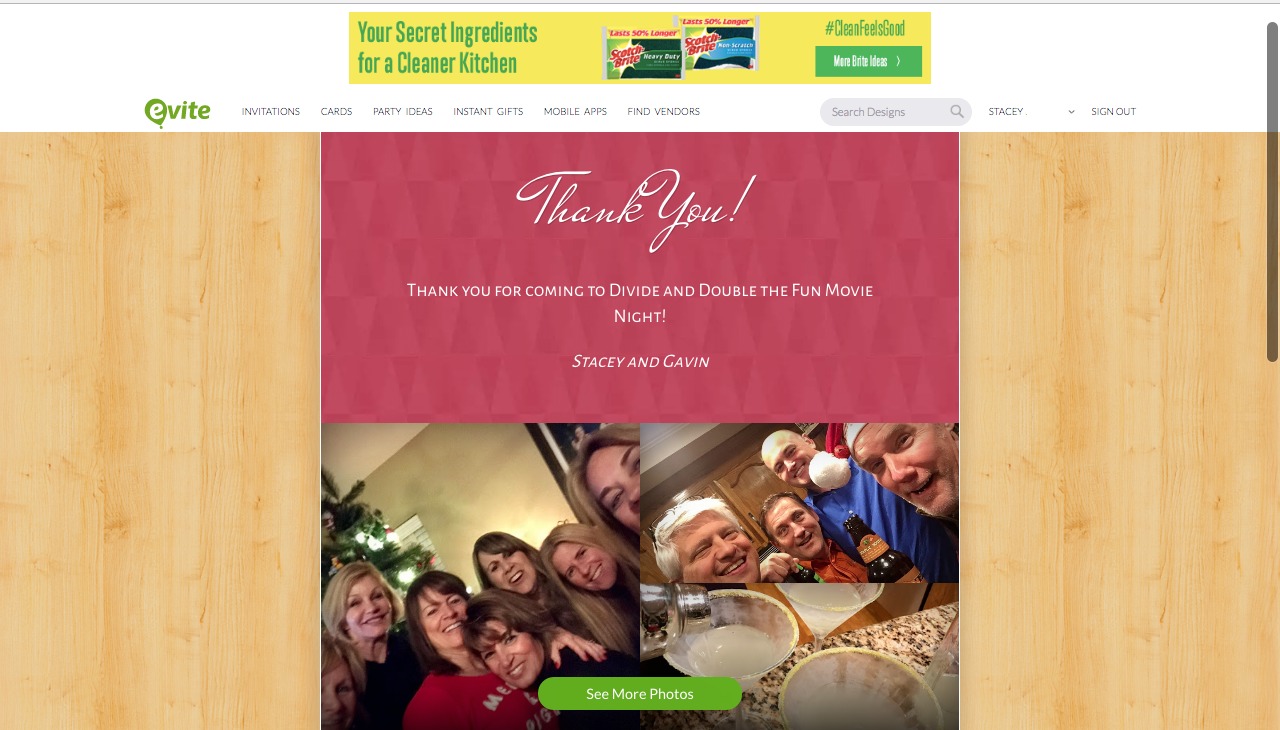 This was a memorable night for sure! I am all about creating a beautiful life and that means making the time for friends and family. There is no reason to let budget or time get in the way of gathering with loved ones. Evite also challenged a number of other creative and party loving bloggers to come up with their own Party on the Fly. Be sure to check out all of their great party ideas – Just click here. Remember Life's better together! What are some of your easy ways to gather with friends for the holidays? I'd love to hear your ideas.
This post is in collaboration with Evite.com and their Evite Influencer Program. While I am compensated for this post, all thoughts and opinions are 100% my own. #BeThere #Evite