When we were in Nuevo Vallarta we signed up for two outdoor adventures with Vallarta Adventures. Traveling with a group of 10 with ages ranging from 13 – 50+ we were looking for activities that we would all enjoy. Activities that both thrilled the younger set and equally challenged the older set. We found what we were looking for with Vallarta Adventures!
We signed up for two days – the first day we participated in the Extreme Adventure and the second trip was the Sea Safari. Both were very different and offered different activities. While we enjoyed them both, I'd say my favorite was the Extreme Adventure. Hands down!
When we signed up we were a group of ten. Unfortunately Dom hurt his foot and was not able to go with us on these two days. He hung back at the hotel and enjoyed lounging and reading a good book.
The Extreme Adventure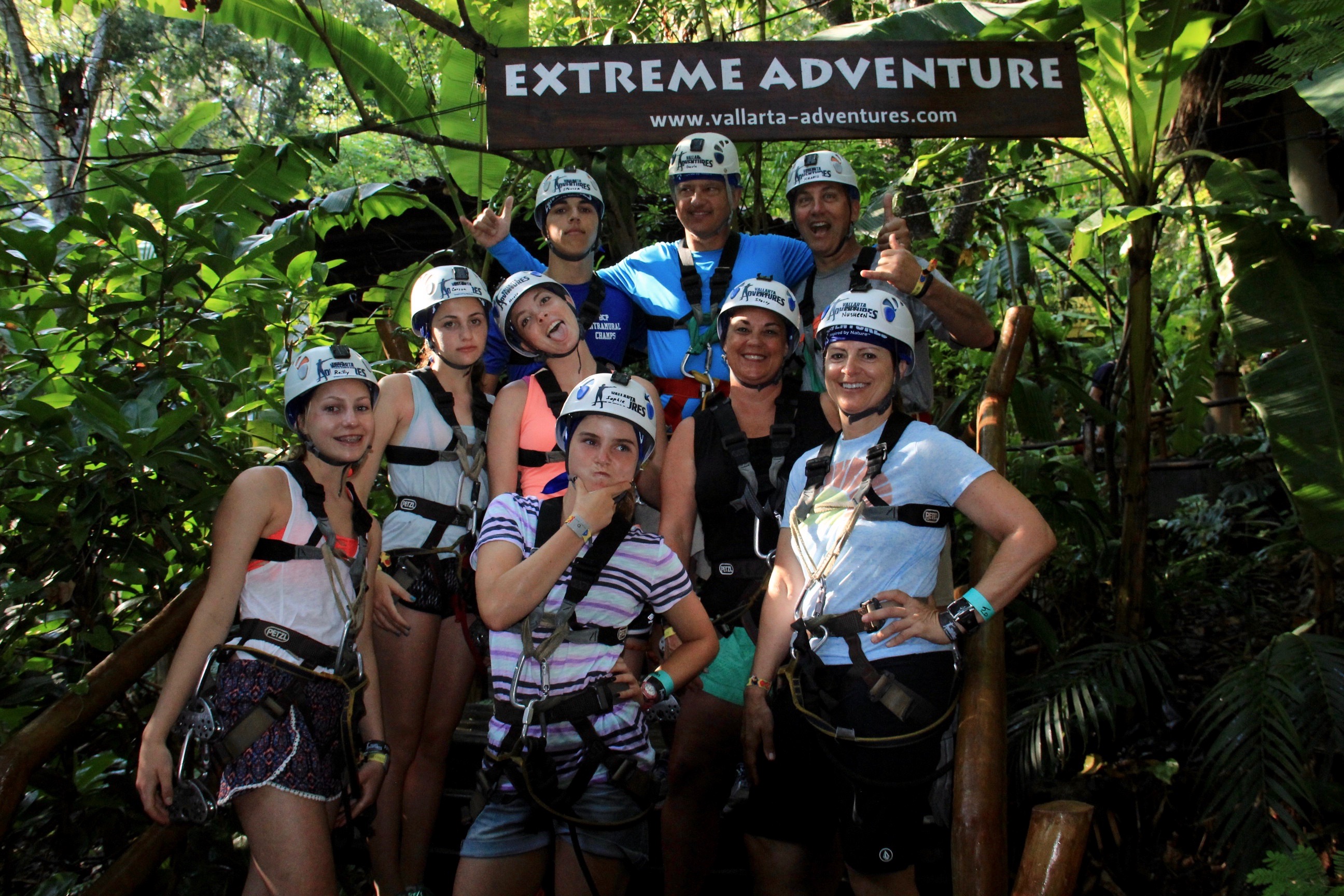 This outing started us right off the bat with zip lining!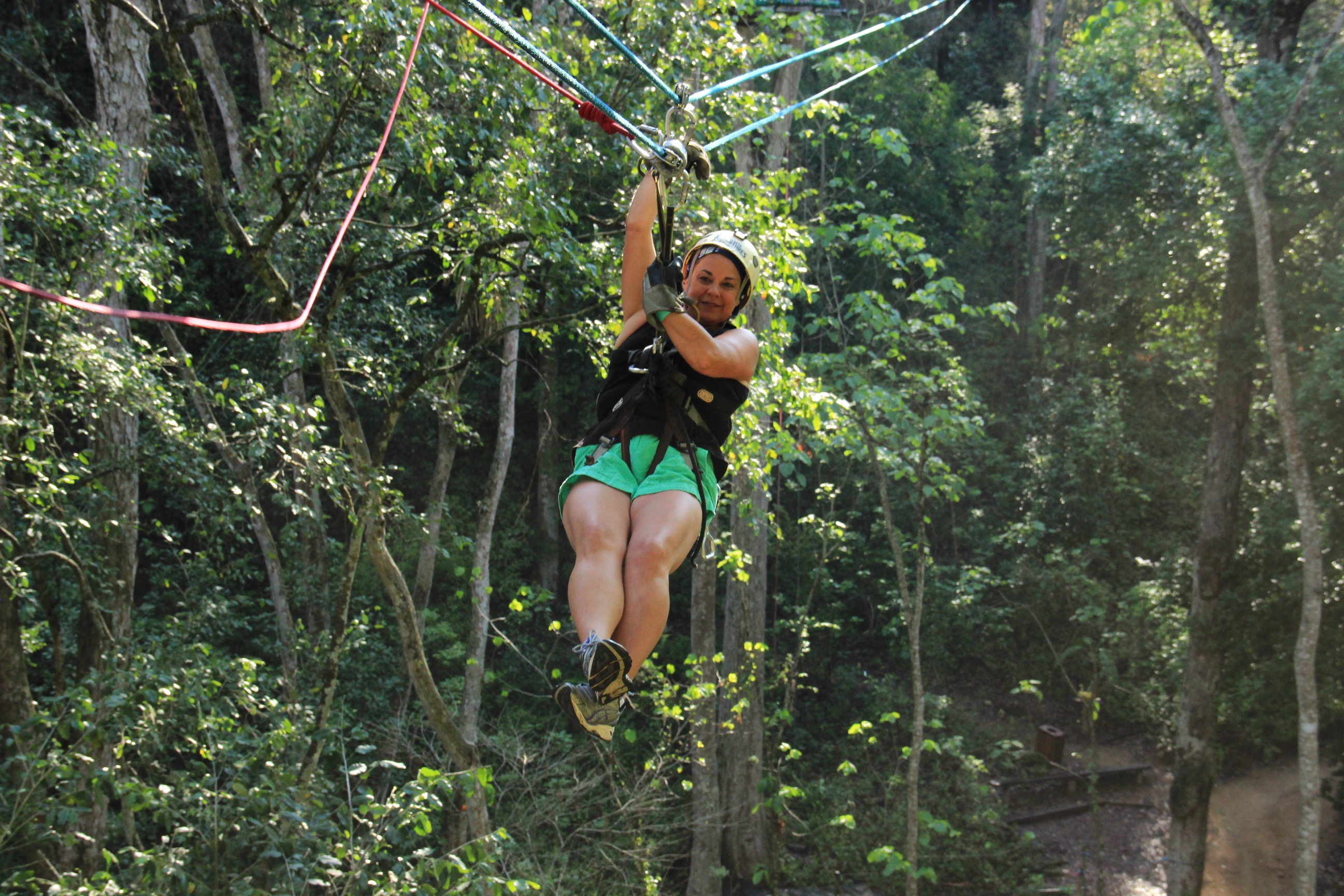 From platform to platform we flew through the tree tops. The more adventurous of us – chose to fly upside down on one of the lines. Not me!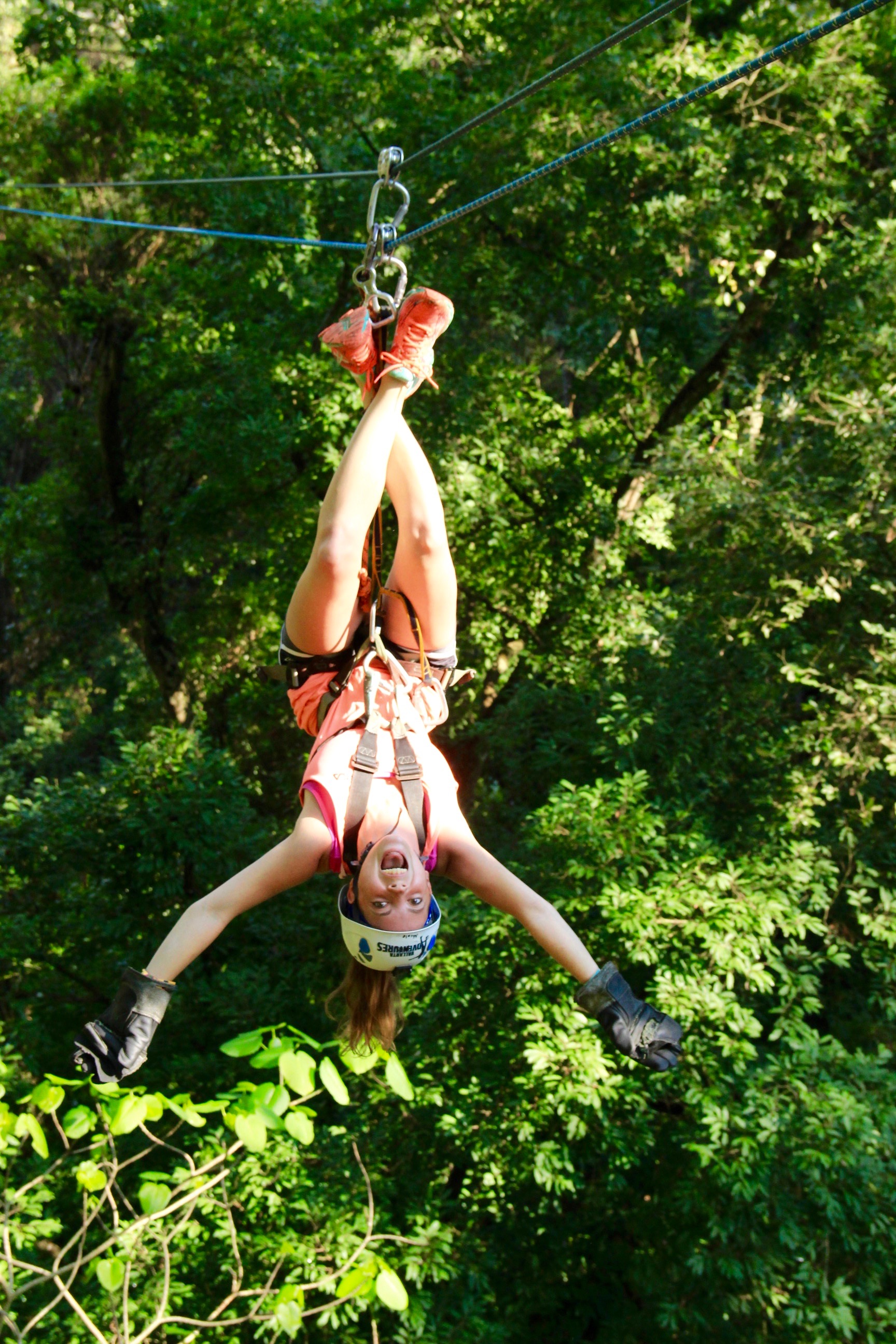 At one point we zip lined down side by said in pairs of two. This was so that we could race each other to the finish line – the platform across the tree filled jungle!
While some of us kept the race close till the end…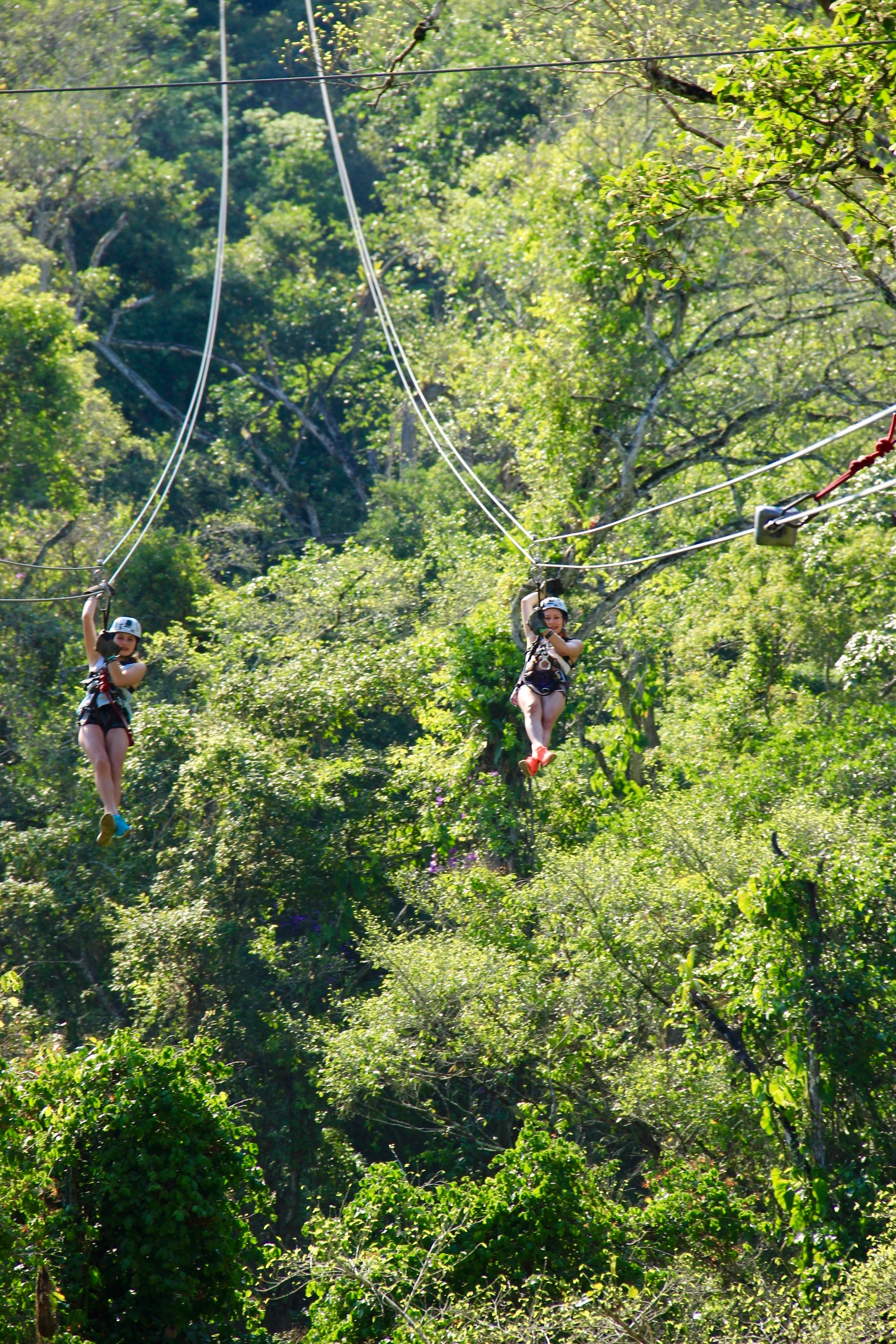 I was schooled by my stepdaughter! And here I believed I was zooming though the trees. It really felt like I was going seriously fast!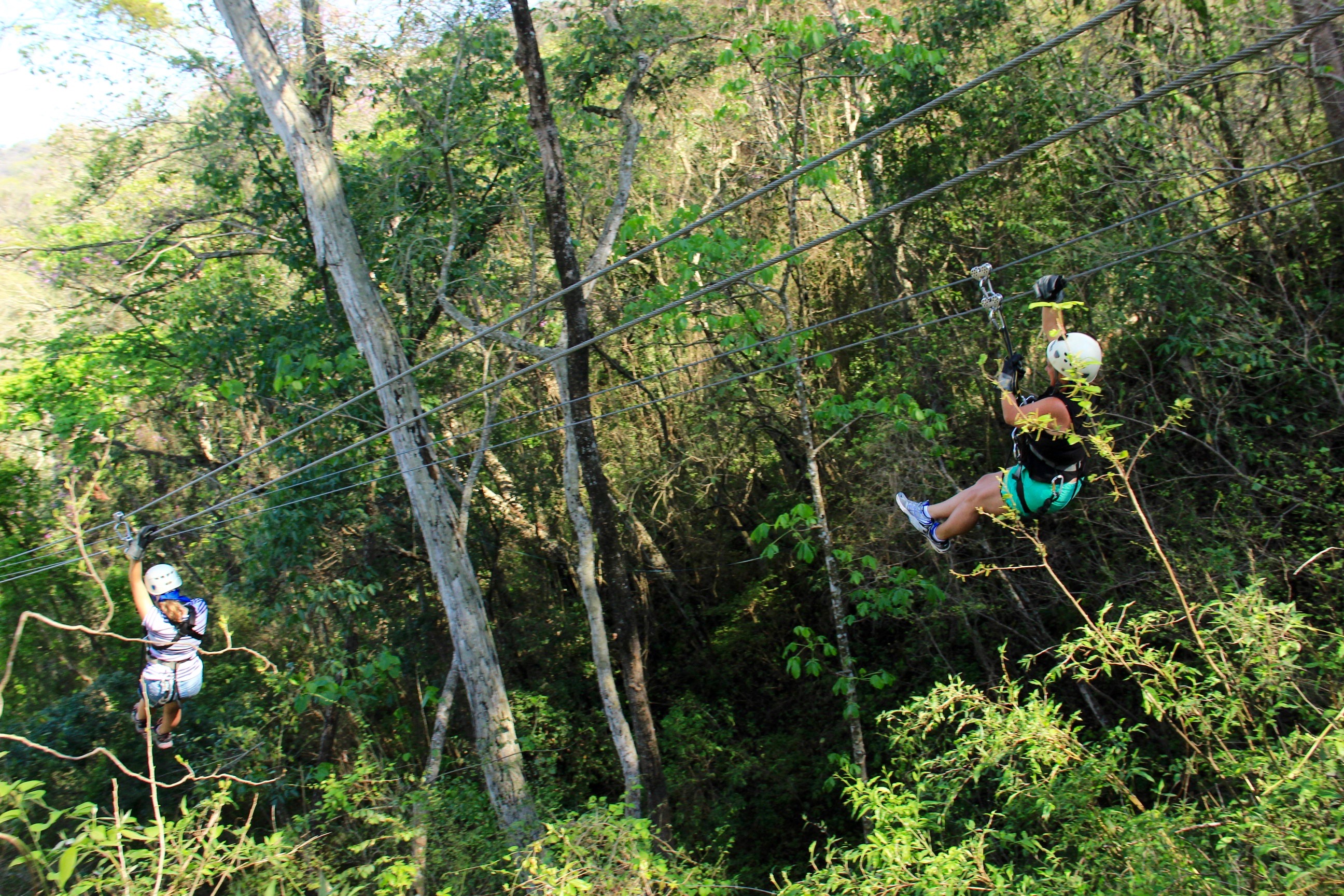 After a few rounds of zip lining we repelled down to the ground from the tree tops. Yes, my family is way down there waiting for me!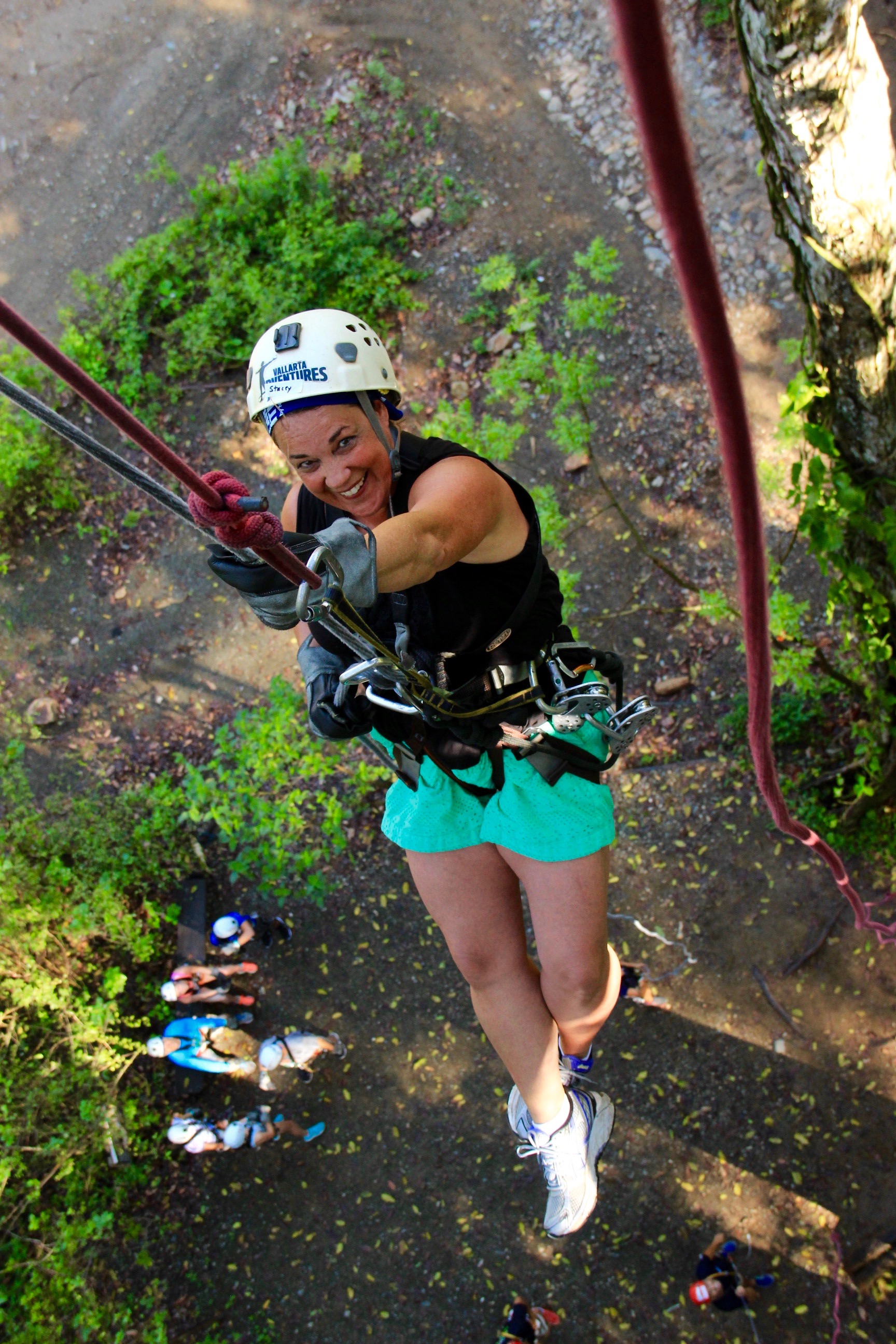 But we did not stay on the ground for long. This is the Extreme Adventure after all. Back up we climbed a cargo net to take us to the next round of ropes.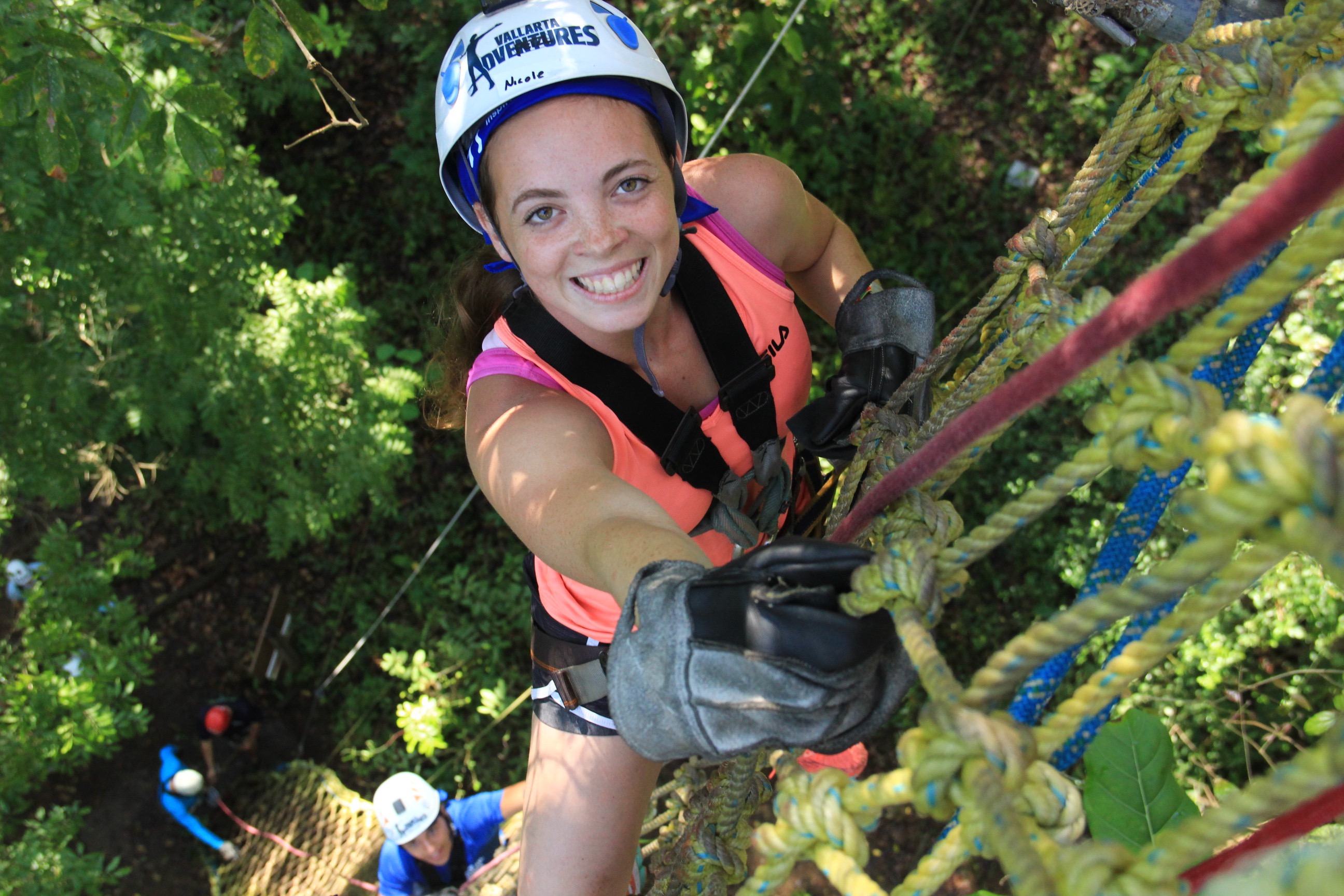 That cargo net was a long and hard climb! After the strongest and fittest of the bunch said how hard it was – I opted for the walk up the hill route 🙂 But pleased to say that everyone else in the group climbed the net. This then led to a ropes course. Traveling from one platform to another.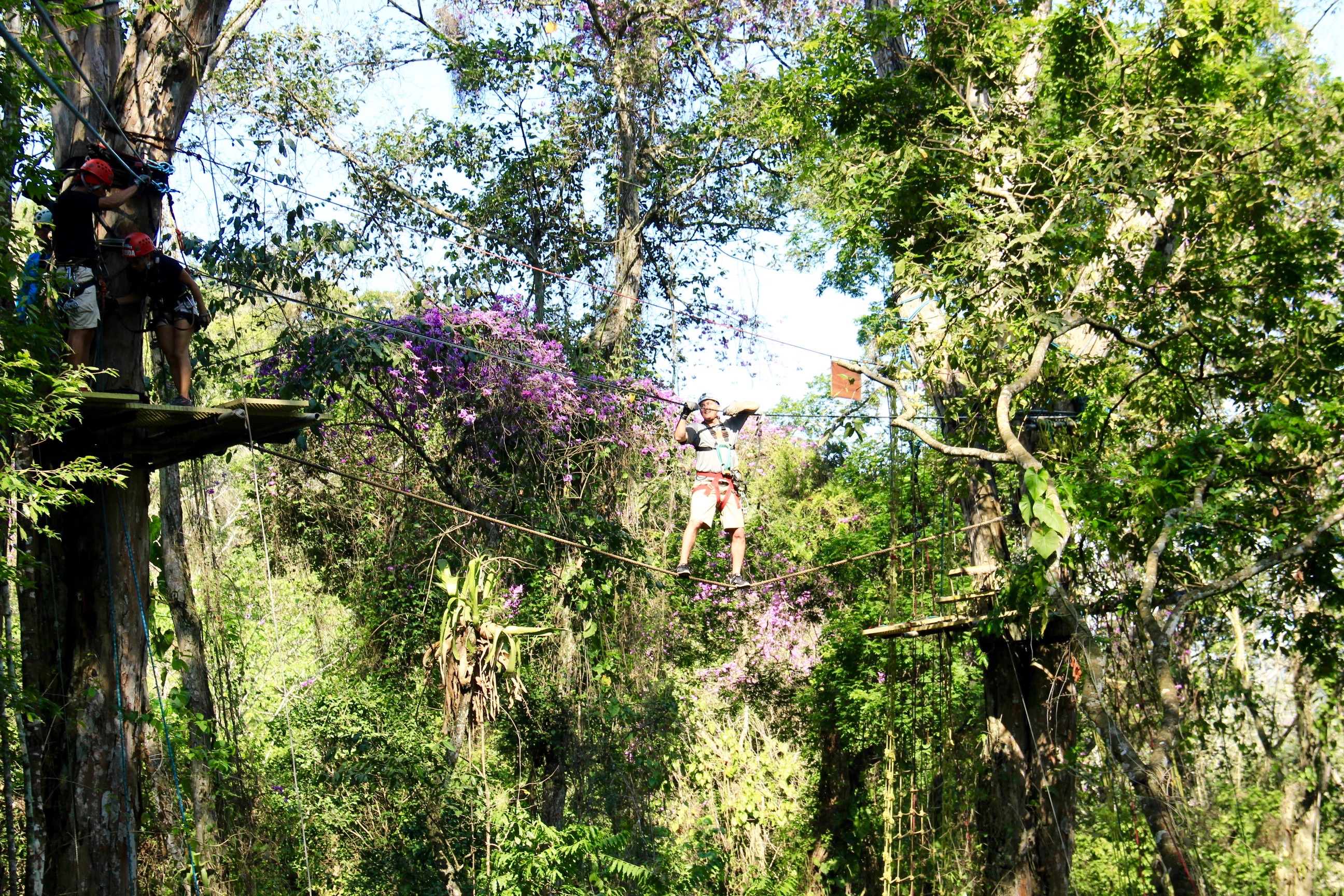 Of course that meant that we needed to get down from the tree tops once again. This time we jumped! Yep, really jumped off a platform. After taking a few swings through the air – we were slowly lowered to the ground. This giant "swing" was fun! I was not expecting the few moments of free falling in the air. I have never had a desire to bungee jump – but those moment of free falling? It was really cool. Our fall was short as we quickly fell into the swinging motion of the apparatus.
Then we got to the part that the kids were really looking forward to. As if all that zipping through the trees was not enough! We got to go four-wheeling in UTVs. They offer two and four seaters. We had a number of people that wanted to drive so we loaded up into a lot of cars. I was happy to be a passenger in my daughter's car. Yes, I put my life in her hands. The trail took us up steep grades, down hills, and through twists and turns. There was more than one time that I was worried we would flip over going around a turn, but I imagine that the course is safe. At least that is what I kept telling myself as we banked a turn and I hung on for dear life all the while trying to shift my weight to the other side.
We drove across a number of creek beds – remembering to lift your feet as a passenger when the muddy waters coming rushing in is a must. We most definitely were feeling all "Indian Jones" with this part of the jungle adventure.
After the UTV driving we had a bit of a break where we all got to try our hand at archery. Sophia was happy to be the one who shot closest to the bullseye and winning a prize. I came in second 🙂 After this we were of to one more zip line.
This zip line is the king of kings when it comes to zipping through a jungle canopy. This zip line is the longest and fasted zip line in Mexico! It is 1,200 meters (nearly 4,000 feet) long and you can reach speeds up to 60 mph! I admit, I was a little nervous as I waited my turn on the platform. But once I was "flying" in the air I was totally enjoying the ride.
Excuse all my crazy sounds! I reminded myself of when my daughter was young and she would sing out loud as we pulled her on the inner tube behind the boat.
After that we headed to a giant water slide. There is something nerve-wracking about stepping into a tube that you cannot see beyond a first bend and you have no idea where the tube leads. All I knew was we we on top of a mountain and the tube got us to the bottom. I could hear the quick whoosh and screams of my friends and family members as they were sucked into the tube before me. If you have back problems – you would not want to head down the waterslide. It was fast and full of twists and turns. It dumped us out into a shallow pool of water where we came to a full stop. The cool water did feel refreshing after a hot day spent in and around the jungle.
This Extreme Adventure was a blast! I loved every moment of the adrenaline rushing moment of pure exhilaration. The day ended with a change into dry clothes and then a bit of time to enjoy some home-made tortillas, chips, salsa, and a drink.
Sea Safari
As invigorating as the Extreme Adventure was, the Sea Safari is a whole different kind of adventure. This one is much more relaxing and more about enjoying the day with a couple of activities.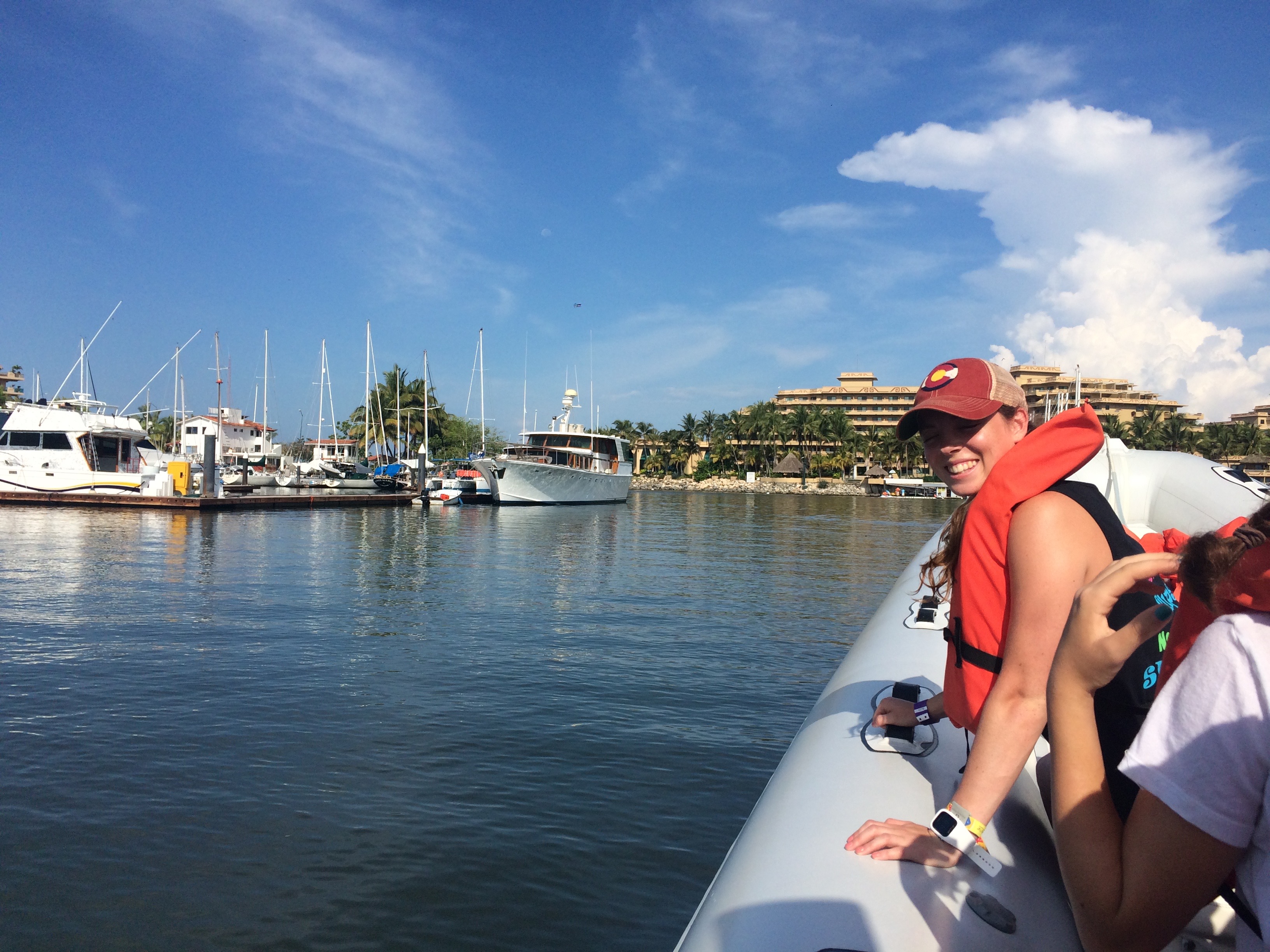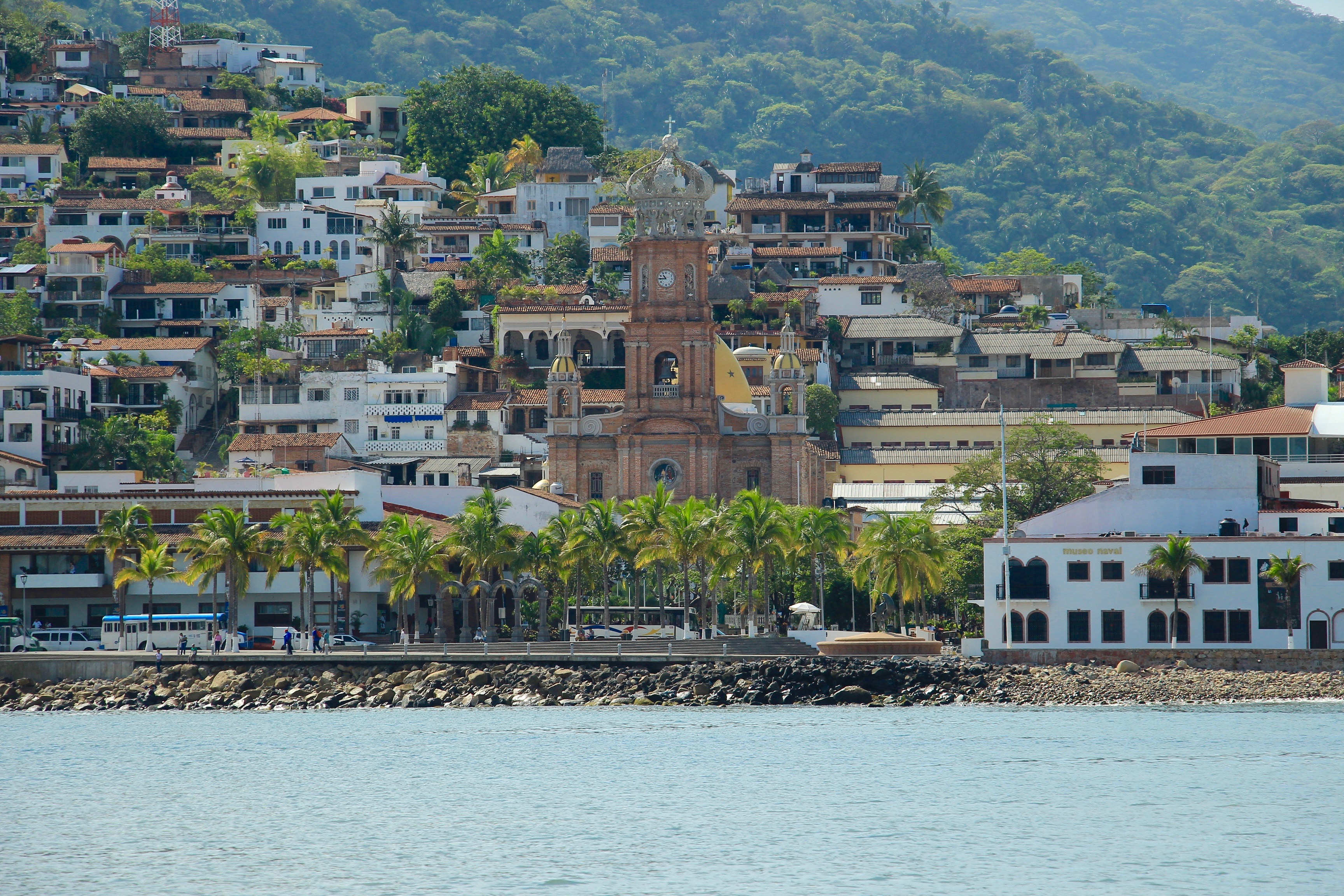 It starts with a boat ride. This offers a great way to see the coast and enjoy the fresh air of the ocean. The coastline changes from deep jungles to scattered houses and small villages. With a long ride across the bay – we were able to see a lot of wonderful sights.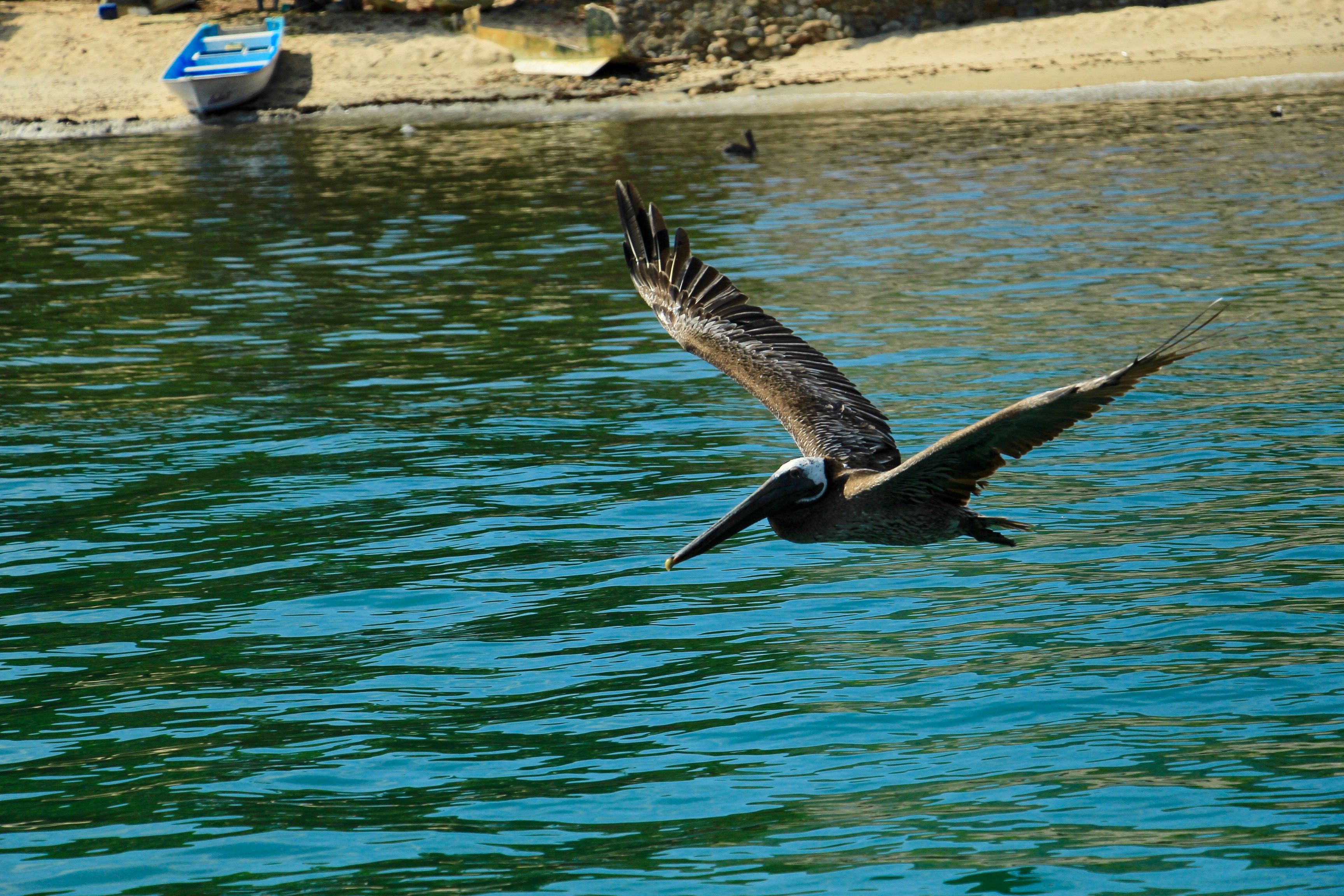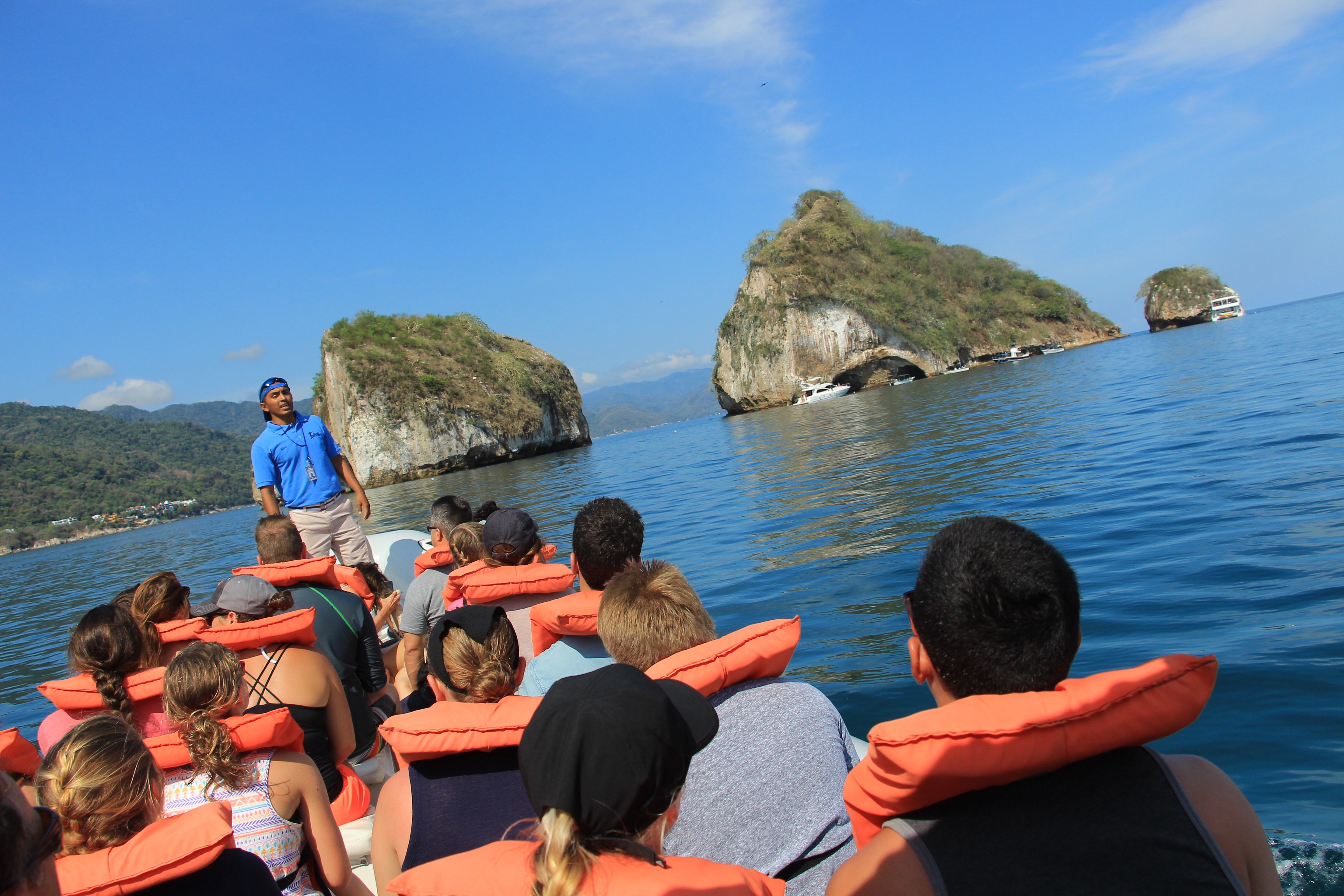 Our first stop was to a small town. A walk through town and we arrived at the horse stables. It was here that we were broken up into smaller groups and saddled up.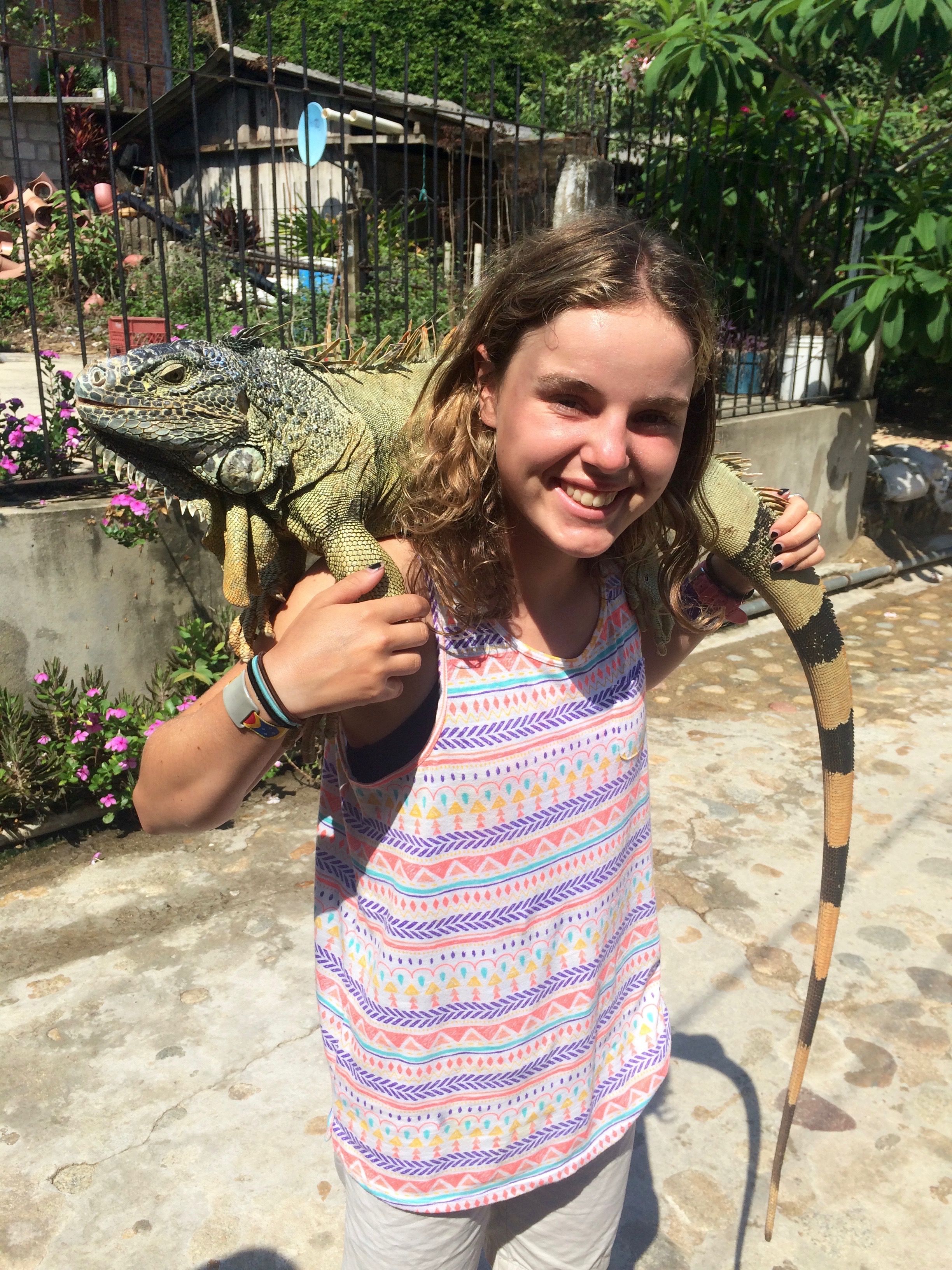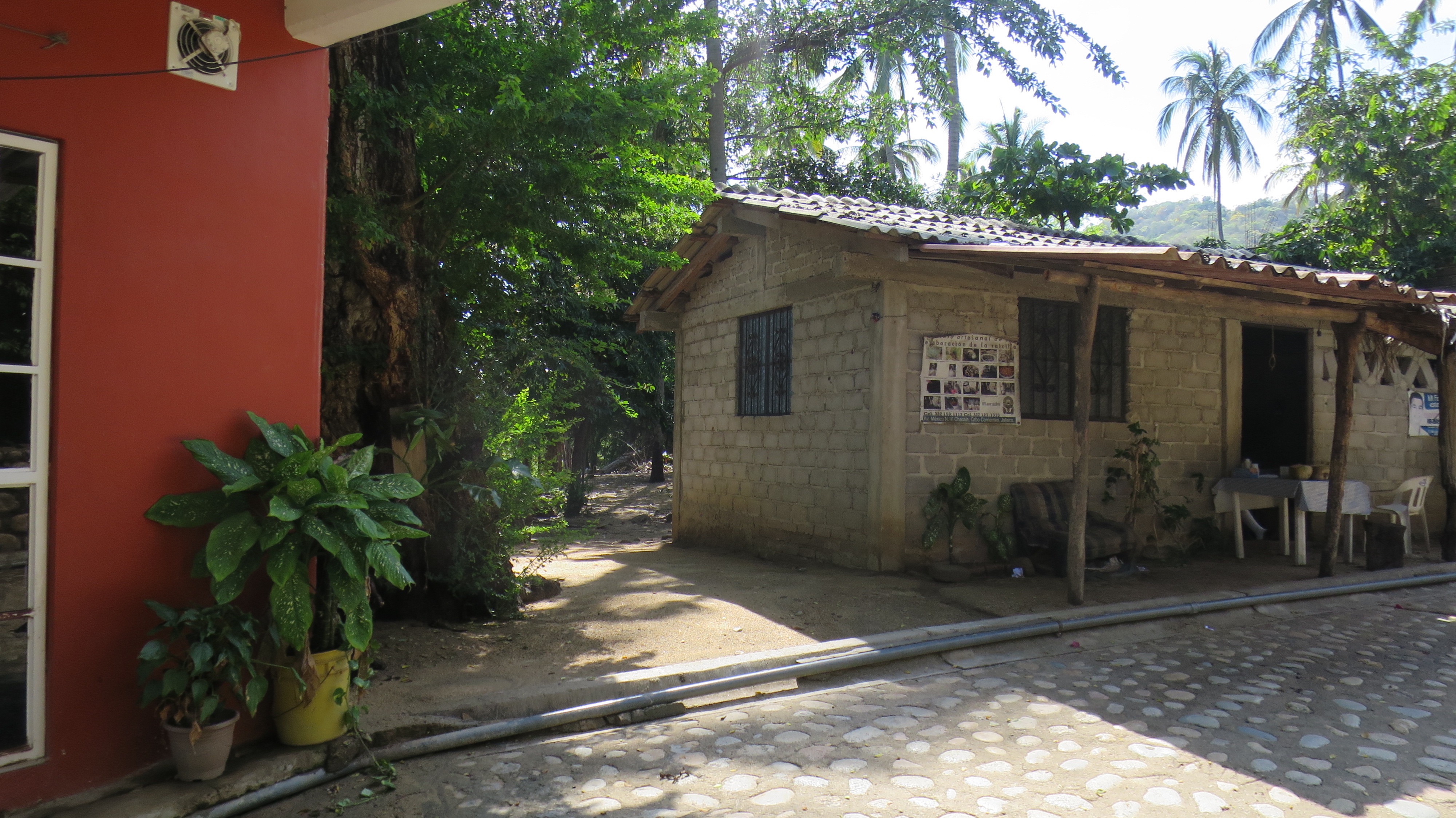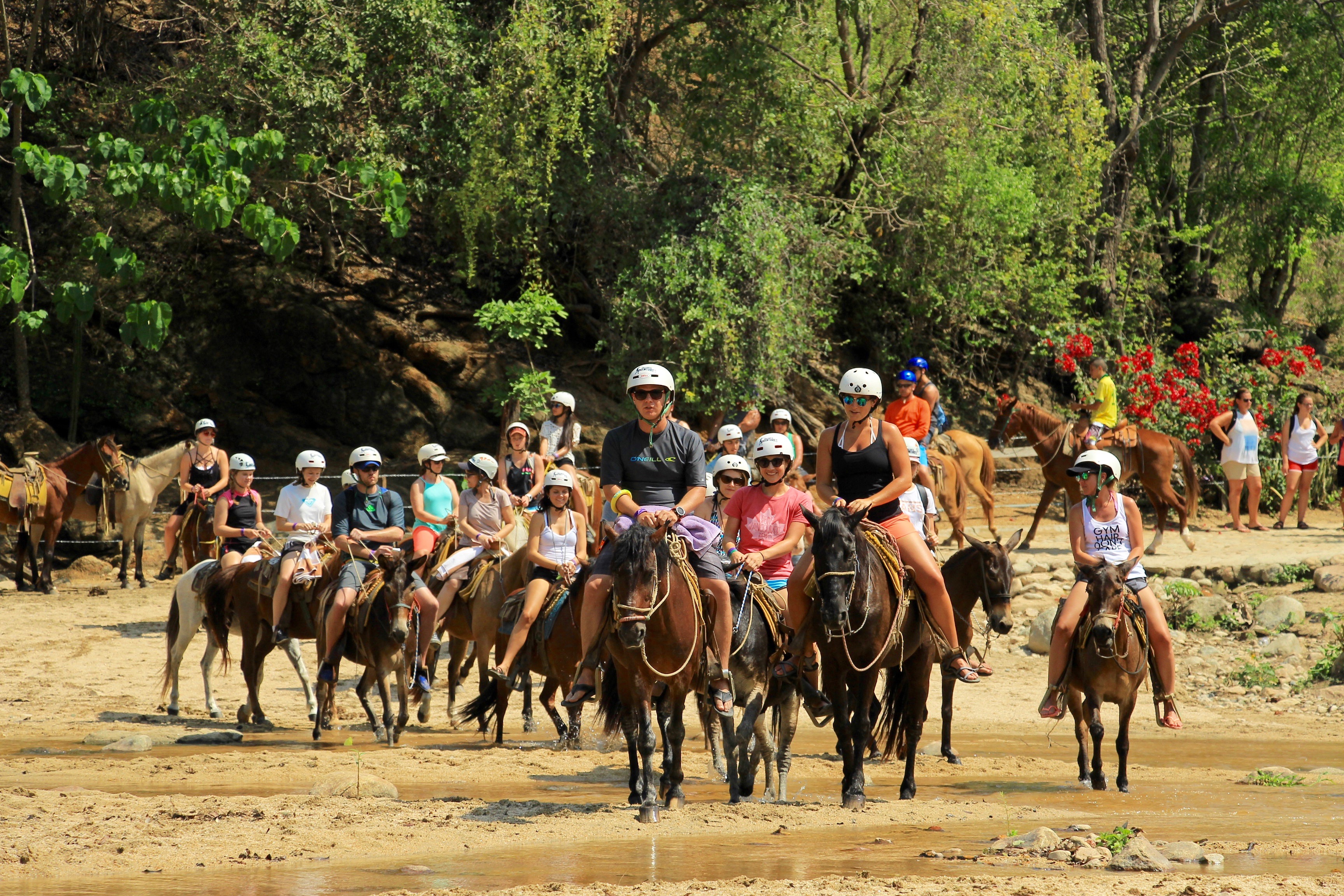 We rode the horses up a narrow trail for about a mile. The trail took us to a waterfall and swimming hole. It was great to jump in the water as it was really hot outside. I am not a huge fan of horseback riding and really could have done without it. My horse didn't listen to me too well and didn't seem to like many of the other horses. I gave my horse a name – hoping that if I named it and did my best rendition of being a horse whisperer, he would listen more. It didn't work.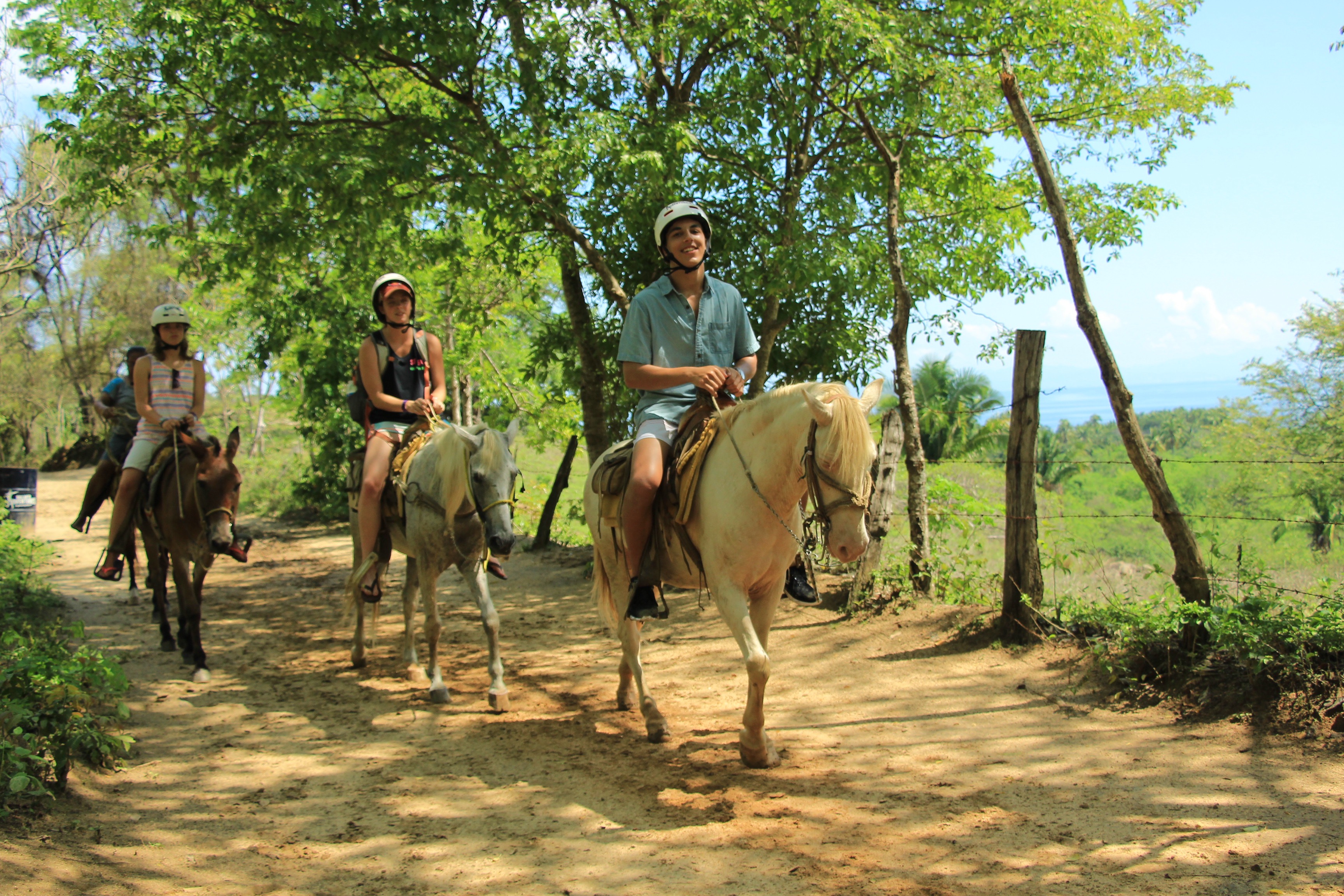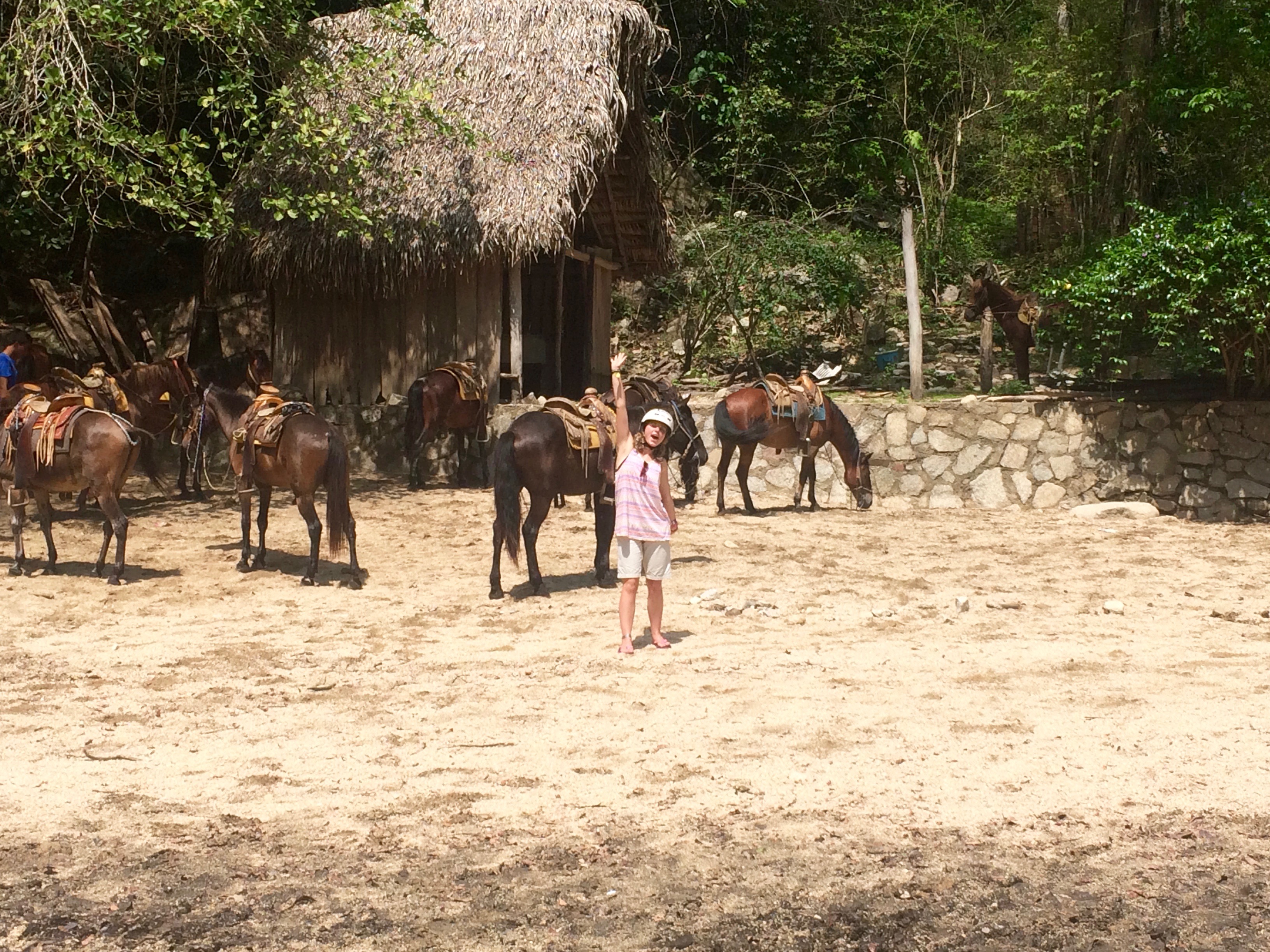 We all jumped into the water to cool off. The kids had fun climbing the rocks and sliding down into the water alongside the waterfall. There are small shops here and a covered patio area to sit and enjoy a drink. Like I said, this adventure was much more relaxing and a laid back day than the Extreme Adventure.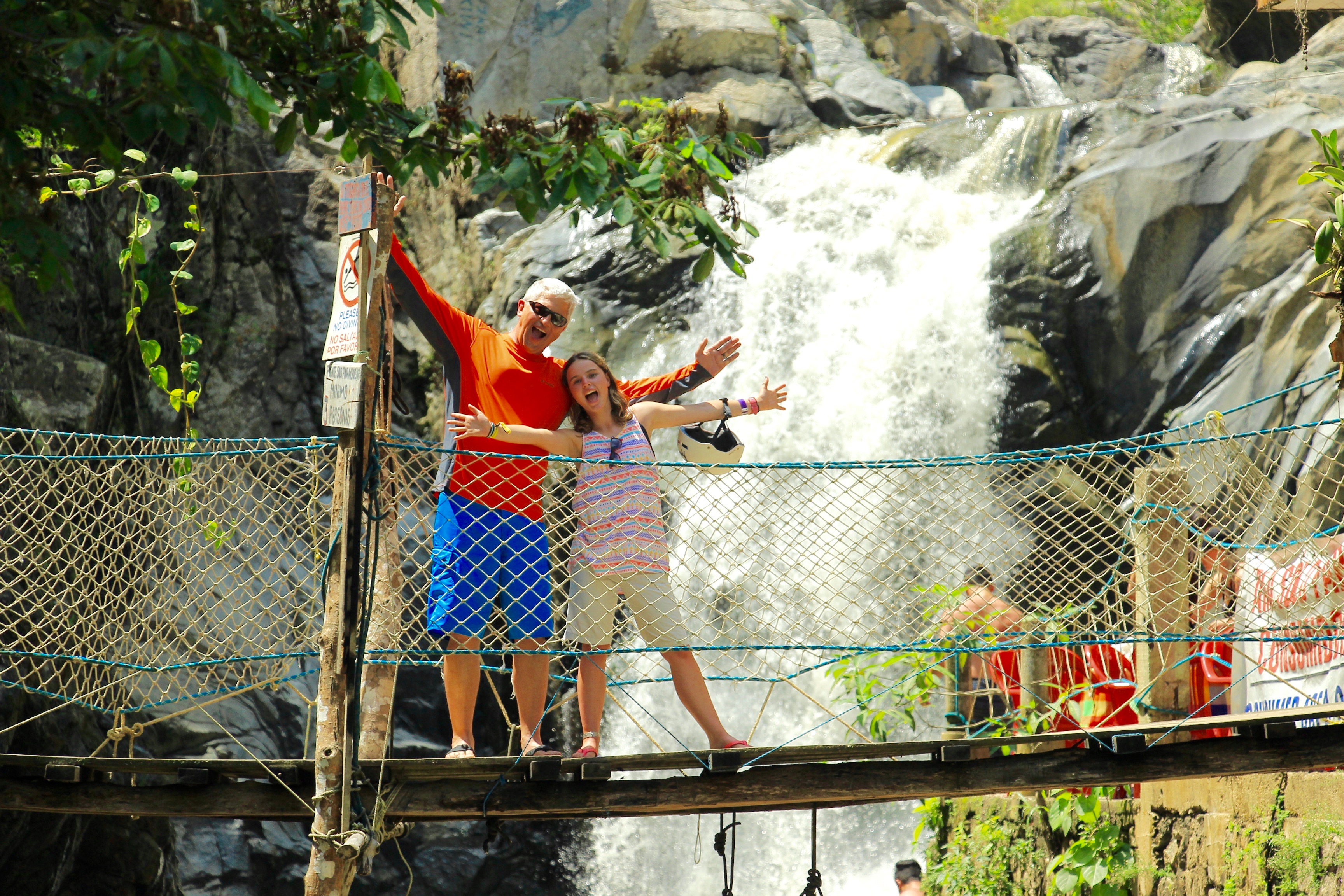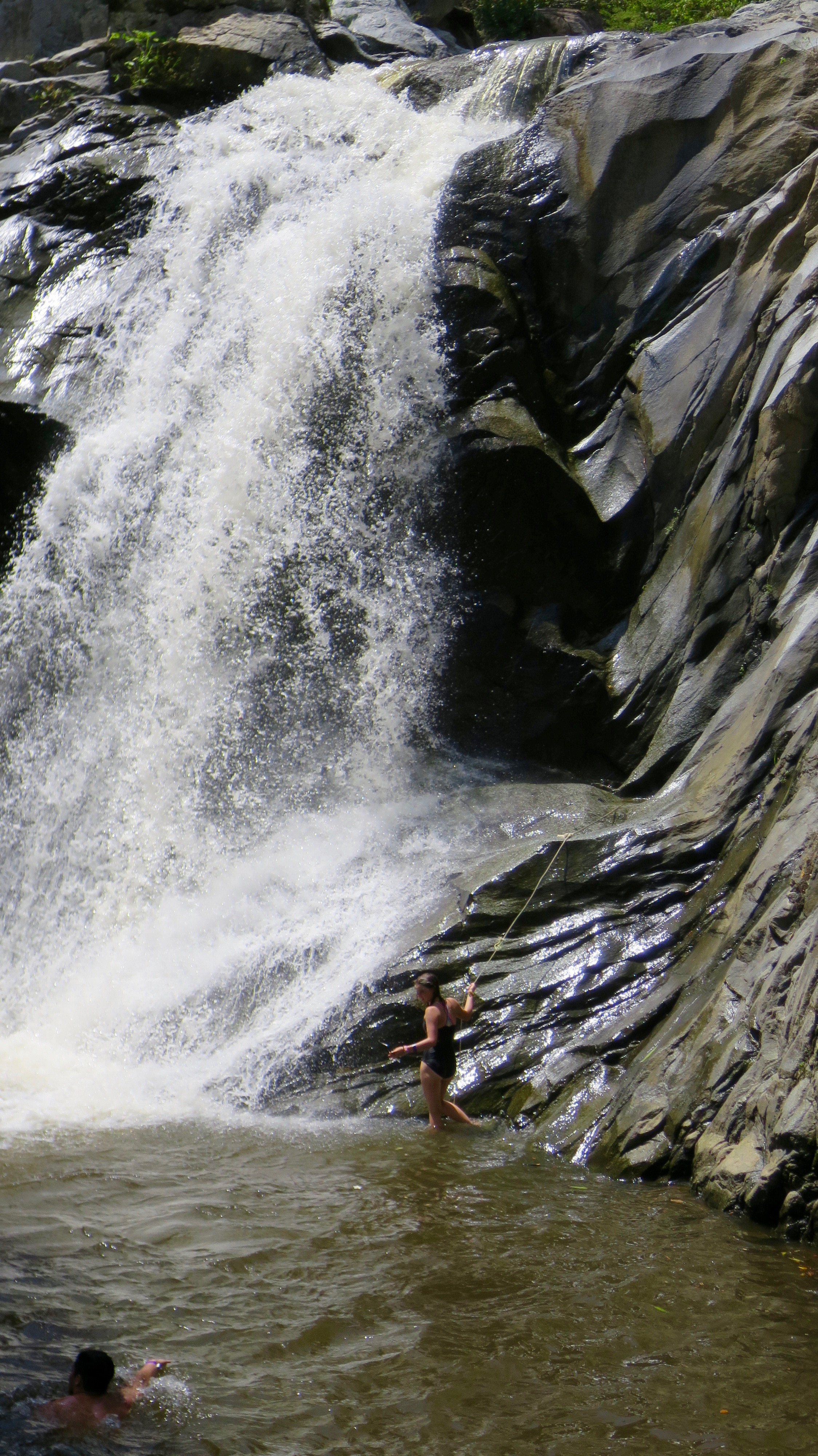 After a time enjoying the water, we were back on our horses and riding back to town.
Once there we boarded our boat and headed out to sea. We found a place to snorkel. Snorkeling is part of the package and this was the part that I was really looking forward to – I love being in the water. Unfortunately, it was hard to find a place where there were not jellyfish. We opted to jump in for a quick snorkel while one of the boatman kept an eye out for the stinging creatures. Our time in the water was quick as the jellyfish appeared to be near us. In fact one traveler did get stung. It didn't seem to bother her much after they gave her some cream to use on the sting.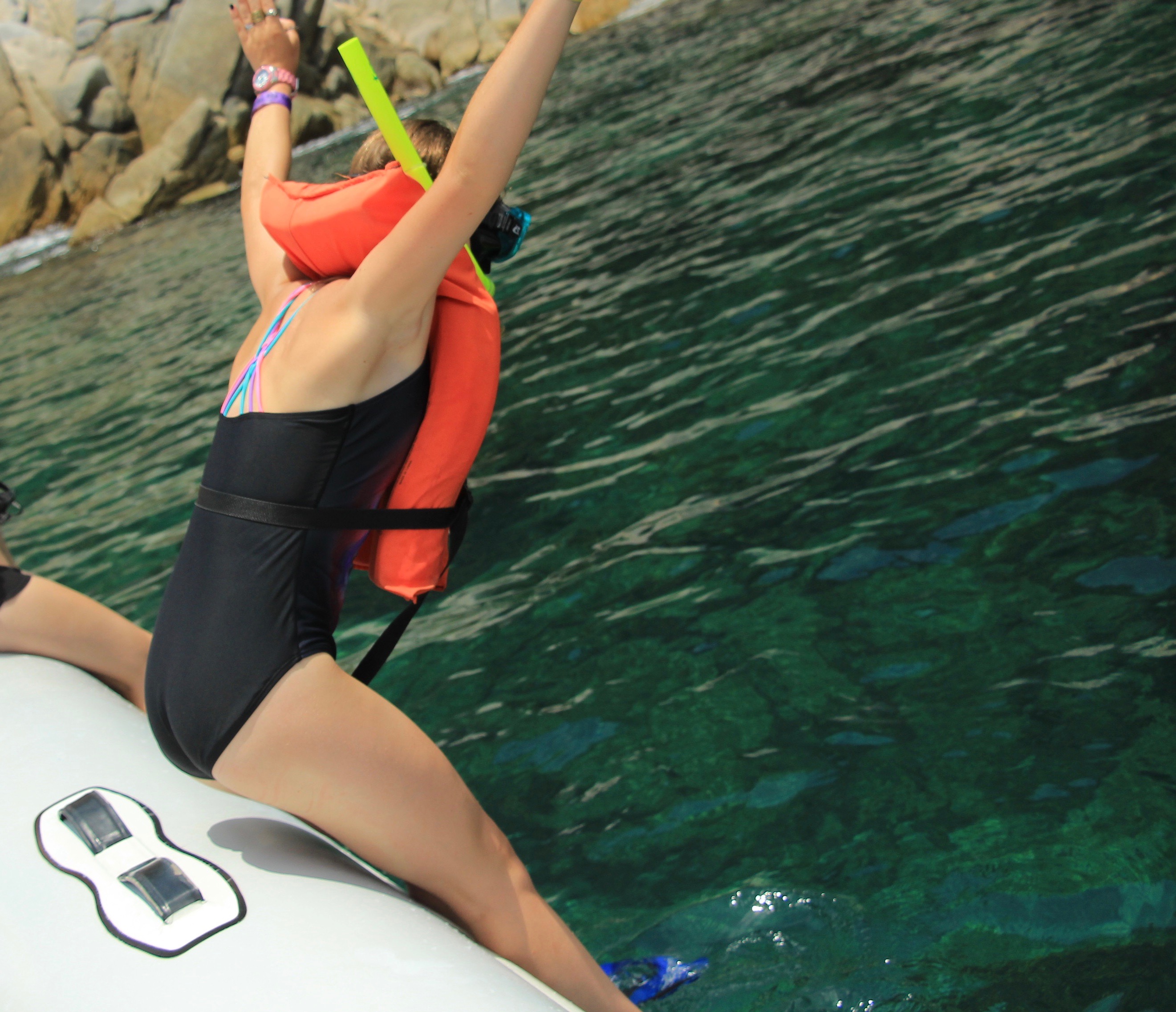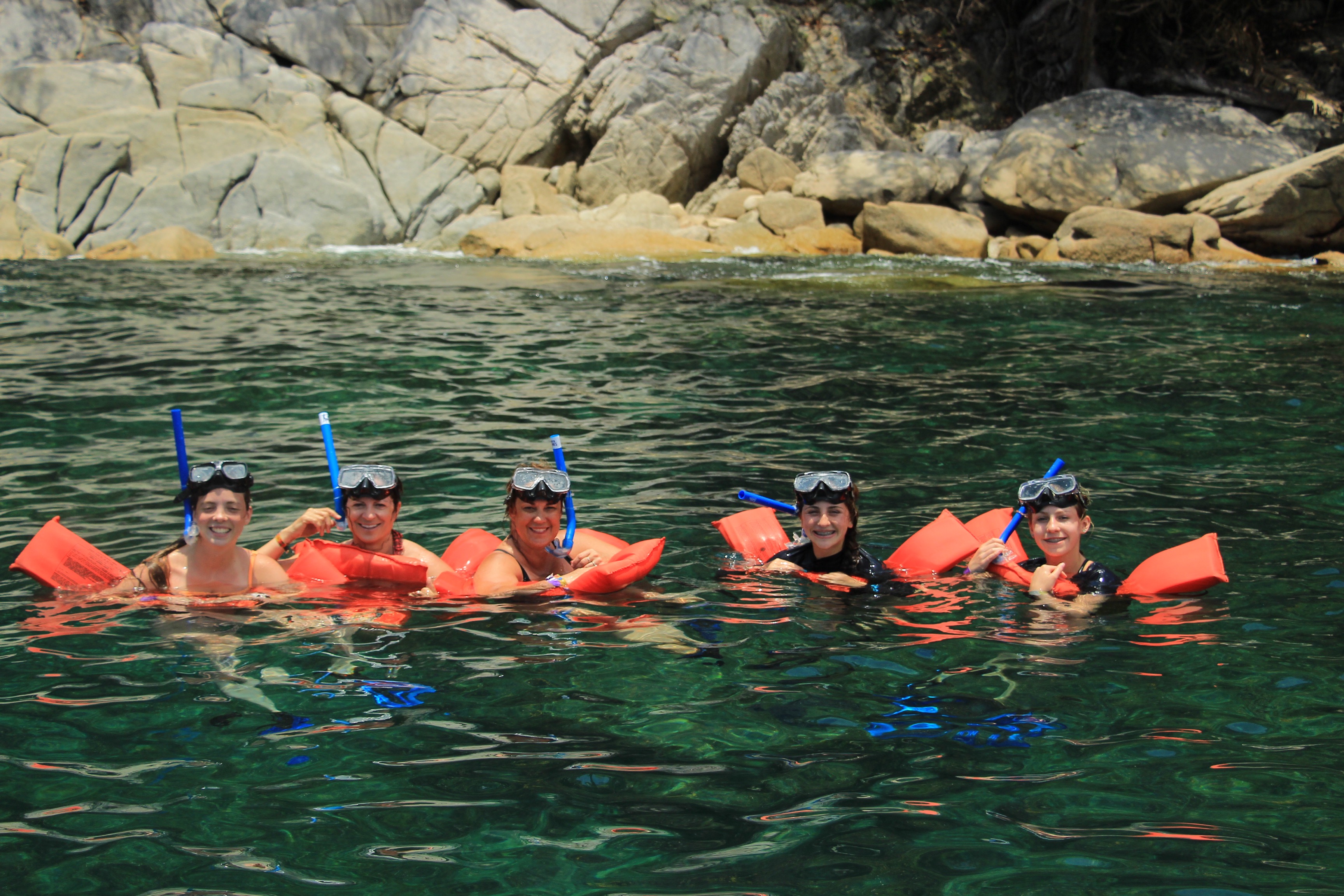 From here we headed to a secluded beach to enjoy a barbecue and swim in the water. Here we really relaxed – great food, open bar, and water toys to play with. After enjoying our food we spend some time paddle boarding and kayaking as well as beach combing for sea glass and rock scrambling looking for baby crabs.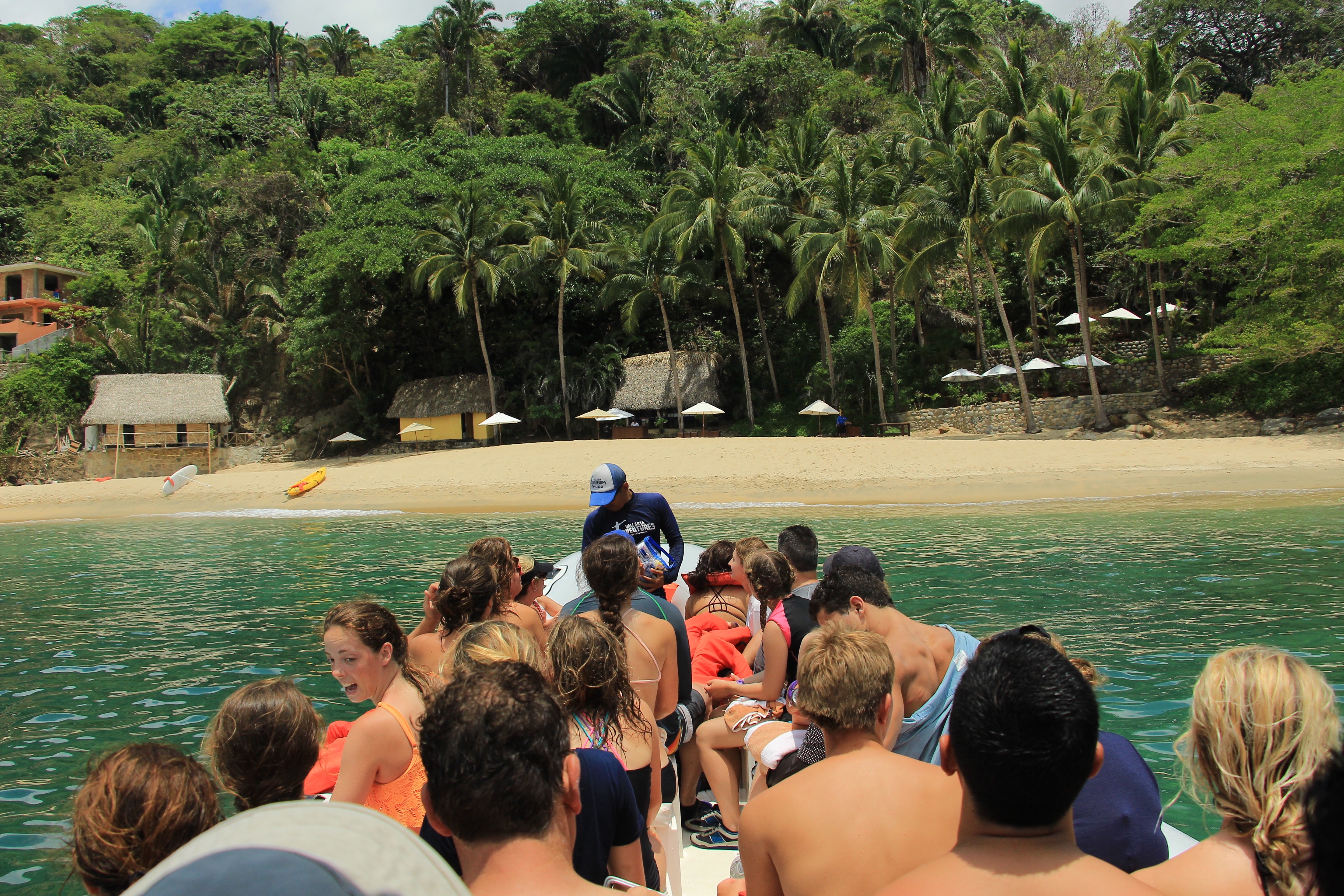 Then again – it was time to reload into the boat and head back across the bay.  All in all the Sea Safari was a full and relaxing day. While I would love to spend another day taking part in the Extreme Adventure, I would not do the Sea Safari again. Maybe had we been able to spend more time in the water snorkeling, I would have enjoyed it more. But when asking the kids what they enjoyed best – the three 14 year old girls all said the horseback riding was their favorite. So there you have it – different strokes for different folks.
What was for certain, Vallarta Adventures is a wonderful operation. The people that led us on all of our adventures were professional, friendly, and really made sure that we were always safe and having fun. If you are in the area – be sure to check out Vallarta Adventures – they have many adventures to chose from.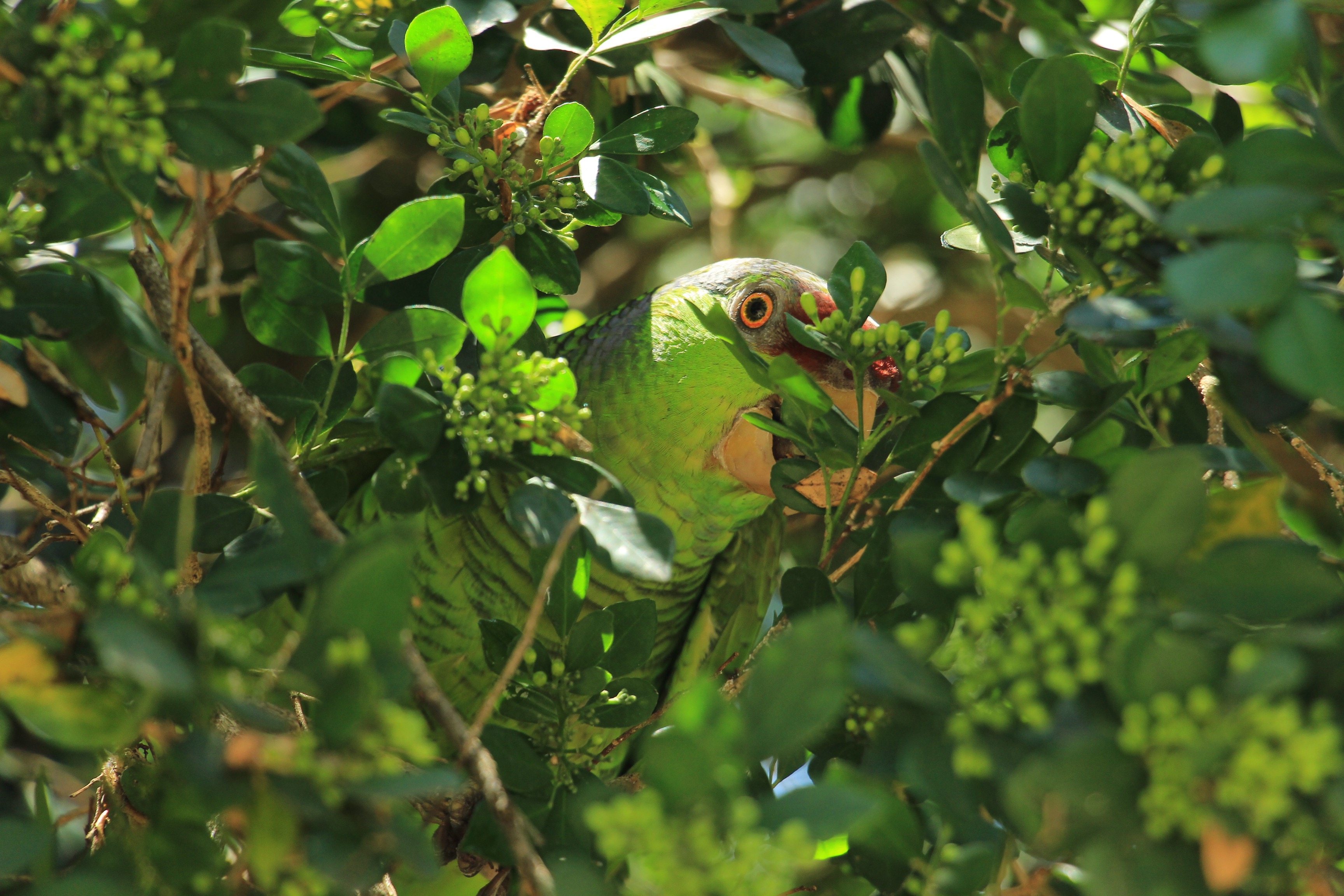 If you are traveling to Mexica be sure to check them out! You can learn more at Vallarta Adventures. They also have locations in Los Cabos, Punta Mita, Cancun, and Riviera Maya.