Being a blogger has a few lucky perks – one of them being that sometimes I get invited to see a movie before it is opened to the general public. Well lucky me, I got to see the new Marvel film, Ant-Man last night. And let me tell you, I really, really, really liked this movie!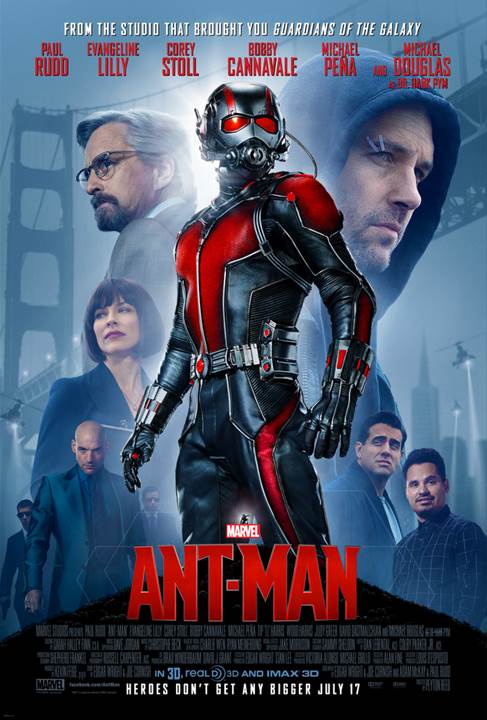 The evening included popcorn, soda and  Paul Rudd to introduce the movie himself. Had I sat in the first few rows,  I would have gotten  an up-close and personal photo of Paul; but who chooses to sit in the first three rows? My photos of Paul are from way up yonder.
Sitting up in the middle of the Regal Theater on 42nd Street was the perfect spot to take in all of the 3-D effects of this film. The effects are perfect for this action-packed adventure of Scott Lang (Paul Rudd) a master thief who unwillingly becomes the present-day Ant-Man.
I am not a comic book hero fan, and I have not seen any of the Avenger movies. All of that was OK.  The quick and simple plot line is that a genius scientist, Dr. Hank Pym (Michael Douglas) has discovered how to shrink the space between molecules and simultaneously increase strength. Understanding the power and infinite danger of his discovery, he buries it away. The younger scientist, Darren ( Corey Stoll), that is being mentored by Dr. Pym sees differently. He sees the discovery as his way to become the most powerful man in the world.
Enter Scott Lang, being released from San Quentin, after serving his time for a burglary conviction – sentenced after he broke into the most protected and safe company there is, he struggles to retain employment. Dr. Pym needs Scott's help, and Scott needs a job. Together with Dr. Pym's daughter, Hope (Evangeline Lilly) they join forces to battle evil. Against seemingly insurmountable obstacles, Pym and Lang must plan and pull off a heist that will save the world.
The special affects, fight scenes, and people shrinking keeps you completely engaged in the movie. The dialogue is quick and funny. Every serious moment is countered with levity. Plenty of laugh out loud moments due to a campy sense of humor.
My husband, also not a huge fan of comic based hero movies, loved this movie as well. It is a must see on the big screen. The 3-D is perfect. You are not dodging flying insects, rather you feel like you are flying right alongside them.
As I have said, this is a definite most see movie! And so far it is my favorite movie that I have seen this summer. Beats out Jurassic World, San Andres, and Inside Out. I enjoyed all three of those movies, but this by far is the best one in my book!
Or take it from Paul Rudd: sit back and enjoy the show! And when you do see the movie, be sure to stay for the entire credit roll. There are two post-credit scenes!
A Few Ant-Man Fun Facts:
As a teacher I like this fun fact:
Marvel did a lot of research into ant behaviors and what the different species of ants could bring to the movie in terms of what filmmakers needed for the heist. For instance, the Paraponera clavata or bullet ants have a very painful sting and resemble dinosaurs in the movie; the Solenopsis or fire ants are like architects as they can link together and form bridges and rafts to help Ant-Man; and the male Camponotus carpenter ants can fly, providing Ant-Man with a helpful mode of transportation.
And as a San Francisco Bay area resident I like this fun fact:
Marvel's "Ant-Man" is set in San Francisco and many exterior shots were done there, including shots of the Golden Gate Bridge, the Tenderloin District and the exterior of a Victorian home used to portray Hank Pym's house. Following San Francisco, the production settled into Pinewood Studios' newly built facilities in Atlanta and Marvel's "Ant-Man" became the very first movie to film there. The interiors of Hank Pym's house where the first sets that the production design team constructed on the new soundstages.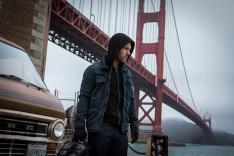 This isn't just another shrinking show…
It's a big screen action-packed adventure. Enjoy!