I am happy to be a guest blogger today on Cynthia's blog, Feeding Big! Cynthia and I recently connected via a blogging group and then in person in New York City for the BlogHer '15 Convention. There is always so much to learn about blogging, and I have truly enjoyed this journey of learning and exploring. Blogging is feeding my need to write, create, share, and connect! Meeting other great bloggers is an added bonus.
I especially love Cynthia's blog, Feeding Big, with the tag line reading, Feeding your plate and home with love. It has a huge focus on preparing healthy and inexpensive dinner meals. This is right up my alley! Looking through Cynthia's recipes I am ready to try her Easy Greek Lentil salad.  I have grown to love lentils, thank you Alyssa! They are a hearty protein and taste yummy!
Doesn't this look yummy?!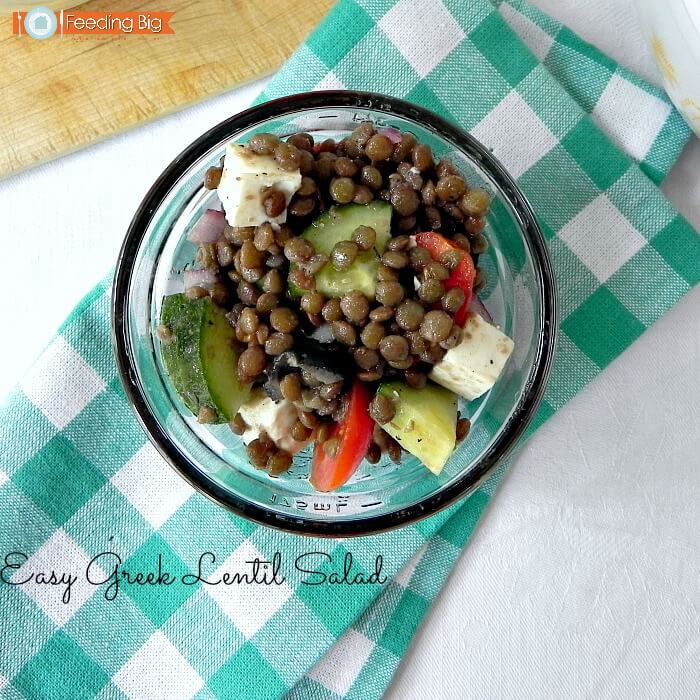 The crunch of the cucumber… the tangyines of the feta ~ Yum!
So today you can read my blog post, Feeding My Family on a Budget, at Feeding Big. This is a mini recap and what I learned from my "experiment" last year where I fed my family on $634 for the month. If you were reading my posts last September, you will be familiar with the series. If you are new to my blog, be sure to visit Feeding Big to read about what I learned from this experiment.
In my experiment, I had to make some big shifts in my everyday approach to shopping and cooking to make the money stretch and feed four of us for a month on only $634! But I did it! I discovered some new family favorite recipes along the way – check out what I learned on Feeding Big today, and explore some of Cynthia's great recipes.
Transparency of Medication Prices