Jump to recipe
This shop has been compensated by Collective Bias, Inc. and its advertiser. All opinions are mine alone. #QuakerRealMedleys #CollectiveBias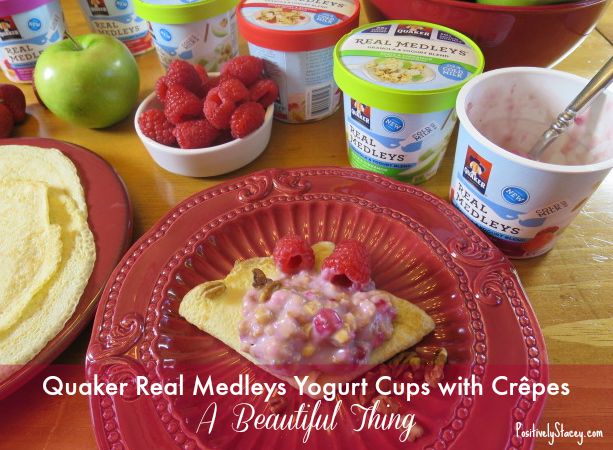 As you know, I love to travel! Recently I was visiting my parents in North Dakota. We had a wonderful time and I plan on telling you more about our visit to the quaint town of Medora really soon! One aspect of traveling is long plane rides. Especially when you are traveling from California to North Dakota. There are no direct flights. If you follow me on Instagram, you may have heard that my flight to ND was delayed, I had to be shuttled to another airport (90 min. away) and ended up on a red-eye to Minneapolis then a plane change (made that connection by a mere two minutes) to finally arrive in Bismarck. All-in-all it took me 20 hours to get from my front door to my parents' home. When I finally arrived – I was exhausted! Unfortunately with the amount of travel that I do – these type of delays and re-routing is not all that uncommon.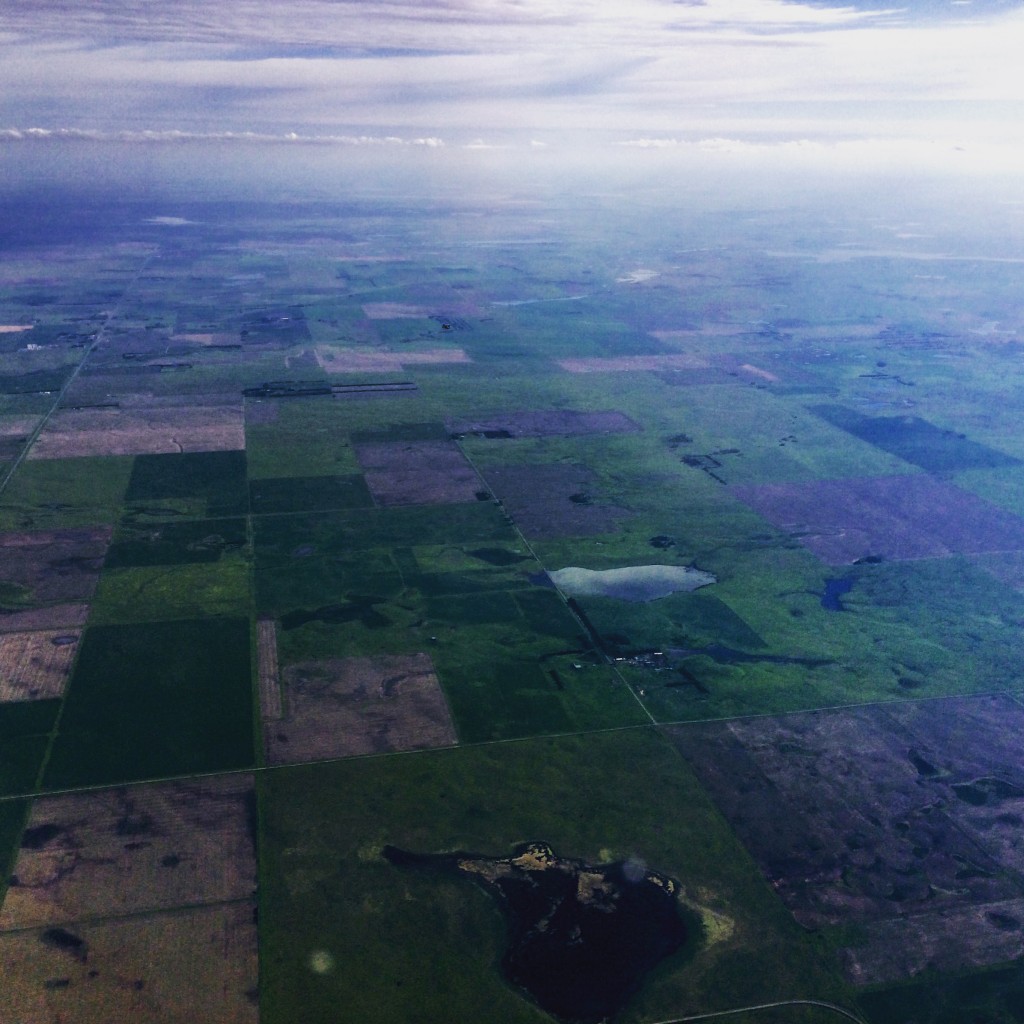 When I travel, I pack my own food. I do not like much of what they offer in-flight (I have yet to fly first class:)), and airport food is way over-priced! It really is so easy to pack a few items to take along.
When I was wandering the aisles in Walmart with my mom, picking up oatmeal for my Overnight Oatmeal, I stumbled upon Quaker® Real Medleys® Yogurt Cups. This was something new. I am a fan of Quaker® Real Medleys® Oatmeal cups – but I have seen nothing like this before. Real Medleys is a delicious blend of yogurt and multigrain granola with real fruit and crunchy nuts found in the cereal aisle! It is the first shelf-stable convergence of granola, fruit and yogurt – all in a single serve cup! Honestly, I was a bit confused. Yogurt not in the refrigerator section of the grocery store?! But as I read, I learned that you just add cold milk, stir, and eat! Yep, this new product was a new one for me!  And perfect for travel! This would be an easy (and light) item to throw into my bag and simply mix with the milk offered by the flight attended for a satisfying and delicious meal. So I bought a couple to try out.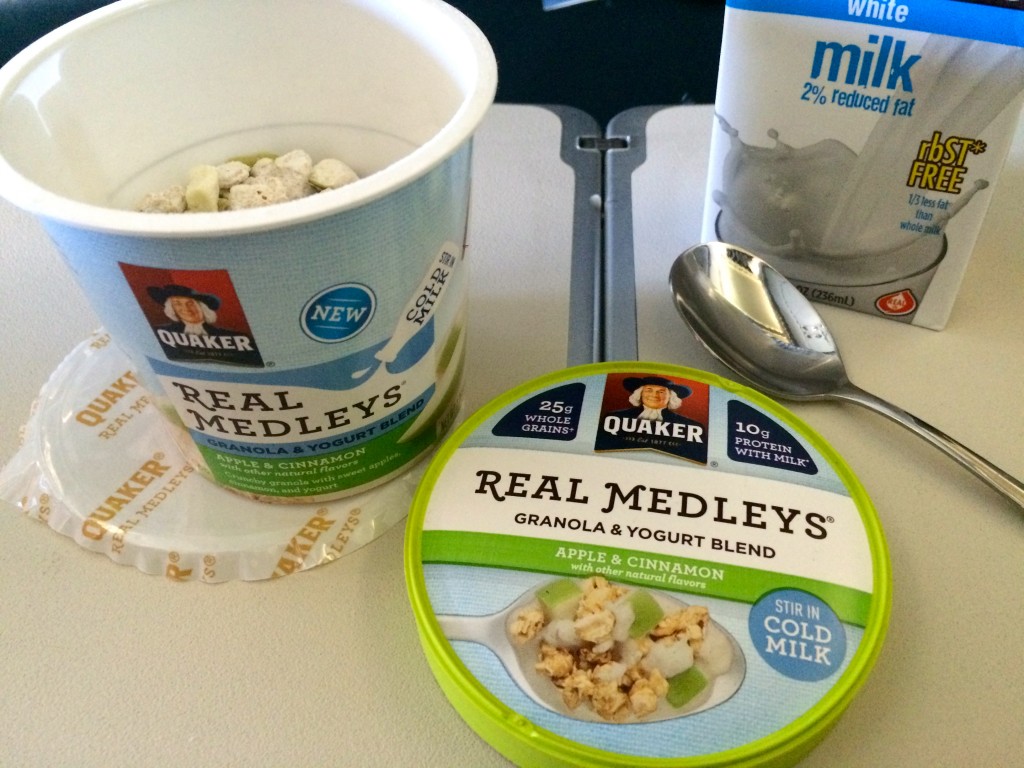 Into my bag the Real Medley's Granola and Yogurt Blend (Apples and Cinnamon) got packed, and onto the airplane I boarded for my flight home. When the flight attendant asked what I wanted, I asked for cold milk. I simply poured the milk into the container up to the dark line, stirred, and let it sit for two minutes.  Yep, in two minutes time I had a meal that was yummy and satisfying with 25 grams of whole grains and 10 grams of protein with 1/2 cup of cold Skim Milk. It is filled with real ingredients that offer quality and convenience for breakfast (or anytime). Crunchy. Cool. Yum.
This got me thinking – after all there is a lot of time on a plane to think. Wouldn't these Quaker® Real Medleys® Yogurt Cups go great with crêpes?!? While they are perfect for a quick and delicious breakfast on their own, they could be elevated to a whole new level when combined with crêpes.
I fell in love with crêpes when I traveled to France with my daughters. I think my daughter Nicole stopped and bought a crêpe at every single stand that we walked past. They simply were delicious – whether plain with a dusting of powdered sugar, filled with jam, or fresh fruit and whipped cream. YUM! I am taking a mind vacation back to Paris as I write this 🙂
One thing I learned after our trip to France was that crêpes are really easy to make. And for the most part I always have the necessary ingredients on hand. So when I got home I headed to Walmart to pick up more Quaker® Real Medleys® Yogurt Cups. this time my Walmart had all three flavors – Strawberry Almond, Apple Cinnamon, Raspberry Pecan – so I bought some of each!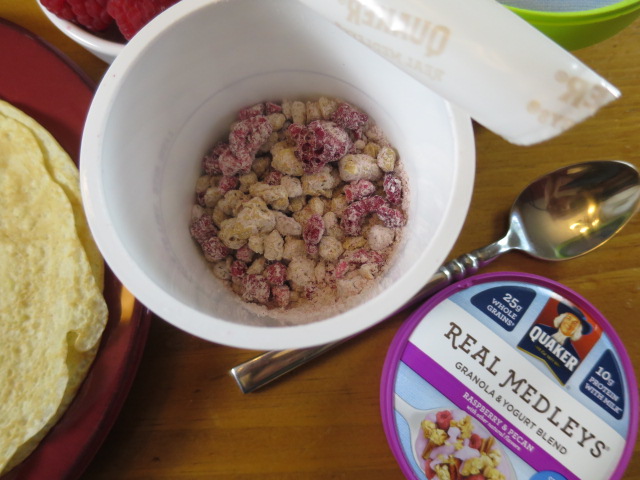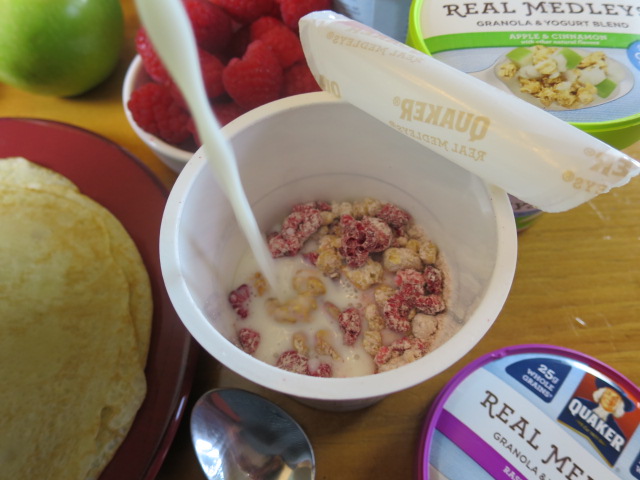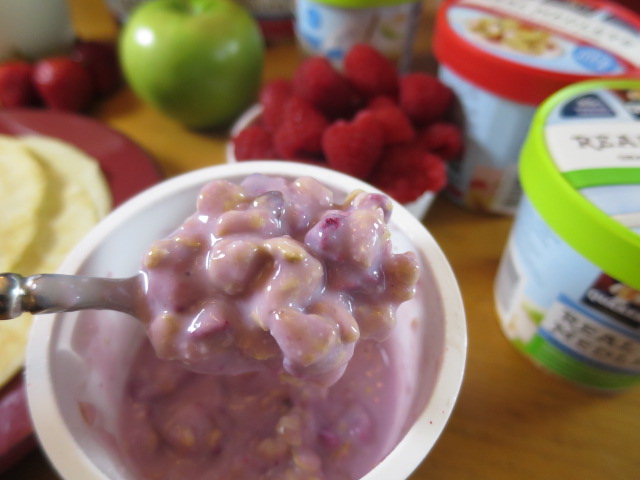 I made up a batch of crêpes and topped them with Quaker Real Medleys Yogurt added a few berries and chopped nuts. Voilà – a beautiful, delicious, and satisfying breakfast.
Since this a new product they will be having Quaker Real Medleys product demos at a supporting Walmart near you between the dates of 8/13 – 8/16. Be cure to check it out!  You can also download the Blippar app from your Apple or Android store to scan your package and receive information tutorials on Quaker® Real Medleys® Yogurt Cups.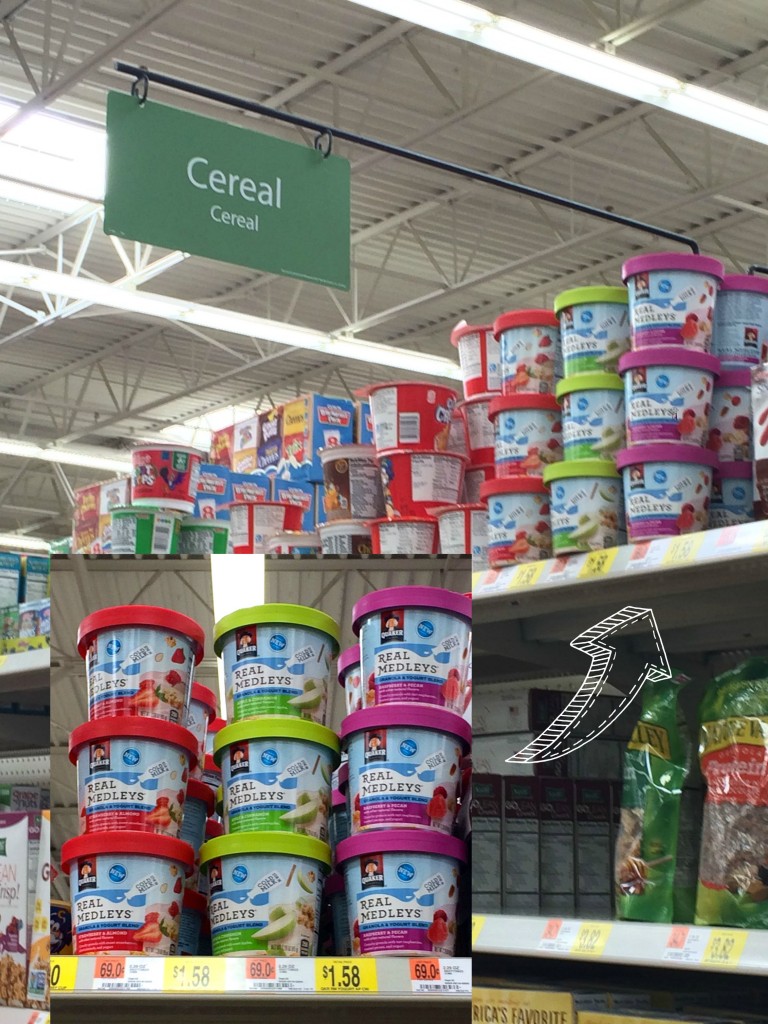 These crêpes are so easy to make! Sometimes, I will add a dash of vanilla, but it is not really needed. This recipe that I have been using makes about a dozen crêpes. You can make them up ahead of time and stack them between parchment paper. Cover tightly with foil, and they keep fine for at least 24 hours.
http://https://www.youtube.com/watch?v=kJqYw1f1MWA
Everything you need to make Quaker® Real Medleys® Yogurt Cups with Crêpes.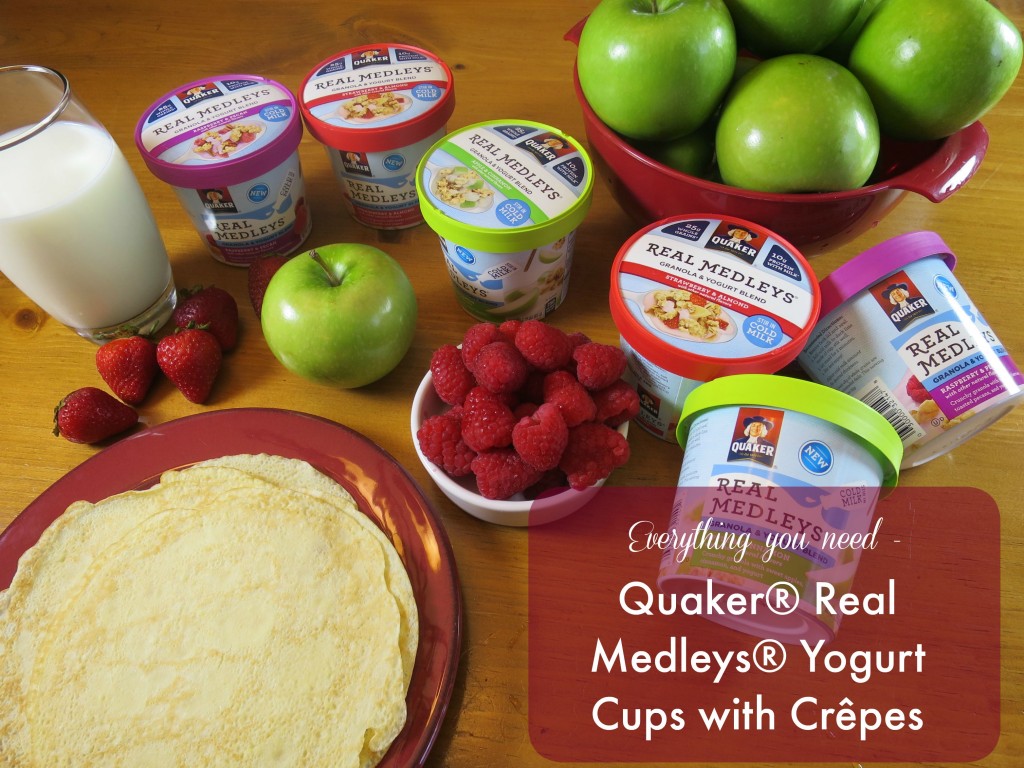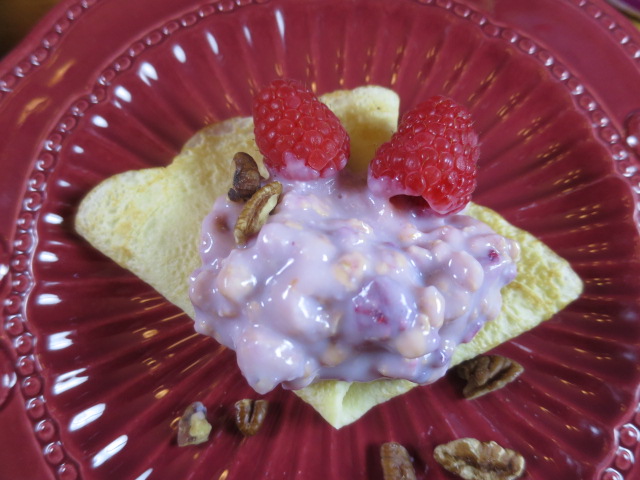 Ingredients
1 cup all-purpose flour
2 eggs
1/2 cup milk
1/2 cup water
1/4 teaspoon salt
2 tablespoons butter, melted
Instructions
In a mixing bowl, whisk together the flour and the eggs.
Gradually add in the milk and water, stirring to combine.
Add the salt and butter; beat until smooth.
Heat a lightly oiled griddle or frying pan over medium high heat.
Using a 1/4 cup measuring cup, scoop the batter onto the griddle.
Tilt the pan with a circular motion so that the batter coats the surface evenly.
Cook the crepe for about 2 minutes, until the bottom is light brown.
Loosen with a spatula, turn and cook the other side.
© 2023 Positively Stacey
Be sure to check out more delicious recipes with Quaker Real Medleys Yogurt Cups at QuakerLove.com. I'd love to hear your favorite!
Transparency of Medication Prices