I love all of the many beautiful and fun invitations that Evite offers. There are so many great ones to choose from. Sometimes though I want to personalize it a little bit more, and when I was planning my Moroccan Affair, I did not find one that totally thrilled me.  No problem, with Evite you can create you own custom invitation.
When Nicole had her graduation party, I simply uploaded a graduation picture and choose an invitation in her school colors – black and gold. Easy-peasy.

But for my Moroccan Affair I wanted something more. I tried the simple uploading of a photo, but it still wasn't quite what I was looking for.
So I set the table and snapped a few pics. I wanted my invitation to be a preview of what was to come. A bit of a tease that would excite my friends and get them thinking about the yummy exotic flavors that I would be cooking up for them.
How to Make Your Own Invitation with Evite #BeThere
I chose a photo and used Picmonkey to add the wine colored oval and the writing to my photo. My personalized photo was ready to upload to Evite and personalize even more.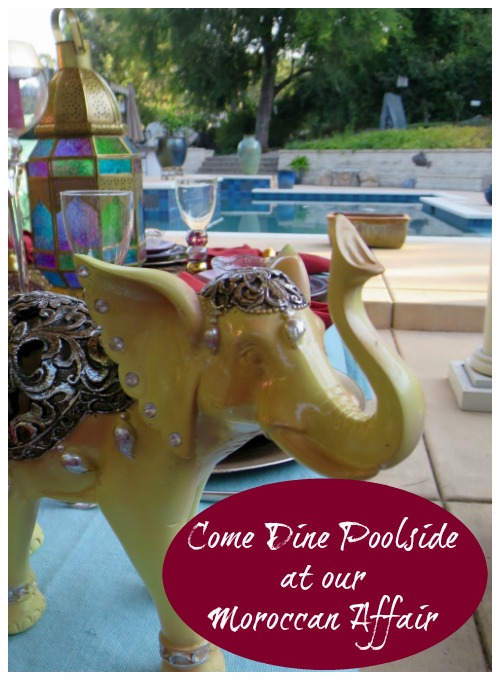 I headed on over to Evite and clicked on Design Your Own under invitations.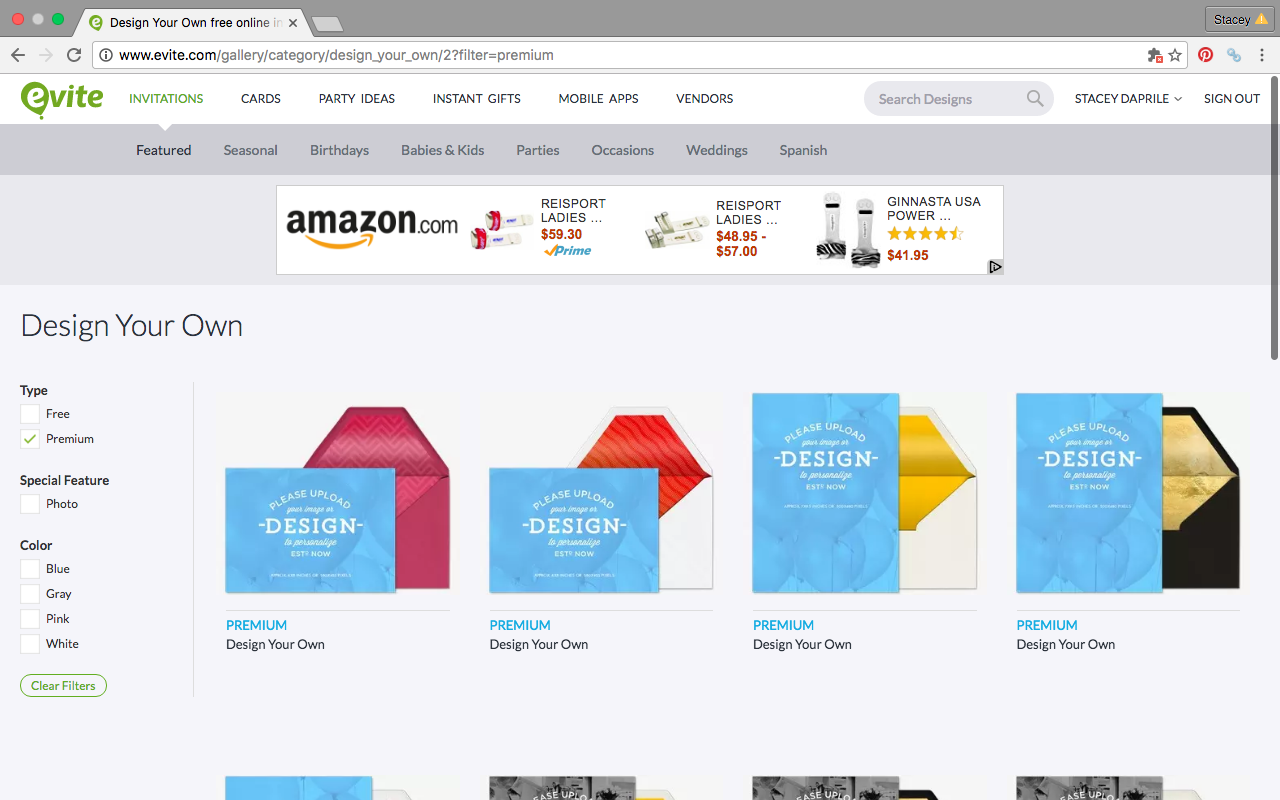 I chose the premium invitation with the black envelope and gold liner. That seemed to say Midnight at the Oasis to me.
I then chose the purple stamp that stated, Party With Us. I like the purple against the black. You can customize your envelopes in a number of different ways by using different colored envelopes, mixed with a variety of stamps and liners.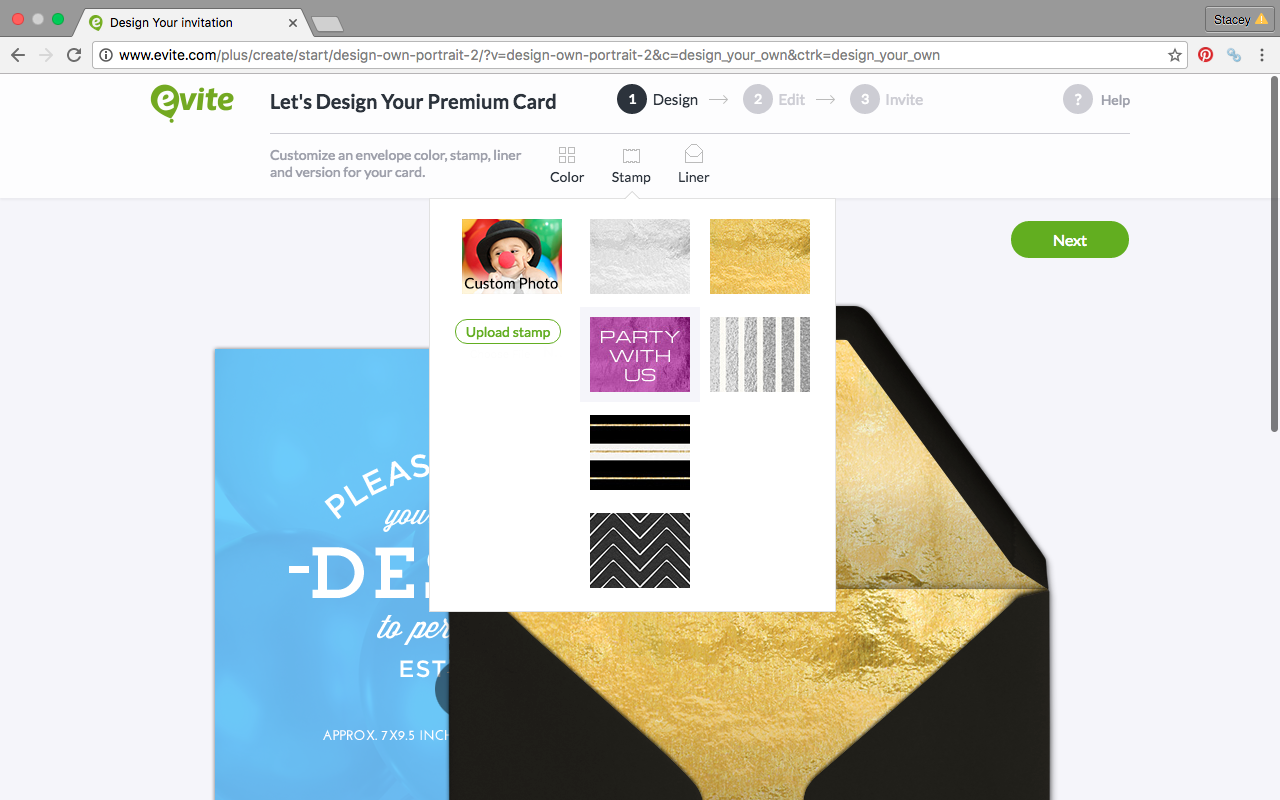 Then I simply uploaded my photo. You just click on the blue template and it will take you to your photos allowing you to upload the one that you want. Once you upload the photo, you are immediately in the photo editing toolbox.  First you will crop the photo if necessary, and then you will see a number of editing options.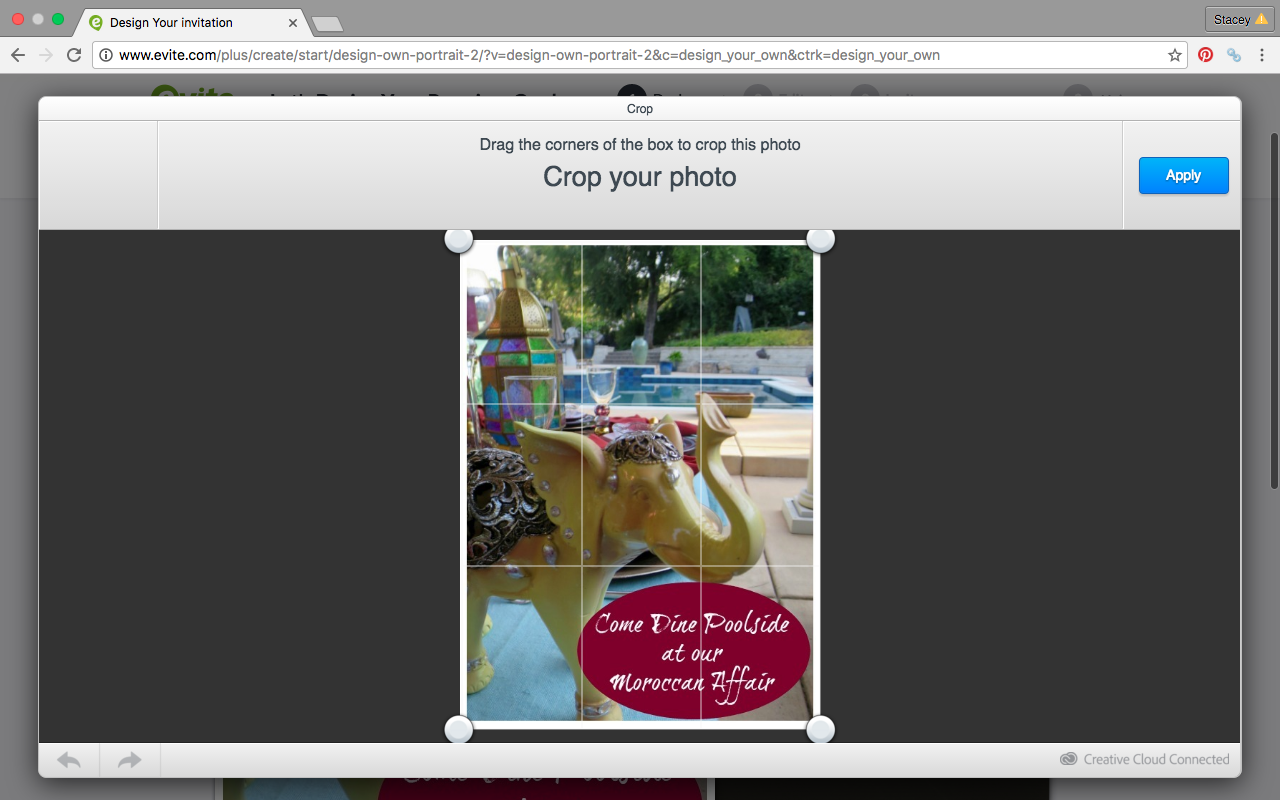 I simply enhanced and used a filter. When you check out the plethora of filters be sure to use the slide bar to fine tune the filter.
If you want less move the slider to the left, if you want more move the slider to the right. The amount of effect used on the photo makes a big difference.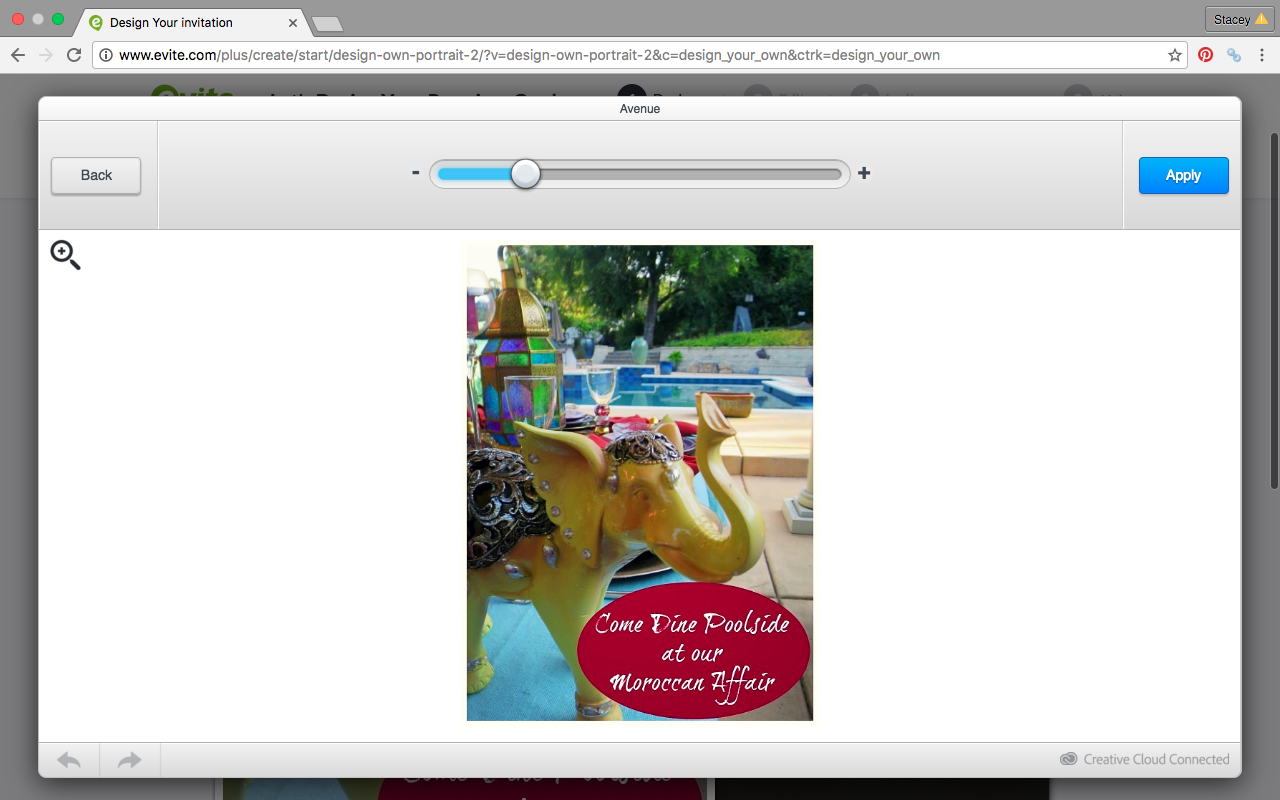 As you can see across the top of the toolbar – there are many editing options available. I could have even of just simply added my text over my photo in Evite. No Picmonkey necessary 🙂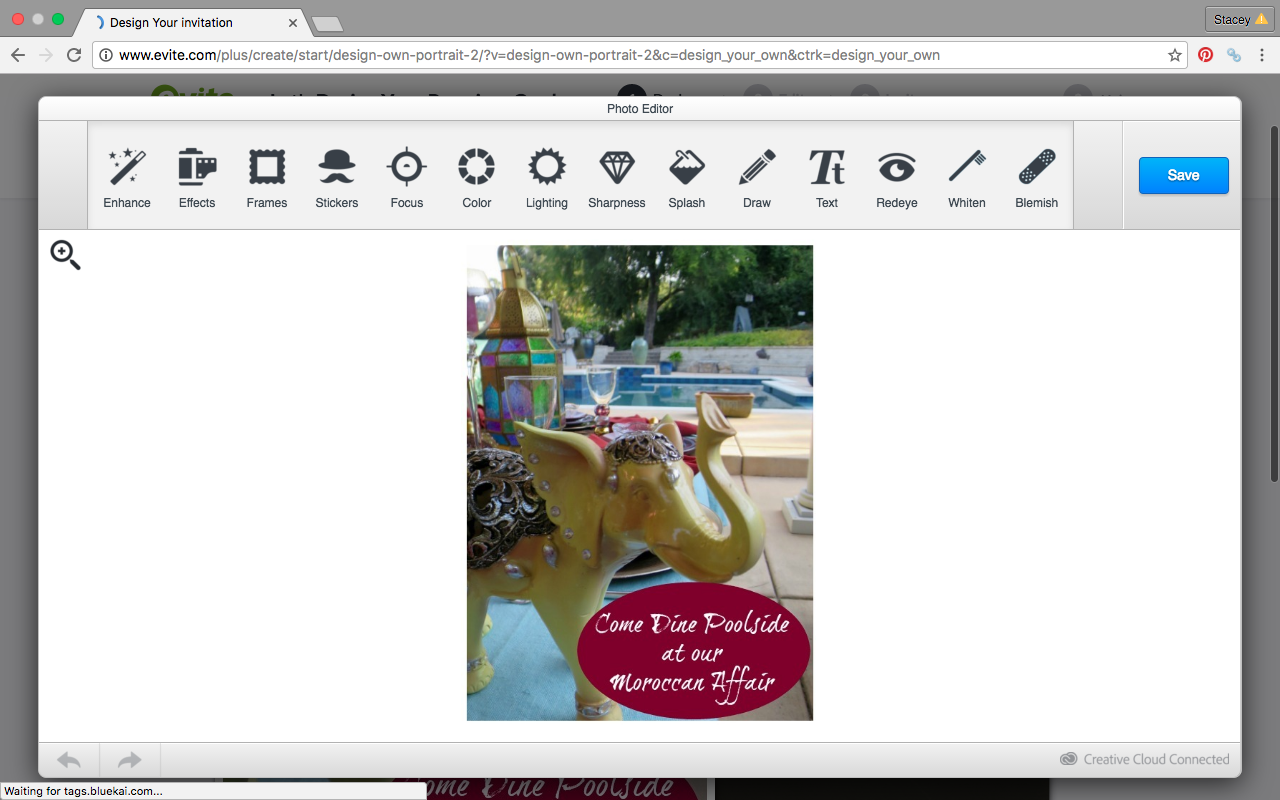 Then simply click save. It is then time to add the details of the gathering and get your guest list ready. Since all my friends' emails are already in my Evite address book, this is super quick to take care of. Before I can say, "Come on over to my Moroccan Affair," my Evites were emailed out to my friends.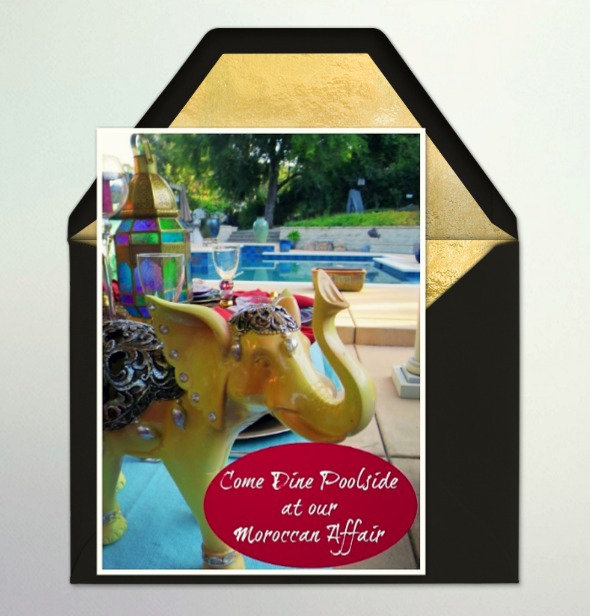 So while Evite has many, I mean many great invitations to choose from, sometimes we want a little bit more. Designing my own Evite was quick and easy and gave me the invitation that I was looking for. Plus it let me use my colorful lantern and cute elephant before the party even started.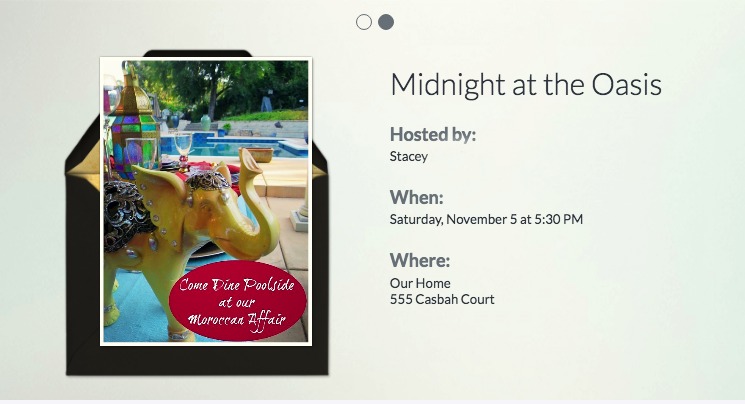 Have you ever used Evite's Design Your Own option? It is a great way to get the party started!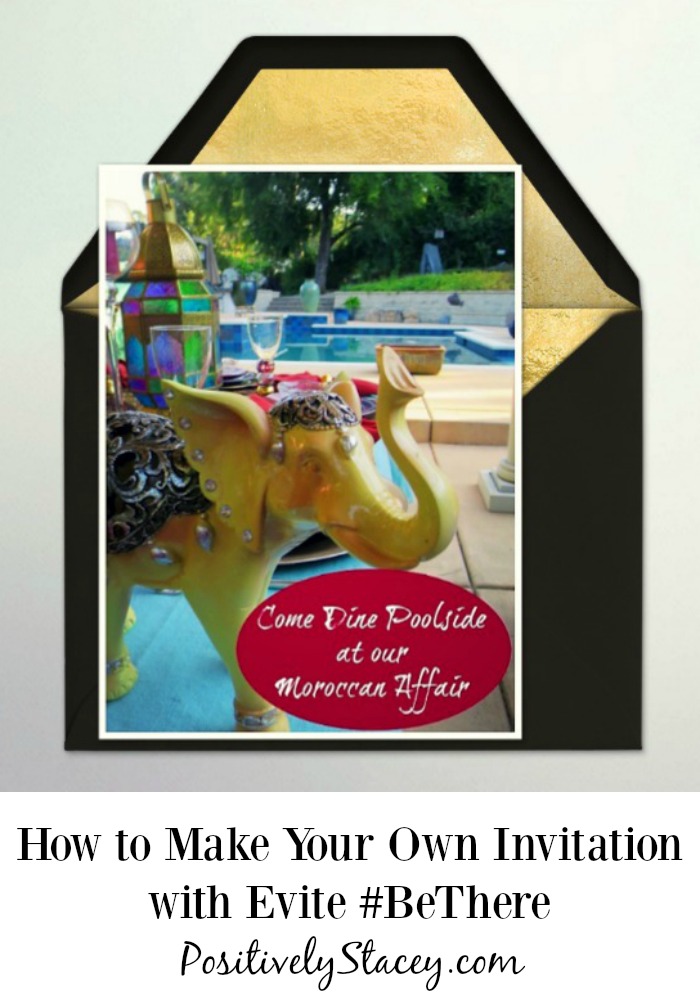 This post is in collaboration with Evite.com and their Evite Influencer Program. While I am compensated for this post, all thoughts and opinions are 100% my own. #BeThere #Evite