Oh wow! Today I have some delicious and easy new ideas for you to add to your weekly menu! I always love chatting with Registered Dietitian Annessa Chumbley. Annessa is busy mom, TV anchor, recipe creator, and spokesperson, that puts nutrition and living a healthy lifestyle first and foremost in her menu planning. Fast, delicious, and nutritions is her style! And today, she is here to share some flavorful fall menu ideas.
Menu Magic to Fuel Up And Cozy Up for Fall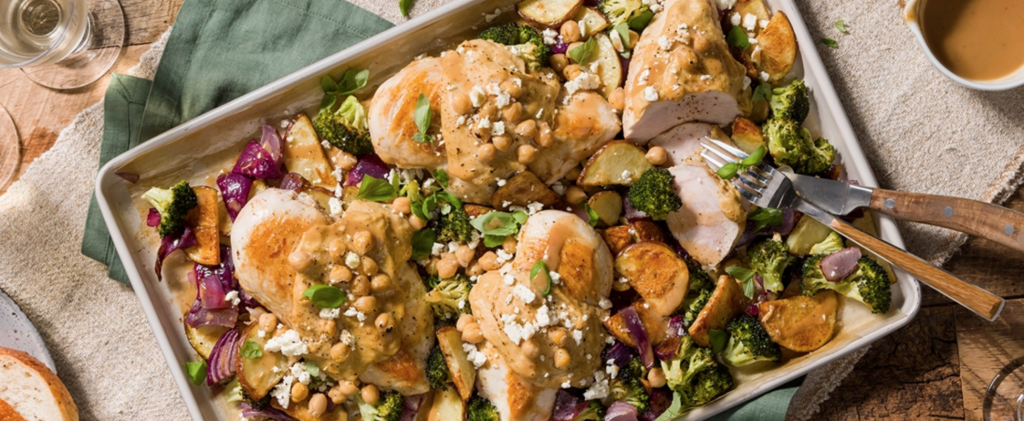 Hummus Chicken —Packed with protein, full of flavor, minimal clean up
Cheesy Taco Pasta Skillet Bake —Ooey gooey taco goodness. And Honestly – Who doesn't love tacos? Taco night at my home is always a hit. This skillet bake makes clean up sooo much easier!
Apple Waffle Pops – Take breakfast on the go with theses portable pops! 
Dessert Waffle Pops—Chocolate chip waffles with a twist! 

Flavorful Fall Menu Ideas with Annessa Chumbley
Watch Annessa put together amazing recipes and hear her time-saving tips.
Personally, I cannot wait to make the Hummus Chicken bake with roasted veggies! Sounds delicious and easy to pop into the oven after work. I'll let you know as soon as I get a chance to try it.
Likewise, let me know if your try any of Annessa's recipes 🙂 I'd love to hear how it turns out for you.
For more information or recipe inspiration visit Safeway Recipes.