Oh, it's been a long day! I am sitting in the San Francisco airport with and eight and a half hour wait for my flight to North Dakota. I was to leave on a flight out of San Jose at 2:20 pm, but because of mechanical problems I was shuttled to SFO and my new flight leaves at 12:30 am! I fly a lot. But my last two flights have not gone anywhere near as planned! I suppose the upside – if there is an upside – is that I have all of these hours to sort through and organize the photos on my computer.
Since I started blogging 18 months ago my photo storage has exploded – I have put over 10,000 photos onto my computer during that time! So here I am cleaning out photos and low and behold I have found photos for more than a few intended blog posts – that apparently never saw the blog.
Below is the recipe for one of my favorite breakfasts. I don't know why I never shared it with you before – the photos have been in my collection for months! Maybe 'cause I live a pretty crazy busy life. Maybe because the photos really are not the good. But in my tired state of mind, siting in the airport, I figured I might as well share!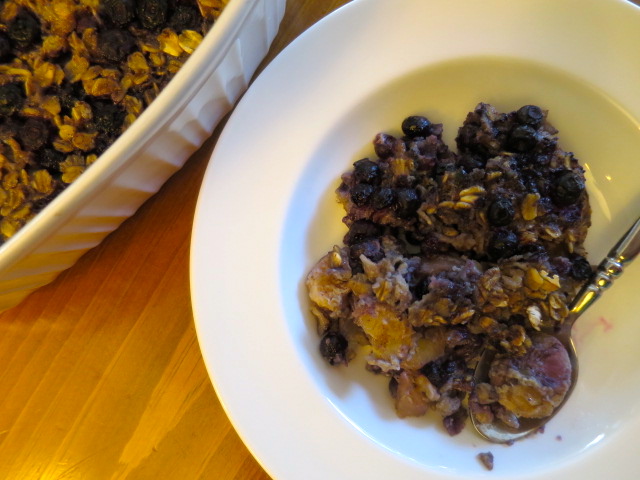 This recipe really is amazing! I love making a double batch because leftovers are sooo good. Unfortunately the weeks that we have kids with us, there usually are no leftovers. It is a quick and easy recipe to put together and then pop into the oven, making it perfect for any morning of the week. Another plus of this recipe is that you can use any combination of fruit that is in season or on hand. I will say though, the blueberry and banana combination is my favorite! So much so, if I cannot find fresh blueberries I will use the frozen.  It all works perfectly!
Baked Blueberry and Banana Oatmeal Recipe
Servings: approximately 4
INGREDIENTS
1 cup rolled oats
1/2 teaspoon baking powder
3/4 teaspoon ground cinnamon
Pinch of salt
1/4 cup maple syrup
1 cup milk
1 large egg
1 tablespoons unsalted butter, melted and cooled slightly
1 teaspoon vanilla extract
2- 3 ripe bananas, sliced into 1/2-inch thick pieces
3/4 cup fresh blueberries
1 tablespoon light brown sugar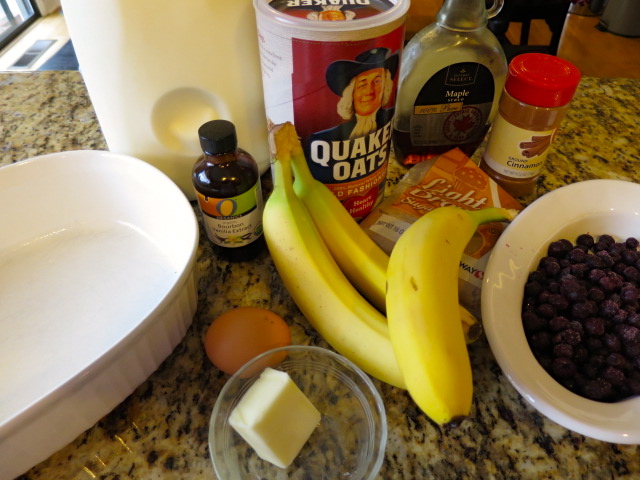 DIRECTIONS
 Preheat oven to 375 degrees.
Grease or spray a 1 and 1/2-quart casserole dish with cooking spray.
In a medium bowl, toss together the oats, the baking powder, cinnamon, and salt.
 In a separate small bowl, whisk together the maple syrup, milk, egg, melted butter, and the vanilla.
Place the sliced banana pieces in a single layer in the bottom of the prepared casserole dish.
Sprinkle about two-thirds of the fresh blueberries over the top of the bananas, then cover the blueberries with the oat mixture.
Drizzle the milk mixture over the oats, making sure to distribute the milk as evenly as possible.
 Sprinkle the remaining blueberries over the top of the oats.
 Bake the oatmeal for 35-45 minutes, until the top is golden brown and the oats have set.
 Remove the oatmeal from the oven, sprinkle with brown sugar, and serve.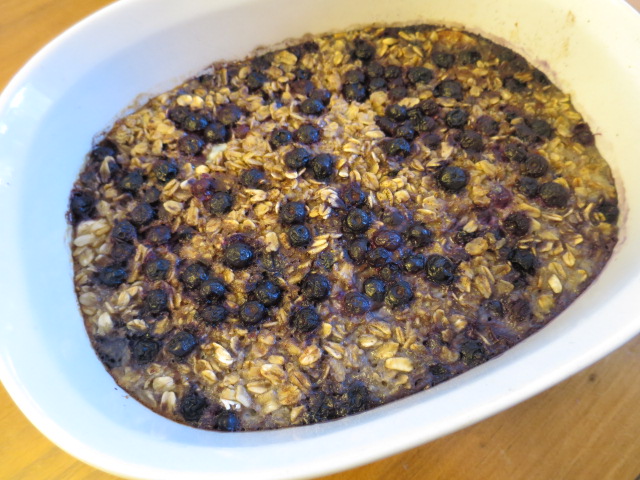 So yummy! Healthy, easy, fast, and delicious. What more could you ask for?
Recipe adapted from Super Natural Every Day by Heidi Swanson via The Curvy Carrot.
Verify an online drugstore before you purchase medications