Ah, Paris, the city of lights, the city of love. It has the power to seduce you with its promise of romance, gastronomic delights, dramatic architecture, and its world of art and fashion. Sitting at a streetside cafe sipping a cappuccino and taking in the hustle and bustle of the city is one way to feel the vibrancy of Paris. When strolling along the River Seine, crossing the many bridges, and meandering through the gardens – you are surrounded by beauty. It's so easy to get lost amongst the street artists with their paintings for sale, the museums full of art, and the store windows highlighting the latest Parisian fashions. Through all of this you are immersed in French history and culture.
I was lucky enough to travel to France with my daughters a number of years ago. In Paris, we sipped champagne with dinner, ate crepes for breakfast, climbed the steps of the Eiffel Tower, soaked in the art of the Louvre, and attended mass in Notre Dame. We wandered through Giverny, visited Normandy, and bicycled along the Loire river. We got locked out of our hotel in Amboise (my daughters both in their jammies), and we drove in circles, completely lost, when I was trying to return our rental car in Tours. All in all the trip was spectacular.
My Escape to Paris
Well this past month had me wanting to escape to Paris once again. This started with the reading of Z: A Novel of Zelda Fitzgerald. This is the story of Zelda, the wife of F. Scott Fitzgerald. The story starts in 1918 – the end of the Great War and amidst the Spanish Flu pandemic. It quickly moves into the Jazz Age and Prohibition. The Fitzgeralds move to Paris where they continue to dance and drink the nights away with their circle of friends; an artistic crowd that included Gertrude Stein, Pablo Picasso, Ezra Pound, John Dos Passos, James Joyce, and Ernest Hemingway. Paris of the 1920s was the place for bohemians and artists alike. I so enjoyed my visit there (through reading this novel) that I needed more.
Searching for more, I found the the 10 part mini-series, Z: The Beginning of Everything on Amazon Prime starring Christina Ricci as Zelda. This was pretty much a retelling of the novel, and I enjoyed watching the show. I especially loved the fashion – oh those flapper dresses are beautiful!
Due to the pandemic, my job commitments, and other constraints – as much as I wanted to jump onto an airplane and revist Paris – that trip is not happening anytime soon. So I continued on looking for more ways to fill my life with Paris.
Emily in Paris was a treat! Starring Lily Collins, this 10 episode series on Netflix hooked me in! Fashion, romance, comedy, food, street side cafes, and feminism all set in the beautiful city of Paris! This show had me laughing out loud. The best part was feeling that I was there in Paris walking the streets and sipping my cappuccino at a street side cafe. I admit it, I have watched this series now twice.
For my birthday, my husband took me to dinner at a wonderful French restaurant, the Left Bank. Yes, he is watching me devour all things Paris and came up with this dinner plan on his own. Cheese fondue, French Onion soup, trout almondine, and champagne with dessert – it was a night of Paris!
From here I moved onto The Paris Wife: a Novel. This is the story of Hadley Hemingway, wife of Ernest Hemingway. This story was recommended to me after I read Z: A Novel of Zelda Fitzgerald. As this story overlaps with Zelda's story. Scott and Ernest were friends and fellow writers; they spent time together in Paris and traveled in the same circle. I enjoyed this novel, but I needed to travel through Chicago and Michigan before the pair set sail for France. Since my intent was to escape to France, I was a little bored with the beginning of the book. Once I got to Paris, all was well with the novel.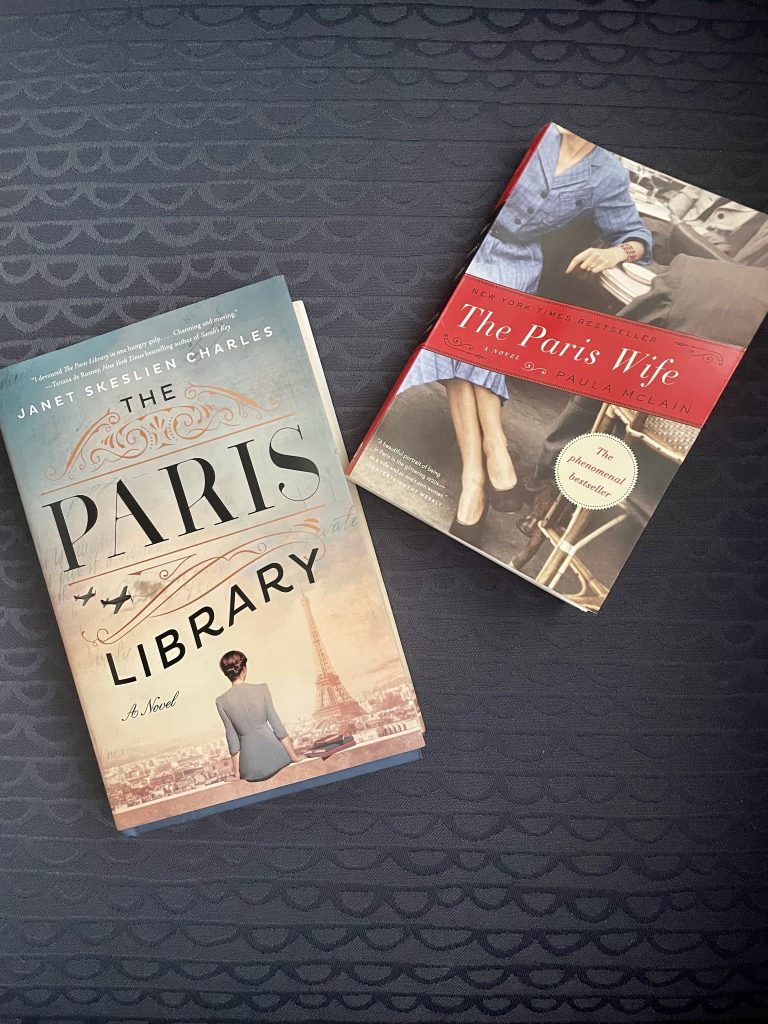 From here I picked up the book The Paris Library by at my local bookstore. Of all the books that have have read this past month, this one hands down was my favorite. The story opens in Paris in 1939, but also is set in the small Montana town of Froid in 1983. The main character Odile moves to Montana with her husband after the end of WWII, and the story straddles both locations and eras. This is a story of feminism – a young Parisian woman making her own way as a librarian at the American Library in Paris. Odile, a true lover of books, thinks in terms of the Dewey Decimal System and refers to passages from many well known novels throughout this story. With the advancement of war and then the Nazi occupation of Paris, the habitué work together to save the books and save the library. A side note: I was born in Minot, North Dakota, and the town of Minot is mentioned in chapter two. Not many people know how to pronounce the name Minot, let alone know where it is! Second note; the main character Odile is asked which book is her favorite. I got a small thrill when she named my favorite novel as hers as well. Throughout this novel you come across passages from Zora Neal Hurston's, Their Eyes Were Watching God. If you love books as much as I do, this is a must read.
My husband joined me in a rewatching of Coco Before Chanel. This was his first time seeing the movie, and he was quite surprised to hear that I actually saw it three time in the movies theater. My love for Paris and France is nothing new. I rank my love of this movie up there with Julie and Julia – which I also saw a number of times in the theater.
So there you have it, my escape to Paris though the world of books and cinema. You really can travel the world through literature and movies. I am not sure what is next. The novel, The Splendid and the Vile: A Saga of Churchill, Family, and Defiance During the Blitz was just recommended to me. I have also thought about getting lost in a Hemingway novel, or perhaps I need a bit more of France. Maybe I will watch Midnight In Paris. It's always good to have some choices.