Throwing a last minute dinner party? First and foremost – don't get frazzled! Take it all in stride and with the right, "I got this!" attitude – you and your guests will all have a fun time! Follow the following six tips to throwing the perfect last minute party, and you will be all ready to go!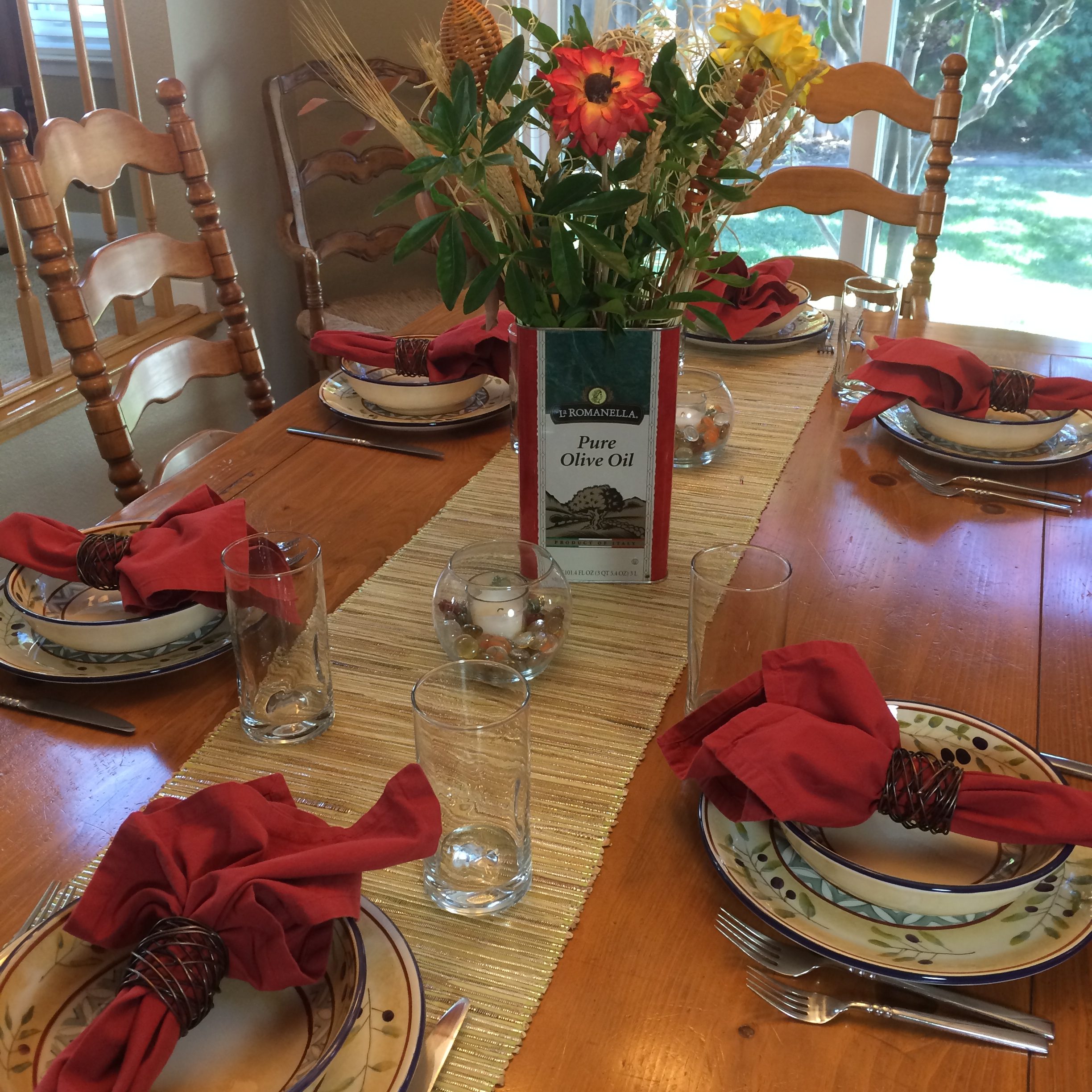 Six Tips to Throwing the Perfect Last Minute Dinner Party
Determine the main course. Make it a fast, easy, and delicious main course. Something like my One Pan Roast Pork would be a perfect choice. While the dinner is cooking – you will have time to take care of prepping the rest of the party. Some of my favorite fast meals center around fish – Pan Roasted Cod on Spinach Basil Risotto with Lemon Butter Sauce or the Roasted Salmon with Green Herbs that my husband made me for my travel themed birthday dinner. When I have been really pressed for time, I have ordered a favorite baked pasta dish from a local restaurant. I simply transfer it to a pretty baking dish and place it into the oven to stay warm. This gives me time to tend to other matters and keeps the kitchen clean! Grab a bagged salad and buy a good loaf of bread that can be popped into the oven and served warm with dinner. 
Think about the appetizers and dessert – I love a beautiful antipasto platter but if you want to go a bit fancier put together some beautiful shrimp cocktails. Keeping some frozen options from Costco, Trader Joe's, or your favorite grocery store on hand is always an easy and delicious option. There are so many scrumptious ready to pop into the oven options available. Dessert is even easier! Pick up a box of chocolate truffles to pass around the table to be enjoyed with dessert wine. Another option is a scoop of vanilla ice cream from the freezer. Top the ice cream with fresh fruit, sweet syrups, or a dash of your favorite liquor. 
Set a pretty dinner table. I love buffets for large parties, but a dinner party is meant to be more intimate. The best part of a dinner party is being able to sit down to enjoy food, conversation, and time with friends. Setting a pretty dinner table does not mean that you need to pull out your best china, although I love using mine 🙂 It means taking the time to set it fully – Water and wine glasses, cloth napkins with napkin rings, a small centerpiece (flowers or greenery), candles of varying heights. Table runners, table cloths, or placements all dress up a dinner table. Have fun mixing and matching – there is no right or wrong. I have been known to walk through my house gathering items to decorate the dinner table with, and I have come up with some pretty unique tables! 
Set the mood with music, candles, and a help-yourself drink station. The drink station can be anywhere your guest can help themselves. A counter space, drink cart, bar area, or console table. Be sure to place out glasses, glass tags, ice, napkins, openers, and beverages of choice. Make it simple by limiting the choices, but be sure to take all of your guests into consideration. Let your guest help themselves.
Clean the bathroom and entry way. These are the two area of your home that you will want to do a quick but thorough clean up! Many of us enter our homes via a garage or back door.  Which keeps us from noticing the cobwebs or fallen leaves that may have gathered near our front door. Not the best way to welcome friends into our home. A clean welcome mat, lighted lantern or potted plant, and seasonal wreath always feels extra welcoming. In the bathroom, be sure to see that there is plenty of toilet paper, clean hand towels, and soap. Do a quick wipe down with an antiseptic wipe and light a scented candle. That's it, and your home is now guest ready! 
Take time for yourself! Remember the first rule is to not get frazzled so that you can enjoy the evening with your friends. Plan on ten minutes for yourself. Throw on your chosen outfit (comfy is fine, clean is a must, wrinkled is a no-go), add some sparkle with jewelry, run a brush though your hair, dab on some lip gloss, spritz on your favorite perfume, and take a relaxing breath. Smile, you are now ready to great your guests!
As the host of the party, you set the tone. If you are stressed, your guests will feel it and they will have a hard time relaxing themselves. So for your guests, put your worries aside and truly relax. Not all dinner parties go off without a hitch. But all dinner parties, mishaps and all, can be perfectly enjoyed! And that my friends, is the key to throwing a perfect last minute dinner party.