This time of year it seems like there are just not enough hours in the day! I don't know about you – I imagine that most of you are equally busy – but the to-do list is much longer than there are hours in the day right now.
One thing I can always count on – my family gets hungry and looks forward to dinner every night 🙂 So no matter what is going on – dinner needs to get on the table.
This "recipe" is a dump recipe. Meaning that you take a number of prepared ingredients and by combining them together come up with something a bit new. The soup has become a hit, and I make up a double batch so we can also enjoy it for lunch.  In fact it was in the staff room one day during lunch that I saw a fellow teacher enjoying this soup. With only four ingredients all picked up at Trader Joe's it was simple recipe to remember. I stopped by the store that evening and I was glad that I did!
The first time that I made this I used a whole jar of the Fall Harvest Salsa. The soup was a tad bit too spicy for some of the family. The next time I made the soup, I used 1/2 jar and that was perfect. Those that wanted more of a kick just stirred in a bit of the salsa directly into their bowl.
Easiest Tomato and Rice Soup Recipe Ever
Ingredients (All from Trader Joe's)
2 Cartons of Organic Tomato & Roasted Red Pepper Soup
1 (or 2) packages of Organic Brown Rice
I bag Frozen Corn
1/2 to 1 Jar Fall Harvest Salsa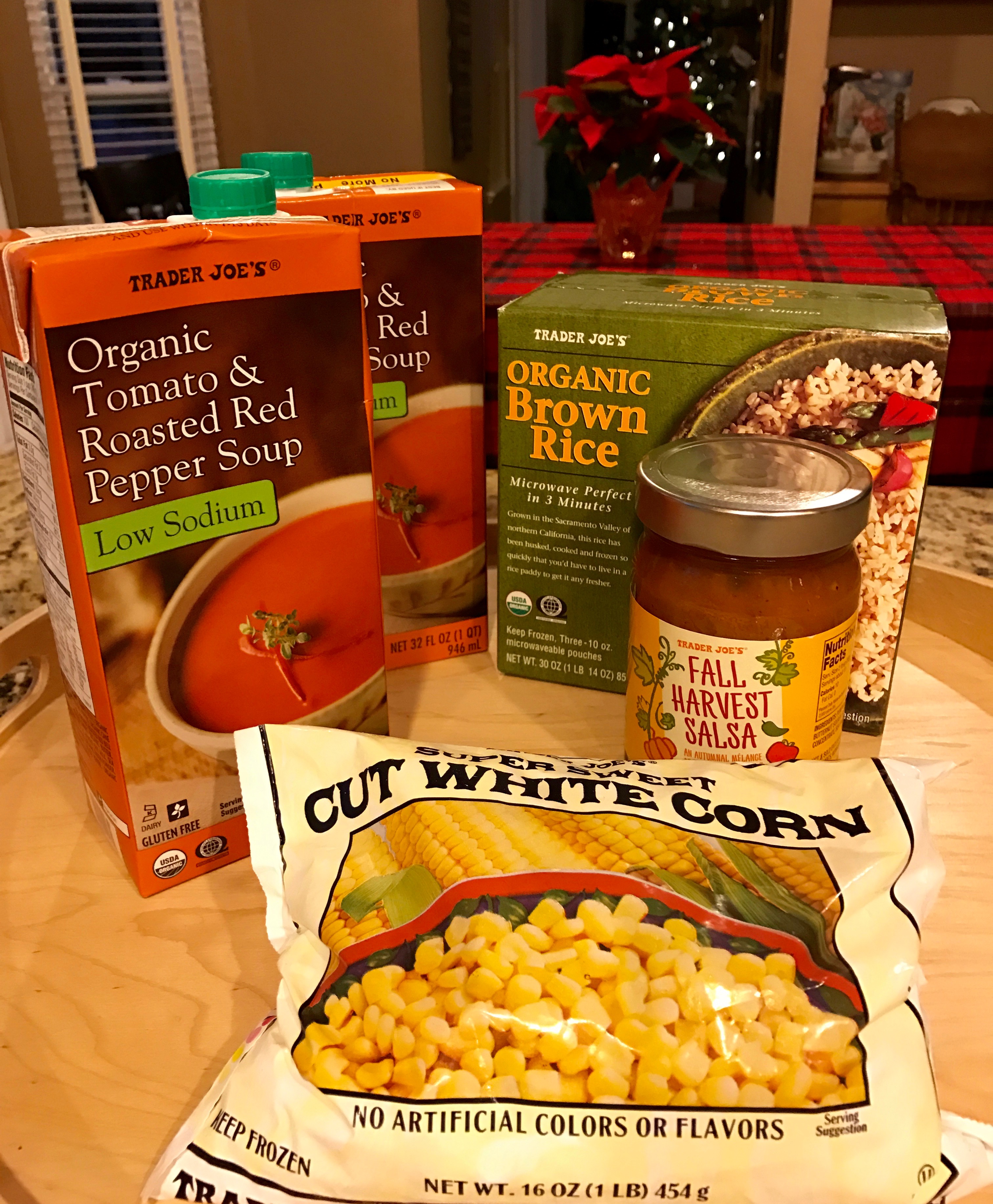 Directions
Microwave one or two bags of rice according to directions on the package. Using two bags will make the soup thicker – more like what I call a stoup. I make it both ways depending on my mood. One child prefers the extra rice.
Pour 2 Cartons of Organic Tomato & Roasted Red Pepper Soup into a large stock pot
Add all remaining ingredients.  Remember the Fall Harvest Salsa is spicy – add amount according to your taste.
Heat over medium- high heat until heated throughly. Stirring occasionally
Serve and enjoy!
It really is that easy and it really is down-right delicious! A perfect dinner for these extra-crazy busy days.