A great bowl of chili is like a warm hug on a blustery autumn evening. It is the ultimate comfort food that is also healthy for you! We make it often on Sundays during the school year to enjoy as lunch a couple of times during the week. Chili not only holds up well in the refrigerator, but actually tastes better as it sits and the flavors meld together.For you today, chili recipes – an American favorite!
My recipe for Turkey Chili is not only a mainstay in our home, it is also one of the most viewed recipes on my blog. It really is a bowl of deliciousness!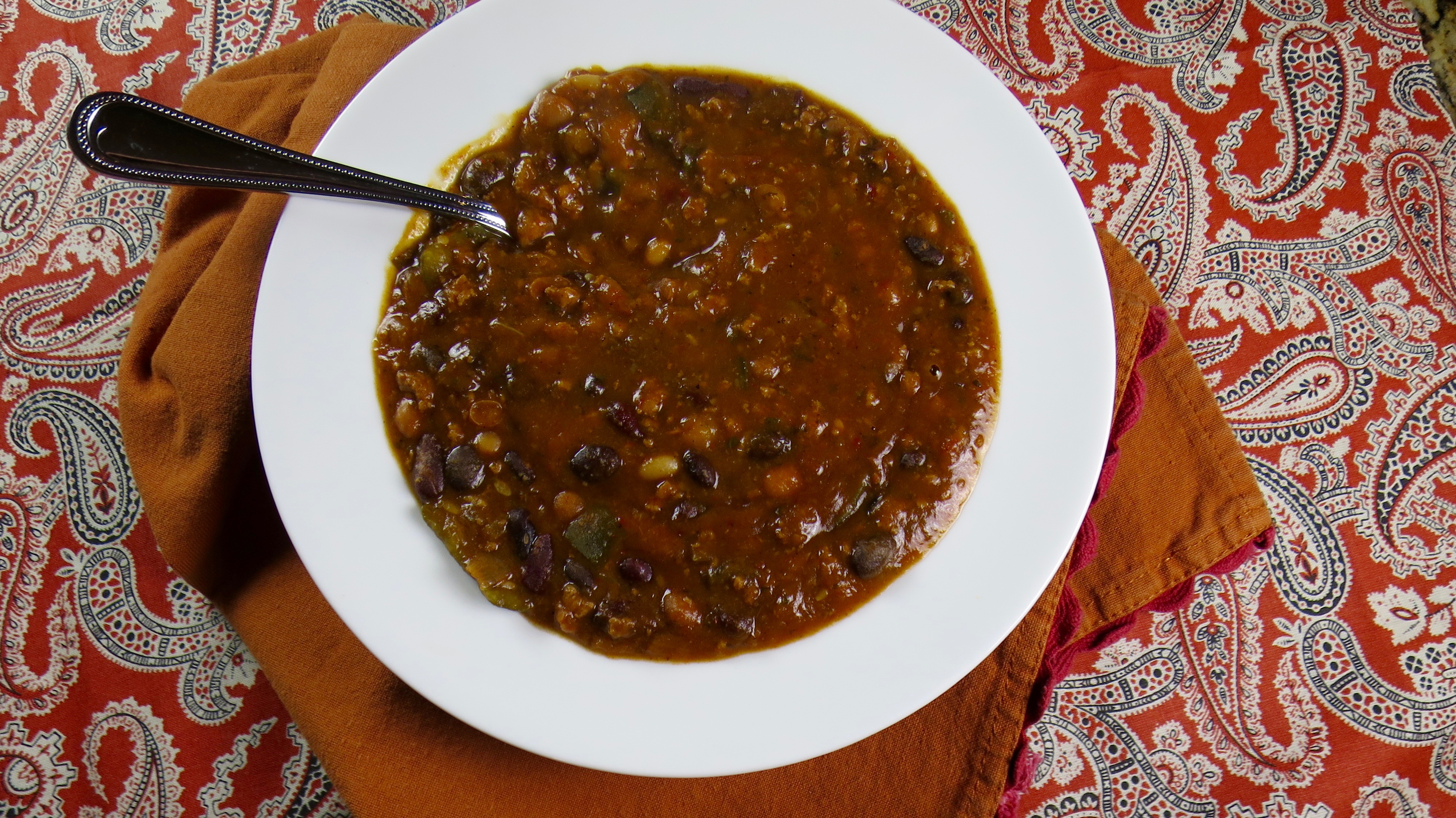 I must say, living in California I don't wait for cold nights to enjoy chili – I really enjoy it all year long. I love putting it together in my slow cooker during the summer months. It is an easy warm meal that does not heat up the kitchen.
This is my Slow Cooker Chicken Chili – another favorite!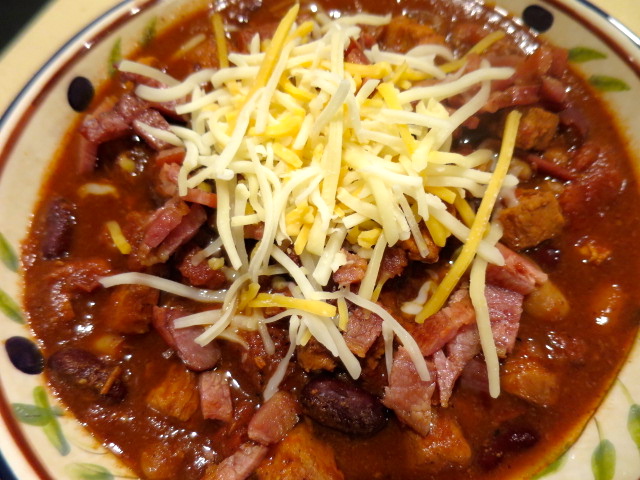 I had a chance to talk with Cooking Channel Host and Cookbook Author Jeffrey Saad on some yummy twists for this American classic. I love his style of cooking – look in the pantry and fridge and add a little bit of this – a little bit of that. Be sure to watch the video – he has great energy!
Jeffrey hosts United Taste of America on the Cooking Channel and has written multiple cookbooks including Jeffrey Saad's Global Kitchen: Recipes Without Borders. He's also been featured on the Food Network Show's Chopped-All-Stars and Iron Chef America. He shared the following recipes with me.
Chili Recipes – An American Favorite
Black Bean Chili Recipe
Prep Time:

 

15 minutes
Cook Time:

 

20 minutes
Total Time:

 

35 minutes
Servings:

 

8
Ingredients
2 cans (15.5 oz. each)

 

BUSH'S®

 

Black Chili Beans
1 can (15.5 oz.)

 

BUSH'S®

 

Kidney Chili Beans
1 Tbsp. canola oil
1 medium red onion, chopped
3 cups reduced sodium vegetable broth
2 cans (15.5 oz. each) whole kernel corn, drained (optional)
1 can (15 oz.) crushed tomatoes
3 Tbsp. taco seasoning mix packet
Optional toppings: Shredded cheese of choice, nonfat Greek yogurt, chopped cilantro, crushed tortilla chips, avocado
Directions
Heat oil in stockpot over medium heat. Add onion, cook and stir until they begin to soften, about 3 minutes.
Add the seasoning, then stir and cook for 1 minute.
Add the beans, broth, tomatoes and corn; stir well to combine.
Bring to a boil, then reduce heat and simmer for 10 minutes.
Serve with optional toppings, if desired
Easy White Chicken Chili Recipe
Prep Time:

 

15 minutes
Cook Time:

 

25 minutes
Total Time:

 

40 minutes
Servings:

 

6-8
Ingredients
2 cans (15.5 oz)

 

BUSH'S®

 

White Chili Beans, undrained
1 can (10 oz) diced tomatoes and green chiles, undrained
1 can (14 oz) reduced sodium chicken broth
1 can (10.5 oz) cream of chicken soup
1-2 medium jalapenos, seeded and diced
1 cooked rotisserie chicken, remove meat from bone and dice
Optional Toppings: shredded Mexican cheese, sour cream, cilantro, tri-color tortilla strips, avocado, lime wedge
Directions
In a 4-quart stock pot, add 1½ cans of BUSH'S®

 

White Chili Beans, mash the remaining ½ can chili beans with a fork and add to pot.
Add remaining ingredients.
Bring to a boil. Reduce heat and simmer 10 – 15 minutes stirring occasionally.
Add additional toppings, as desired.
So many great recipes… I have added Easy White Chicken Chili to my menu this week!
Bush's Beans are my go to when I am making my chili. I want to thank Bush's Best for providing me with this interview opportunity. 
And such a great cookbook!