The holidays are coming and with all of the festivities ahead, I am trying to lose some weight. Uggh! But yes, with a hurting back and lowered physical activity in my life right now, I need to make some changes.  So I have started looking for meals that are not only healthy and lowered calorie, but also filling. I found this recipe for slow cooker chicken chili from skinnyms.com and decided to give it a try. It was wonderful! Perfect for fall – warm, a bit spicy, and healthy!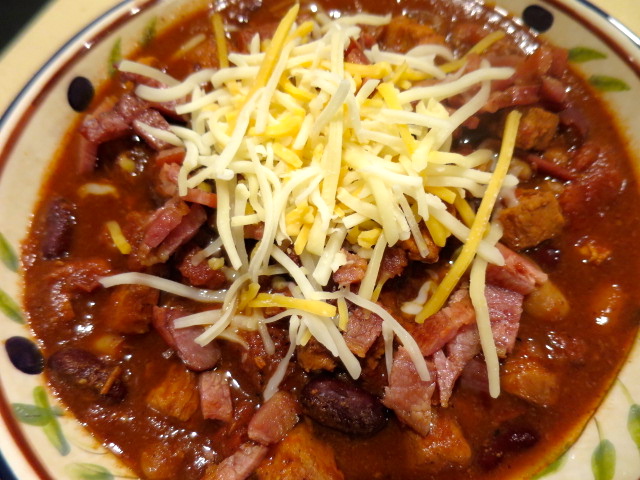 Slow cookers are perfect for the throw it together and forget it meals. I will say I hardly ever use my crockpot to prepare a meal in – rather I use mine mostly for entertaining to keep soups and other food items warm for serving. I think I would love the new crockpots that connect and become a warm food station. Have you seen them? I could and would use those!Crockpot cooking has just never become my thing, but this chili recipe just might change that. Pulling the ingredients together – mostly from the pantry along with a couple of thawed chicken breast from the freezer and this meal was put together in no time. It really was a set it and forget it meal.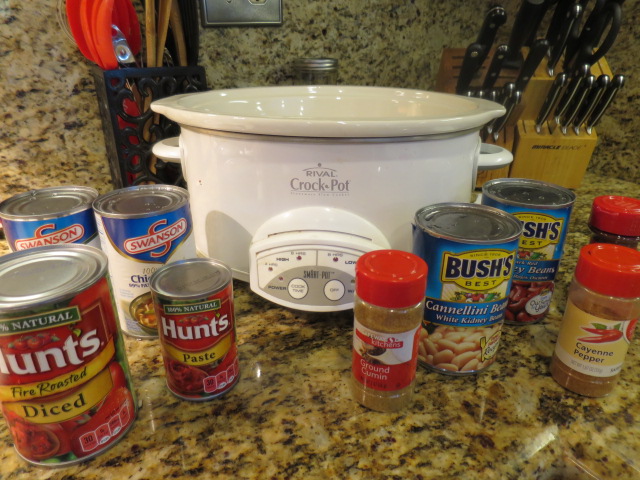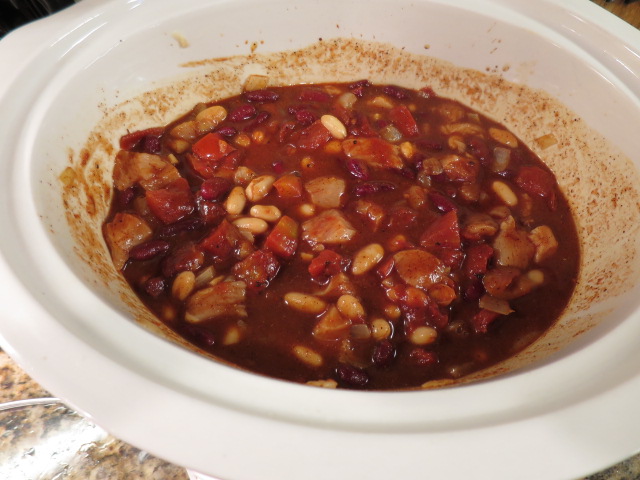 Ready to cook! Placed the lid on it and let it set for a low cook.
Slow Cooker Chicken Chili
Ingredients
2 cloves garlic, minced
1/2 cup diced sweet onion
2 -3 chicken breast fillets (1.5 lbs) cut into bite size pieces (optional skinless, boneless thighs or a combination of breasts & thighs)
1 (14.5 ounce) 

can fire roasted tomatoes with liquid

1 (6 ounce) can tomato paste
1 1/2 cups chicken broth, fat free, low sodium (optional vegetable broth or water)
2 tablespoons chili powder
1/2 teaspoon cayenne pepper (more or less to taste)
1/2 teaspoon cumin
1/2 teaspoon black pepper
Kosher or sea salt to taste
1 (15.5 ounce) can Cannellini or Navy beans, drained and rinsed
1 (15.5 ounce) can Kidney beans, drained and rinsed
¼ cup reduced fat cheddar cheese for garnish (optional)
Directions
Combine all the above ingredients in the slow cooker. Cover and cook on low 8 hours in a 4-6 quart slow cooker. Spoon into bowls and garnish with a little cheddar cheese and diced onion, if desired.
We topped our chili with the low-fat shredded cheese. Next time I would skip that. I did not like the texture of the melted cheese. This is a shot of my bowl alongside my husband's bowl. When you trying to lose weight it is important to keep in mind serving size 🙂
Delicious!