Last Saturday was my daughter's birthday and lunch in the city seemed the perfect way to celebrate. San Francisco is one of my all-time favorite cities – OK, so I have a lot of favorite cities. I am lucky that San Francisco is a short drive away. I know the city well as my father's business was in San Francisco for years. As a teenager, my friends and I would hitch a ride north and spend the day exploring this amazing city by the sea.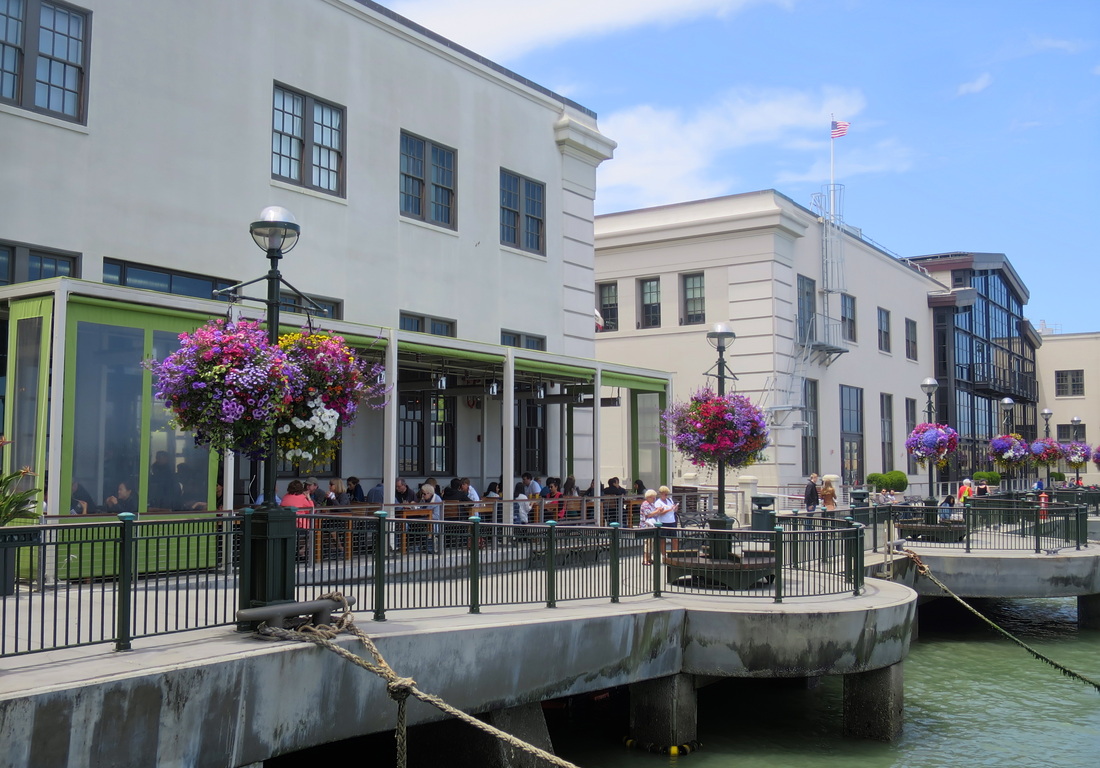 So lunch in the city was set, and my daughter's restaurant choice of The Plant Cafe was our destination. The Plant Cafe, an organic restaurant near the Ferry Building on the Embarcadero, was an excellent choice.  Arriving at one p.m. on a Saturday afternoon meant that we were ordering from the weekend brunch menu.  With a little bit of a wait to be seated, my daughter and I saddled up to the bar and ordered drinks. The bartenders were friendly, and when I asked one what her favorite menu item was she emphatically answered the huevos ranchers.  Now as you already know from prior posts, I am a huge huevos rancheros fan, and I had already been eyeing the dish as it was being served to nearby tables. Having taken the no-sugar added challenge after seeing the movie Fed Up, the blueberry-cream stuffed French toast was off-limits. Oh, but it looked decedent!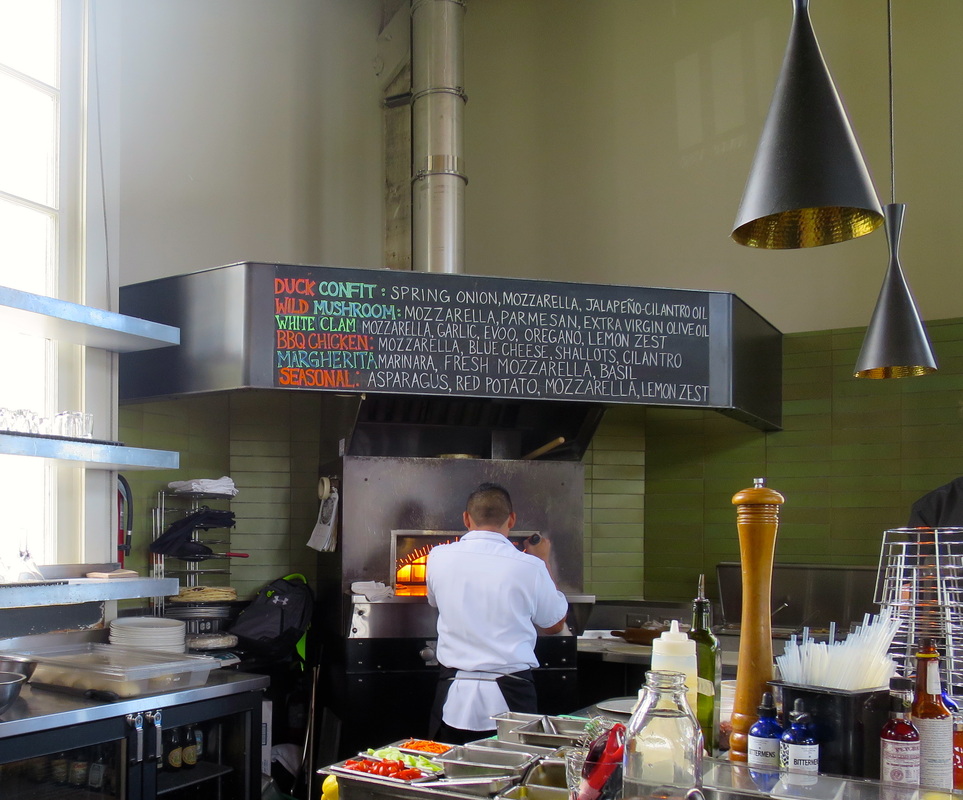 We were quickly seated, and we happily started with sharing a roasted beet salad.  I have grown to love roasted beats, but I must say these beets were the best that I have ever tasted!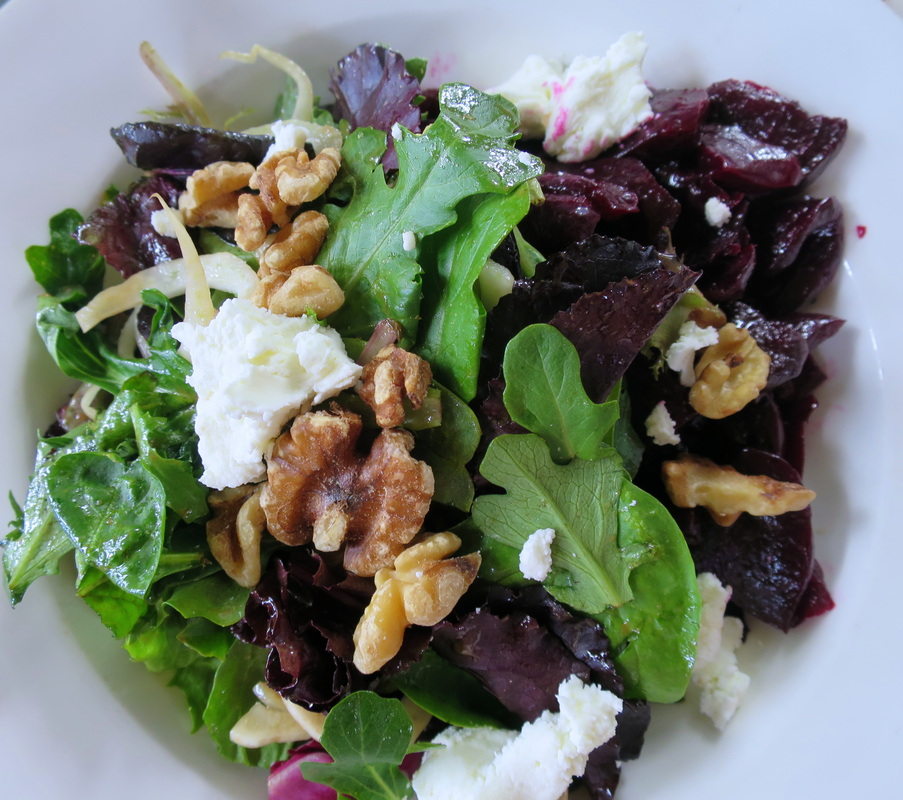 Our meals quickly arrived, my huevos ranchers with the crema served on the side, and my daughter's Plant burger. My vegetarian daughter ordered this amazing looking and tasting (I had a bite) patty made of lentils, mushrooms, beets, cashews & bulgur wheat  – one of their specialties called the Plant Burger.  The food was served quickly – everything came out to order in a very short time.  We were able to linger and take our time – there was no rushing us through our meal.
Two eggs any style served with refried white beans, white cheddar, pico de gallo, avocado, crema & crispy corn tortillas.
The California Plant Burger served with avocado and white cheddar.
The organic menu was the main draw for us to this restaurant. The second draw was the location!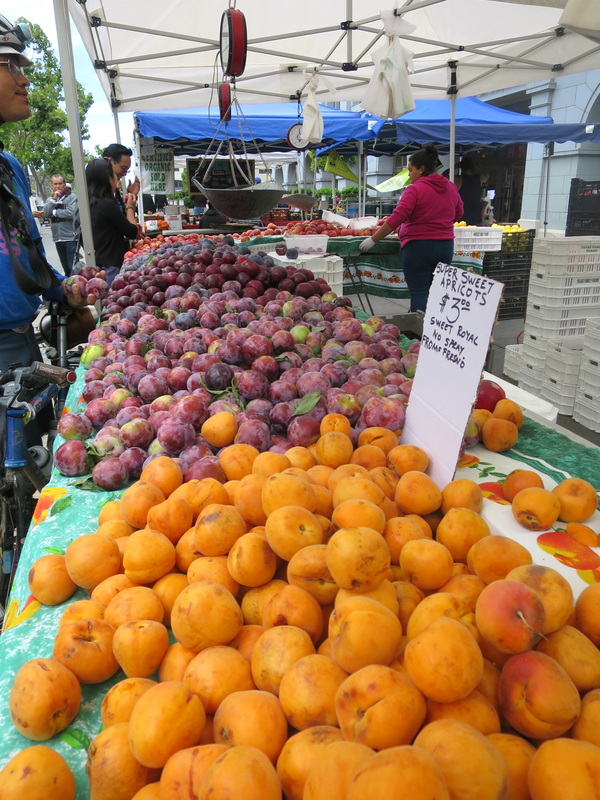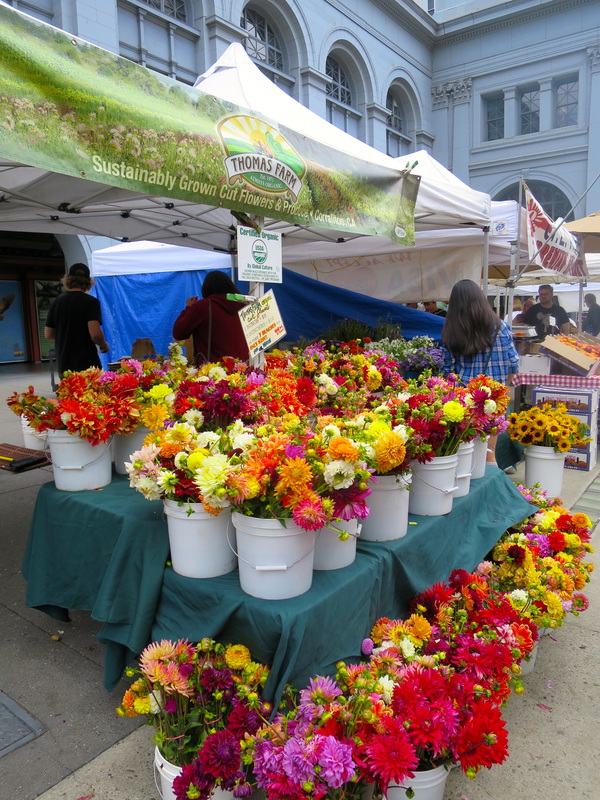 The Plant is a block from the Ferry Building, across the street from the Embarcadero Plaza, which means in addition to a great meal we had much to do and see.  We wandered the Farmers' Market sampling fruit and buying some amazing tasting grapefruits.  We walked into Passages, the local bookstore, to discover that Hillary Clinton would be there on Thursday signing her new book, Hard Choices. I checked my calendar and quickly bought a ticket! What a lucky find!  I am very excited to meet a former Secretary of State and read a signed copy of her book! Woohoo!
A great afternoon in San Francisco!