I have been having a lot of fun baking and designing a number of tasty and creative cupcakes lately. These Caramel and Apple Stuffed Cupcakes are perfect for the back-to-school and fall season. Did I just say fall?!? I cannot believe that! Yes, fall (or if you prefer, autumn) is right around the corner!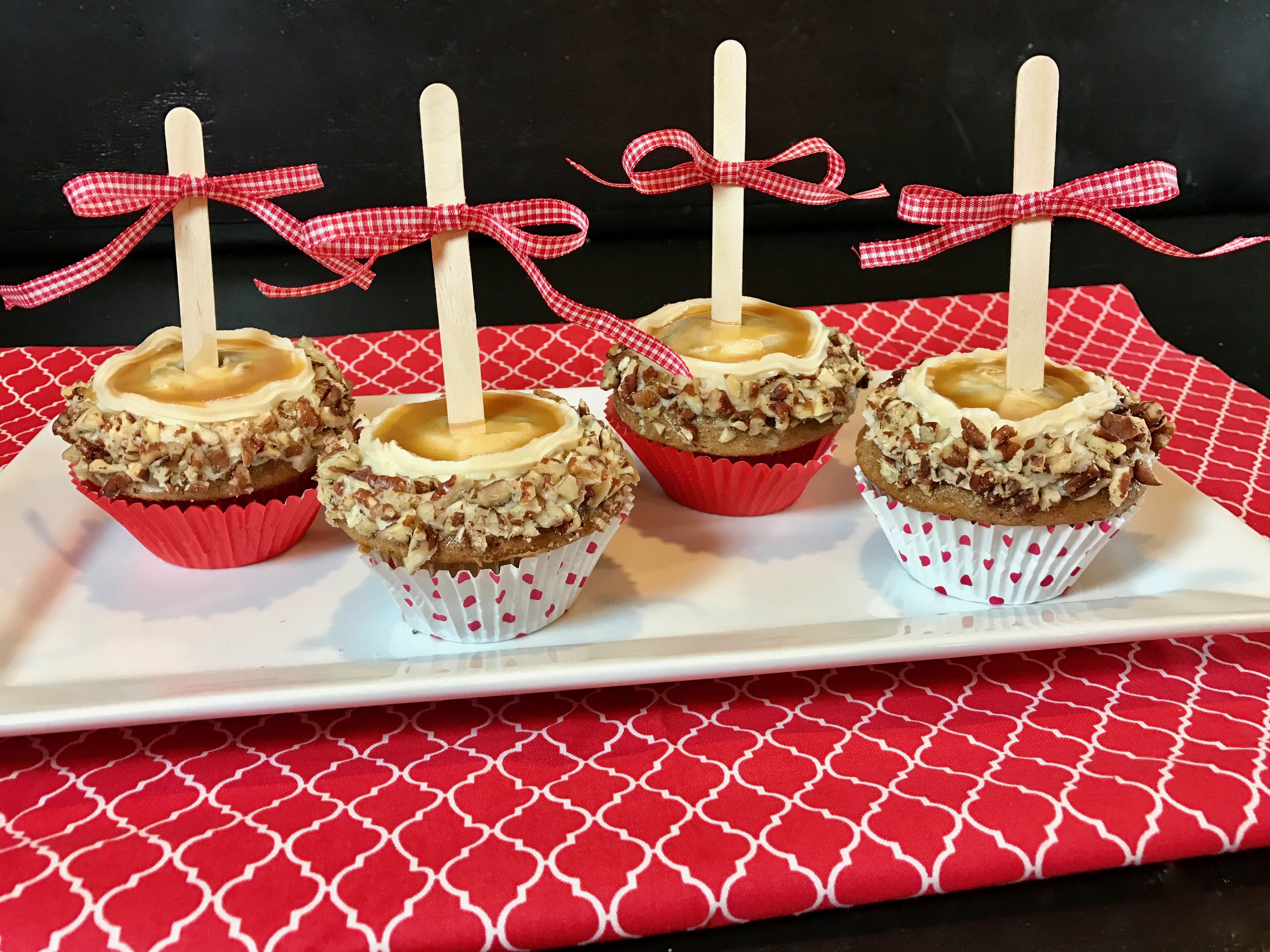 Well, I am officially back to work. Summer vacation is over and while it is not officially fall yet I am fully in the back-to-school mode. I painted my classroom last week, and this week I am getting my classroom ready for the students and planning our our school year.
These cupcakes  are perfect for a back-to-school celebration or for any fall harvest party. Just look at that yummy and sticky caramel topping! And there is even a hidden surprise inside.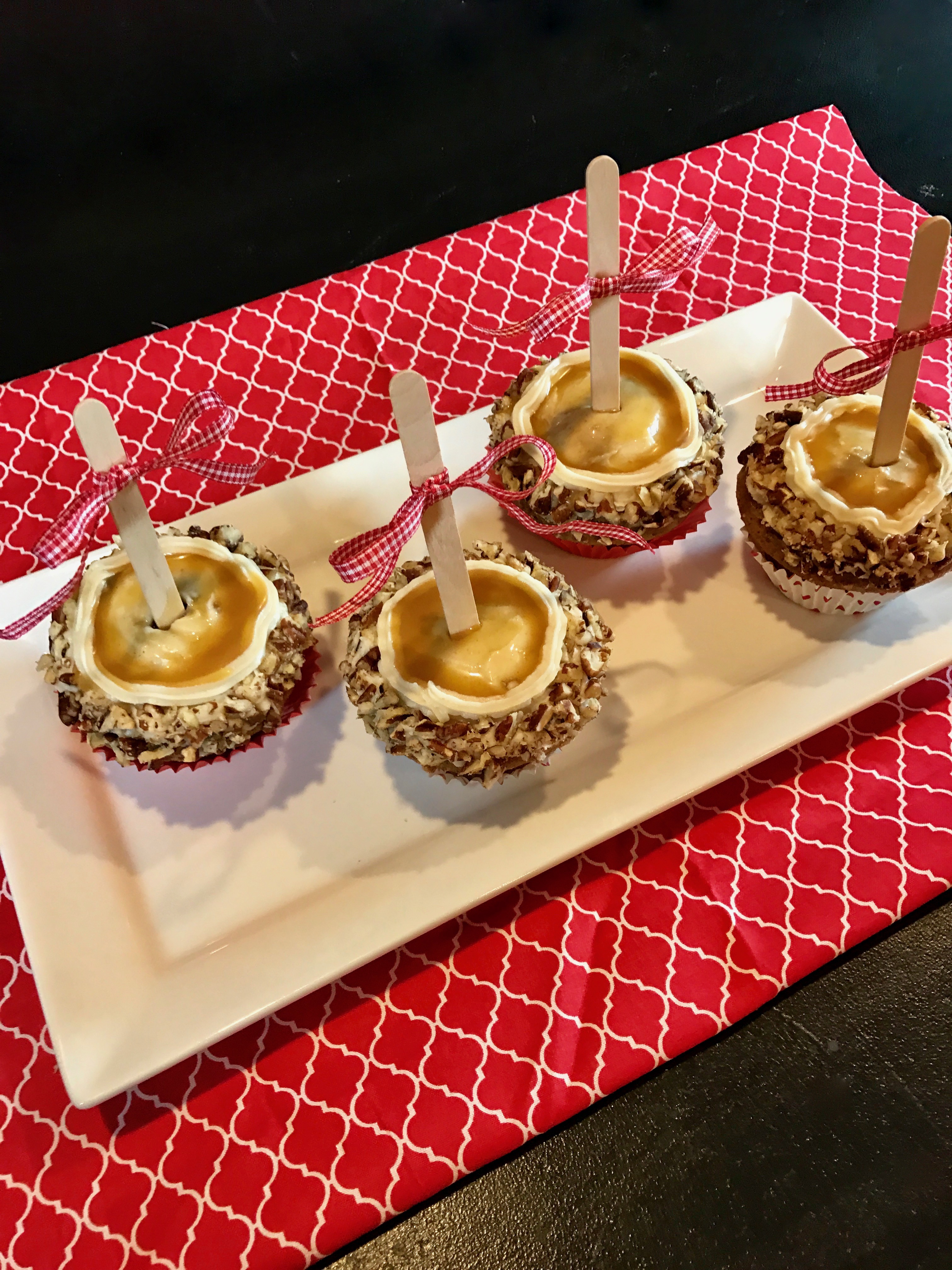 The inside of this spice cupcake is filled with apple pie filling! Yum! Even more apple delight for you to enjoy.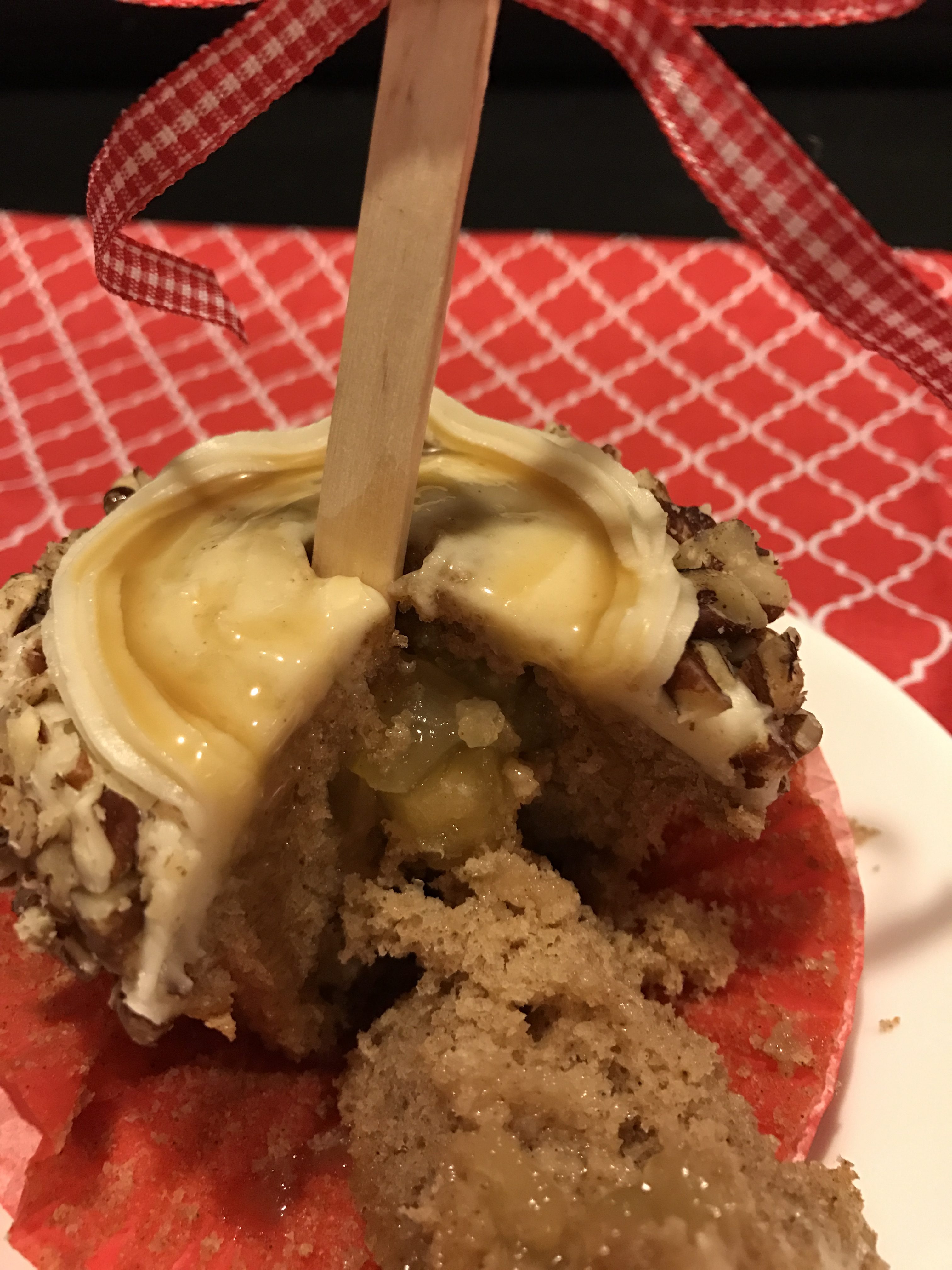 Caramel Apple Stuffed Cupcakes
Caramel Apple Stuffed Cupcakes are easy to put together. You simply start with your favorite spice flavored cake mix. I used a box cake mix and it worked just lovely. I know that there are seasonal flavors that lean more towards an apple flavor, and they might be worth a try. I know that my family loves the spice flavor, so I stuck with that.
Ingredients
Spice or apple flavored cupcakes
Apple pie filling
Cream cheese frosting
Chopped nuts – I like walnut
Caramel sauce
Popsicle sticks
Ribbon
Directions
Bake cupcakes according to package and let cupcakes cool completely.  
With a melon scooper or small spoon hollow out a shallow hole in each cupcake. Retain the removed cupcake piece. 
Fill each hole with a spoonful of apple pie filling. 
Top apple pie filling with the removed piece of cupcake. 
Frost each cupcake with a layer of cream cheese frosting. It will be really crumbly, but that is OK. It all gets covered. 
Pipe an edging of frosting along the outer edge of the cupcake. 
Roll the edge of each cupcake in the chopped nuts. 
Pipe an edging of frosting along the inner edge of the chopped nuts. If you are not serving the cupcakes right away, stop here. 
Before serving. drizzle the tops with a bit of caramel sauce. 
Place a ribbon tied popsicle stick into the center of each cupcake. 
Enjoy! This is a sticky, sweet, yummy dessert!