This shop has been compensated by Collective Bias, Inc. and its advertiser. All opinions are mine alone. #EffortlessPies #CollectiveBias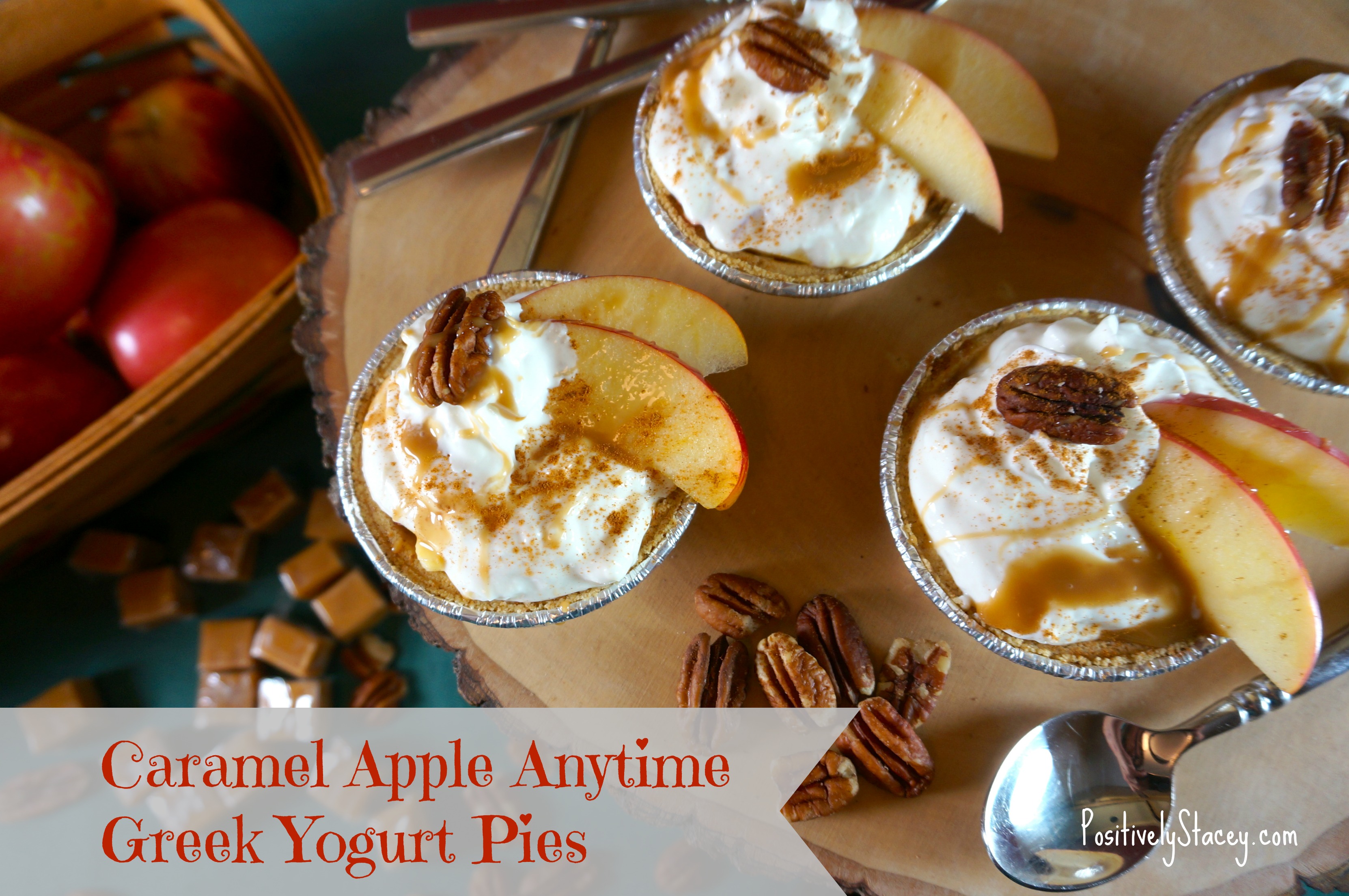 It's no lie that I have a bit of a sweet tooth. Maybe even more than a bit. But as much as I enjoy my sweets, even I know that dessert is reserved for special occasions.
Like the time I got all the laundry, washed, dried, folded, and PUT AWAY. Or the evening I got all 60 essays graded and I made dinner. Or like last weekend when I spent hours cleaning up the backyard, cleaning out the vegetable garden, and putting up the last of the fall decorations.
Those all rank as special occasions don't they? My family seems to think so.
Seriously though, last weekend we spent hours cleaning out the backyard. You know, the fall maintenance that needs to be done – turning over the garden, cleaning the leaves out of the pool, cleaning out the gutters, deadheading the flowers, planting a few bulbs, and putting away non-essentials. It was a big job, and I was feeling like the family needed a special treat for dessert.
But frankly, I was exhausted. And with Halloween and all of the holidays fast approaching I know that my family and I will have more than our fair share of sweet treats. This is not the time to indulge in anything extra. Then when I was grocery shopping at Walmart – inspiration hit! I was picking up yogurt for the family, and I saw that Dannon® makes a Greek Light & Fit® Carmel Apple Pie Yogurt! Perfect!
I was going to make #EffortlessPies with Dannon® Greek Light & Fit® Caramel Apple Pie Yogurt, Keebler® Ready Crust® Mini Graham Cracker Pie Crust, and Reddi-wip®.  How easy would that be?! Only three ingredients and definitely healthier than your typical caramel apple pie 🙂
But of course, I needed to add a few extra touches – just because that's the way I roll. I found some sugar-free caramel sauce, bought some fresh pecans, and picked up some more apples. These were going to be the fastest pies that I have ever made – and I knew the kids, my hubby, and I would love them.
Immediate success! I call them my…
Caramel Apple Anytime Greek Yogurt Pies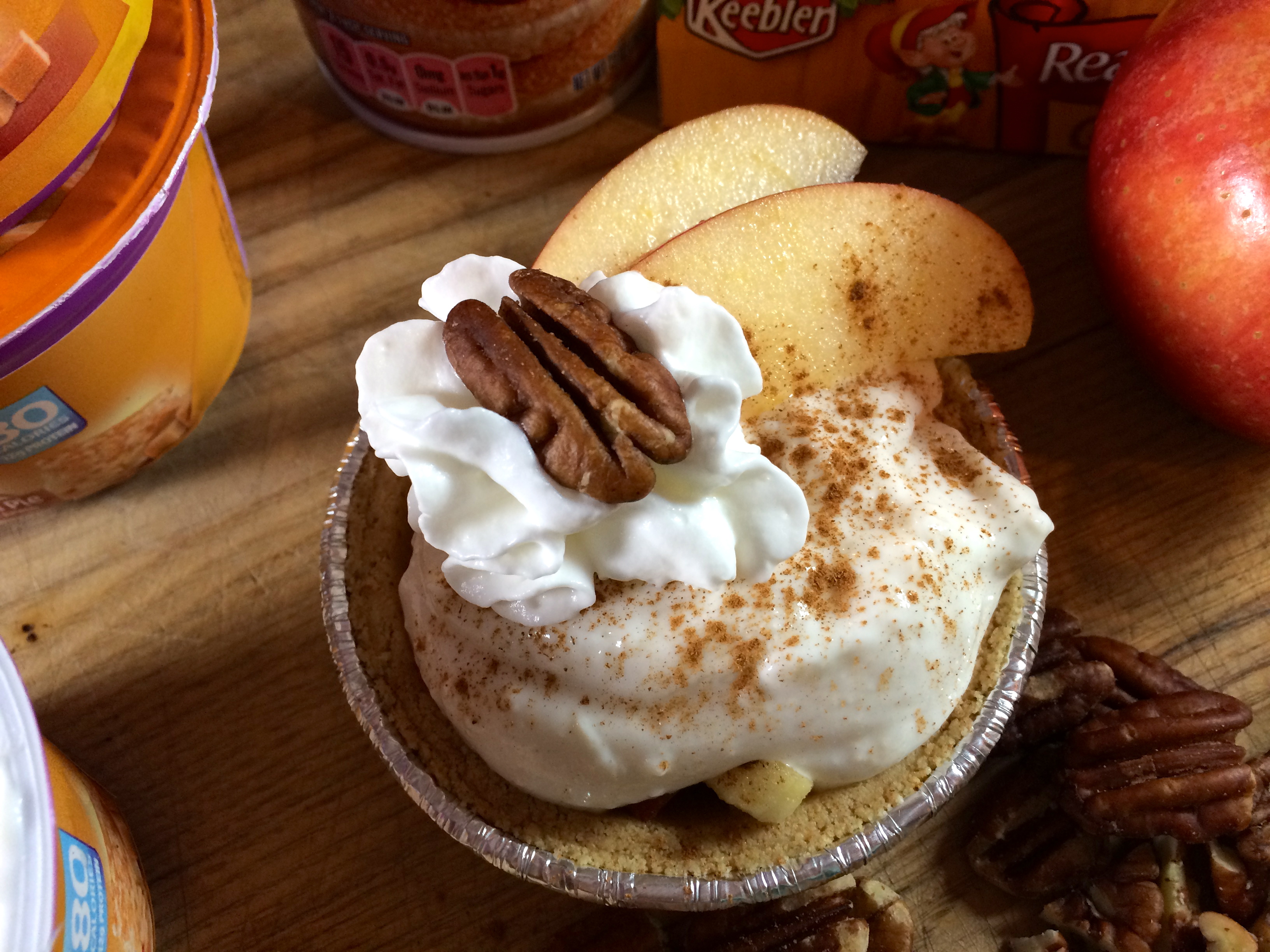 So fast and easy!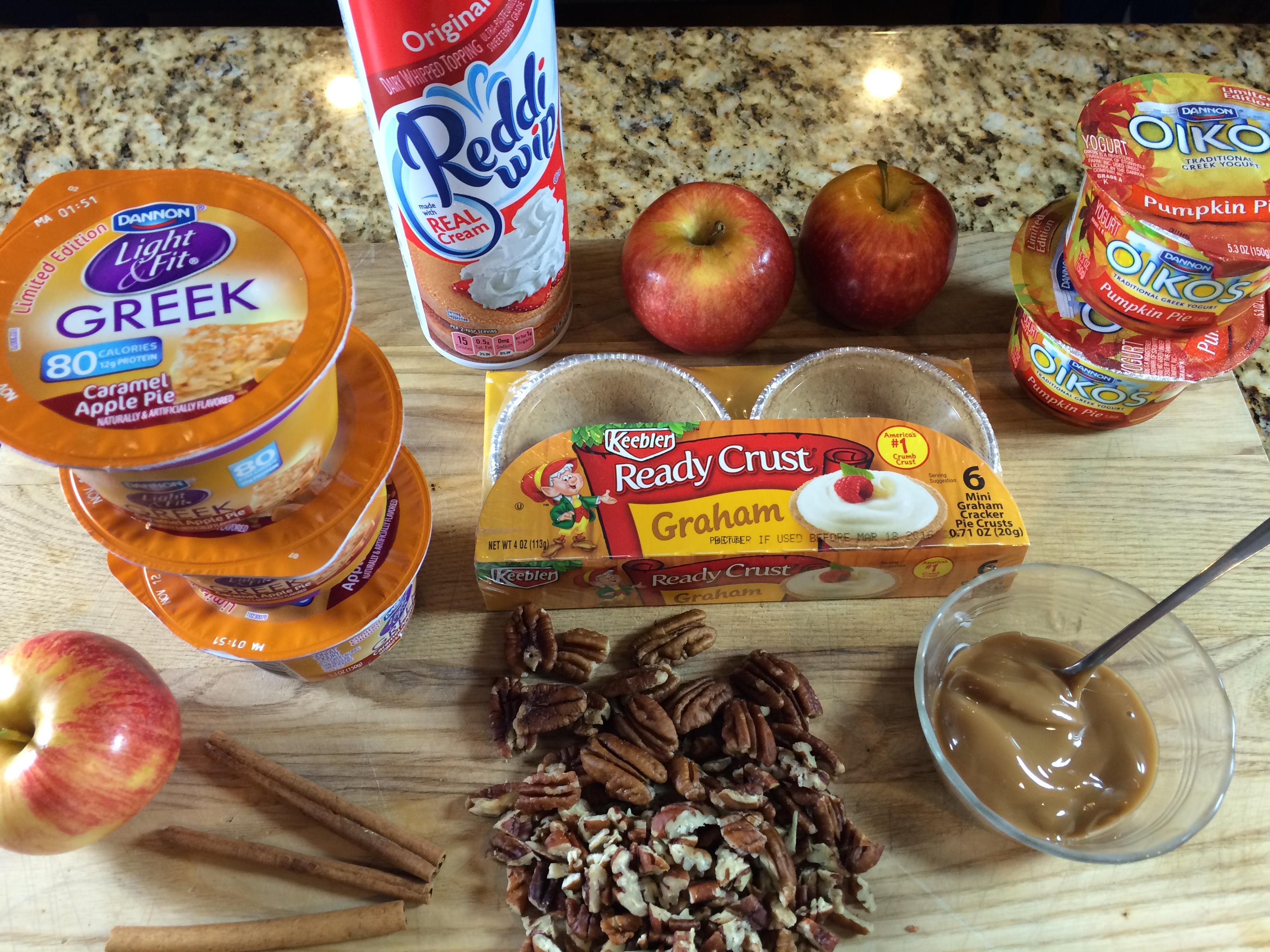 Ingredients
Dannon® Light & Fit® Carmel Apple Pie Yogurt

Keebler® Ready Crust® Mini Pie Crusts (6 count)

Reddi-wip® original 

Sugar-Free Caramel Sauce
Chopped Pecans
Chopped Apple
Cinnamon
Directions
Take Keebler® Ready Crust® Mini Pie Crusts out of packaging, but leave in the pie tins.
Sprinkle chopped pecans on top of the caramel sauce.
Sprinkle chopped apple on top of pecans.
Add  a light dusting of cinnamon.
Spoon 1/2 of Dannon® Light & Fit® Carmel Apple Pie Yogurt into pie crust.
Top with two thin slices of apple.
Sprinkle with more cinnamon.
Add a dollop of 

Reddi-wip® original.

Tuck pecan into Reddi-wip®.
Add a final drizzle of caramel sauce.
So fast, easy, delicious, and a healthier choice for dessert! Just in case you missed how fast and easy this treat is to put together – I made a little video for you to watch. It's only 12 seconds long.
I got everything I needed at Walmart.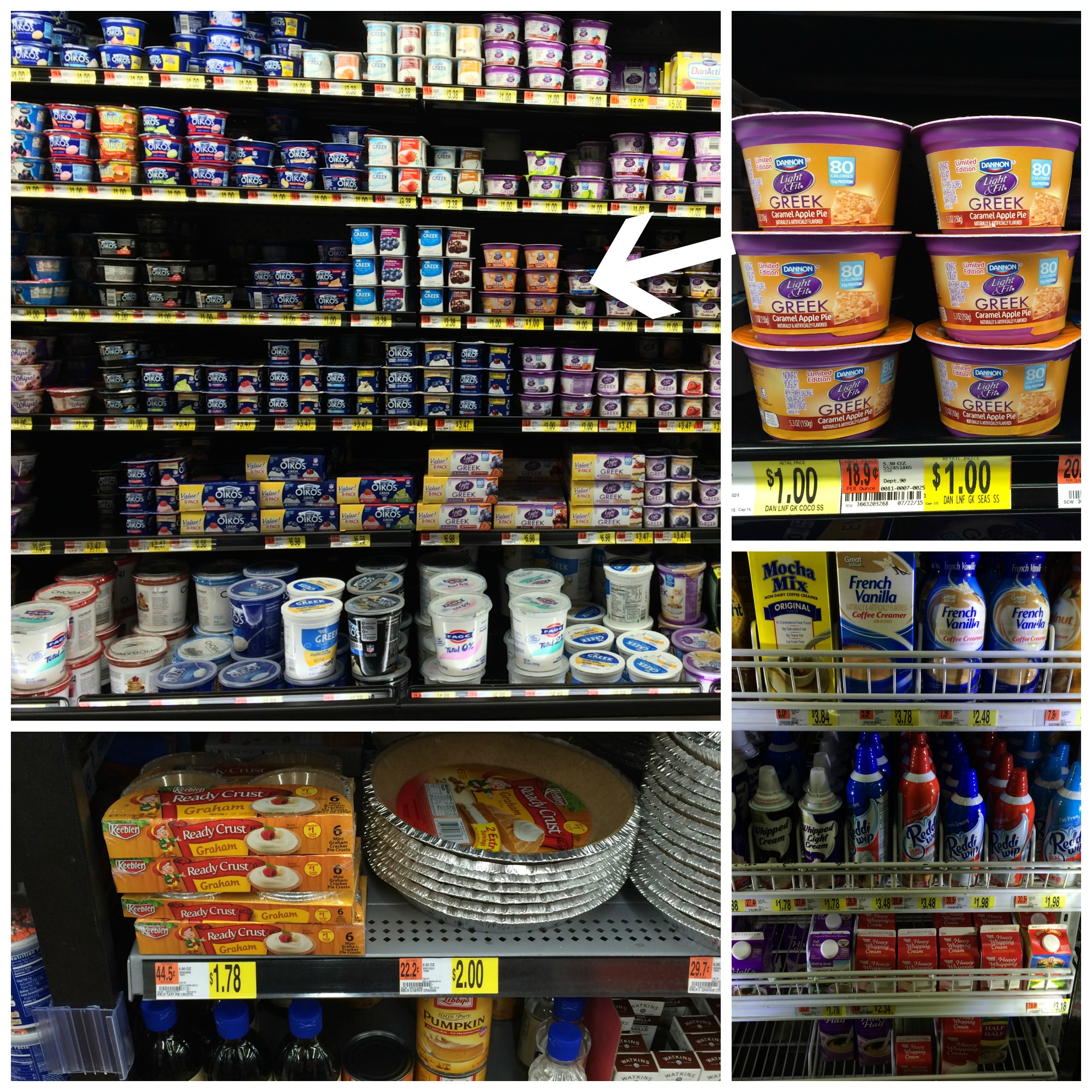 There are many more delicious ways to make Easy Autumn Mini Pies!  What yummy ingredient would you add to your pie?
Be sure to check out  Reddi-wip®, Dannon® Oikos®, Keebler® on Facebook and Reddi-wip® and Oikos® on Pinterest for even more great ideas and recipes.
Happy Fall y'all!
Sexual Health: Prescription Drugs VS Herbs