I am back to work today. Officially.  I have three days of in-service (lots of meetings) and on Thursday I will be welcoming 66 students throughout the day to my classroom. All year I try my best to inspire preteens to love reading, writing, social studies, and learning.  It is fun, it is hard work, and I love.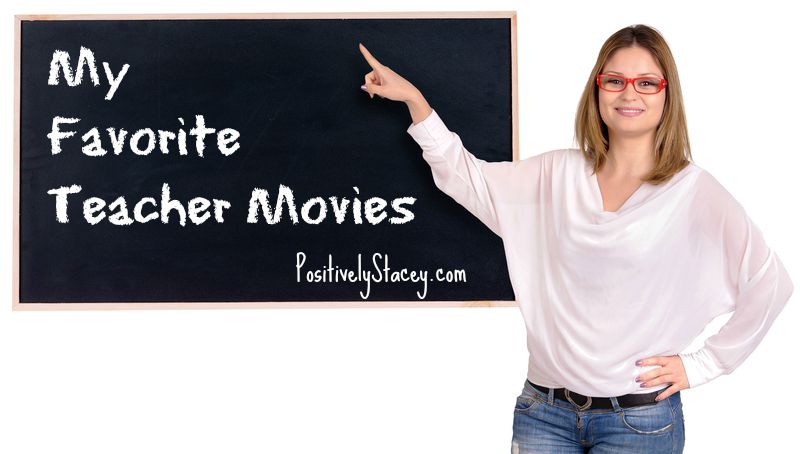 In honor of my 19th year of teaching I will be designating this week Back-to-School week. Starting with some of my favorite teacher movies. First a disclaimer though – there are a lot of top-notch teacher movies out there that I have not seen. If I have not seen it, it is not on my list. An interesting side note that I have noticed about my list. Teaching is a predominantly female profession, yet in my top eleven teacher movies – only two of the teachers are female.
My Favorite Teacher Movies (In no particular order)
1. School of Rock – Jack Black starring as a struggling musician becomes a substitute teacher and turns the classroom in to a rock band.
http://https://www.youtube.com/watch?v=LqEszt5wG9I
2. Finding Forrester –  Jamal, a basketball playing talented writer breaks into William Forrester's (Sean Connery) place and accidentally leaves his backpack behind. When Forrester reads and completely marks up Jamal's writing, the reclusive author becomes Jamal's mentor.
http://https://www.youtube.com/watch?v=OjO0QVuZcE8
3. Good Will Hunting – Will Hunting (Matt Damon) is a math genius but works at M.I.T. as a janitor. While cleaning one night he solves a challenging math problem and is discovered by a professor.
4. Educating Rita – Rita is looking for an education  and signs up for an open course at the university and Dr. Frank Bryant (Michael Cain) becomes her teacher. Rita's desire to learn inspires Dr. Bryant to be a better professor.
5. Akeelah and the Bee – 11 year-old Akeelah has a real talent for spelling and with the help of her spelling coach and support of her South Loss Angles community she goes after her dream.
http://https://www.youtube.com/watch?v=8Sf4Lwxg6lQ
6. Freedom Writers – The story of a first year teacher working to connect with her students and inspire them to write about their lives.
https://www.youtube.com/watch?v=GQUJ2k93oZA
7. The Karate Kid – "Wax on. Wax off." When Danny (Ralph Macchio) moves to Southern California and becomes bullied a handy man also martial arts master known as Mr. Miyagi takes him under his wing and trains Danny to fight in a competition.
http://https://www.youtube.com/watch?v=Bg21M2zwG9Q
8. The Miracle Worker – The story of Anne Sullivan teaching Helen Keller to understand the world around her and to communicate.
https://www.youtube.com/watch?v=WOIrnq8f-y0
9. Stand and Deliver – The true story of an East Los Angeles math teacher. When his at-risk students ace a state math test they are forced to re-take the test to prove that they did not cheat.
http://https://www.youtube.com/watch?v=sG-Cxs8eYkI
10. Dead Poets Society – A new English teacher, John Keating (Robin Williams), uses unorthodox ways to inspire his students in an all boys prep school to love poetry and to "Seize the day!"
http://https://www.youtube.com/watch?v=wrBk780aOis
11. With Honors – While this movie had not-so-stellar reviews, I enjoyed it. The Harvard students getting schooled in life by a homeless man. Maybe it was the cast, maybe it was the sound track – but I really liked this movie.
http://https://www.youtube.com/watch?v=X57Cce3fFtA
These are some of my favorite "teacher" movies. What are some of yours
Verify an online drugstore before you purchase medications