Over the past nine years I have completed 27+ endurance events. I say completed (not competed) because I do not see myself as a competitor. Well, with the exception that I am constantly competing against myself. But even then, I am not as fierce as I'd like to be. For me, I simply enjoy the challenge – the pushing of my body to new limits and the feeling of conquering my fears. The fear of jumping into ocean waters and swimming for a mile. The fear of racing my bike through city streets. The fear of climbing Half Dome. It is hard. It is scary.
In doing the math you can figure out that my very first endurance event was in 2006 when I was 43 years old. While I had dreamed of doing something like this for a long time, I was not an athlete and I had no idea how to go about it. I had heard of Team in Training, but honestly the aspect of needing to fundraise thousands of dollars scared me away. Then my mother-in-law was diagnosed with lymphoma. That was the impetus to first join Team in Training – but I have now been back for six seasons. Why?
Here is why I train with Team in Training:
You are part of something much larger than yourself.
You are part of a team that welcomes newbies regardless of age or ability. They are there every step of the way coaching, guiding, encouraging, teaching, supporting, and cheering you on to do you own very best.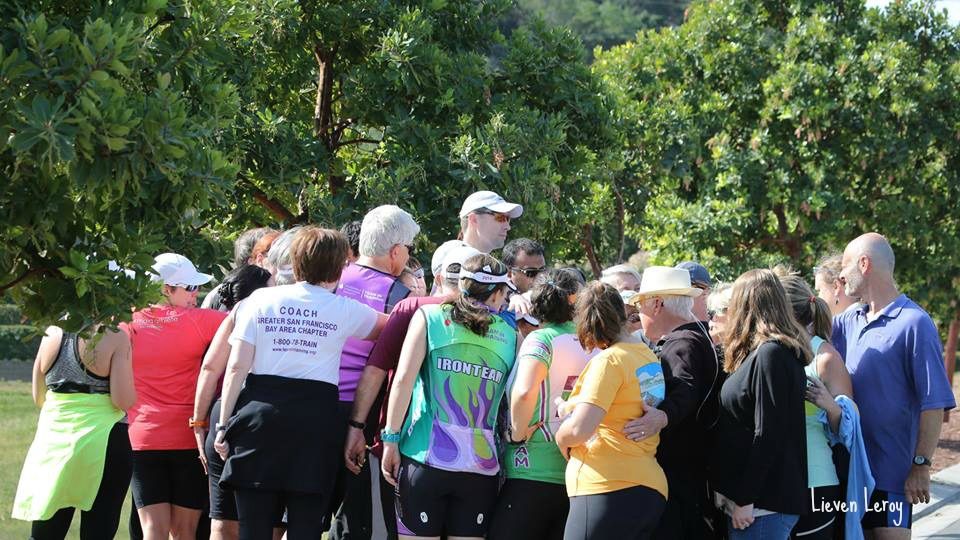 You are part of a cause. I have met incredible people living with cancer. They battle a disease everyday. I have met the people that benefit from my fundraising. My fundraising dollars go to support research, patient services, and advocacy. I know people that have directly benefited from the work of Leukemia and Lymphoma Society (LLS).
It is INSPIRATIONAL
This last Saturday was our Louie Run. This is a run that starts at an elementary school, travels  uphill through a quiet neighborhood, and ends in a beautiful hilltop cemetery at the grave site of Louie Bonpua.  Louie was an Ironteam (swim 2.4 miles, Bike 112 miles, Run 26.2 miles) member who the age of 32, he was diagnosed with Chronic Myelogenous Leukemia (CML) and battled it for 4 1/2 years of his life. I never met Louie, but I know those that knew him, those that were his close friends, and I know his story.  I have visited his grave site three times now to celebrate his life and to pay my respect to an amazing person who "Lived Life Out Loud". Many people inspire others by simply living their best life. That was Louie.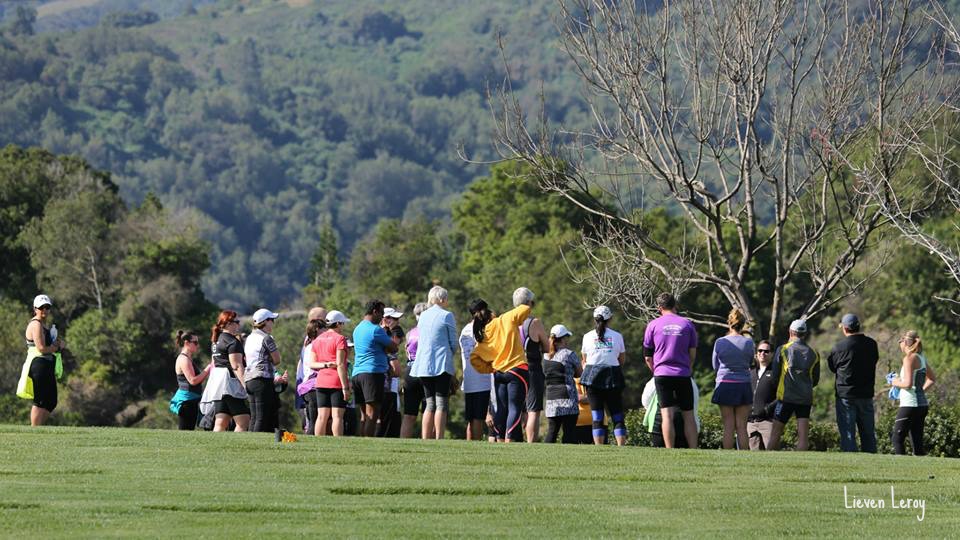 Here is his story (as shared with me from my team):
After his diagnosis and treatment, chemotherapy was able to keep Louie's cancer in check. He was able to live his life, but was forced to stay on maintenance chemo. After building his strength back, Louie joined TNT in 1999 and was an Ironteam participant in 2001. When asked why? He responded,  "Because I want to show people that you can still live, even when they tell you you're going to die." He finished Ironman Canada in 2001 with only 3.5 minutes left before the official cutoff with the crowd chanting, "Louie, Louie, Louie"
In January 2002, his condition accelerated, but Louie willed his way to carry the Olympic Torch. He pulled up to the Golden Gate Bridge in an ambulance and carried the torch for 0.2 miles – on his own power. After he passed the torch, he got back into the ambulance and made his way back to the hospital. Later that night, he slipped into a coma. He died 2 days later on January 22, 2002.
Below is a short video that highlights Louie's journey ~
https://www.youtube.com/watch?v=OYzkmDTdmXg
"The Ironman is truly an event that makes you realize what you are made of inside. I was out there for 17 hours and I couldn't help but think what my purpose and place is in this world. When I was first diagnosed with cancer, I didn't see anything positive coming out of it at all. Now, it is clear to me why God put me on Earth, and that is to make a positive difference in other people's lives. For that, I MUST FINISH THIS RACE!"
– Louie Bonpua (1964-2002)
The honorees and LLS mission set Team in Training apart from other organizations. They have inspired me to achieve feats that I never dreamed possible nine years ago. In 2006, I started with the walk team and trained to walk my first half-marthon. From there I joined the run team to complete another half-marathon, followed by the hike team to hike Half Dome in Yosemite, and then to the triathlon team to complete an olympic triathlon. I guess I really like to swim, bike, and run as this is my third time with the triathlon team.  As I said this is my sixth event with Team in Training, but it will also be my 28th endurance event overall including two half-ironmans. All if this started with Team in Training when I joined the walk team in 2006. It is true when they say a journey of 1000 miles begins with one step.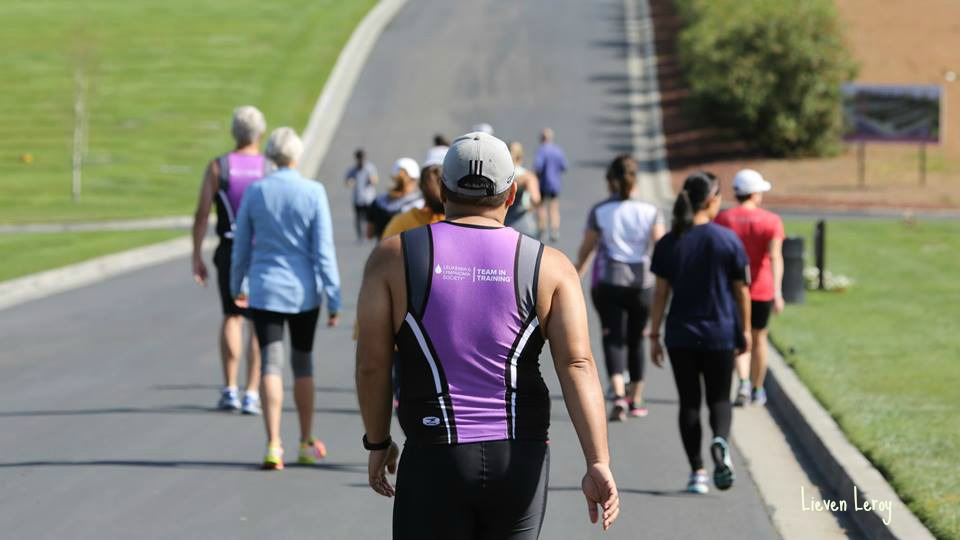 When it gets hard on the course, I think of those that have helped me along the way, my coaches, my teammates, my friends, and my donors; but most importantly I think of all the honorees that benefit from the funds I have raised. I think of Louie Bonpua and how he lived his life to the fullest.
We all have the capacity to make a difference in this world.
Transparency of Medication Prices