Jump to recipe
I am continuing to master the art of tofu! I had no idea how versatile this gem of a food really is! I used some silken tofu the other day to make my own sour cream for a diary-free stroganoff. My son, who is allergic to dairy, asked me if I could find away to make him a dairy-free beef stroganoff. It turned out really well. I still need to tweak that recipe just a bit, but once again, the power of tofu surprised me! So today – tofu taco salad is on the dinner menu!
We have definitely upped the amount of plants we eat in our house. This is for many reasons – but the primary driver behind that decision is to eat more anti-inflammatory nutrients. Dementia runs in my family, and I want to do all that I can through lifestyle to protect myself. Hence, we eat a lot more plants. Soy (Tofu is made from dried soybeans that are soaked in water, crushed, and boiled) is a good source of vitamin K and omega-3s, which reduce inflammation. Soy is also a rich source of tryptophan. The good thing about high levels of tryptophan is that tryptophan converts into serotonin. Serotonin is the brain's happy hormone! So – let's bring on the soy with this delicious tofu taco salad!
Tofu Taco Salad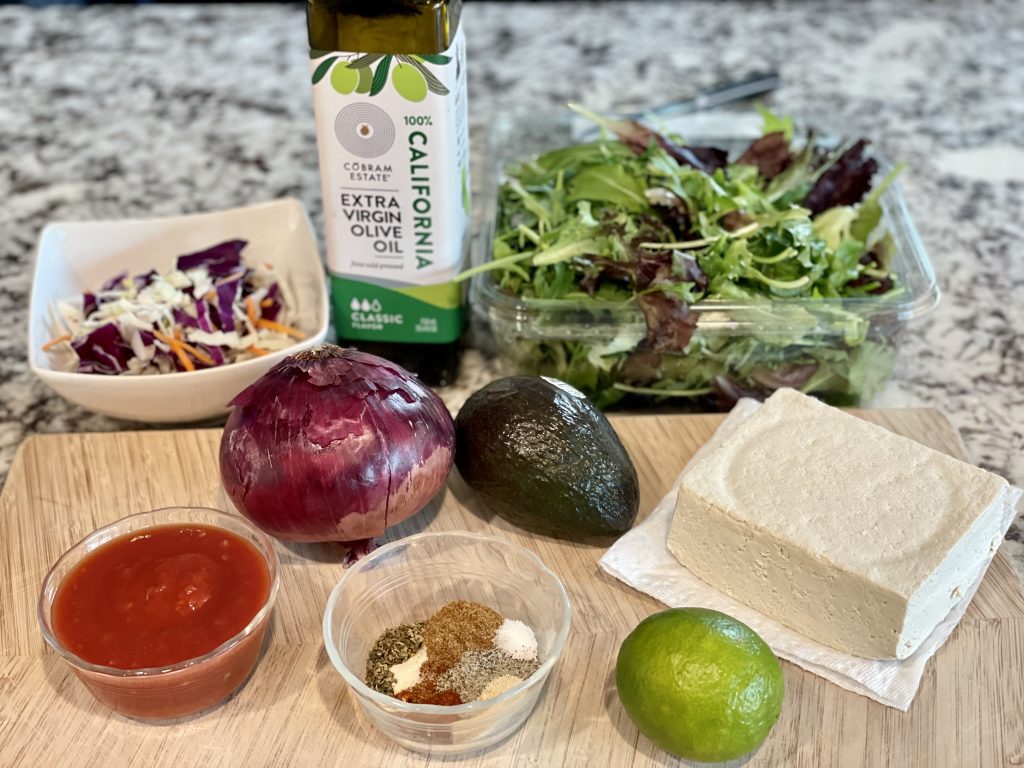 Ingredients
3 tablespoons extra-virgin olive oil (divided)
1 package (15 oz) extra firm tofu
Taco seasoning (This is my favorite mix of seasonings. It is so easy to put together!)
4 cups of mixed greens
1 cup shredded cabbage mix – red and green with shredded carrots
1/2 large red onion, diced
1 avocado, cut into bite-sized chunks
3/4 cups of salsa – you choose the level of heat
1 lime, quartered
Directions
Press and drain your tofu while you prep the other ingredients.
Heat 1 tablespoon of EVOO in a medium sized sauté pan over medium heat.
Crumble the tofu and add it to the heated pan.
Sprinkle the taco seasoning into the tofu – folding and stirring until the tofu is evenly coated with the taco seasoning mix.
Continue stirring until the tofu starts to get crispy bits in it. If needed, turn you heat to medium- high. Depending on how much moisture was still in your tofu – this can take from 4 – 10 minutes. Just stir occasionally checking for doneness. You want the tofu to be crumbly and have crisp edges.
In a large salad bowl, toss the mixed greens, cabbage, red onion, avocado, salsa, and remaining 2 tablespoons of EVOO.
Plate the greens, top with tofu, and add a squeeze a lime wedge over salads.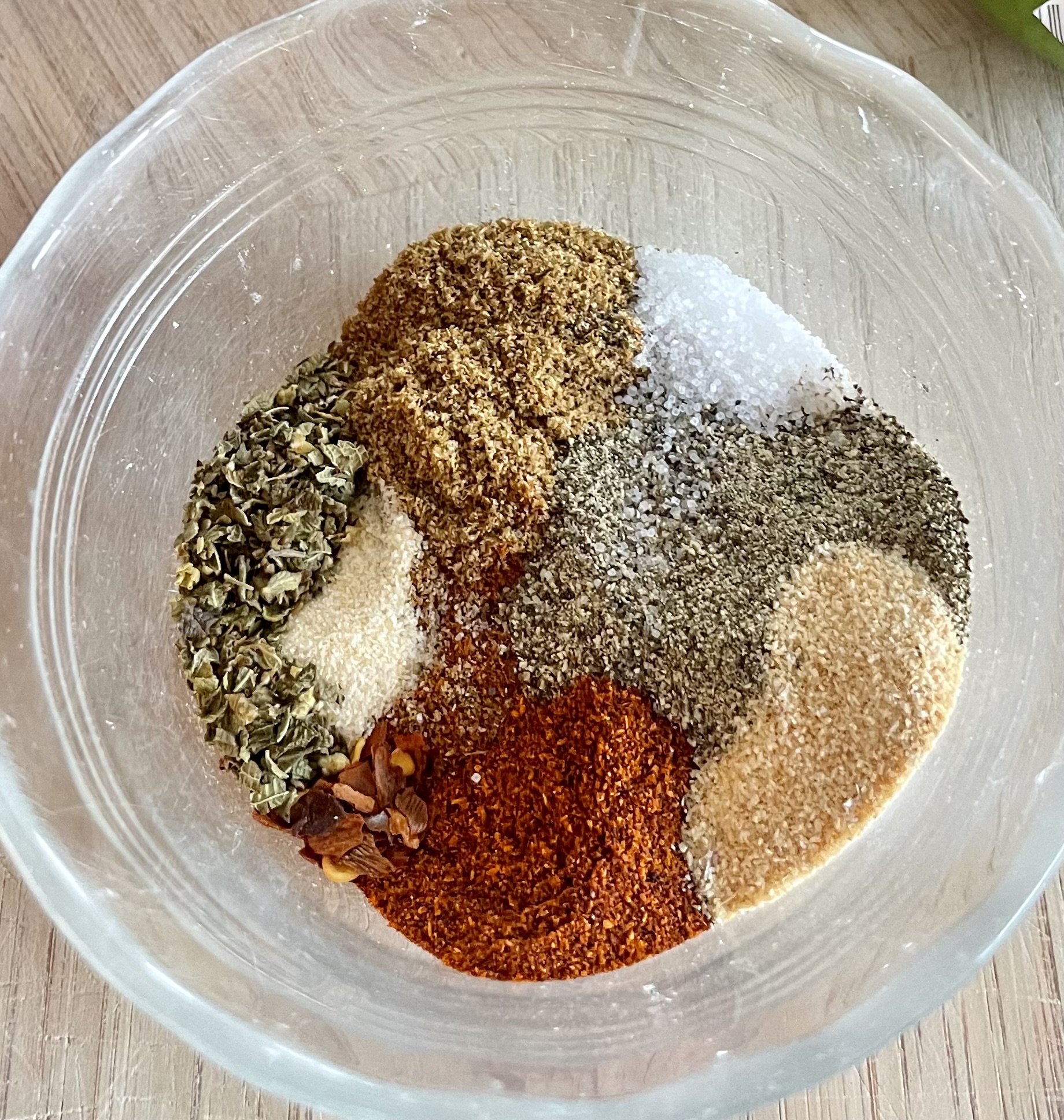 It's that easy to have this amazing Tofu Taco Salad ready for a delicious dinner! Enjoy!
I have to say, I love this Tofu Taco Salad! The flavors are so rich and layered. You can up the heat if you want with spicer salsa and more chili pepper flakes in the taco seasoning mix. What ever level of heat you want from mild to spicy – this dinner is a new favorite in our home!
I have spent a lot of time learning about health and wellness – from becoming an Integrative Nutrition Health Coach (through the Institute of Integrative Nutrition) and loads and loads of reading. One of my favorite books on the science behind the food and brain-health connection is the Diet for the MIND: The Latest Science on What to Eat to Prevent Alzheimer's and Cognitive Decline – from the Creator of the MIND Diet by Dr. Martha Morris. The book has some good looking recipes, but I have read and re-read the science chapters! Check it our if you want to learn more!
In full disclosure to all of my brain-health conscious friends – this post contains affiliate links. Which means should you choose to click on a link and purchase any of these items from Amazon, I will receive a very small percentage of the sale.