When we chose to downsize our home, we knew that we would be giving up a rather large and spacious kitchen. The home we purchased last fall has a very small kitchen. It was dark and dated. My husband and I both love to cook and knew that we would need to make some significant changes to make it work for us.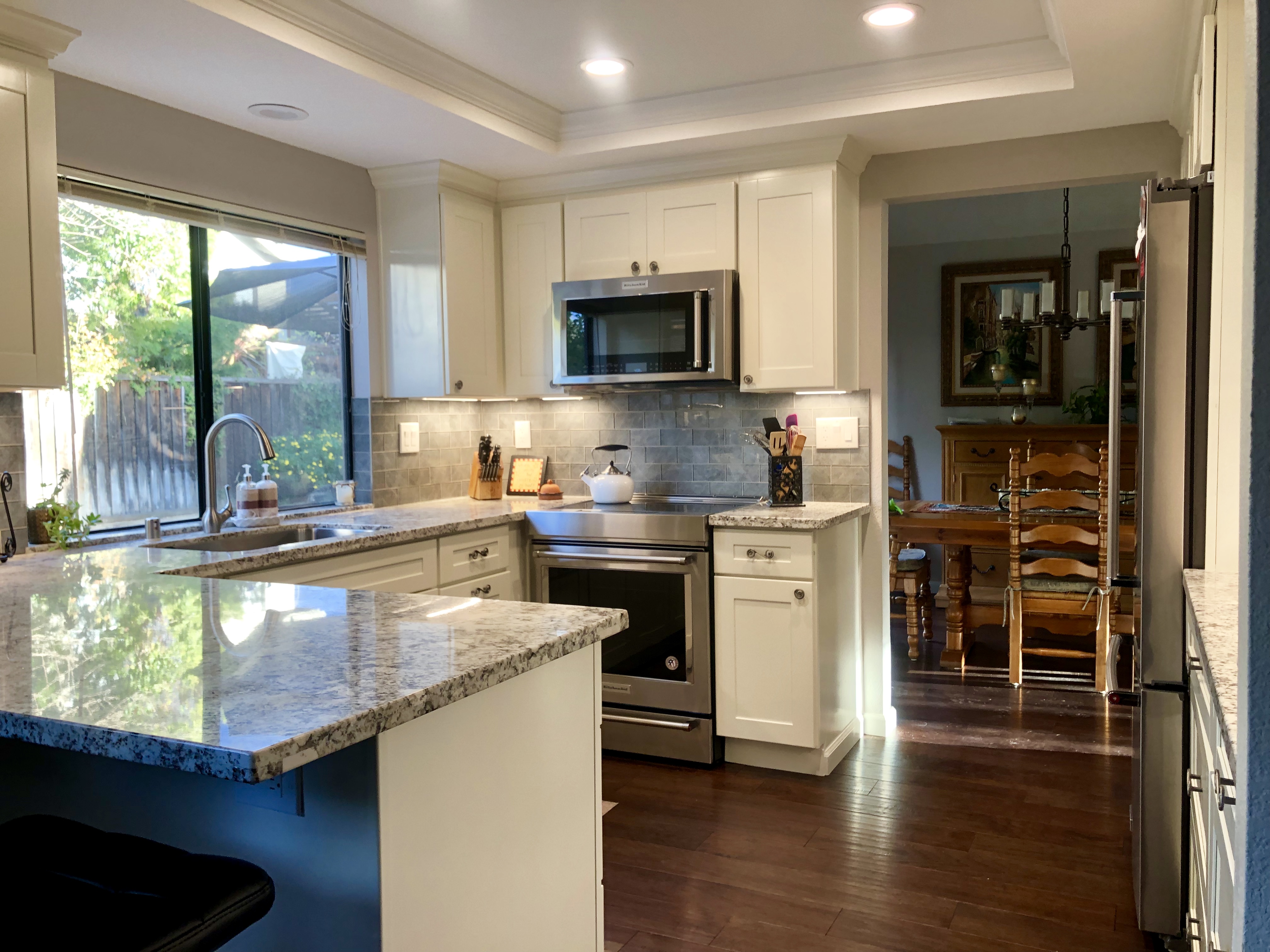 We moved in  the end of September and by the middle of October we were ready to remodel the kitchen. This was a big project as there were so many decisions to make! The whole construction process took just three and a half weeks to complete – that is record time if you ask me. And as our general contractor promised, we were able to host Thanksgiving dinner in our home.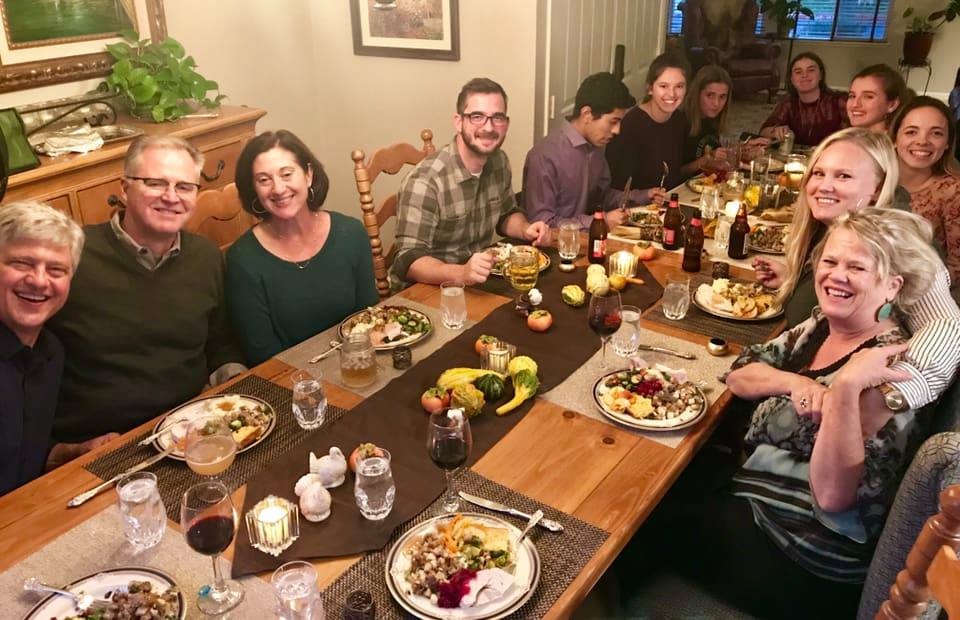 When I say three and a half weeks for construction, I am referring to demolition and rebuilding. My husband and I had already met with the kitchen designer multiple times, purchased all the cabinetry, flooring, counter tops, tile, lighting, sink and faucet, and even the door pulls and knobs. There was a lot to coordinate but with all of the supplies ready, the rest was able to happen pretty quickly.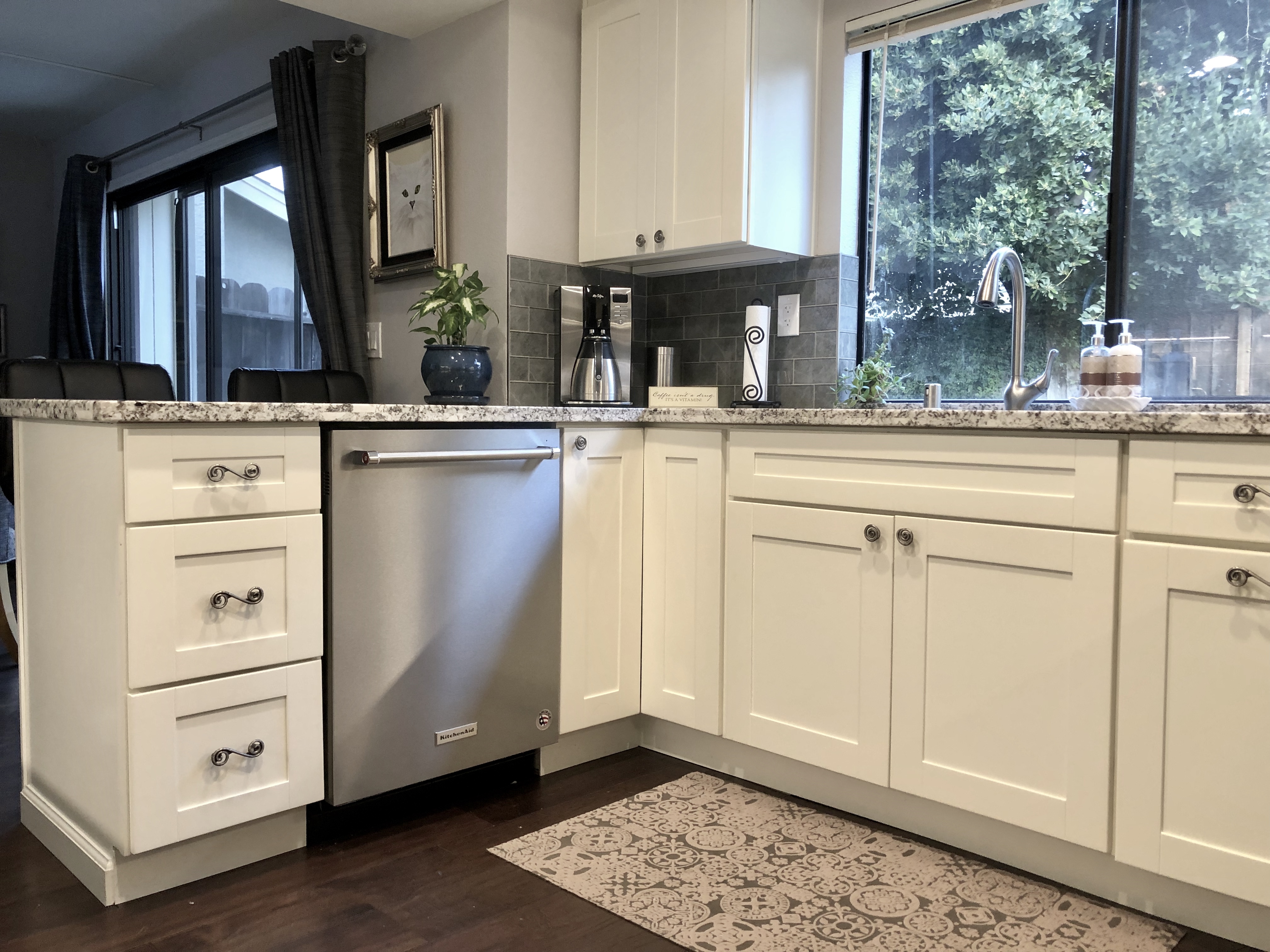 To make it happen that quickly, we had workers in our house during the evening hours as well as Saturdays. But we wanted it done fast, and the crews were willing to make it happen. We were willing to live with the dust and chaos. Although at times it was very challenging!
Many friends shared their tips on living through a kitchen remodel, but we never unpacked our kitchen. So setting up an alternate cooking space was not really feasible. We moved in the end of September, and we ripped up the kitchen the middle of October so our kitchen and dining room supplies remained in moving boxes stacked in our living room. We lived on sandwiches, fruit, and ready packed salads for the duration. We did have a fridge in the garage, but no microwave. While they kept the old stove/oven in the kitchen, without the fan hooked up, cooking on it was not pleasant.
The Thanksgiving deadline came quickly. There were moments where I thought that maybe I should think about a plan B for hosting Thanksgiving dinner. I had a quasi backup plan that involved the barbecue, a neighbors oven, and paper plates, but other than a few fleeting doubts, I believed that it would all work out. In fact we were so confident that all would go well that my husband and I invited our exes and their spouses over for a Thanksgiving cocktail.
And it did!
Our dining room flooring was completed about 11 am on Wednesday (the day before Thanksgiving) and our appliances were installed by 3 p.m. that same day. I frantically unpacked the kitchen and set up the dining room. I shopped for groceries and stocked the new fridge. We were ready to open our home to family and friends.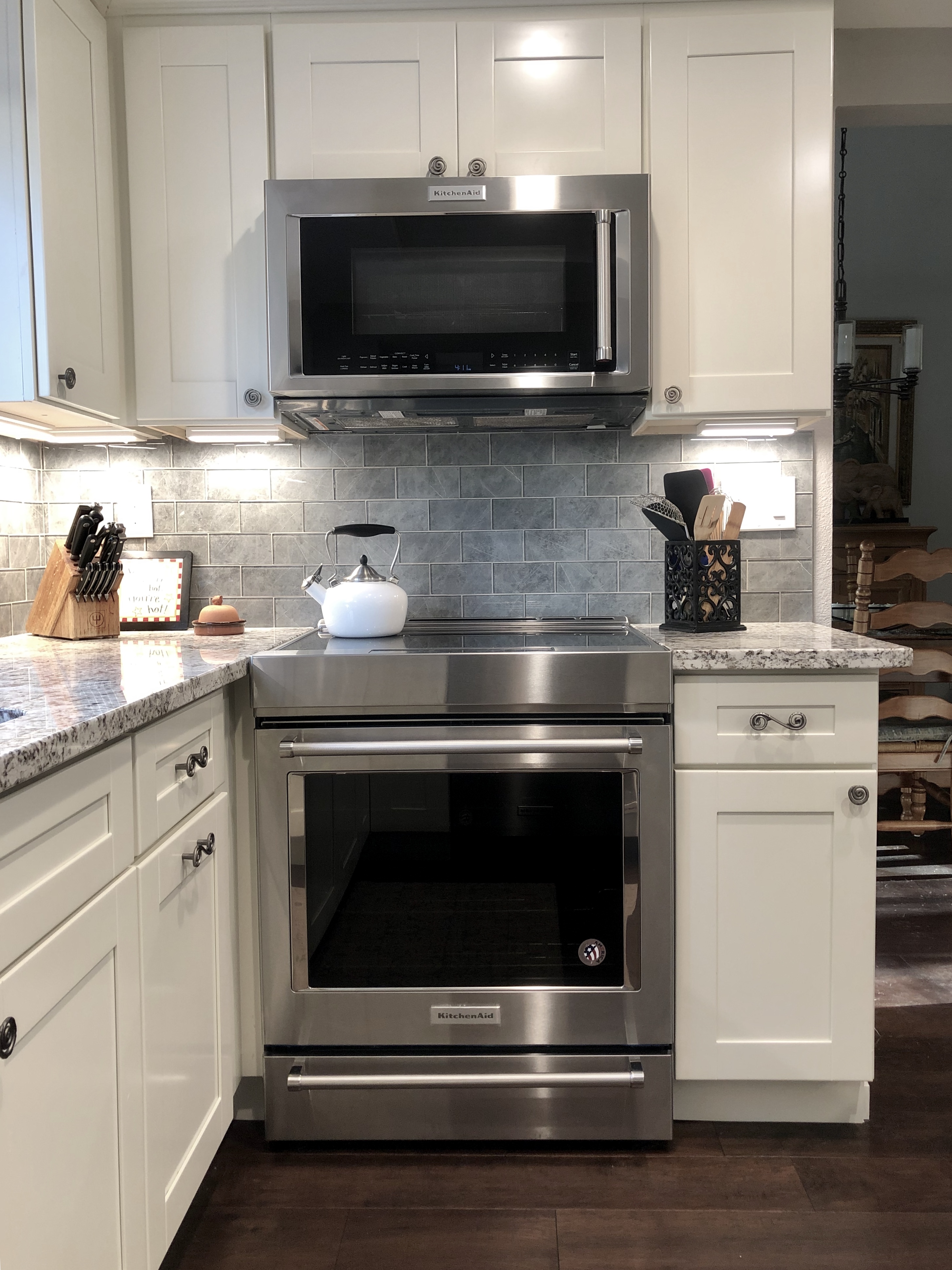 We came out the other side and love our new kitchen. It is lighter, more open, and is a bit more efficient with the space that we have. As I have said, my husband and I both love to cook. We are still learning what we call out kitchen dance. We are hoping to attain the smooth and graceful movements moving around each other as we cook and clean our smaller space. Right now, we still bump into each other. Even though the kitchen is small for two cooks, our remodeled kitchen makes the most of the space that we do have.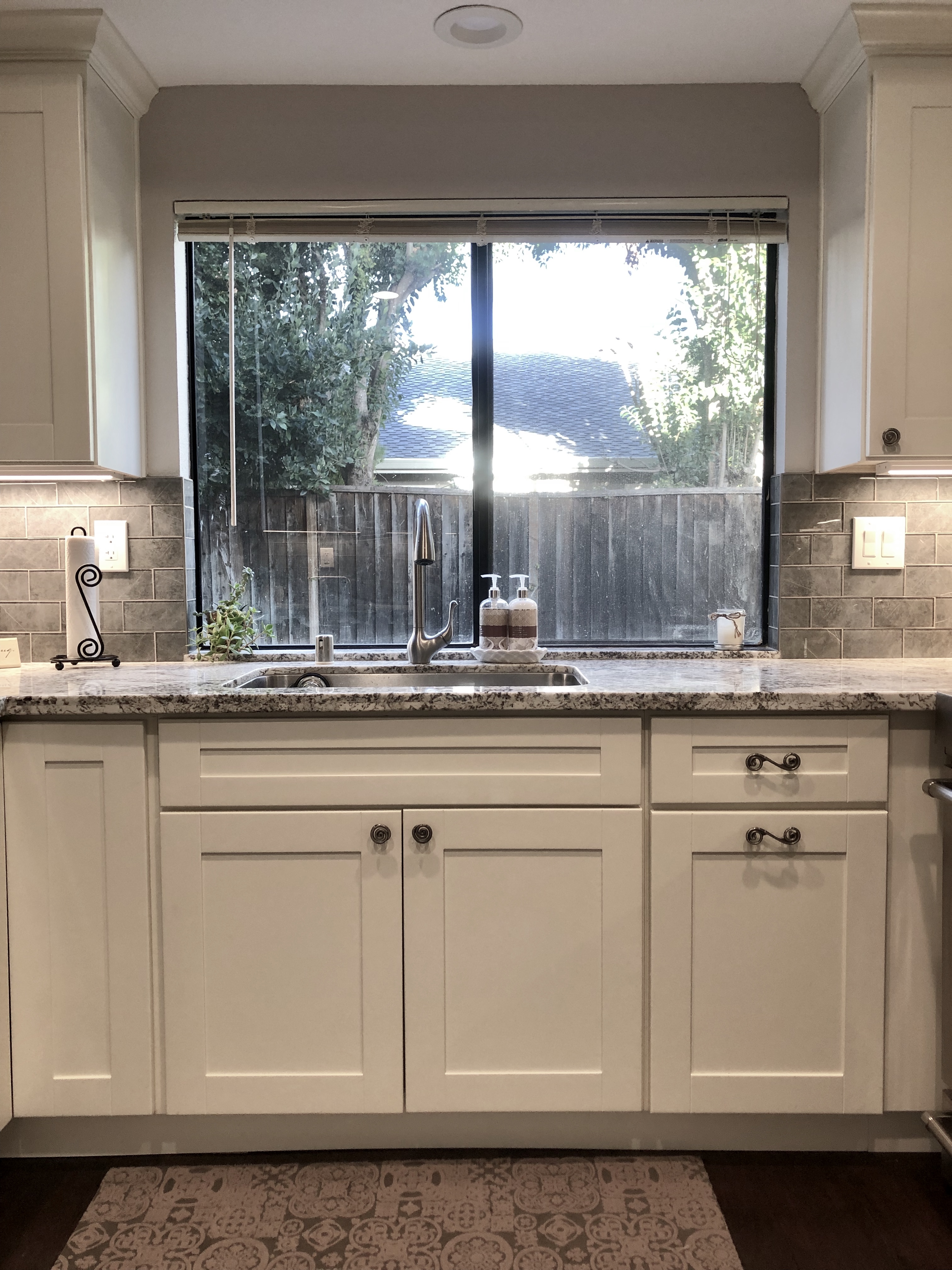 Our Remodeled Kitchen
Changes that we made:
We removed the overhead light, raised the ceiling and installed canned lighting.
We removed the hanging cabinets to open the space between the kitchen and family room.
We extended the counter top to accommodate two bar stools on the family room side. 
We moved the dishwasher to give us space for a garbage/recycling drawer on the right side of the sink.
We moved the refrigerator down towards the dining room and purchased a double door refrigerator so that when you open the fridge door, you no longer block a kitchen entrance. This also makes the counter on that wall feel larger because one side is open. 
We removed the pocket door between the kitchen and dining room. We made the doorway as large as possible, and it is now seven inches wider! This makes it easier for traffic to flow between the two rooms.
We put in a corner lazy Susan cabinet to make the most of the corner space. 
We went to a single sink, so that we could still have large sink, but it takes up less counter space.
We opted for large pull our drawers instead of the traditional cabinets on the fridge wall.
When planning our kitchen we had a lot of constraints to deal with. It is small and every millimeter is accounted for! If the oven is open you cannot open the garbage drawer. When the dishwasher is open you cannot open the lazy Susan cabinet. It is tight, but I do think that we made the most of the space that we have. There isn't anything that we wish we did differently.
Here are a couple of the before pictures:
And after: