Right now we have bowls of Halloween candy sitting in our home! That is a problem. I have a major sweet tooth, and I have a 13 year-old that loves to sneak candy for breakfast. That is if I am not watching – and I am always watching! (Or so I like to think.)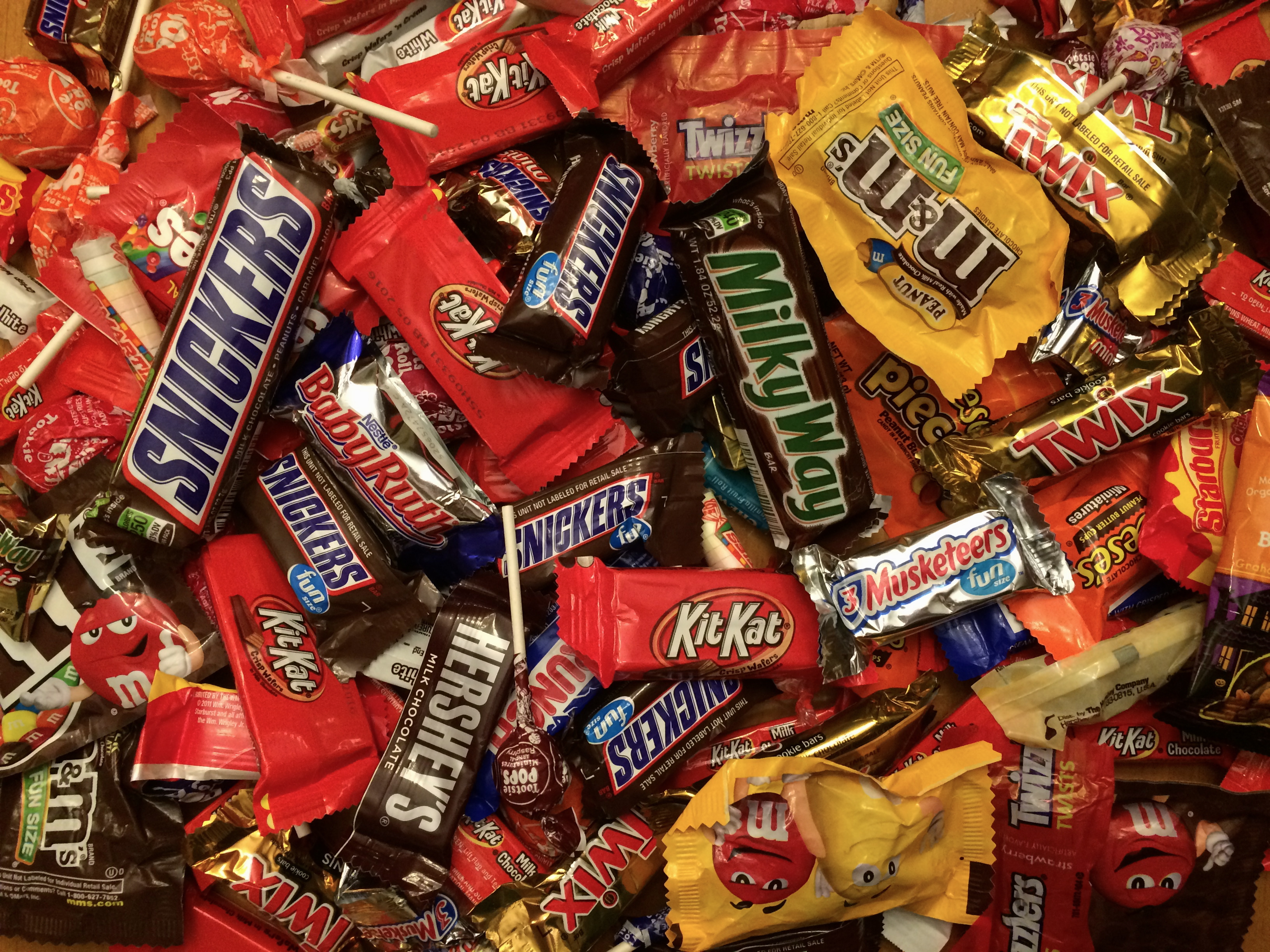 But really as much fun as it is for the kids to go trick-or-treating around the neighborhood and collect bags of candy. Skipping down our residential street through the nighttime darkness a child can gather quite a haul of candy in 45 minutes! Combine that bulging bag of treats with all of the leftover candy from my overbuying and we are bursting with confectionary delights.
I should know by now how much candy to buy to hand out to the little (and sometimes big) goblins that come knocking at my door. But every year I have a fear of being the one house that runs out of candy and has to shut down the lights and close the blinds. I do not want to be that house! So every year I buy more candy than I should. Every single year.
In the past I have thrown the candy into the freezer and saved it for gingerbread house decorating and for birthday cake toppings. This year though I am doing something new!
Students at my school have started a drive called Treats for the Troops and they are encouraging all the students to bring in their excess candy to be delivered to the troops in care packages! How cool is that!
Well, I love that idea! I did a little research so that I could share this great idea with my readers. There are a number of outfits out there that will take your candy and send it off to the troops. The one that I particularly like (after reading reviews on Guidestar) is called Operation Gratitiude.
You can find full details on their blog at Operation Gratitude. 
In a nut shell:
Send candy by November 15 to: 
Operation Gratitude
17330 Victory Boulevard
Van Nuys, CA 91406-5438
ATTN: Halloween Candy/Angel Cuevas
DO separate chocolate and non-chocolate candy.
DO line your boxes with big bags to safely ship loose candy, or place the candy into zip-close bags.
DO include donations of individually-packaged toothbrushes, dental floss and toothpaste — we need to keep smiles on the troops' faces all shiny, bright and healthy!
DO fill out the Donation Form and include the number of pounds of candy, number of toothbrushes, etc., you are shipping. This donation form is a downloadable PDF file, so even if you don't see a window pop up, a file has been downloaded.
And a couple of don'ts:
DON'T use boxes any larger than 24″x 24″x 20," please.
DON'T send Pixy Stix – unfortunately, they make a mess for the troops.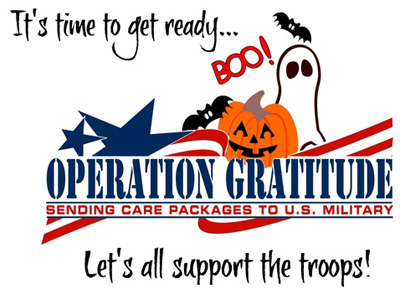 The best part – having my youngest part with her candy was a breeze! Really – the one who likes to sneak candy for breakfast was very, very generous when she heard her candy would be going to the troops. She gladly sorted her candy, keeping a handful for herself, and then helped bag up the excess to send away. Giving is a good feeling!
I did pick up a few new toothbrushes and tubes of toothpaste. If they are going to eat the candy – we want them to also keep their teeth healthy!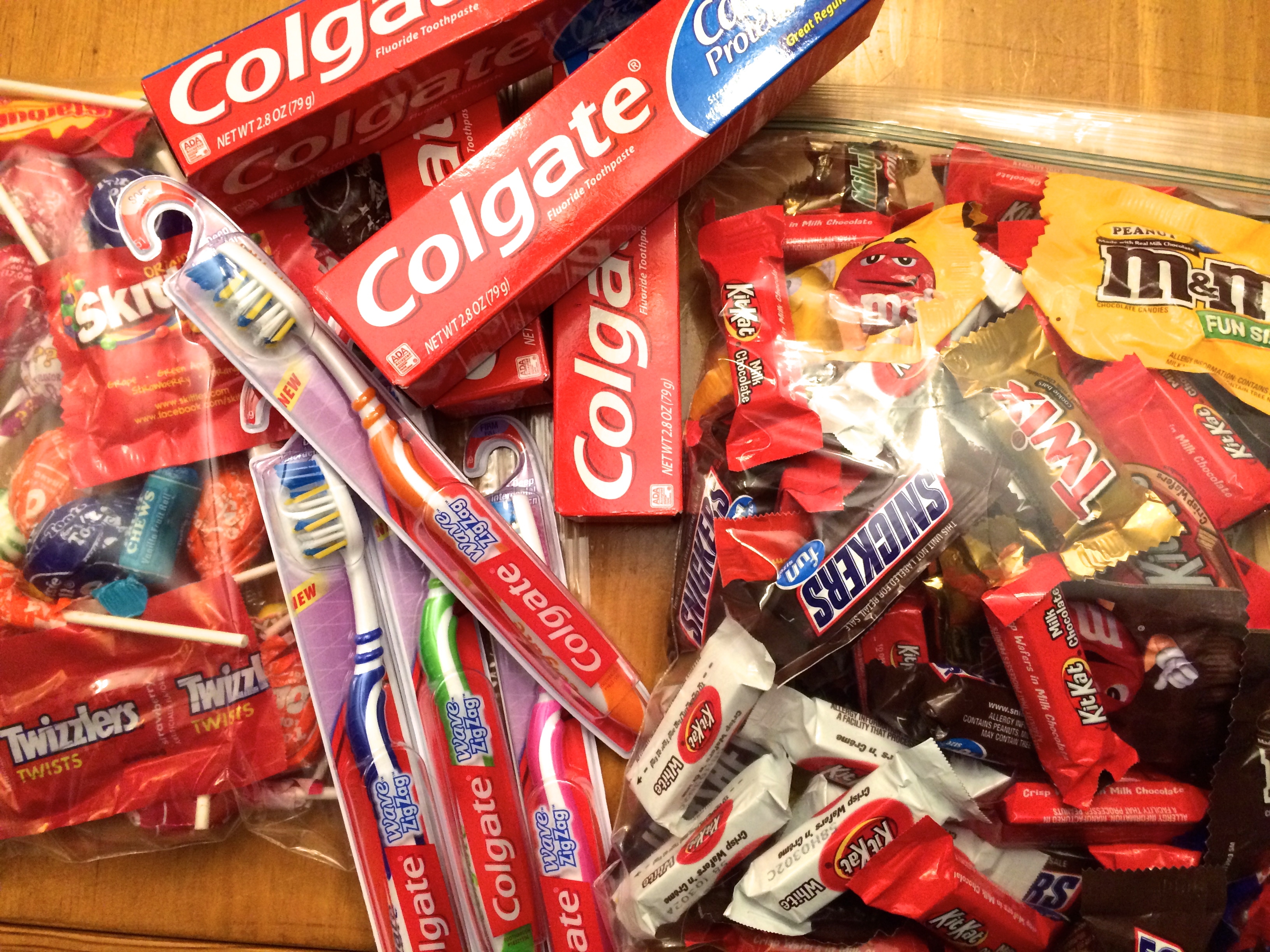 The candy is sorted and ready to be sent! Now we just need to write a few notes and off to the post office all the candy will go!
I'm hoping the toothbrushes, toothpaste, handwritten notes, and yummy candy will bring a smile to people that are serving our country. What do you do with all of your excess Halloween candy?
Sexual Health: Prescription Drugs VS Herbs