This shop has been compensated by Collective Bias, Inc. and its advertiser. All opinions are mine alone. #FlavorYourSummer #CollectiveBias
Our backyard patio is complete! Yea! This has been a long process, and we are thrilled to finally have it done and fully ready for entertaining! You can see pictures of the transformation here. This whole backyard transformation took waaaaay longer than we thought it would! Last Saturday was a perfect day to invite some friends over for a backyard reveal celebration! The prep was easy, the menu was absolutely delicious, and the company was the best! Just as entertaining should be!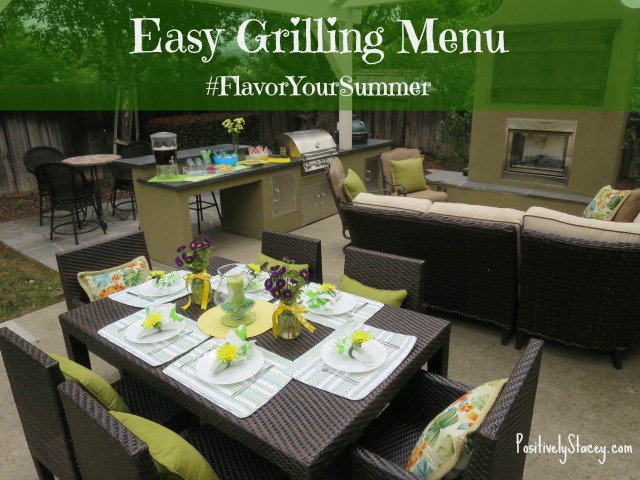 I love summer! And that's not because I am a teacher 🙂 I am a warm weather, hang by the pool, dig in the garden, kinda gal. All of this means that I am looking forward to my summertime! In a nod to summer, I pulled out all my yellow, blue, and green – from placemats, napkin rings, table runners, ribbons, candle, and serving dishes; I added some fresh flowers in mason jars tied with yellow ribbon and called my decorating and tablescape done! Easy-peasy and it looks so inviting, don't you think?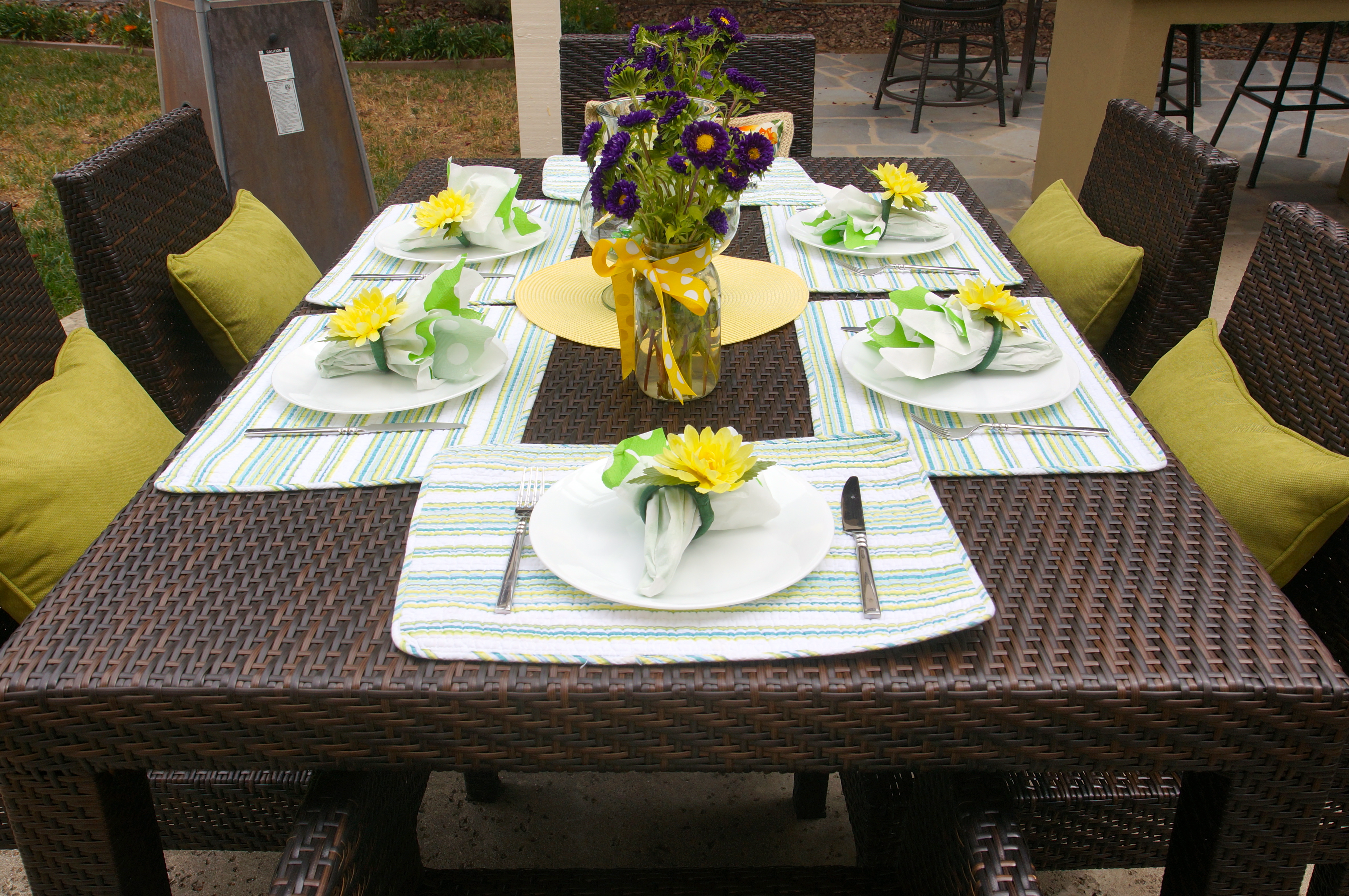 Tucking a green polka-dotted paper napkin side of the white paper napkin gave my table a splash of color. I love my yellow flower napkin rings. A former student of mine made them for me at least a dozen years ago! She was running her own business in middle school making and selling sets of napkin rings. She is now out of college and working in the financial industry.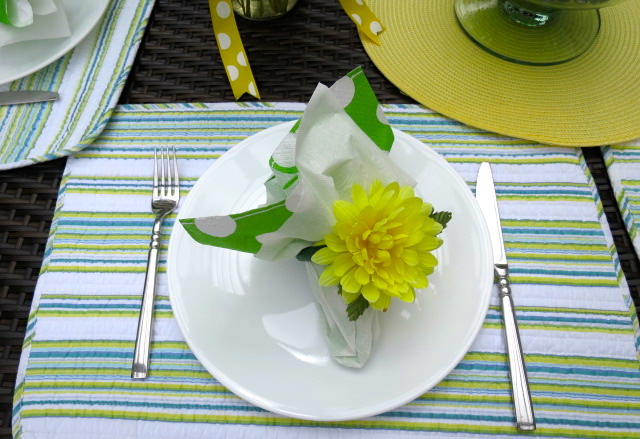 Keeping to my easy style of entertaining I designed a simple yet mouthwatering menu with the help of Nestle. By using the outdoor grill this allowed my husband and me to enjoy our company (and the beautiful outdoor weather) while cooking. Yep, that is the reason that we built our outdoor cooking space!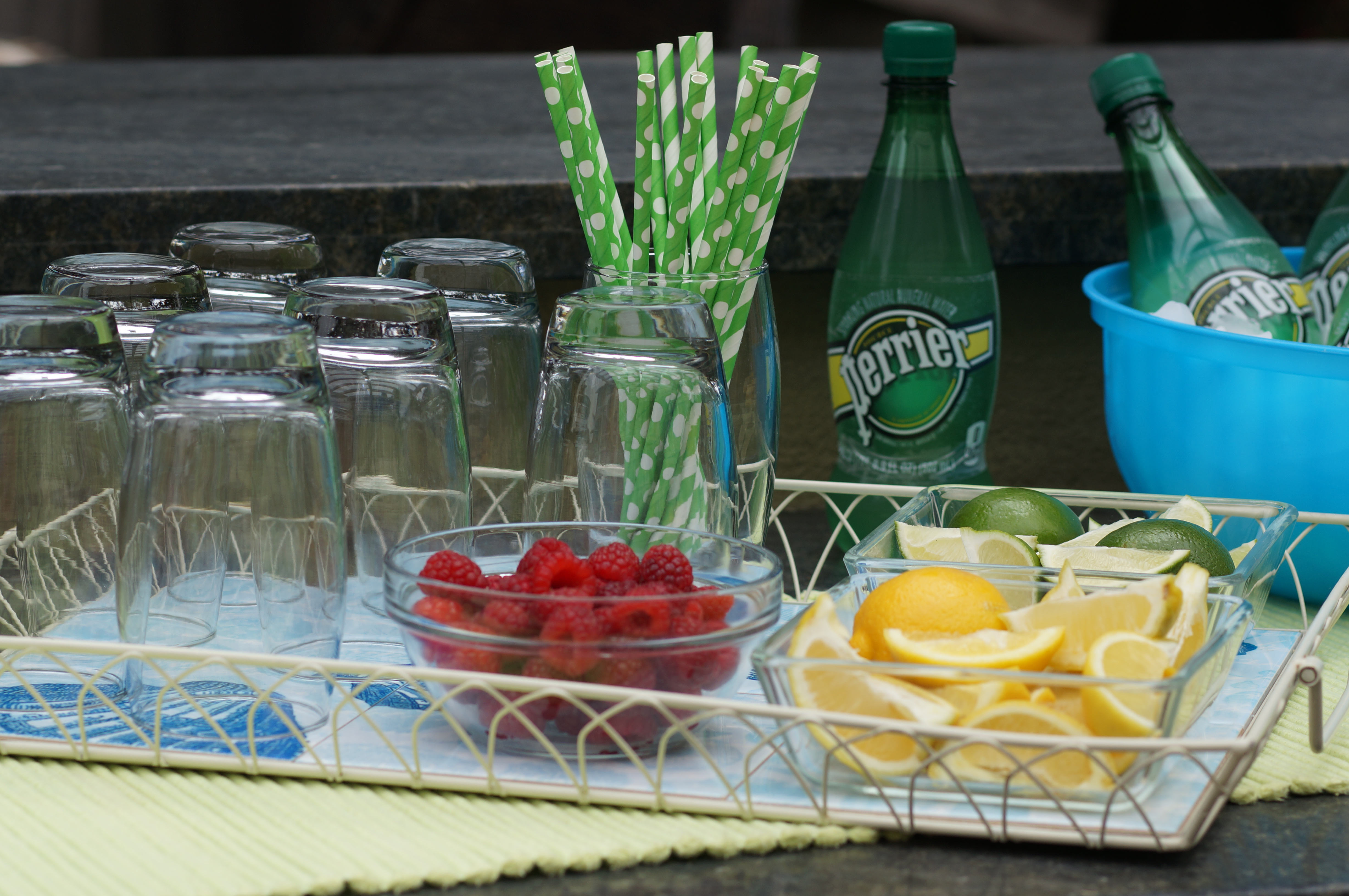 #FlavorYourSummer Easy Grilling Menu
Grilled Jack's Pizza (appetizer)
Grilled Chicken Thigh Sandwiches
Veggie Pasta Salad
Nestea Ice Tea and Perrier with Fresh Fruit
Toll House Cookies
Outshine Fruit Bars
Let me just say again – this menu was delicious!  Starting with a quick (15  minutes at 400 degrees) grill of Jack's Pizza. This thin crust pizza is perfect for grilling!  Who knew? I was so surprised at how easy this pizza grilled! I have tried grilling pizza in the past, but it didn't work. Now I know the secret! Jack's Pizza was a success on the grill. All I had to do was turn up the grill, take the pizza out of the package, set it on the grill, and close the cover. I rotated the pizza once halfway through the cooking time.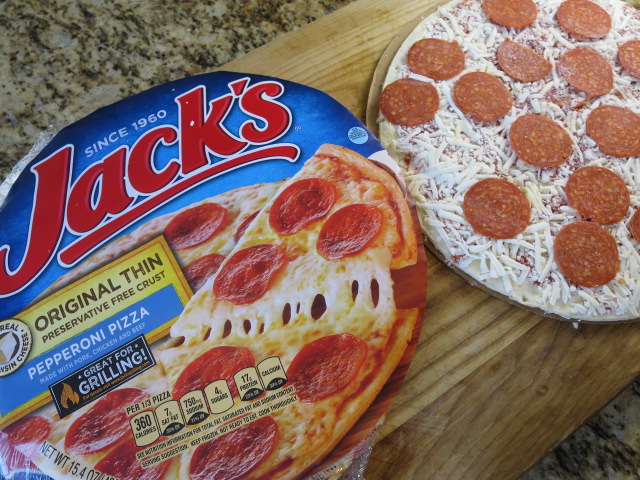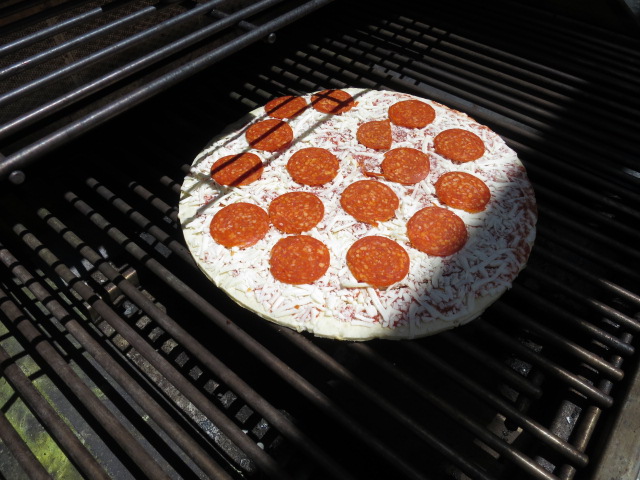 Cut into squares – it makes the perfect appetizer! We went through three pizzas. They were gobbled up quickly as they were so yummy. We were a group of six adults and six kids. Jack's Thin Crust Pizza is definitely going to be a staple in my freezer from now on!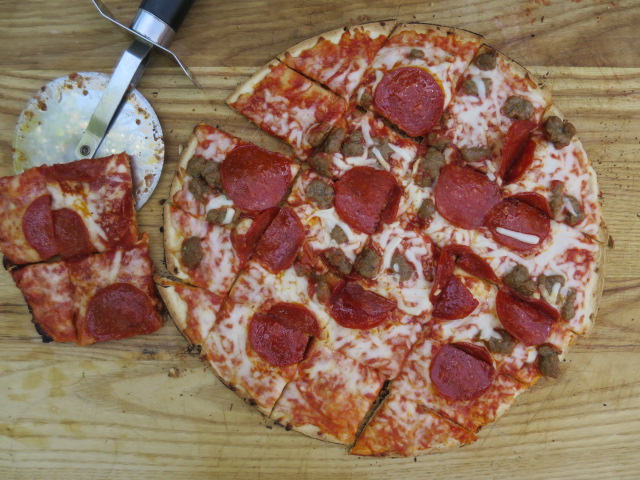 The NESCAFÉ® CLÁSICO™ rub I put together for the chicken thighs was amaaaazing! Just the right amount of zing! Wow!  I made up the rub ahead of time. About 45 minutes before grilling I covered the chicken thighs in this amazing rub and tossed them all together in a ziploc bag. So easy – so delicious! The recipe is below. Just keep on reading 🙂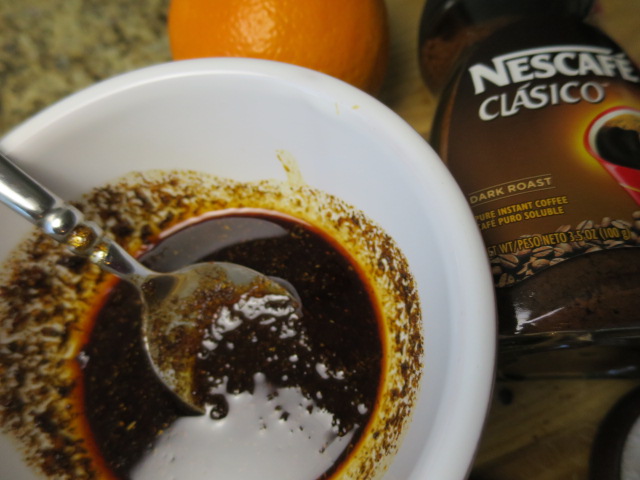 I made up the pasta salad ahead of time. You know I love to prep as much as I can ahead of time. Well here is a perfect recipe for that! Love, love, love the colors, flavors, and textures of this pasta salad.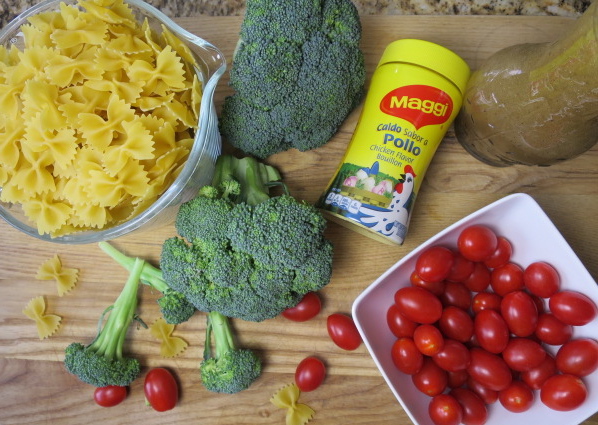 The pasta salad cooked in MAGGI® Bouillon was a perfect accompaniment to the sandwich. The two items paired together perfectly.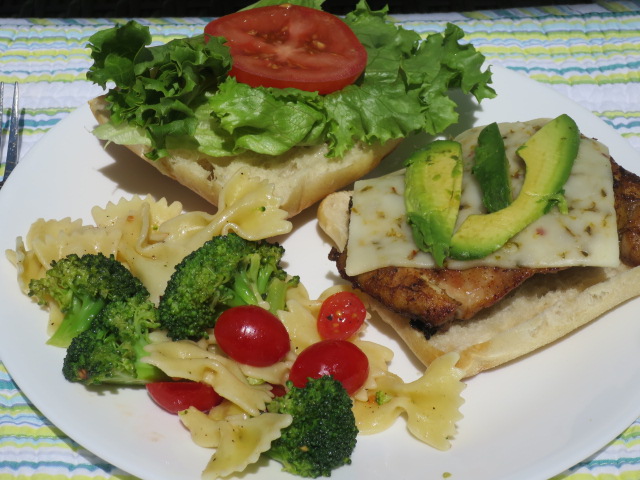 I set up a beverage bar with Nestea Ice Tea, Perrier, and fresh fruit. Add some colorful straws and you are all set!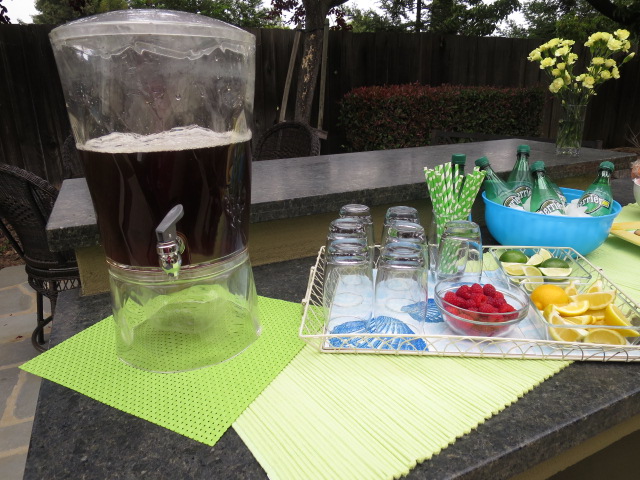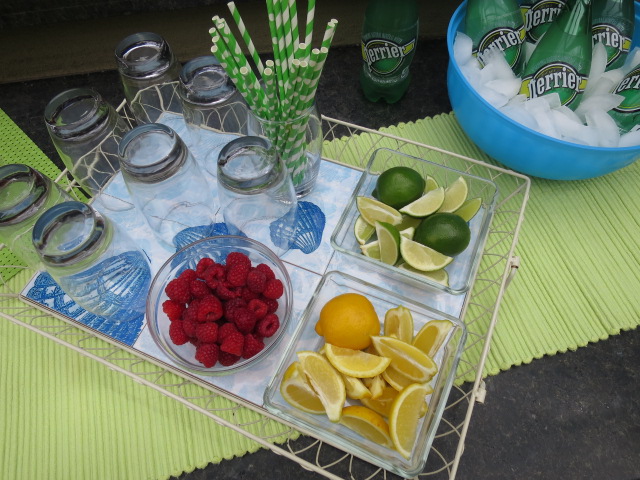 Right alongside the beverage bar I placed dessert. The dessert came out after the meal of course! A platter of Toll House cookies and a bowl of Outshine fruit bars. How easy is that?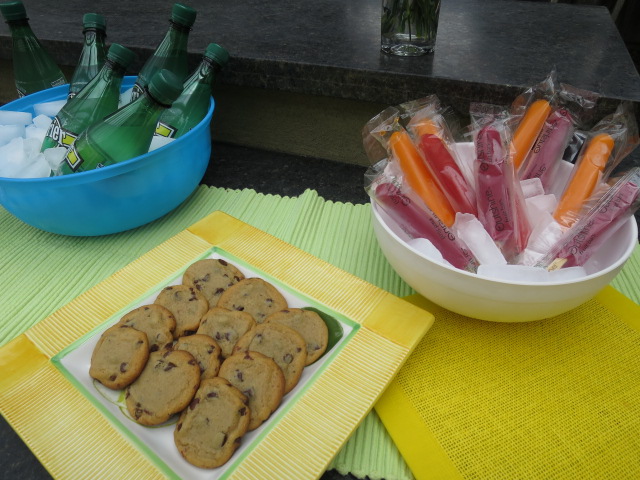 Really, the break apart cookies take nine minutes and come out of the oven warm and chewy! The fruit bars are a perfect way to cool off! A great combo if you ask me.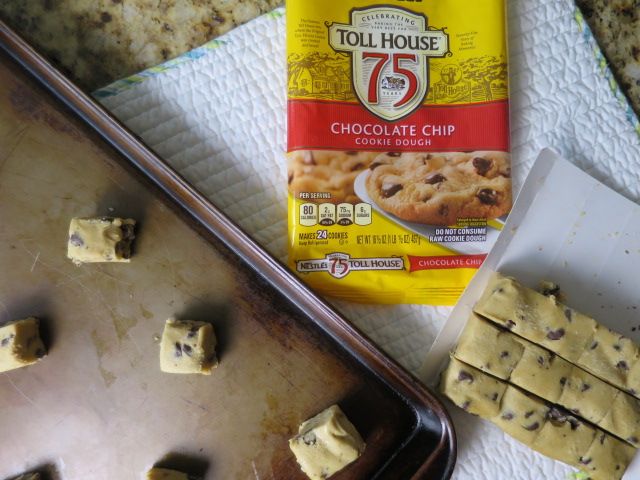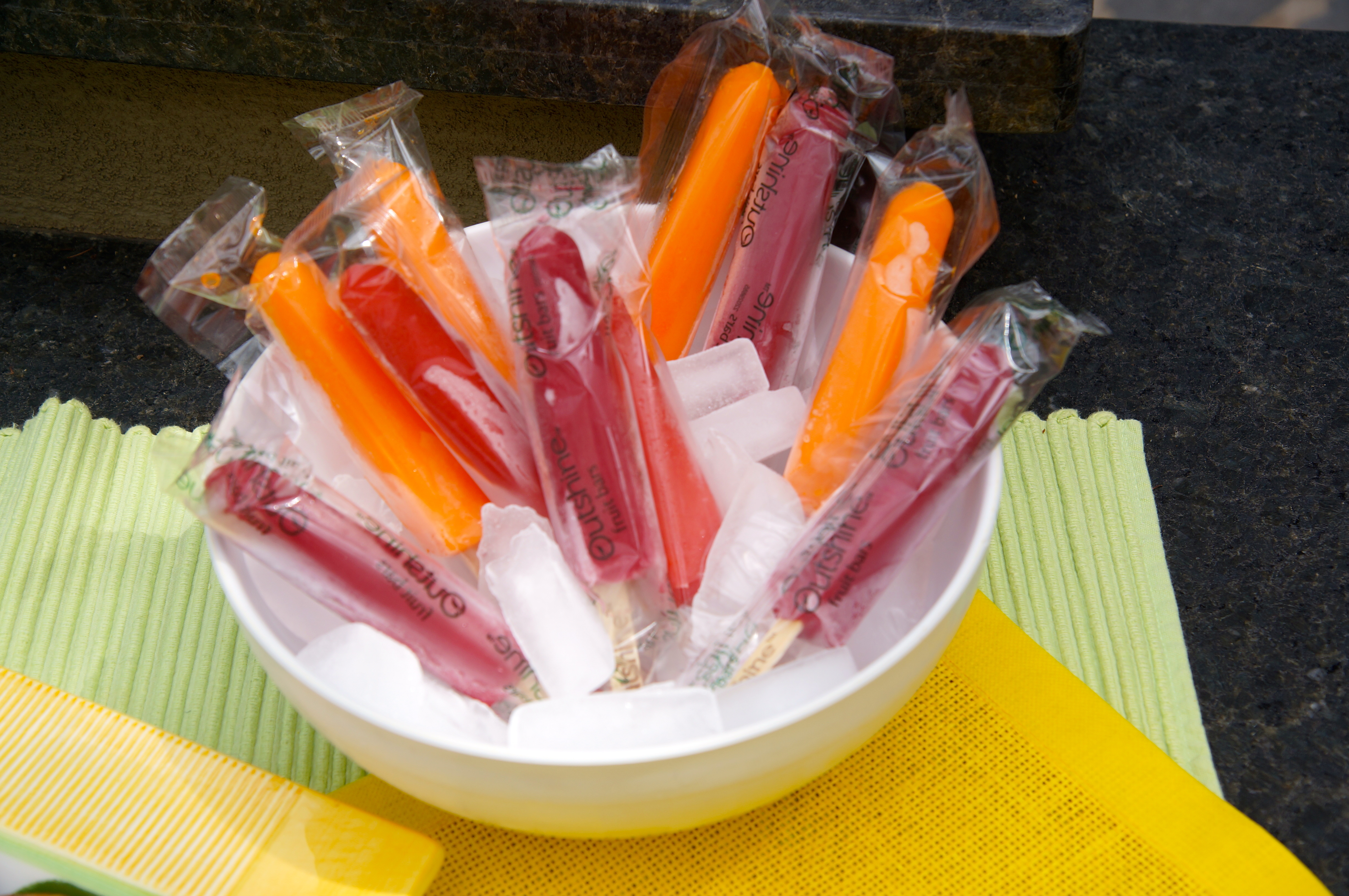 And one of the best parts of the party? Other than all of the great food?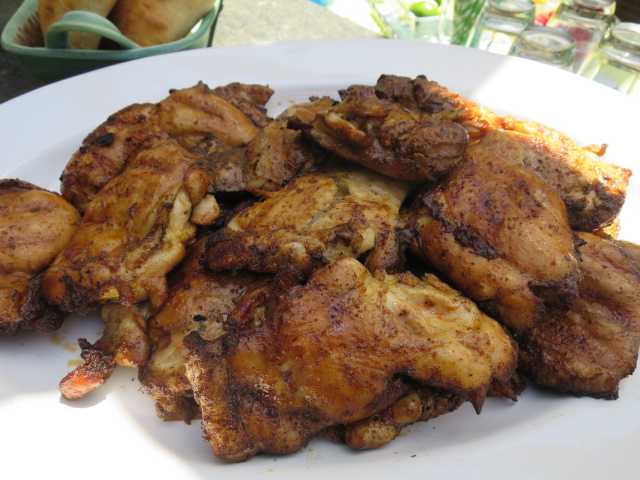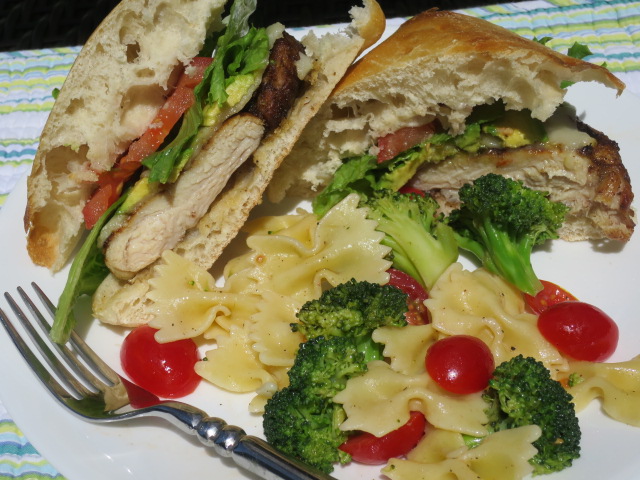 Was that I was able to pick up everything I needed including the colorful straws and green-polka dotted napkins at my local Walmart. Yep, everything in one single trip! This party had me trying a few new items; Maggi bullion and  Nescafe coffee, found in the Hispanic food aisle; and Jack's Pizza, found in the frozen food aisle. Everything was a hit!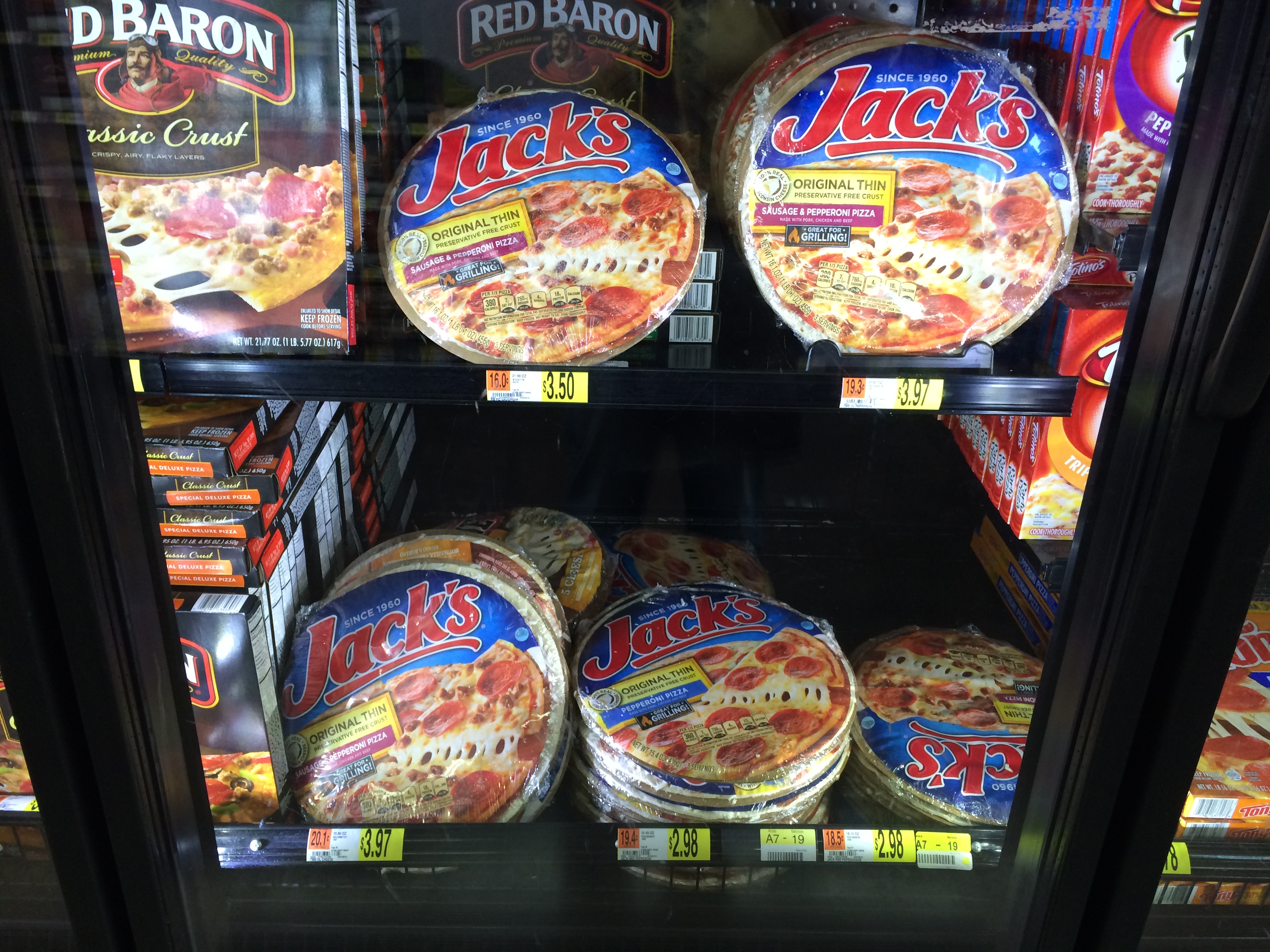 And now onto the amazing recipes!
Nescafe Coffee Rub Chicken Thigh Sandwiches Recipe
Makes 12 Sandwiches
INGREDIENTS
Coffee Rub:
1 1/2 teaspoon NESCAFÉ® CLÁSICO™ Dark Roast Coffee
1 1/2 teaspoon grilling spice (I use Mansmith's. If you don't have a grilling spice, ground black pepper will work)
1 1/2 teaspoons ground cumin
3 teaspoons chili powder
3 teaspoons course salt
Zest of one large orange
6 tablespoons vegetable oil
12 boneless and skinless chicken thighs
12 artisan bread rolls
2 -3  red, ripe tomatoes, sliced 1/4-inch thick
3 avocados, sliced thin
12 slices pepper jack cheese
DIRECTIONS
Combine all coffee rub ingredients together in a small bowl. Whisk together.
Rub chicken thighs with coffee rub and place into ziploc bag. Pour any remaining rub into bag. Seal the bag and squish the rub around until all thighs are equally coated.
Let marinate for 30 – 60 minutes.
Heat grill to 400 degrees.
Place thighs on grill – close grill. Cook for 15 minutes (or until cooked through) turning once.
Serve on artisan rolls with lettuce, tomato slices, and avocado.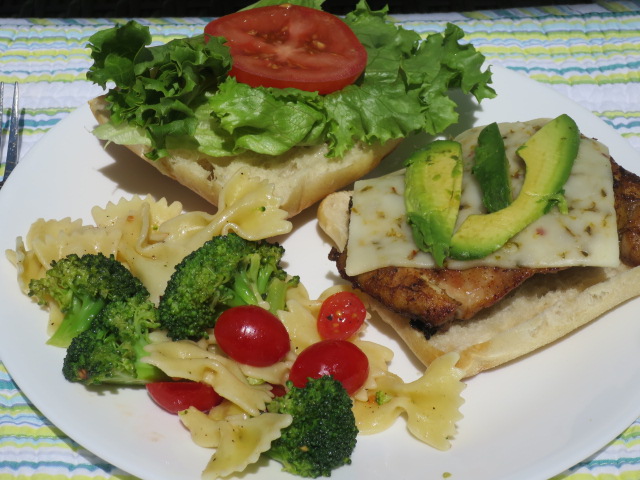 Veggie Pasta Salad Recipe
INGREDIENTS
1 pound bow tie pasta
1 heaping tablespoon MAGGI® Chicken Bouillon
2 small heads broccoli cut into bit sized pieces
1 1/2 cups cherry tomatoes – sliced in half
Favorite Italian vinaigrette. Amount to taste, about 1/2 cup.
DIRECTIONS
Fill large pasta pot with water and add 1 heaping tablespoon of Maggi Chicken bouillon. Bring to a boil. ( I often add bullion for added flavor. I find it adds a level of flavor, adding to the complexity of taste in so many dishes.  And how easy is that?)
Add cut broccoli to the boiling water and cook for 2 minutes. This is just enough to soften them up a bit, but they still retain their firmness.
Using a large handled strainer, scoop the broccoli out of the chicken bouillon flavored water and set it aside in a bowl. It will continue to cook a bit, so  remember just two minutes in the boiling water.
Return water to a boil and add pasta and cook according to the directions.  For the bow ties it is 11 – 12 minutes.
Once the pasta is al dente, strain and add the pasta to the bowl with the broccoli.
Add your favorite Italian vinaigrette to the bowl and stir allowing time for the pasta to cool. When it is cool, add the halved cherry tomatoes and set in the fridge until serving time.
So delicious! So easy!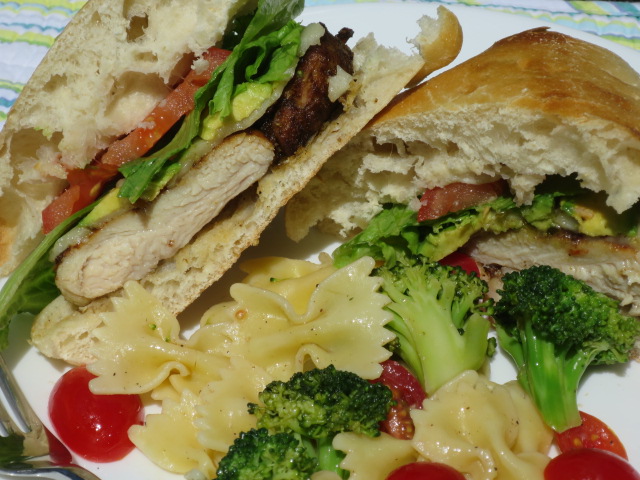 And we are thrilled that our backyard entertaining area is complete! Now if we could just get some rain here in Northern California!
When it comes to easy summer entertaining, what are some of your party tips and menu ideas? I'd love to hear how you pull it all together!