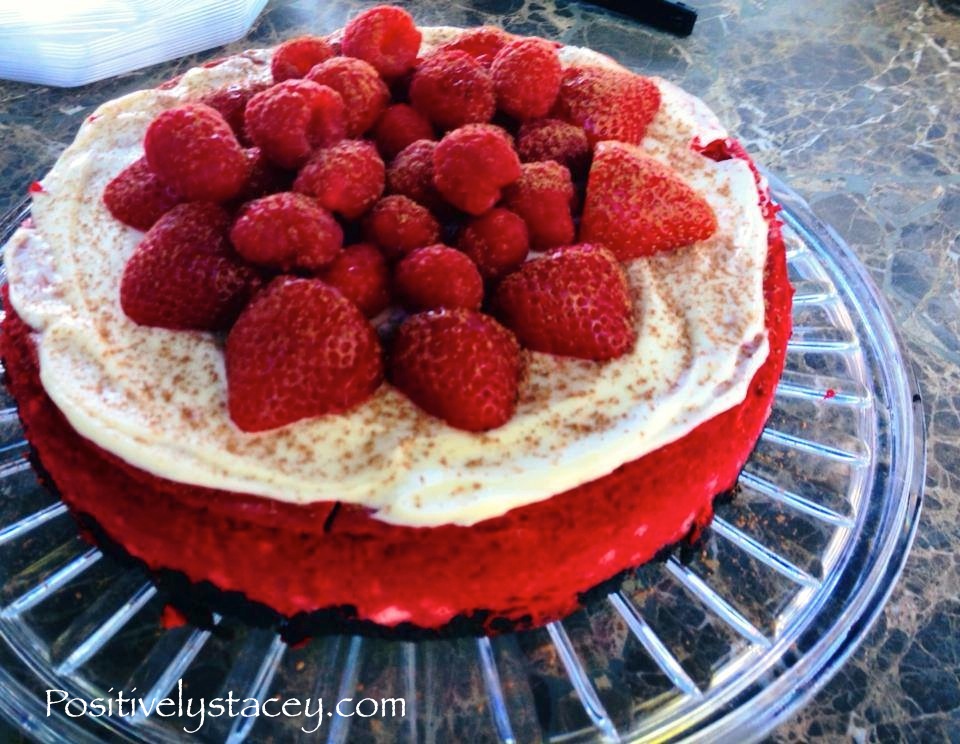 My husband's two favorite desserts are cheesecake and Red Velvet cake. So what better idea than to combine the two? My husband has type-2 diabetes – so I substitute Splenda for sugar wherever I can. Since this cake was especially for him, I made this as a reduced-sugar cheesecake. Cheesecake bakes remarkably well with Splenda, which makes this a better choice dessert for a type-2 diabetic.
I reviewed many recipes for red velvet cheesecake that I could modify. I settled on this version from Annies-Eats.com and made a few adaptions. I have never been a huge fan of cheesecakes – I do enjoy item, but I gravitate more towards other desserts when given the option.  My family on the other hand, LOVES cheesecakes, so much so, that I have now mastered many different versions.  More about those later 🙂 I always make my cheesecakes with Splenda, and they always turn out delicious.
I wish I could find the boxes of chocolate cookie crumbs for this crust, but I can not. Instead I buy the chocolate sandwich cookies, scrape out the cream, and smash the cookies in a Ziploc bag. This does take more time, but my husband is worth it <3.
I have made this recipe a few times, and each time I cannot completely blend the cream cheese into the mix so that you don't see any little white spots.  The first time, this had me worried. I thought for sure that when I was going to cut a piece of the cheesecake, you would find a it filled with white polka-dots.  In fact if you look closely at the picture, you can see small white specks of cream cheese.  I'm not sure how, but when you cut into the cheesecake ~ there are no white specks!  When you make a lighter colored cheesecake – you don't need to worry about this.  But with the dark cocoa colored cake, any cream cheese not fully incorporated is noticeable in the mixture.  I guess as it bakes it melts together.  The bottom line, no need to worry about the little white specks of cream cheese that do not fully blend into the filling.
Red Velvet Cheesecake Recipe – A Valentine Dessert
INGREDIENTS
For the crust:
1 1/2 cups chocolate cookie crumbs

1/4 cup butter, melted

1 tbsp. Splenda
For the cheesecake:
3 (8 oz.) packages cream cheese, at room temperature

1 1/2 cups Splenda

4 large eggs, lightly beaten

3 tbsp. unsweetened cocoa powder, sifted

1 cup sour cream

1/2 cup buttermilk

2 tsp. vanilla extract

1 tsp. distilled white vinegar

2 (1 oz.) bottles red food coloringFor the topping:

4 oz. cream cheese, at room temperature

2 tbsp. butter, at room temperature

1 cup powdered sugar

1/2 tsp. vanilla extract

strawberries and raspberries
DIRECTIONS
Line the bottom of a 9-inch springform pan with a round of parchment paper. 
To make the crust:
combine the chocolate cookie crumbs, melted butter and Splenda in a small bowl. 

Mix together with a fork until all the crumbs are moistened. 

Press the mixture onto the bottom of the prepared pan.

Preheat the oven to 325 degrees F. 
To make the filling:
beat together the cream cheese and sugar in the bowl of a stand mixer at medium-low speed for 1 minute. 

Add eggs, unsweetened cocoa powder, sour cream, buttermilk, vanilla extract, vinegar and food coloring. 

Mix on low speed just until fully combined. 

Pour the batter into the prepared pan.

Bake at 325 degrees F for 10 minutes, reduce the heat to 300 degrees F, and bake for 1 hour and 15 minutes or until the center is firm.
Turn off the oven, prop the door open slightly, and let the cheesecake stand 30 minutes.
Remove the cheesecake from the oven; cool in the pan on a wire rack for 3o minutes.  Run a thin knife around the outside edge of the cake to separate from the pan.
Cover and chill for at least 8 hours.
To make the topping:
In the bowl of an electric mixer, beat the cream cheese and butter on medium speed until smooth.
Gradually add powdered sugar and vanilla, beating until smooth.
Remove the cheesecake from the refrigerator and spread the topping evenly over the cheesecake.
Remove sides of springform.
Add berries and sprinkle with cocoa powder.
Recipe adapted from Annies-Eats.com