This BelVita Bites & V8 shop has been compensated by Collective Bias, Inc. and its advertiser. All opinions are mine alone. #NewBreakfastRoutine #CollectiveBias
As you know, I am training for a triathlon. That means that I am training six days a week with smaller workouts during the week and long brick trainings on the weekends. In order to make this happen I need lots of morning energy! The weekend before last on Saturday, I had a swim, bike, and run brick. One hour in the pool, 90 minutes on the bike, and a short 10 minute run. Well let me tell you, I was spent about half way through the bike ride! Not a good feeling when you know you have plenty of road and hills in front of you before you can get off the bike. I thought that I had planned my nutrition well, but apparently I had totally missed the mark.
Well, that was not going to happen two Saturdays in a row! This last Saturday I planned for longer lasting morning energy. This was easy when I included V8 Veggie Blends and BelVita Bites in my morning routine. My pre-training breakfast included a meal of scrambled eggs chocked full of vegetables and a yummy glass of V8 Golden Goodness! I don't think you can ever get too many vegetables! This was followed by a bag of BelVita Bites along with a cup of coffee in the car on the way to our training site.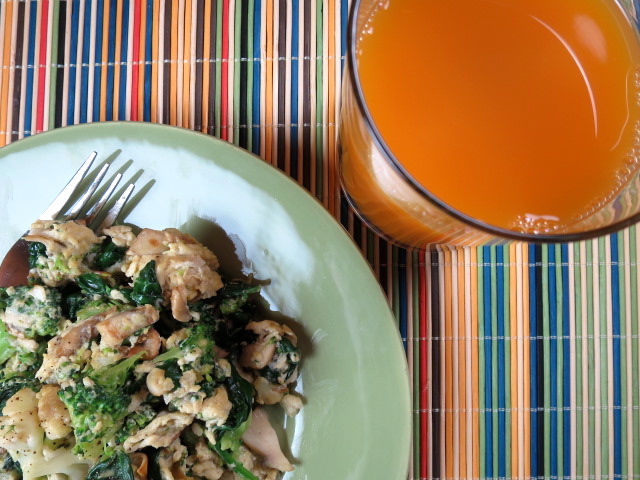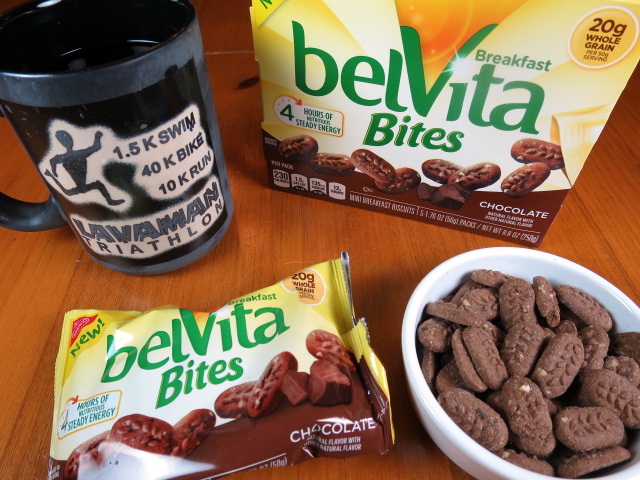 When I got to our meeting place, I was ready for a long bike ride of hills! I was thrilled that after the 17 mile bike ride I was feeling strong and ready to run. Unlike the weekend before when my legs felt like jello, this Saturday my legs were ready to go. My morning energy was still fully intact. In fact my run time (post bike ride) was the same as my run times without a bike ride. WooHoo – That was a morning WIN  for me – big time!  To help me keep track of my times I use the Map My Run App on my phone. With this easy app, I can keep track of my workout times and distances so it is easy to see my progress.
I was very happy that I had added the V8  and BelVita Bites to my morning meal!
I found the V8 Veggie Blends – three different blends and the BelVita Bites at Target. Walking through the store I came upon a section of the store called, In With the New. My focus for 2105 is self-care, so I knew I needed to check it out.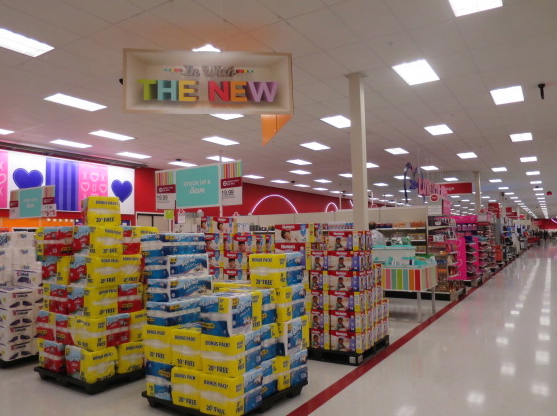 Strolling through the aisles I found an huge assortment of V8 Blends in the juice aisle. I decided to try three of the Veggie Blends because they  are made up of blends of vegetables with a touch of fruit. I bought: Purple Power which contains the juices of purple carrots, beets and apple: Healthy Greens which contains the juices of spinach, yellow carrots, apples, and pineapple: and Golden Goodness which contains the juices of yellow carrots, sweet potatoes, orange carrots, and orange.
I like that they also contain one full serving of vegetables in every 8oz glass and only 60 calories or less per 8oz serving & no sugar added. This would work well with my nutrition plan. Plus they are an excellent source of antioxidant vitamins A, C, & E.  And have no artificial colors, flavors or preservatives. I can't complain about that!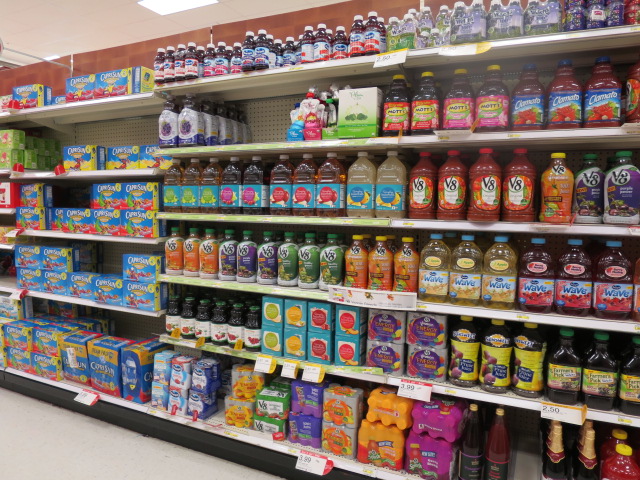 I then found the BelVita Bites in the granola bar aisle. While I like the cookie sized BelVitas, I find the bites to be the perfect on-the-go snack. Just pop them into your mouth and no crumbs. Perfect. Oh, and delicious, too!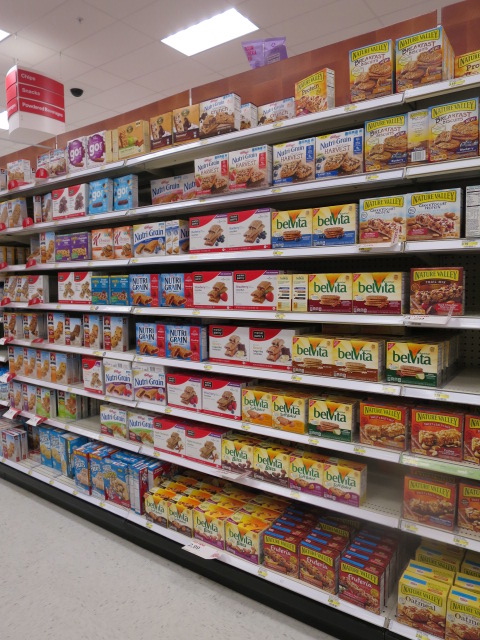 My back is still on the mend, but I am happy to say that it is about 92% back to normal. I wandered the sporting goods aisle and found some resistance bands to use for my Monster Walks and Side Steps (exercises I do at physical therapy) and a DVD to keep me working on strengthening my core. I need a stronger core to meet my 2015 goal of completing triathlons. As I said, it's all about self-care this year!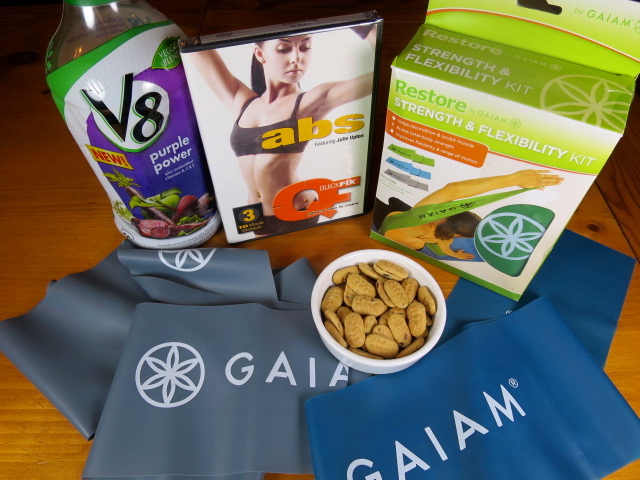 I love shopping at Target. There are always so many fun and varied items to buy there. It's hard for me to not walk out with a cart load. I love their deals too! There is a Cartwheels savings on V8 Juice Blends starting January 25 and a second one starting February 23.
Below is my recipe for the Veggie Scramble.
Veggie Scramble
Ingredients:
1 Teaspoon Olive Oil
1 Tablespoon Diced Onion
2 Mushrooms- Chopped
1/2 Garlic Clove – Diced
3 Cauliflower Flowerets – Sliced
3 Broccoli Flowerets – Sliced
Handful of Spinach
1 Whole Egg
1/4 Cup Egg Whites
Directions:
Drizzle olive oil into skillet and heat on medium high
Add onion, garlic, mushrooms, broccoli, and cauliflower – sauté until vegetables are tender.
Add spinach cook until wilted.
Whip one egg with egg whites until well blended and add to pan of vegetables.
Cook until egg is set.
Season with salt and pepper to taste
Serve alongside a cold glass of V8 Veggie Blends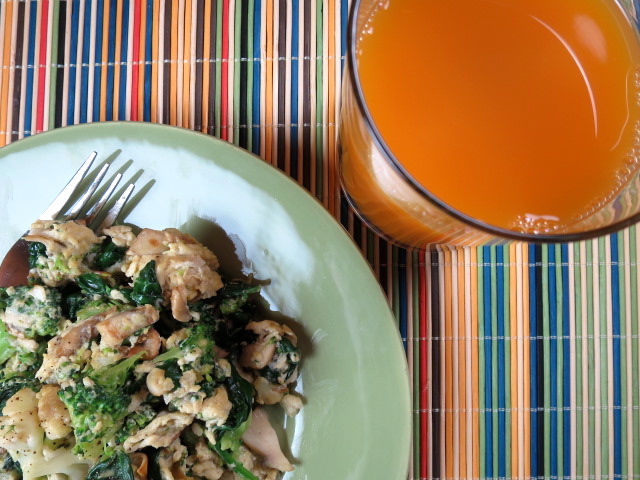 Training for a triathlon has me keeping a food and training journal. I find the app, My Fitness Pal, to be really easy! I record all of my food and exercise on a daily basis. It is one little tool that helps me stay focused on meeting my 2015 goals. Plus a really cool feature is how easy it is to enter recipes to get the nutritional value of the dish. I have entered the above training breakfast and below is a quick look at the nutrients. It also provides me with a full nutritional breakdown of each individual item. Pretty cool!

I feel pretty good about all of these tools helping me meet my 2015 goals.
Verify an online drugstore before you purchase medications