We recently traveled to Sedona, Arizona – What an absolutely gorgeous city to visit.  The primary reason we wanted to visit Sedona for a weekend getaway was for the landscape and the hiking. I love to hike and my husband loves to work on his photography skills. For a quick getaway weekend, it seemed as though Sedona would have a lot for us to enjoy. We were not disappointed. In fact three days as not nearly enough time for us to explore all that was on our list.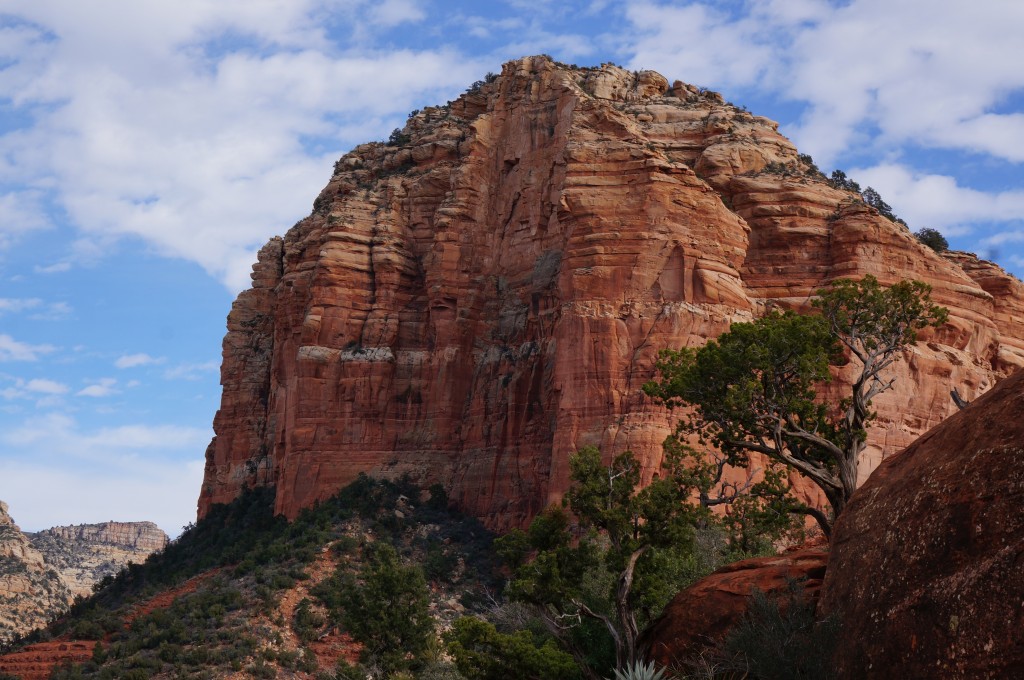 As we entered Sedona we were awestruck at the beauty of the red rock! Suddenly in front of us were giant rock formations that just seemed to be jutting up from of the desert floor.  We stopped at the National Park Visiting center to look around, snap our first picture of Bell Rock, and premier some possible hiking trails.  As I said, my main agenda was to hike!  They lady working behind the counter was most helpful and mapped out two possible hikes for us.
We continued into town and checked into our home for the weekend, The Ridge on Sedona Golf Resort. Our accommodations were luxurious! This was a timeshare trade for us. Additionally, the service was above and beyond! I forgot to bring my computer charger with me. This is could have been a complete disaster as I did have work that needed to be done on my Mac. After a few inquiries, Chrissy working the front desk lent me hers from her home for the duration of my stay.  What a lifesaver she was!
While we wandered a bit through town, we were really there to hike and snap photos. We walked and drove past so many fun looking shops and top-notched art galleries. I do wish we had more time! We enjoyed two lovely dinners out. The first diner was enjoyed at an Italian eatery called Cucina Rustica. We enjoyed delicious food all while feeling as though we had been transported to a small town in Italy.   The second dinner was at Javelina Cantina. After a day of hiking their Grande margarita on the rocks with salt and tilapia fajitas could not have been better – Yum!
We received the best hiking advice for them men at Hike House – If you want to hike Sedona be sure to stop in there! Not only did I get a new pair of hiking socks and a great cappuccino, but we also got excellent trail suggestions! Based on their recommendations we headed out to hike Doe Mountain.  This was spectacular!  This is a moderate hike up some steep and not so steep terrain. You definitely scramble over some rocks, and as you get to the top you actually climb up a narrow slit in the rocks.  When we got to the slit, we were a bit confused, but there was no other option other than to climb on up it! When you get to the top you are standing on a mesa with the most breathtaking panoramic views of the valley! The trail continues to circle around the flat top and then when you are ready you hike back, you simply hike down the way you came up!  The trail head for Doe Mountain is out on Boynton Pass Road.  The trailhead is well marked, there are benches and a restroom. Across the street is the trailhead for Bear Mountain. We would have loved to have had the time to hike Bear Mountain as well, but other hikers said that Bear Mountai was three to four times the challenge/distance/time of Doe. Maybe next time! Doe Mountain is roughly a 2.6 mile round trip and it took us roughly two hours. This was with time spent at the top snapping lots of photos and exploring.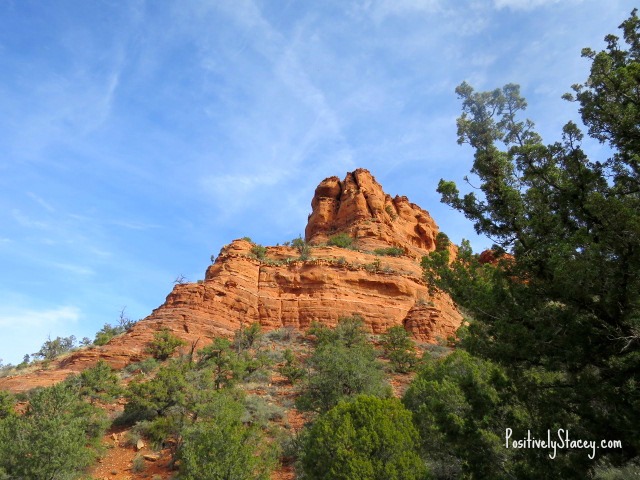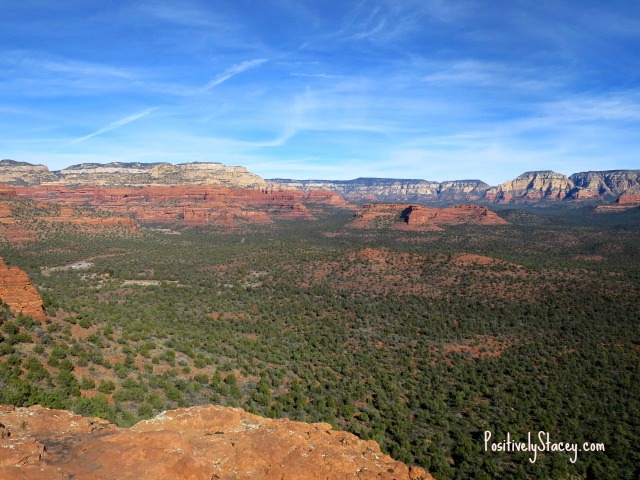 We also drove out to the airport parking lot and hiked the Airport Mesa Trail. This is s loop trail that gives you great views of the red rocks. We climbed up a giant red rock and hung out at the top waiting for the sunset.  This is one of Sedona's four main vortexes. There were quite a few people coming and going while we stayed planted. Families with small children, adults stretching through yoga poses, and many photographers just like us.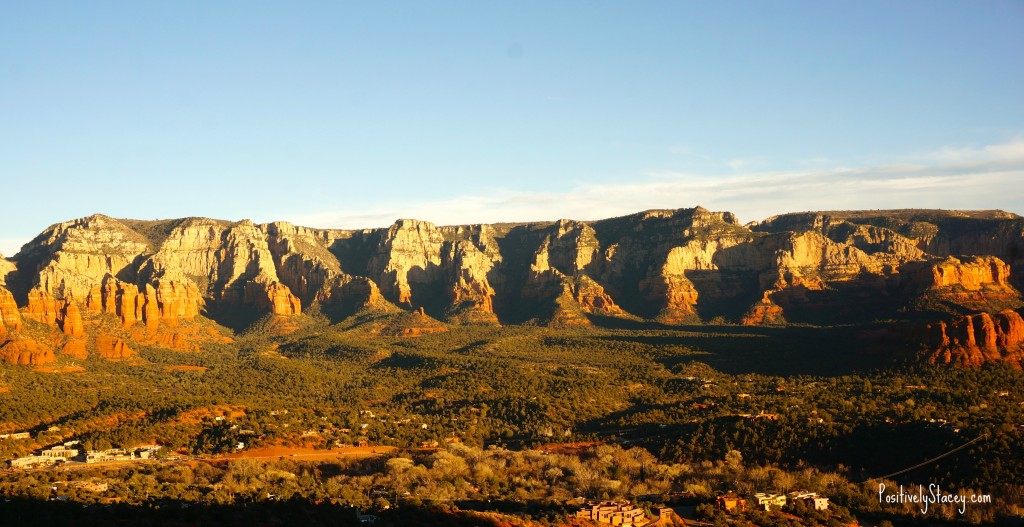 Our hikes also include a short visit to Chapel of the Holy Cross and a hike up Bell Rock where we enjoyed a picnic.
We hiked around the backside of Bell Rock between Bell and And Courthouse Butte.  This was through a bit of wilderness and while we were out there we did not pass any other hikers. It was quite a majestic setting to be looking up while standing between these two rock formations. We were lucky as we treated to seeing four base jumpers leap from Courthouse Butte.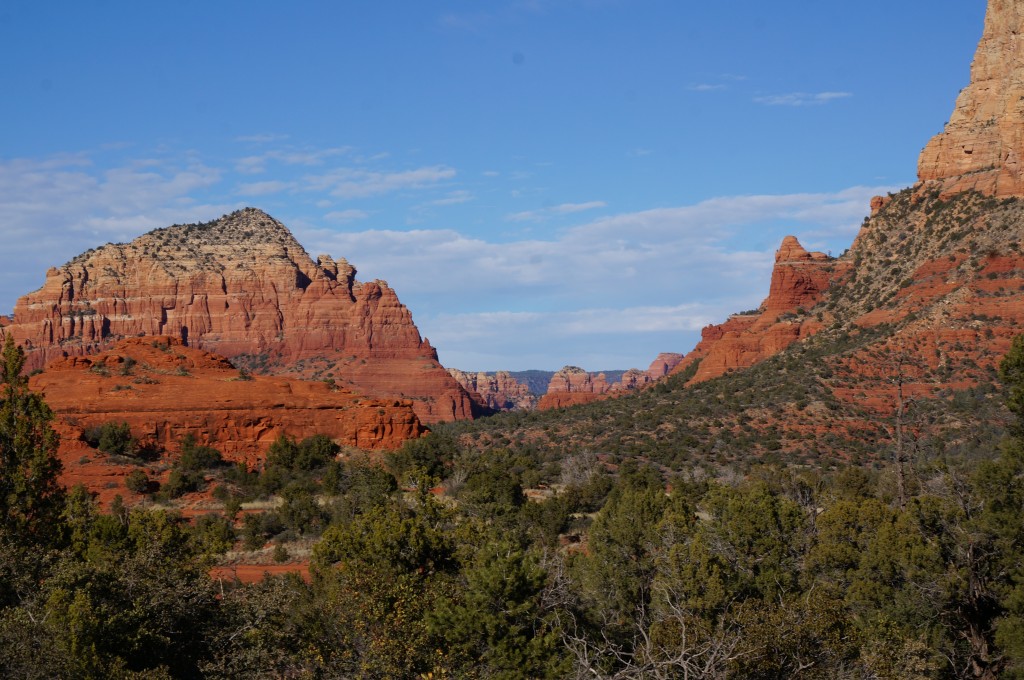 The weekend went by way to fast! There was so much to see and so little time. Hopefully, we will be back one day to hike some more and visit all those art galleries.
Transparency of Medication Prices