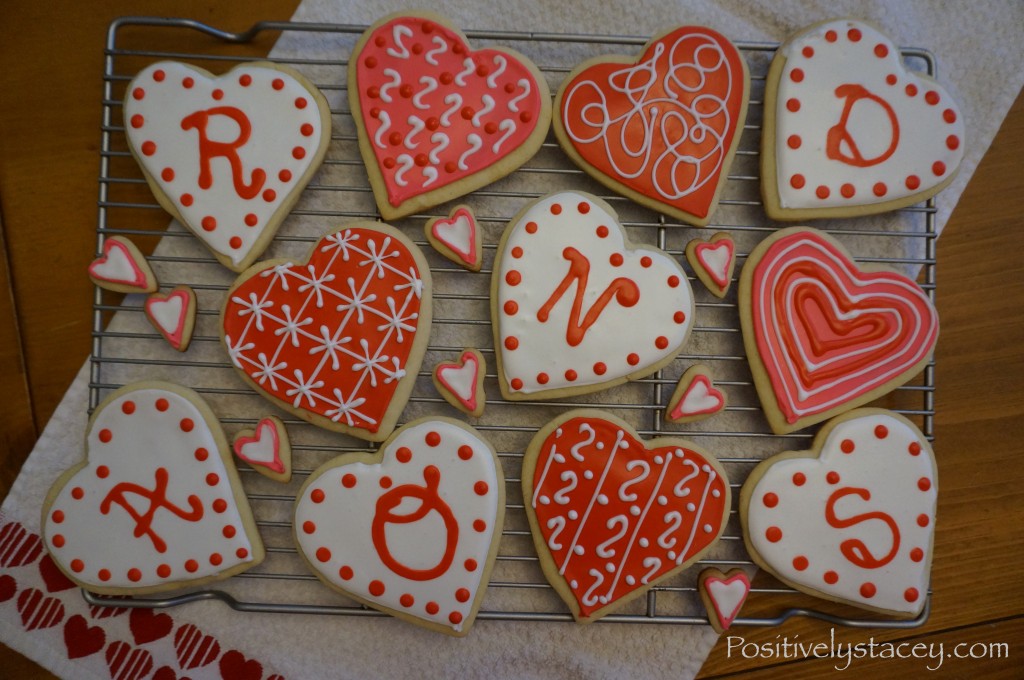 If my children are reading my blog, they will see what they are getting in the mail this week for Valentine's day. I really enjoy decorating cookies, and sugar cookies pack and travel well.  The two kids at home have already dug into theirs – hardly waiting for me to finish decorating them. One especially kept popping back into the kitchen offering to taste them for me. They both pronounced them delicious!
The recipe I used for the heart cookies is different than the ones used for the Super Bowl cookies. For this batch I used a traditional vanilla flavored sugar cookie. I used the same royal icing recipe that I always use. I did run to Joanne's and buy more tips and couplers. I wanted to have three bags tipped at all times, so I would not have to clean tips between colors. Something I have always done.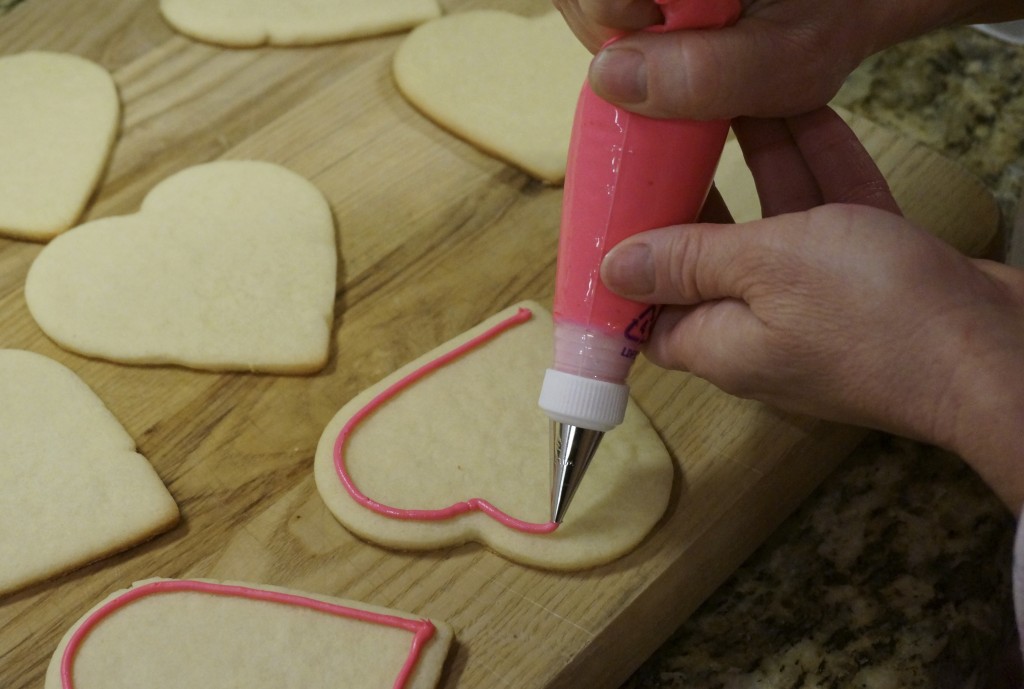 I have fun decorating the cookies. I do get frustrated when my swirls don't swirl, or my tips clog, or the icing runs. It does take practice. Getting the right consistency for outlining, flooding, and detailing all takes practice to see what works. It is not an exact science, but the more I do it, the better I get at gauging icing consistency and pressure needed to keep the icing flowing evenly.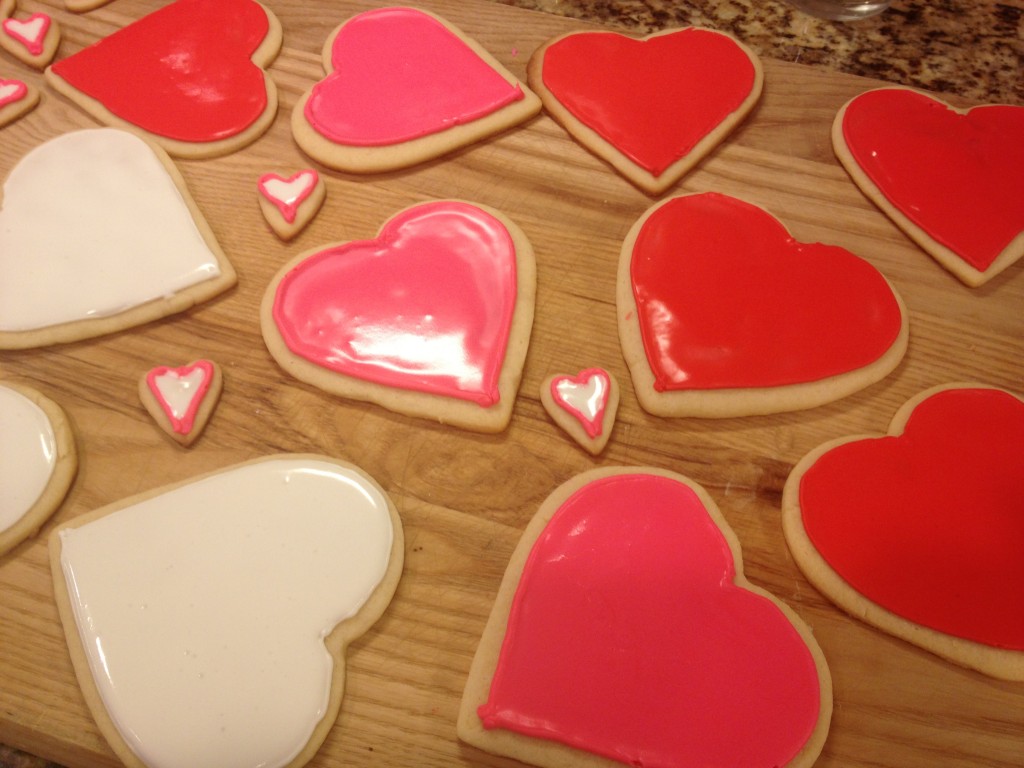 The thing to remember is it does not need to be perfect! My kids love them – imperfections and all.
I hope all my children enjoy their Valentine's day! I hope three are staying warm, one enjoying work, two enjoying life at home, and all six are working hard 🙂 Happy Valentine's Day! xoxo
Sugar Cookie Cutouts
INGREDIENTS
1 cup of butter, softened
1 1/4 cups of sugar
1 1/2 teaspoons of baking powder
1/2 teaspoon of salt
2 eggs
2 teaspoons of vanilla
3 cups of all-purpose flour
1 recipe of Royal Icing
DIRECTIONS
Preheat oven to 375 degrees F. In a large bowl, beat butter with an electric mixer on medium to high speed 30 seconds. Add sugar, baking powder, and salt. Beat until combined, scraping side of bowl occasionally. Beat in eggs and vanilla until combined. Beat in as much of the flour as you can with the mixer. Using a wooden spoon, stir in any remaining flour. Roll into a log, wrap in plastic wrap, and chill about 30 minutes or until dough is easy to handle.
On a lightly floured surface, roll half of the dough at a time to 1/8- to 1/4-inch thickness. Using desired cookie cutter, cut dough into shapes. Place 1 inch apart on an ungreased cookie sheet.
Bake for 7 minutes or until edges are firm and bottoms are very lightly browned. Transfer to a wire rack; cool.
Prepare Royal Icing. Mix in colors – jell coloring works best as to not water the icing down too much. But you can always thicken by adding more powdered sugar. Pipe outline on cookies.  Add water to icing to thin a bit and use thinner consistency to "float" icing onto cookies.  Use the back of a spoon if needed to spread icing into all corners.  Decorate with thicker icing – piping designs as you like.  Add more powdered sugar as needed to thicken icing.
Royal Icing
INGREDIENTS
1 box confectioners' sugar (1 pound)
5 tablespoons meringue powder
Water
DIRECTIONS
In the bowl of an electric mixer fitted with the paddle attachment, combine sugar and meringue powder. Mixing on low speed, add a scant 1/2 cup water. For a thinner consistency, usually used for flooding, add more water. A thicker consistency is generally used for outlining and adding details. Mix until icing holds a ribbonlike trail on the surface of the mixture for 5 seconds when you raise the paddle.
Using an icing bag and simple tip (small – size number one or two) pipe an outline on each cookie.  This is used to hold in the frosting when you flood it.  Before I found out about this technique, I used the small paint brushes to keep the frosting from spreading off the cookie.  This outlining method makes it so much easier!
Once the outline has set up – add a little water to the frosting to thin it out a bit.  Using the same tip (easy) or adding a larger tip (messy) start to fill in the outlined space.  Since the icing is a bit thinner in consistency – it will "flood" over the cookie.  Use the back of a small spoon to help the icing flood to the edges if necessary.  Let icing set.
Add details using some of the thicker icing if needed.
Viola! Enjoy your beautiful cookies!