One of the aspects of travel that I really enjoy is the exploration of new neighborhoods. I love meandering through the shops and finding hidden gems. Our weekend cottage was off Abbott Kinney Blvd in Venice,CA. This street was named the "Coolest block in America" by GQ magazine.  Indeed, it offered great shopping and dinning opportunities, as this street is full of boutiques, restaurants, and clubs.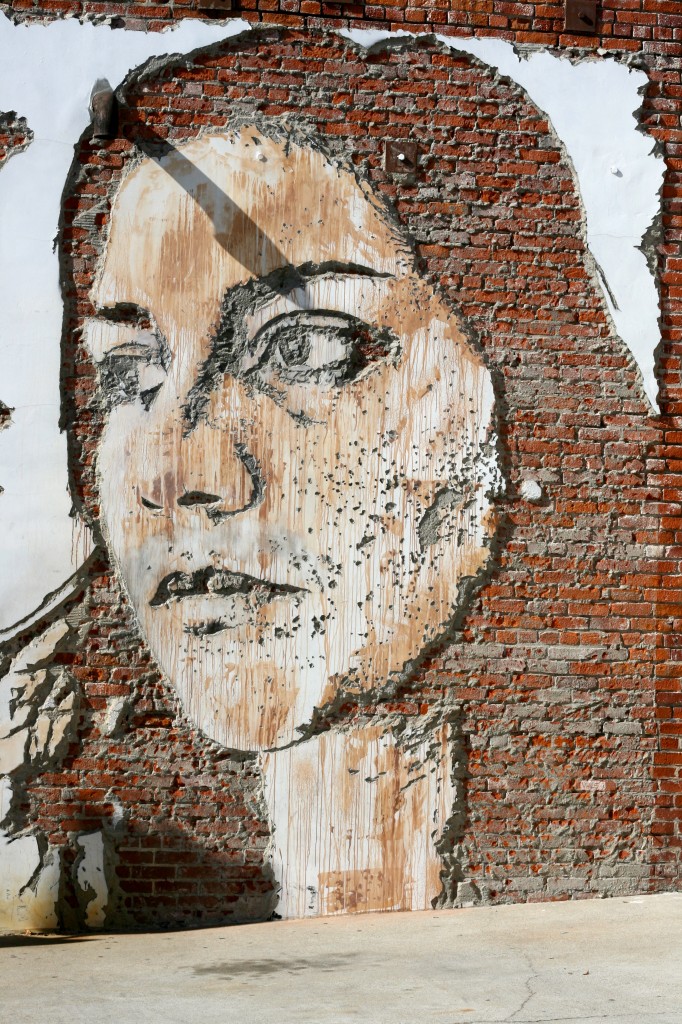 Hal's Bar and Grill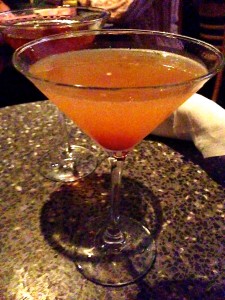 We got in late on Friday night. We were tired from work and travel, but we still wanted to get a light bite to eat and enjoy a cocktail. With a recommendation from our cottage owner, Jeff, we headed to Hal's Bar and Grill just  a few blocks away. We walked past the Other Room with people lined up at the door and loud music wafting out. There was an energetic vibe coming from this hip establishment, but we were told they are a wine and beer club, so we walked on past.
We quickly found Hal's Bar and Grill which was equally busy. We lucked out, a couple was just finishing up as we walked in, and we got a table in the bar area. I like it when bars offer their own unique specialty drinks. Hal's had a nice offering of cocktails, and I ordered the cantaloupe Martini. It was a bit sweet. I tend to like tart more than sweet when it comes to my cocktails, but the overall taste was just like a melon.  It was light and chilled – making it rather refreshing! This would be a perfect drink to have in the summer. I think I will try to make these for one of my ladies' pool parties next July. Gavin had the Manhattan, and since he had more than one, I'd say it was a hit. We also ordered the calamari appetizers. This is a go-to appetizer for us. Hal's calamari was cooked perfectly! It was golden and tender. It was also nice and hot when it was delivered to the table. The service was good, though not spectacular. Our waitress was busy with many tables. She had friends at a near by table, and we did notice that they received every order much faster than us (even when we ordered quite a bit before them). But we had a nice time. It was relaxing, and with a seat near the window, we could people watch those outside as well as the many singles sidled up at the bar. If I lived locally, I'd definitely hit this hot spot often!
---
Feed Body & Soul
On Sunday after a disappointing loss for the 49ers in the championship football game, we strolled back down to Abbott Kinney in search of dinner. We came across the restaurant called Feed body & Soul. The menu looked intriguing, and the restaurant looked inviting. They had a large bar with big screen TV showing various sporting events. But unlike the typical sports bar this place was plush with leather, high ceilings, large art, and fun lighting.  They asked us if we wanted to sit outside and the host took us up a ramp to the back.  Their "outside" patio was filled with lighted tree branches, but other than that, it did not feel "outside".  Maybe in the summer they open it up more, I really couldn't tell.  My husband and I both ordered the burger.
We were not super hungry, which was a good thing, because when the burger arrived I was surprised at its smaller size.  But the most surprising bit was that instead of fries of any kind, the burger was served with a side of green beans.  This place is Feed for the Body & Soul after all.  The green beans were absolutely delicious!  Whatever they had on it for the seasoning was perfect! They were just lightly cooked  – tender and a bit of crunch at the same time.  I ate every green bean before I took even one bite of the burger.  The burger was nice, cooked a little more than I had asked for, more medium than medium-rare. The burger was tasty, and I loved the tomato jam that was served on it.  My only thought, if we were really hungry we would have needed to order more food.
For an out-of the-world burger…head to Rush Street on Washington Blvd. in Culver City!
Rush Street
All I can is is this place is amazing!  My son choose this place for lunch on Monday.  The restaurant itself was huge! lots of dining levels, large bar, TV's and packed with people.  As busy as it was we were seated quickly outside which was our request.  My son and husband ordered the burgers and I ordered the melted brie and turkey sandwich with roasted grapes, rosemary aioli, arugula, and mustard vinaigrette. Wow! the mixture of flavors was absolutely delish!  I have never had roasted grapes before, and they were a tasty addition to the sandwich.  I subbed out the regular fries for the truffle asiago fries.  Decedent!  This lunch platter was huge!  Half of my lunch went home with my son, for him to enjoy later.
When in Culver City be sure to visit Rush Street – you will not be disappointed!