I came across a picture of a pallet painted as a flag on Pinterest. I instantly liked this project for a few reasons: it looked easy, cheap, fast, and with its size – it would give my yard a large piece of Fourth of July decor. We are having a party and I want to spruce up the backyard with some red, white, and blue! So this is what I made…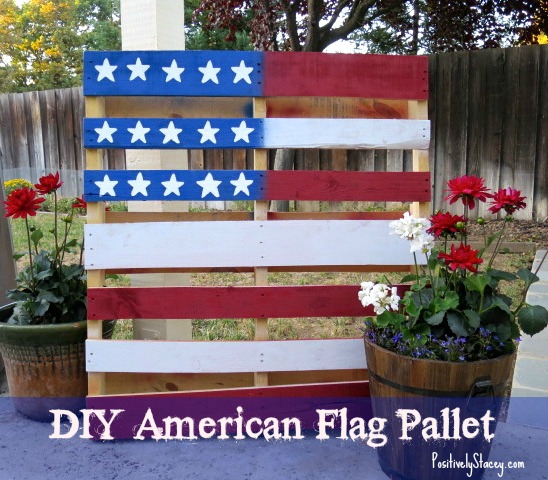 I instantly started looking for pallets. There are a hundreds of them stacked behind various large box retail establishments – but they are not for the taking. I called and asked. Then I had a friend mention that she was looking for a large supple of pallets because she is making patio furniture for her kids' hangout corner in her yard. She hunted down a source via Craig's List and gave me three. One for the flag and two more for me to turn into a table. (More on that later – hopefully!) And maybe more on her furniture 🙂
Once I had the pallet, I needed to get some paint. I bought spray paint simply because a can of spray paint was half the price of a small can of brushable paint. I did not want to put a lot of money into this! I planned on taping off the stars and using the spray paint for the stars as well, but when I got to that step I changed my mind. All that taping seemed like it would be a lot of work and time.  Cheap and fast were my motto with this project. I was lucky in that I found a pint of white acrylic paint in my art supplies in the garage. I was able to make that change of plans without another trip to the store and without spending any more money.
How to Turn a Pallet into a Flag
Step One. Find a non-windy outdoor space, cover the ground with a plastic drop cloth or old newspapers and lay down pallet.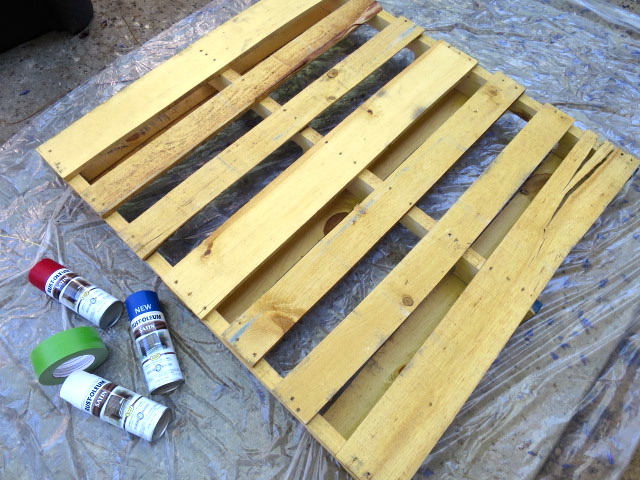 Step Two. Start with the white spray paint. Notice I (at first) decided not too use the painter's tape. Count out your pallet boards – they are not all the same.  Mine had seven horizontal boards. The top and bottom board of the flag are to be red.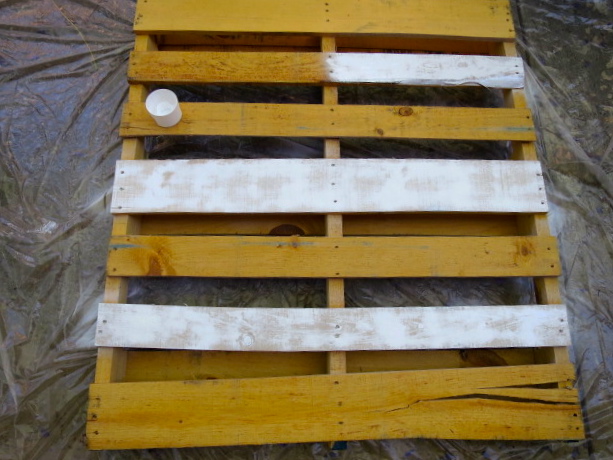 Step Three. Use the red paint to spray the remaining boards. Remember you need to leave a corner for the blue and stars. This is where I decided that I wanted to tape of the cross boards underneath. The overspray was a bit too much for me on these boards. Generally, I enjoy seeing a bit of the overspray going onto the back boards and even a bit onto each of the front boards. I like the look of homemade. It's not meant to be perfect!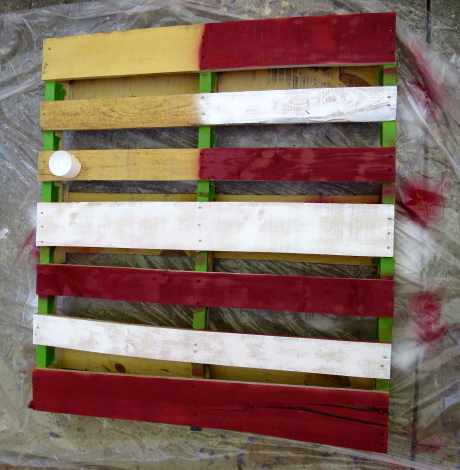 While the red really only needed one coat, the white paint needed at least three! I painted three coats of all three colors.
Step Four. Move onto the blue paint. Paint the top three boards half way across for the field of blue. I did not tape anything off here – there is a bit of overspray, but I liked the look. If you want it to be more precise, you can always tape it off. Remember I like fast and easy projects.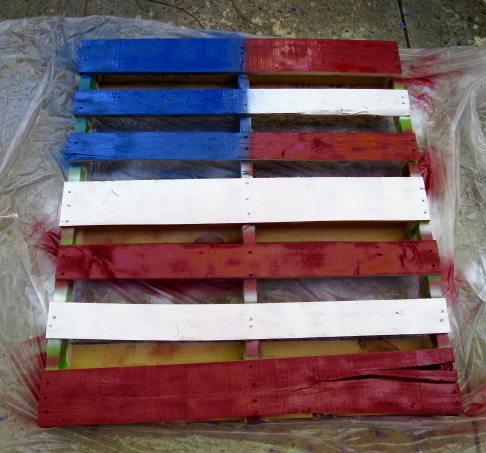 Step Five. This is the easiest step – let it dry. I let mine sit overnight. One because had no more time that day to work on it and two, I wanted the blue to be fully dry. But in reality an hour would probably have been sufficient. Oh, and remove the painter's tape.
Step Six. Trace some stars onto the boards. I used a cookie cutter – It was handy, but if you do not have one simply cut a star out of thicker paper to trace.  I traced my first star in the middle of the board, then traced to two stars closest to the outside edges, and then traced the last two stars in between. This is my best way to space them out evenly without measuring. I did not use a ruler. If you want straight and perfect get out a leveler and ruler. Mine are not straight and perfect – but that is OK with me!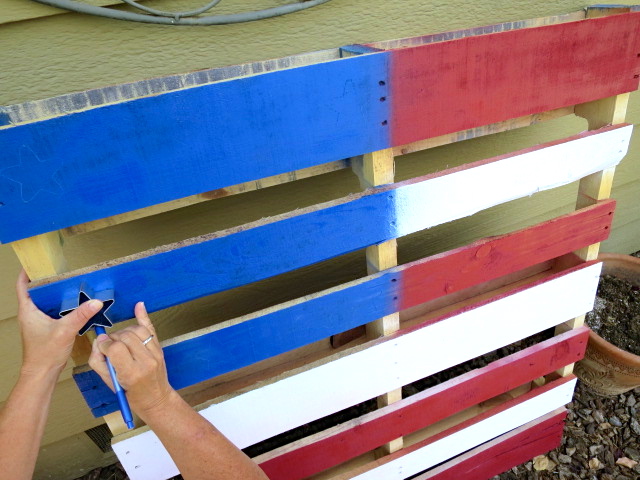 Step Seven. With small brush begin painting the stars. This was the most time-consuming step. But even at that, this whole project took less than an hour of my time!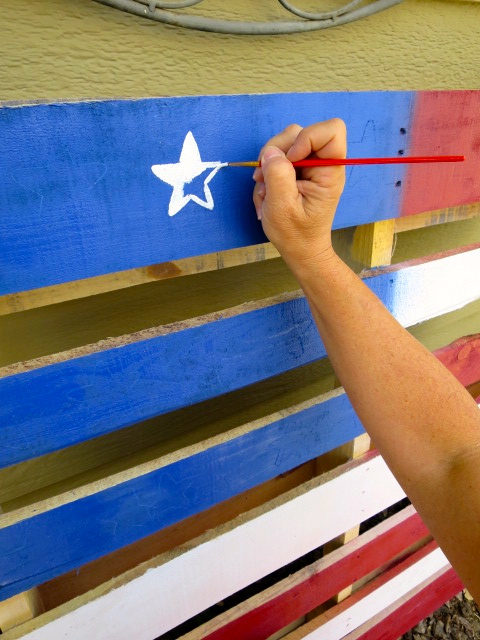 Step Eight. Enjoy! I thought about covering it with a clear coat. And I actually have a can of clear coat in the garage, but for now I am liking the finished look, and I think the clear coat will give it a shine. I specifically used matte paint because I did not want a shiny look. We will see how it weathers this summer. But this project is not meant to last a lifetime – just some fun, cheap, fast, and easy backyard decor for my Fourth of July party.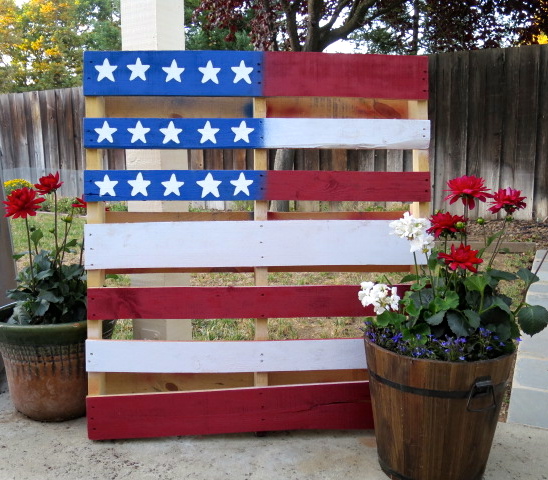 What do you think? Have you ever made anything out of pallets? I'd love to hear about it.
My next project is to make a table. Wish me luck on that one!
Transparency of Medication Prices