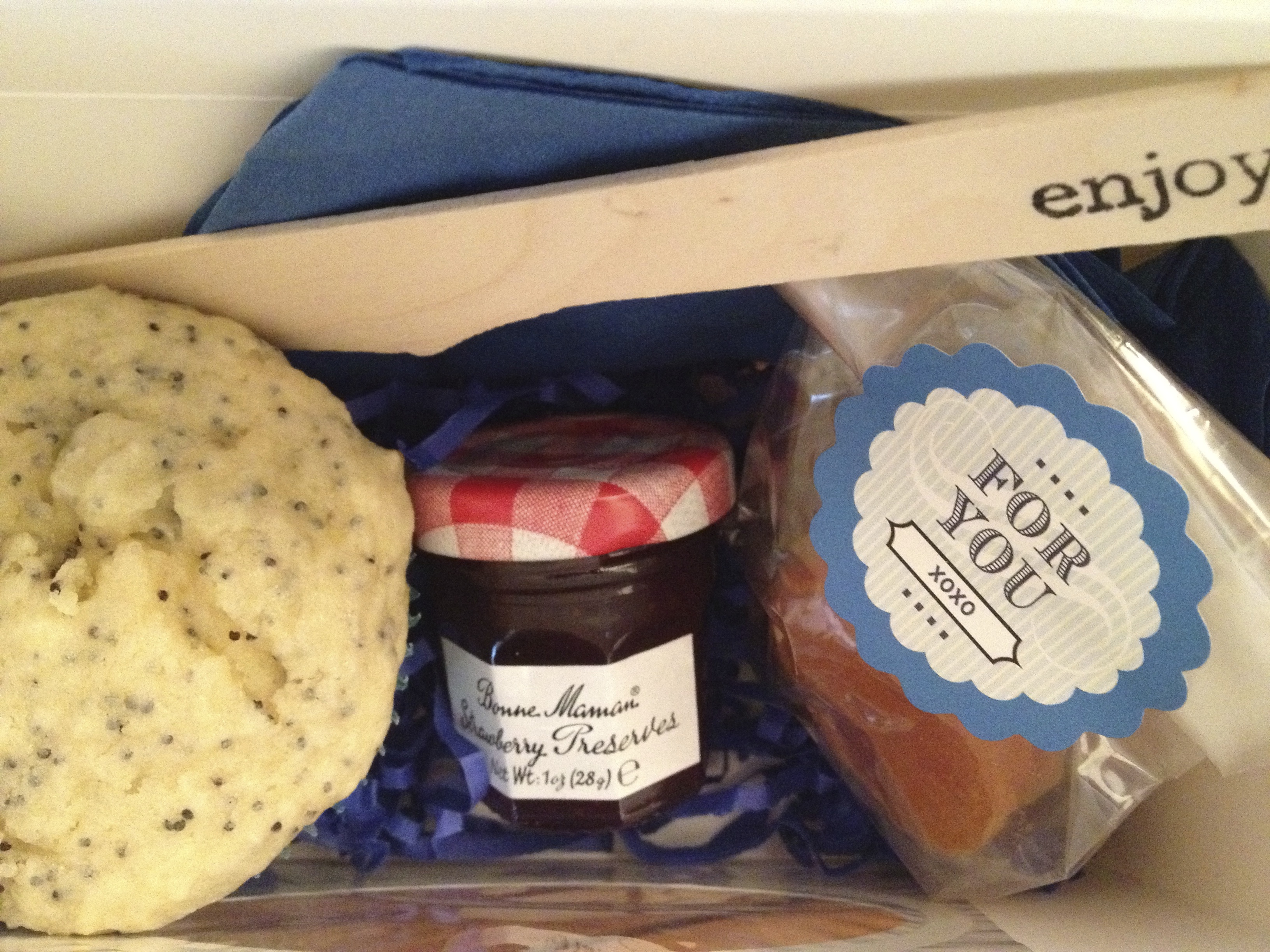 Everyone loves receiving a party favor!  Really, who does not like getting a gift? A favor is just a  a little trinket or small memento that adds another layer of fun to festivities. Because I don't like to collect "things" I usually give favors that are consumable. Items that collect dust drive me crazy! I think gifts such as food, soaps, and lotions are useful, consumable, and appreciated by others. Well, at least they are for me ! The number one favor that I give to others when I entertain is food. Everyone loves good food! And as you can tell, I love to bake. Cookies in a cellophane bag tied with a pretty ribbon or homemade candies tucked into a tin box – It's just an extra sweet treat as guest walk out the front door.
For our wedding I wanted to create something a bit more than a bag of cookies.  Our wedding was small so I did not have to produce a lot  – I only needed 48. Our ceremony followed by a dinner was held in a nearby seaside village. Most of our guest were traveling to our evening nuptials and then returning to their home late that night. After much thought, I decided a great favor would be Breakfast in a Box.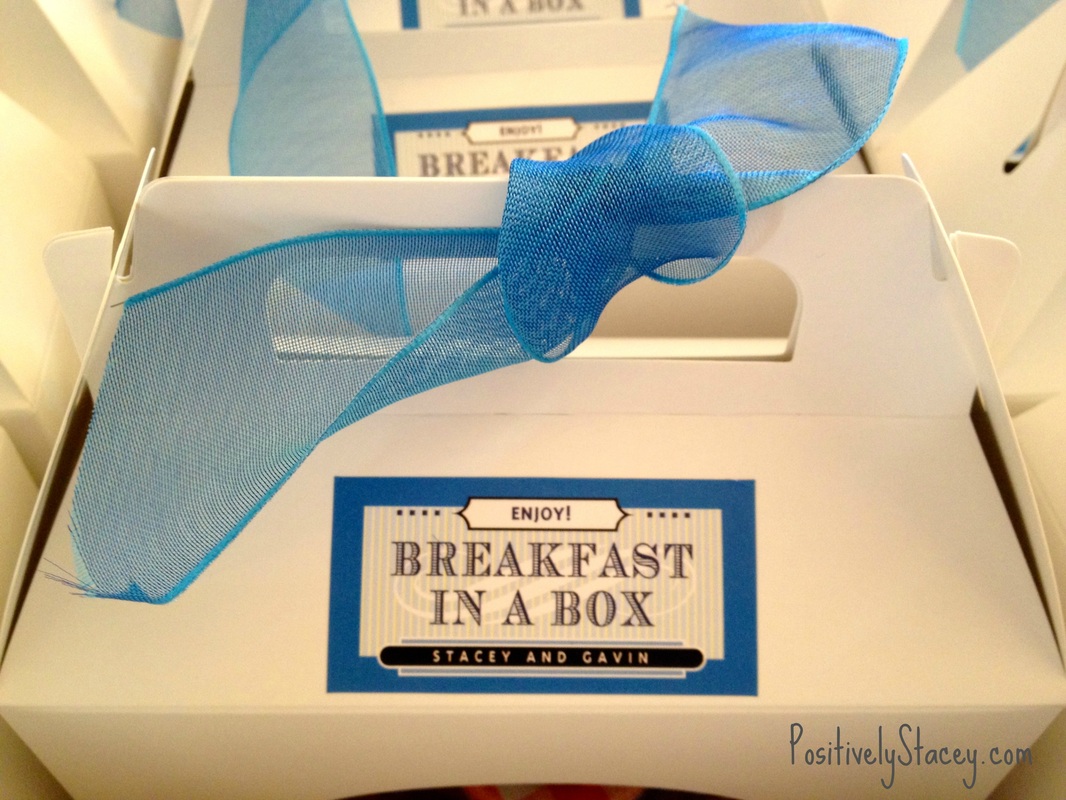 Breakfast in a Box – A Homemade Wedding Favor
The breakfast items that I placed in the box were homemade lemon poppy seed muffins, mini jars of jam, a small package of dried fruit from a local farm, a knife to spread the jam, and napkin to keep everything neat. I hunted all over online and in brick and mortar shops for the perfect packaging. I found the white window bakery boxes and cellophane bags for the dried fruit at Michael's. I ordered the stickers for the box and the bag online as well at the wooden knifes stamped with enjoy. I purchased the ribbon from Costco, and I ordered the jams from Amazon.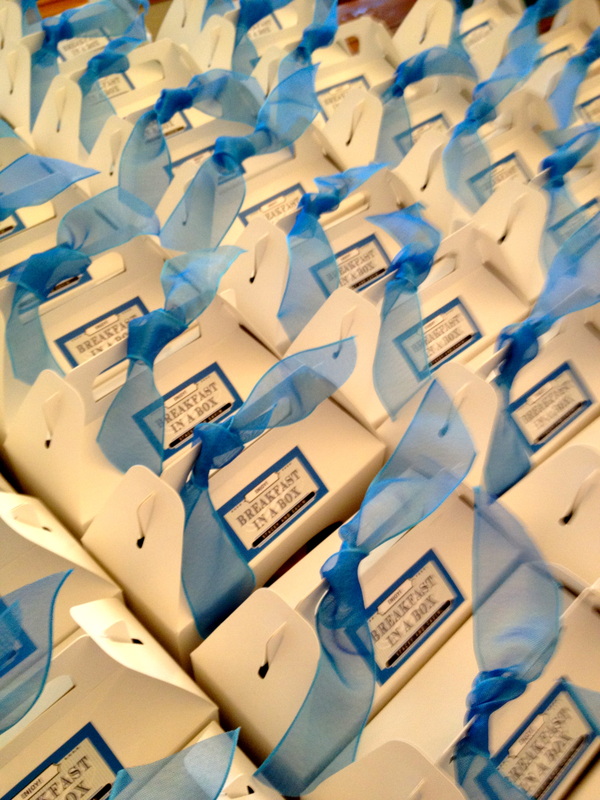 I was able to line all the boxes up on my dining room table and fill them, minus the muffins ahead of time. I also cut all the ribbon ahead of time and had them ready to go. Alyssa baked the muffins a week prior and froze them. The morning of the wedding I placed the frozen muffins in the boxes, tucked them in with the napkin, closed them up, and tied it with the ribbon. A good friend picked them up and took them over to the venue ahead of time.
It was all so easy and everyone loved them!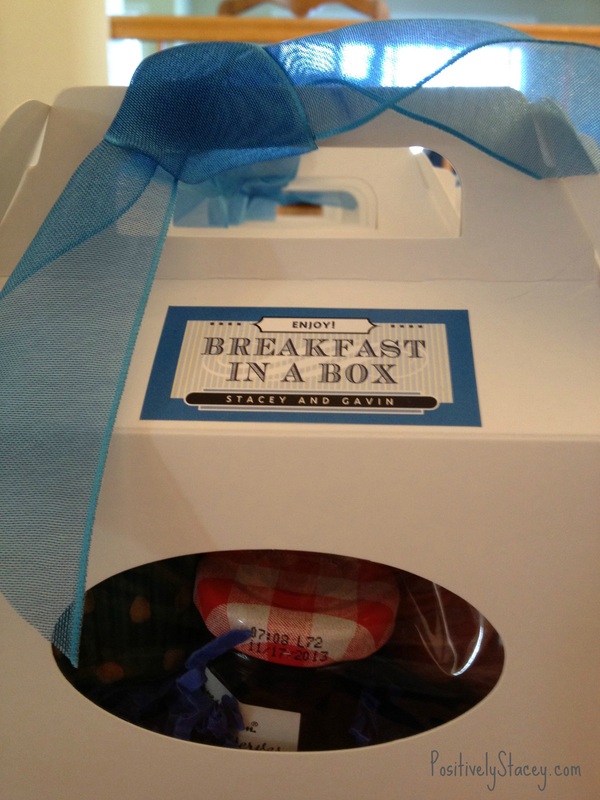 I was told by one guest that I should have had a label on the box that stated the muffins and packages were made by me.  She thought it was something I paid the restaurant to make, and she had no idea that I baked the muffins and put the packages together until we sere talking about it one day months later. So, I suppose that is something I would do differently.
Lemon Poppyseed Muffins Recipe
INGREDIENTS
2 cups all-purpose flour
2 tbsp. poppy seeds
1¼ tsp. baking powder
¼ tsp. baking soda
½ tsp. salt
8 tbsp. unsalted butter, at room temperature
1 cup sugar
2 large eggs
Zest of 1 lemon
1 tsp. vanilla extract
1 cup plain yogurt


DIRECTIONS
Preheat the oven to 350˚ F.  Line a muffin pan with paper liners.
Combine the flour, poppy seeds, baking powder, baking soda and salt in a medium bowl.  Stir briefly to combine.
In a mixing bowl, beat together the butter and sugar on medium-high speed until light and fluffy, about 2 minutes.
Beat in the eggs one at a time, blending well after each addition.
Mix in the lemon zest and the vanilla extract.
With the mixer on low speed, mix in the dry ingredients in two additions alternating with the yogurt, beating each addition just until incorporated.
Divide the batter between the prepared liners, filling each about two-thirds full.
Bake 18-20 minutes, until a toothpick inserted in the center comes out clean.  Let cool in the pan 5-10 minutes, then transfer to a wire rack to cool completely.
Recipe adapted from Annies-Eats.com.