The Easter holiday has come and gone. If you are like me, you now have a bunch of hard-boiled eggs on hand.  Yes, you can just peel, sprinkle with salt and pepper, and gobble them up. But here are two of my favorite go-to recipes and one new one that I just found from the Boston Globe.
Swedish Style Shrimp Sandwich
I have never been to Sweden, but  have been to IKEA 🙂 Ok, not even close! I discovered this sandwich one day in the cafeteria at IKEA, and I instantly fell in love.  Since IKEA is a long way from my home, I started making my own version. So easy!  Make sure you have some really good light rye bread and very fresh shrimp.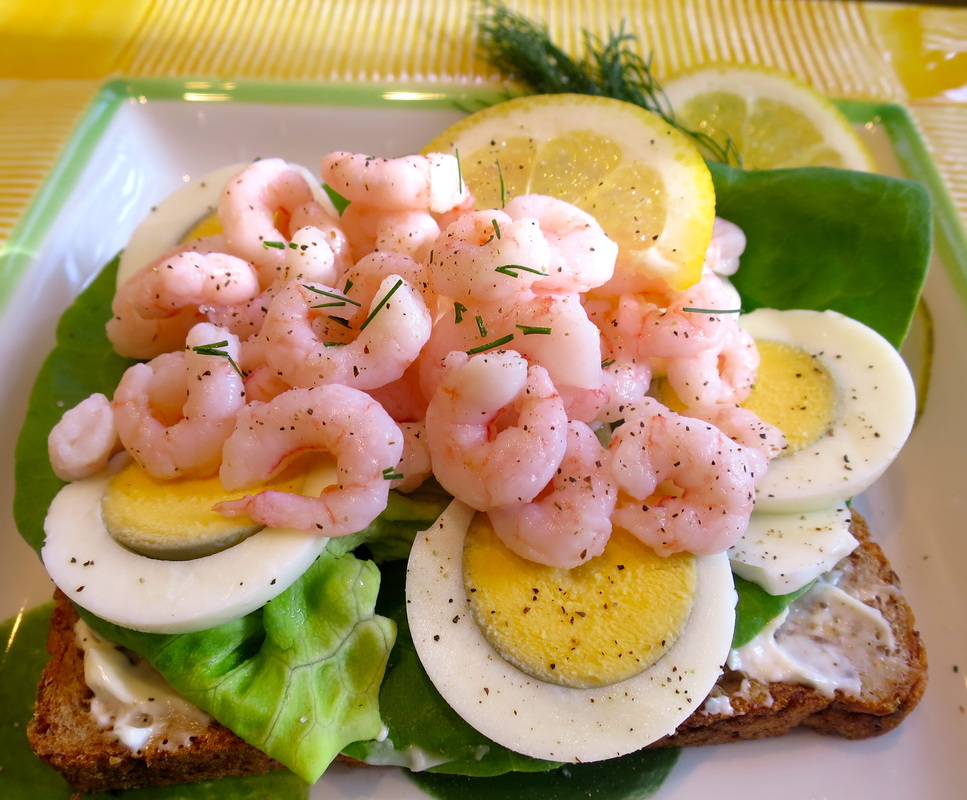 INGREDIENTS
Slice Light Rye Bread
Spread of Mayonnaise
Large Leaf Butter Lettuce
Sliced Hard Boiled Egg
Handful Cooked Baby Shrimp
Chopped Fresh Dill
Salt and Pepper to taste
DIRECTIONS
Simply spread mayonnaise on a slice of light rye bread.  Top with butter letuce, a layer of sliced hard-boiled egg, and a handful of a baby shrimp.  Sprinkle with fresh chopped dill and salt and pepper.  Enjoy!
Best-Ever Deviled Eggs
Really, these are the best!  Lots of deep flavor! But still quick and easy to put together.
INGREDIENTS
6 hard-boiled eggs
1/4 cup mayonnaise
1 tablespoon half-and-half
1/2 teaspoon dried parsley flakes
1/4 teaspoon dried chives
1/4 teaspoon ground mustard
1/4 teaspoon dried dill
1/4 teaspoon seasoned salt
1/4 teaspoon paprika – plus some to sprinkle on top
Sprinkle pepper
sprinkle garlic powder
DIRECTIONS
Peel and slice hard-boiled eggs in half lengthwise.  Scoop out yolks and place in bowl. Using a fork mash up until there are no longer any clumps.  Add in all remaining ingredients and mix until well blended and egg mixture is creamy.
Using a spoon carefully scoop a spoonful into egg egg white hollow.  Sprinkle with paprika, serve, and enjoy!
Green Salad topped with Ham and Egg
Enjoy!